Date: Saturday 1st April 2006, 3.00pm

Venue: St. James' Park

Conditions: Sunny





Newcastle United

Tottenham Hotspur

3 - 1

Teams
2 mins Lee Bowyer beat Michael Dawson to clip the ball into the Gallowgate End net, finishing off a fine move that saw Charles N'Zogbia exchange passes with Nobby Solano via a clever Alan Shearer dummy, before bursting into the box from the left and teeing up Bowyer. 1-0
19 mins Aaron Lennon waltzed around Stephen Carr on the byline to cross for Robbie Keane to head powerfully past Given. 1-1
25 mins Shola Ameobi was on hand to turn in the rebound after Paul Robinson parried Solano's fierce right-footed shot. 2-1
30 mins Alan Shearer celebrated his 300th Premiership game for the club by netting from the spot after Bowyer was needlessly shoved over by Edgar Davids in act of bringing down a Solano pass towards the byline. 3-1
Half time: Newcastle 3 Tottenham 1
Full time: Newcastle 3 Tottenham 1
Glenn Roeder commented:
"Thirty-eight games - that's when the season ends. That's what I've always believed.

"What a shameful thought, to pack up and go home with seven games to go. I didn't hear players saying that, but I heard people around the place saying 'they have got nothing to play for, they won't be motivated'.

"I can't have that. After the result last Sunday against Charlton, they have seen a different Glenn Roeder this week, a Glenn Roeder they probably think has got out of the wrong side of the bed every morning.

"But I got the response I wanted. They have shown they need a kick up the backside sometimes.

"This is a good squad of players, there are decent people in this squad, but even decent people sometimes need a toe in the right direction, and they certainly got it.

"We got the response because I would say that's the best first-half performance while I've been involved; Terry McDermott goes a bit further because he's been involved all season, and he says it's the best 45 minutes all season.

"I'd better keep getting out of the wrong side of the bed!"
Martin Jol said:
"We showed many faces today. When you concede a goal like we did in the first minute, it's always difficult.

"We knew we needed a clean sheet to come away with three points, but then we played to our strengths, played it to Aaron Lennon, who beat the full-back easily and got back into it.

"But then we made the second mistake and then the third one with the penalty.

"Before half-time, we could have scored the second one when Robbie Keane hit the bar and if we could have done that, even with 10 men, we could have got a result.

"But it wasn't our day. Jermaine Jenas had a 100% chance to score. They (Newcastle) were nervous even at 3-1, but we couldn't take advantage of that."
300th Premiership Newcastle appearance for Alan Shearer - marked with his 203rd goal in all competitions.
Four out of our last five Premiership games have ended 3-1 - two wins and two defeats:
3-1 Spurs (h)
1-3 Charlton (a)
1-3 Liverpool (h)
0-2 Man United (a)
3-1 Bolton (h)
Add the 2-0 home win over Everton and our last six Premiership games have all been settled by a two-goal margin.
Cockerels in Toon - Premiership years
2005/06: won 3-1 Bowyer, Ameobi, Shearer
2004/05: won 1-0 Kluivert (FAC)
2004/05: lost 0-1
2003/04: won 4-0 Shearer 2, Robert 2
2002/03: won 2-1 Speed, Shearer
2001/02: lost 0-2
2000/01: won 2-0 Speed, Cordone
1999/00: won 6-1 Shearer 2, Speed, Dabizas, Ferguson, Dyer (FAC)
1999/00: won 2-1 Glass, Dabizas
1998/99: drew 1-1 Ketsbaia
1997/98: won 1-0 Barton
1996/97: won 7-1 Shearer 2, Ferdinand 2, Lee 2, Albert
1995/96: drew 1-1 Ferdinand
1994/95: drew 3-3 D.Peacock, Gillespie, Beardsley
1993/94: lost 0-1

Waffle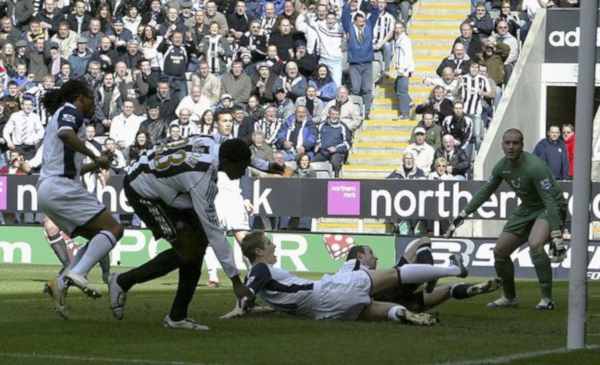 Having fallen behind against Manchester United, Liverpool and Chelsea almost before we'd drawn breath, today the boot was firmly on the other foot - well, Lee Bowyer's to be exact....

With just over sixty seconds on the clock, the Londoner steered the ball into the Gallowgate net to give us the perfect start to what had looked a tough test - even before our pantomime display at the Valley last Sunday.

And having netted his first Premiership goal in over a year, Bowyer went on to produce the sort of performance that once had Liverpool bidding £9m for his services, earned him an England cap and slightly more recently saw him given a squad number in our first XI.

His industrious display came a day shy of the first anniversary of the Dyer assault and while the fallout from that episode drags on through legal channels, consistently reproducing this type of form will go a long way to repairing his reputation among the paying public.

Alternatively we might just get a few more quid for him when he opts to leave.

Almost inevitably Bowyer's sparring partner that day wasn't deemed fit enough to feature in this game, but those that did appear in our midfield gave us crucial early momentum - despite the absence of Parker.

All our goals came as a result of creative play and determination from the midfield: Solano and N'Zogbia's combination for the opener was followed by Bowyer's tackle and Nobby's shot to produce the second, while the penalty award saw Solano pick out Bowyer, making yet another run deep into enemy territory.

There could - and should - have been more, Bowyer flattened in the box in what replays showed was a stonewall spotkick, while Solano also got forward to cause numerous problems in the opposition area. Mention too for Emre, who played deeper in the absence of Parker but put in the sort of good shift that he's not always managed recently.

In return, the Spurs midfield mustered one neat delivery from Lennon that left Carr floundering, a charge forward from Carrick that was stopped illegally on the edge of the area and not a great deal else.

The much-vaunted Edgar Davids played as if he was in need of proper glasses - never mind his protective designer shades, while Danny Murphy was allowed a whole two minutes at the ground he could have called home, had the swap deal with Charlton for Bowyer earlier this year gone through.

And although Mido had haunted us at White Hart Lane, the Egyptian striker who once announced to the world that he was en route to Tyneside to sign for us, lived up to his sulky, stroppy reputation when he finally got to play on the St.James' Park pitch. Like Davids, his hair deserved a more fitting arena -Crufts, perhaps.

But it was the returning anti-hero who rightly hogged the spotlight - although he doubtless wished he could have hidden under a blanket by the end.

There was an acceptance at the start of this season in most quarters that Jermaine Jenas would leave us in favour of a club more suited to his aspirations (whatever that means). There was also the evidence of over a season's-worth of poor displays, when compared to the initial impact he made after arriving from Forest. In short, it wasn't working - for him or us.

And don't forget that his departure was an essential plank of the Owen and Luque deals in terms of finance and wage bills (we weren't to know the injury problems both incoming players were to suffer).

However, what stuck in the throat then and provoked the hostility on Saturday was the way the England hopeful chose to dress up his transfer request in implausible "poor little me" language.

Make no mistake, he'd still have been abused for crime of turning down the chance to wear our shirt.

But the mass undisguised expressions of glee round the ground when he missed his second half sitter and the frequent goldfish bowl references throughout the game were a direct response to his misguided comments.

We've said it here before, but there's simply nothing better than seeing a Billy Big B*ll*cks XI from the smoke come up here and flunk it, amid a welter of back-biting, in-fighting and recriminations.

And for it to include an old boy who bought into the dream of streets paved with gold rather than cobbles brought extra satisfaction. This was almost as funny as when Ginola disappeared up his own derriere in the 1999 6-1 Spurs game here.

It's a pity that it wasn't legally live on TV across the nation, but at least some of the puffed-up capital media types were there in person to see their much-vaunted Champions League contenders buckle. We could have told you about Dutch managers....for sure.

The Magpies can point to good fortune and a memorable goalkeeping display from Given when beating Spurs here last season in the FA Cup.

Today though, there was nothing lucky about the way we tore through them in the opening 45 minutes, leaving them grateful for the sanctuary of the dressing room and a chance to regroup.

Which Newcastle will we see at the Boro? Who knows? Certainly not Glenn Roeder - although a repeat of his decision here to strengthen the defence by rotating Boumsong to the subs bench could help us at the Riverside, in view of the ease that fat Eddie Murphy got past him at SJP....

This result buoyed our sagging confidence and filled the tills of the pubs on Saturday night, but it's as well to keep in mind the reality check provided by the previous four defeats.

Rather than talking about putting things right though, for once actions spoke louder than words - and for that we're grateful.
PS: The end of the huddle, not indulged in for this game. Spurs had one though, followed by a 45 minute muddle....

Biffa