Date: Sunday 9th April 2006, 3.00pm

Venue: The Riverside

Conditions: Blustery and cold but clear

Admission: £31 (last season £30)

Programme: £3




Middlesbrough

Newcastle United

1 - 2

Teams
29mins: George Boateng was credited with the final touch as Ameobi's looping header to the far post was bundled in by a combination of home and away players. Both Bramble and Bowyer later admitted they'd celebrated with each thinking the other one had got a touch. 1-0
44mins: Shola Ameobi struck with a low shot on the verge of half-time from the right side of the box after Carr's venture into the box had ended with the ball deflecting nicely into the path of the Newcastle striker. 2-0
Half time: Middlesbrough 0 Newcastle 2

79mins: Boateng fired the ball goalwards from the edge of the area and Given was set to make a comfortable save before Bramble's knee intervened, wrong-footing the 'keeper. 2-1
Full time: Middlesbrough 1 Newcastle 2
Glenn Roeder said:

"It was a tough game and there was lots of honest, controlled aggression from my players, which is what you want as a manager.
"When you have that you're going to give free-kicks away, but I have no complaints against the referee.
"He saw them as yellow cards, so let's be big boys and get on with it."
About our penalty claim:
"It was a nailed-on penalty but referees do not know whether to stick or twist because there is so much diving.
"One game at a time but we are now revved up and looking forward to Wigan next week. We will let the league table look after itself but we have kept our season alive.

"You only get three points out of it but it's a tiny bit more special because it's a local derby and there's a controlled rivalry.

"My happiness comes from sending those fans home happy.

"I was very strong with the players when I spoke to them before the game, that we had to come out of the blocks fast. We didn't want a slow start.

"You saw the euphoria and you weren't sure whether they would have another high or a flat performance. In the last 15 minutes we stood up to be counted, which we haven't done at times this season and have been criticised for that.

"But we cannot be criticised. What they did to Basle they couldn't do to us."
Steve McClaren said:
"We finished the game strongly, we were searching for an equaliser and we were on top. We ran out of time this week but we've got bigger priorities, everyone knows that.

"It was always going to be difficult after Thursday and we've got a big game on Wednesday.

"There's a big prize at stake and that's what we've focused and targeted over the last couple of months. As I say that's what we're prioritising.

"Last minute goals don't happen too often over a season and we've had two in the last couple of weeks, asking for a third was a bit too much.

"I don't like losing football matches, and it's a local derby and we're all disappointed but we have to put things in perspective.

"It was always going to be a difficult afternoon, they're always difficult after Europe and especially after Thursday's euphoria and the way we won the game.

"Conceding two goals was perhaps the most disappointing part of the afternoon but credit to the players, they could have easily stayed flat but they had a go in the second half, got a goal back and very nearly did it.

"I could easily say we had two penalty appeals turned down but I'm not going to make excuses."
Toon on Smogside - Premiership

2005/06: Won 2-1 OG, Ameobi
2004/05: Drew 2-2 Bellamy, Shearer
2003/04: Won 1-0 Ameobi
2002/03: Lost 0-1
2001/02: Won 4-1 Shearer 2, Dabizas, Robert
2000/01: Won 3-1 Shearer, Goma, Dyer.
1999/00: Drew 2-2 Speed, Pistone
1998/99: Drew 2-2 Charvet, Dabizas
1996/97: Won 1-0 Ferdinand
1995/96: Won 2-1 Watson, Ferdinand
First time that Shola Ameobi has scored in consecutive games since May 2004 (Southampton away and Liverpool away).

Waffle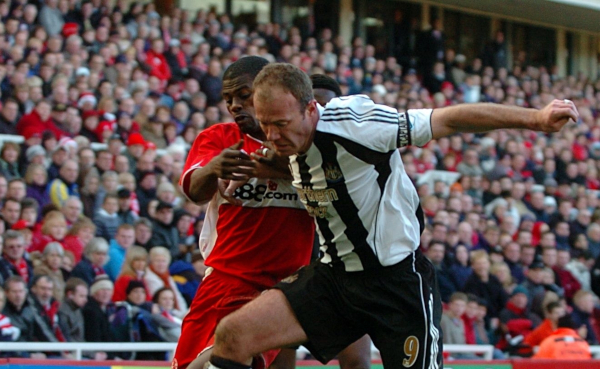 Proof positive that there is a God then, but he's not all-powerful.

Season after season we have to make the trek to this barren land, but we're then rewarded for our pilgrimage with the gift of points - usually in multiples of three.

Ten league visits to the Riverside now for the Magpies and this latest success means that we've still only tasted defeat once in that sequence of games.

And had the smoggies not risked the wrath of the Almighty by conjuring up a false plague of snow in 2002, we'd have beaten them then - rather than dubiously losing a game rearranged between fixtures against Chelsea and Inter Milan later that season.

At that point three years ago we could justifiably claim that there were bigger fish to fry, in the shape of a trip to the San Siro. And while McClaren and his men sought to trot out the same line about recovering from the Basel comeback and preparing for Wednesday's FA Cup replay against Charlton, the reality was somewhat different among the rank and file of Teesside.

Try as we may, we just can't get excited about this being about local pride or whatever twaddle Century radio trot out to try and justify their coverage/existence. We even query the validity of this being labeled a derby at all....

Checking out our laid-back response to that 2003 loss, it merely confirmed that it's just another game in our eyes. Contrast that though to those post-match phone-in ranters wailing about having lost to what bonkers Bernie Slaven insisted on calling "the enemy." That's mature.

The deluded old jock then pronounced that this game was on a par with old firm matches in Glasgow.....in your own mind Bernie, your own very small mind. That has to be the most misguided waffle since Gullit's rubbishing of the Tyne-wear fixture in comparison to Milan's own city set-to.

No, this game really mattered to the fans and losing to them Geordies sticks in the collective smogland gullet.

In a word, hilarious.
One final point though - if it's such a big deal to the smoggy supporters, why then don't they travel to SJP in greater numbers than the pitiful handful that has been scattered across level seven in recent seasons? They can't all have ASBOs surely?
And while we're talking about daftness, let's focus on what passes for humour round these parts - a seventies throwback named Mark Page and his witty record collection, given time off from hospital radio these days presumably.

After the avalanche of snow-related and eye-related tunes on previous visits, this time his "gag" consisted of playing the theme to TV cop show "The Bill", to which the local muppets brayed on about Newcastle staying in to watch the telly.

A strange attitude to take methinks, given that only 24,549 showed up for the midweek UEFA game here, nearly 7,000 less than appeared for our visit.

So many of those in the home section shouting the odds were doing so in the knowledge that they themselves had got no further than their front room, on what is being (mistakenly) billed as the greatest comeback since Lazarus.

Oh, and an officially-sanctioned hand-written bedsheet in the ground backed up this message - that's classy. Small town in Europe? small town in Siberia more like. Or Jupiter.

Full marks once again though to the travelling Toon fans as they provided their own renditions of the smoggy Pigbag anthem after both our goals - and then went collectively bananas as said tune was played to welcome the home side back on to the field for the second half. Me Mark Page didn't like that and sharp turned off his gramophone.....which made not a blind bit of difference.

Two goals up at the interval having had the better of the first half, we then assumed total control for the next twenty minutes or so, but without finding that killer third goal - Lee Bowyer's angled effort and Nobby Solano's deflected free-kick being the closest we came.

And it was the Peruvian's replacement by Dyer that resulted in us losing our shape and allowed Boro back into the game, Boateng's effort at the right end leading to some late nerves as Boro forced a series of free -kicks and corners to belatedly rouse home fans from their slumbers.

However, any hopes of a second Riverside comeback in four days were stifled by some stout defending - Shay Given making one great diving stop and Robbie Elliott supplying some strong tackles as we sat too deep at times for comfort.

Ameobi and Bowyer continued where they had left off against Spurs with decent displays, but some sub-standard passing from Emre disrupted our forward momentum in the first half and his poor crossing after the break was also a source of frustration.

No goal on his Riverside farewell for Shearer though, who threw caution to the winds and himself headlong into opponents as the final whistle loomed. He then celebrated at the end by leathering the ball into the away end, before leaving the field with a wide grin. Practicing for Easter Monday, obviously.

With Albert Luque and Michael Owen injured, Scott Parker ill and Jean-Alain Boumsong not even in the squad, United were without over £38m worth of players and only eight of the sixteen Glenn Roeder named for duty cost us a transfer fee. Funny old game.

To summarise then; United on Teesside: taking the points, taking the p***.

Long may it continue.
Biffa

Reports