Date: Saturday 15th April 2006, 3.00pm

Venue: St. James' Park

Conditions: Hazy sunshine




Newcastle United

Wigan Athletic

3 - 1

Teams
5 mins A soft free kick award in a central position outside our area gave Jimmy Bullard the chance to leave Shay Given flat-footed with a well-executed free kick. No reference was made to the dubious award in post-match TV analysis. 0-1
28 mins A cross from Charles N'Zogbia saw Michael Chopra bundled over at the far post and Rennie reluctantly point to the spot after what seemed an age - the Milburn side linesman leaving him in no doubt with his flag across the chest signal.

Alan Shearer stepped up to place it to the keeper's right. Much reference was made to the allegedly dubious nature of the award in post-match TV analysis. 1-1
36 mins Nolberto's Solano corner from the Milburn/Gallowgate corner was headed home by the unmarked Titus Bramble. 2-1
Half time: Newcastle 2 Wigan 1
66 mins Kieron Dyer brought the ball forward before making an untracked run near the right side touchline. Chopra however opted to ignore him in favour of playing in Alan Shearer, who bore down on goal and round Filan (who got a finger on the ball) before pulling the trigger and celebrating in front of the North East corner. 3-1
Full time: Newcastle 3 Wigan 1
Glenn Roeder commented:
"Itís the first time we have come back, apparently, from a goal down for a long, long time, so we have broken that run and should gain confidence from that. And Wigan havenít been beaten away from home for a long time also.

"They are yet another team to come to St Jamesí Park and go away empty-handed. They have been terrific, Wigan, this year and a difficult team to beat, but we gave them a goal start and beat them, and beat them well.
"There are two issues here: to get the next three points and let the league table take care of itself. If West Ham keep winning, we canít get into that seventh place. Having said that, there are four games to go, thereís plenty of football to be played and we are only a point behind them.

"We will take one game at a time, three points - please God - at a time and we will see where we end up. But if we were to finish seventh in the table, from where we were at the beginning of February, that would be a hell of an achievement by the players."

Paul Jewell said:
"We were going to change it just before they scored because I felt it was just getting a little bit open and we needed to try to tighten up, but before we got the chance, they got the penalty.

"After that, they were always going to be chasing the game. They had a foothold in the game and Shearer just had too much for our makeshift centre-half pairing.

"Whatever you say about him, his legs might not be what they were, but he knows the game."
Alan Shearer's two goals were the first time he'd been on the scoresheet more than once in a game, since his double at home to Dubnica in the Intertoto Cup.

And one has to go back to April 2004 for his last two-goal haul in the Premiership, coming during a 4-2 home success over Everton.

After losing a valid goal to a myopic linesman at the JJB, Shearer's first strike against the Latics reduced the number of current Premiership sides he's netted against for us down to one.

A strike on April 29th at St.Andrews against Birmingham City will give him a full set.

However there were still six sides that got away in past seasons: Norwich City, Oldham Athletic, QPR, Swindon Town, Watford and Sheffield United (whom he did score against in the FA Cup).

Al's penalty on Saturday meant that we netted our first ever goal against Wigan in the league and the first in any competition since Ivor Broadis in the FA Cup tie back in January 1954.

Titus Bramble netted the fifth goal of his Newcastle career, of which three came in the UEFA Cup campaign of 2003/04 (Breda and Mallorca at home, Basel away).

His only other Premiership goal came at home to Southampton in January 2005 - and all four of his goals on Tyneside have come at the Gallowgate End.

Bramble netting was also significant, his effort being the first in a competitive match by a United defender this season.

The last defender to net for us was Celestine Babayaro at home to Coventry in the FA Cup in January 2005 - and the last Premiership goal was Bramble's against the Saints as mentioned above.

And another feather in the caretaker manager's cap came on Saturday, as we came from being behind to take three points from a Premiership game for the first time since Sir Bobby Robson was in the SJP hotseat.

Replies from Ameobi and Shearer to an early Joe Cole effort were enough to beat Chelsea 2-1 on Tyneside in April 2004 - a feat we'd never repeated until Saturday.
Waffle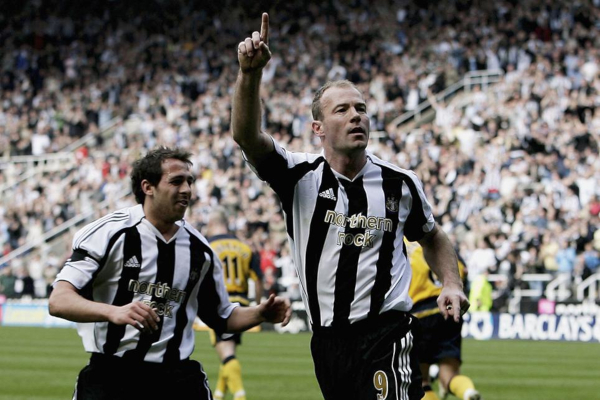 The loss before Christmas of that Tyneside institution known as the Football Pink was inevitable, given the scant regard the publishers had for the heritage of their title - running it down before slaughtering it in the name of commerce.

However, had the paper still been in production, this would have been one of their more balanced blow-by-blow match reports, given that so much of the action took place in the opening 45 and there was little of note in the last twenty minutes to stuff into the last paragraph.

By that time we'd recovered from a double injury setback (triple if you count Friday's loss of Emre) and from being a goal behind. Wigan had suffered even more in terms of personnel, all three replacements on the field before the interval and at least one other player hobbling noticeably.

Like Nobby and Al though there was to be no respite and a full ninety minute shift was the order of the day - short of one final party trick from Uriah the clown handing the latter an early bath.

For Michael Chopra though, time stood still as he found himself once again unable to break his Premiership scoring duck - this being his 17th unsuccessful attempt a month short of three years since his debut at West Brom.

A block tackle from close range denied him this time, but he couldn't be faulted for effort and did did have the satisfaction though of supplying the through ball for Alan Shearer to get forward and notch a rare goal (for him) from open play. Perhaps Monday will be kinder to Chops.

Rare too had been a goal from Newcastle's backline, Bramble becoming the first United defender since....Bramble in 2004 to convert in a Premiership game for the black and whites.

But surely Titus or any of his defensive colleagues (except perhaps Monsieur 50p heid) would have profited from the early N'Zogbia centre that left Ameobi three yards out to head into an open goal - only to fluff the chance. Now do you believe me when I say he closes his eyes for headers?

The striker soon had other things on his mind though as he followed Bowyer off the field for an unexpected visit to the dentist. At that point and with Dyer having earlier spurned a good chance before we went behind, one couldn't help wondering whether this was destined not to be our day.

When a pattern of play did belatedly emerge after the frequent disruptions though, it was Roeder's side who continued their recent run of form with glimpses of the fluidity that unsettled Spurs and Boro.

The visitors by contrast reverted to recent type - this being the fourth game in a row that they've taken the lead but failed to claim the three points.

Shearer duly collected the sponsor's man of the match award, but a measure of how positive this display left the rank and file feeling could be gauged by the post-match pub conversation in which plausible cases were advanced for the trinket to have been carried away by Bramble, Moore, Solano and N'Zogbia.

For the young Frenchman in particular some recognition would have been fitting after another display full of promise - surely an U21 cap or two is on the agenda? By no means the finished article, he does however have a spark that worries opponents (Wigan had to foul him to stop him today) and delights supporters (there's an audible murmur of anticipation when he gets the ball). All this from a lad who isn't a natural wide player.

On a one-off basis this was an enjoyable and incident-laden afternoon for the crowd, with two more for the Shearer total and another Owen-less victory to celebrate - in stark contrast to the football famine we suffered a year ago - no paper aeroplanes today.

But for the revenge factor in at least preventing Wigan from registering a trio of successes against us this season there was tangible satisfaction in a professional job well done - plus at least a semblance of optimism about European qualification in some form next season.

If nothing else it makes the end of the season interesting - ruling out any scurrilous thoughts of going easy on Birmingham to try and keep the Butt sale alive and ensuring that the final day visit of Chelsea isn't a re-run of the bloodless encounter of twelve months ago. Shearer deserves that.

While others fuss and punt about the next messiah to be appointed, we're thankfully just getting on with trying to play football effectively - using whatever eleven players we're able to field.

Some of those will have gone by the time Wigan come here next season (at least one could be a Latic), but today none of the squad who featured let their manager down - and 50,000 folks got a little more payback for what they endured earlier in the season.
And now to some more unfinished business - where are those coffin nails?
Biffa