The Easter double prediction was for
"Newcastle to beat both Wigan and
the mackems by two clear goals."
All was going well until 3 minutes from
time when Luque popped up. Apologias!


Date: Monday 17th April 2006, 3.00pm

Venue: Stadium of Plight

Conditions: Blues skies (just as in the "We'll meet again" song...).

Admission: £30

Programme: £3
mackems

Newcastle United




1 - 4




Teams
32mins: United had three chances to clear the ball, before Justin Hoyte knocked it past Given to complete an elongated 1-2 with Stead. Bramble, Moore and Babayaro were all at fault - the latter having deserted his right back position, causing Bramble to have to lumber out wide.

That brought a mini pitch invasion by home fans, but as in previous years the police and stewards inexplicably allowed the trespassers to return to their places rather than hoy them out. 0-1
Half time: mackems 1 Newcastle 0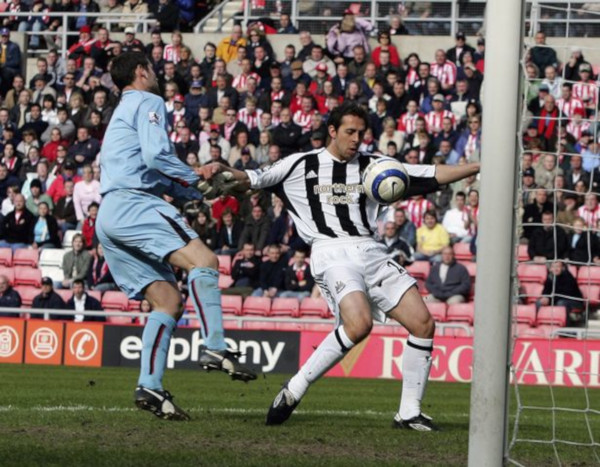 60mins: A hopeful punt into the box from a free-kick just outside the centre circle fell to visiting substitute Michael Chopra - who had been on the field for less than 20 seconds.

Mackem goalkeeper Kelvin Davis came and missed and as he collided with Chopra, the ball ended up a yard from the line. Chops gleefully thumped it home, before celebrating with the heaving mass of bodies behind the South Stand goal.. 1-1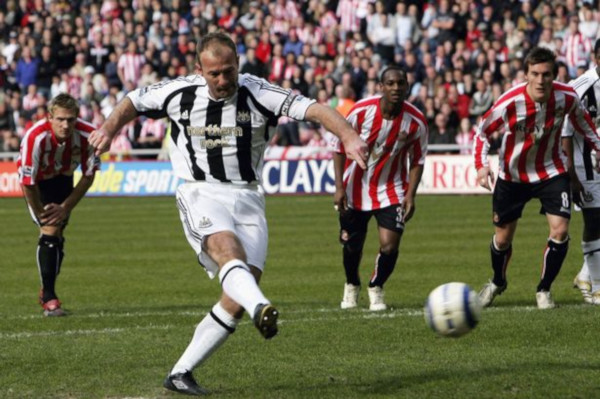 61mins: N'Zogbia was tugged to the ground by Hoyte and the ref pointed straight to the spot. Alan Shearer thumped the ball to the 'keeper's right who guessed correctly but it was powerful enough to evade his despairing dive. The look on Al's face was just priceless as he stood, arms aloft, in front of his own people. Little did we know... 2-1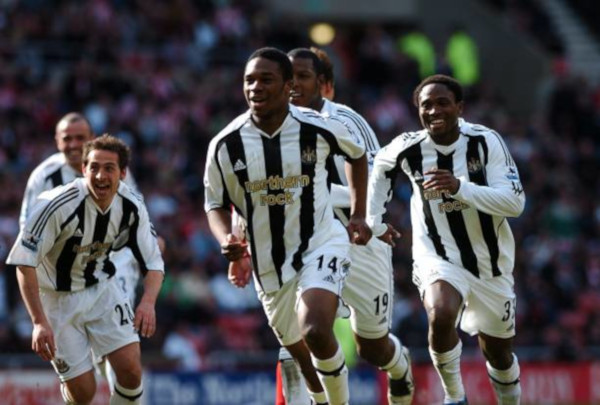 66mins: Yet more joy, as Charles N'Zogbia picked the ball up ten yards outside the area and went on a mazy run beating four defenders before placing a low shot past Davis into the corner.

After initially heading infield, he turned and made his way back towards goal, to take the salute of the by-now hysterical away fans. 3-1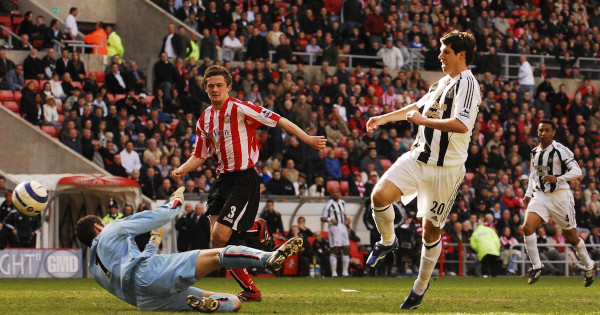 87mins: A long ball forward bounced over two mackem defenders who comically collided, leaving Albert Luque to bear down on goal and chip the advancing 'keeper.

The Spaniard marked his first goal for the club by clasping his hands together and blowing kisses to the incredulous Toon support, as Michael Chopra clambered on his back. NB: no pitch invasion from Newcastle fans in the aftermath of this, or any other goal 4-1
Full time: mackems 1 Newcastle 4
Glenn Roeder on Shearer:

"There is real concern that he has a ligament injury, and with the season running down now, that he might not be fit before the end of the season.

"I hope so much that is not the truth and it won't work out that way, but we are really concerned.

"He's had a brace put on his knee. It was the body-weight of the man who fell on top of him that his knee couldn't take and over-stretched the ligament.

"Tomorrow, the doctors will have a look at it, a close look, and see how much swelling there is there and lack of movement.

"It will certainly be scanned and once we see the scan, I suppose there will be a decision and an opinion given on whether he's got any chance of playing in these last few weeks of the season.

"But I'll remain positive there is a chance we will still get him back on the pitch, maybe in the very last game of the season.

"I didn't really get a chance to see Alan too much in the dressing room afterwards, but he was lying on the table there looking pretty despondent, of course.

"But he was so happy with the result, he forgot his own problem for a few minutes, and he made sure he congratulated every single of our players on what was a remarkable turn-around.

"Alan Shearer was summed up in the two seconds before we could get him off the pitch.

"He was hobbling with what looks like potentially a bad ligament injury and a Sunderland player was carrying the ball forward and he turned around and tried to make a tackle where most players would have been lying on the floor curled up.

"That just sums up Alan and why he's had the career he's had and why he's the person he is. It's a shame they don't make more people like that."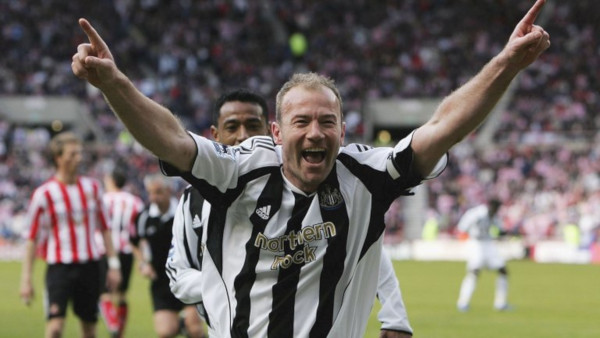 Alan Shearer spoke about the injury:
"It's a great way to go out if it is - I've been waiting five or six years for a penalty against this lot because I missed my last one against Sunderland, and the wait was worthwhile.

"There was a lot of frustration and anger in that penalty.

"It was a tremendous turnaround from us because we were rubbish in the first half and the manager has come in and let us know what he expected from us.

"To be fair to the boys they've delivered that in style."
Kevin Ball waffled:
"For 90 minutes on Friday (at Manchester United) and for 60 minutes up until they scored their first goal here, you saw a real progression in the way we played and the way we moved the ball.

"Everything about them was what I wanted. I said to the players before the game, 'In life you get moments and make memories - make this one of those days'.

"Unfortunately from the first goal onwards, they have made a memory of the wrong sort.

"The way we conceded the goals hurts the most because, with the utmost respect to Newcastle, I feel we beat ourselves as opposed to Newcastle beating us."
Mags @ dark place since losing:

2005/06 won 4-1 Chopra, Shearer(pen), N'Zogbia, Luque
2002/03 won 1-0 Solano
2001/02 won 1-0 Dabizas
2000/01 drew 1-1 A.O'Brien
1999/00 drew 2-2 Domi, Helder
1996/97 won 2-1 Beardsley, Ferdinand
1992/93 won 2-1 OG, L.O'Brien
1991/92 drew 1-1 L.O'Brien
1989/90 drew 0-0 (playoffs)
1989/90 drew 0-0
1984/85 drew 0-0
1979/80 lost 0-1

So that's another beaten generation of mackems, who have never seen their side win a derby on wearyside. For that delight they have had to travel to Tyneside - just as they do for most other useful/civilised things.....

This was the 137th competitive meeting between the clubs, with the Magpies sealing their 50th victory. There have been 44 draws and 43 miscarriages of justice to date.

Our fifth successive derby victory and the unbeaten run now extends to seven games. The best that the mackems have managed was three wins in a row.

This was our largest win since the 3-0 home success of 1969/70 and one has to go back to a 1955/56 6-2 win at Roker for a bigger margin or a better than three goal away haul for the Magpies.

It's the first time we've scored more than three against them since the 6-2 home win of 1956/57.

The victory by a three goal margin was the first in a derby for either side since Gary Rowell's hat trick at SJP in the 1979 4-1 defeat.

United have netted 207 times in derby game, the mackems 204.

206th goal for Alan Shearer in a Newcastle shirt - and the last.

First Premiership goals for Chopra and Luque - the latter the first Spaniard to score for us (although Marcelino did net on this ground in a reserve game). Both came on as substitutes and scored - were not sure if two subs have scored before.

And were the mackems to be allowed to combine their points tally from this season and their last Premiership campaign, they'd still be in a relegation spot! (31 points in 72 games, which would leave them 18th in this season's table).

Only Fulham and Arsenal remain to visit this hellhole - and a failure to register a home win against them will mean a full season without a home league victory. Simply the worst team in history.

Newcastle scored four goals in one half away from home for the first time in the PL - the last time we recall that feat was in the 5-5 draw at QPR in September 1984.

Waffle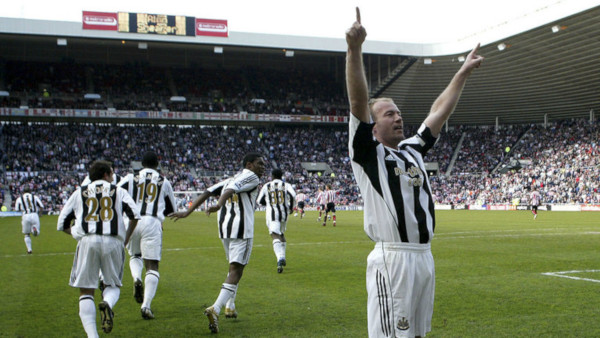 Diabolical, deplorable, dreadful, shocking, pitiful, pathetic, embarrassing, unbelievable, dismal, feeble, useless, awful, appalling, abysmal, shameful, astonishing, staggering, atrocious, inexcusable.

No, not the punters panel from the mackem evening paper on Tuesday - that's how we described our League Cup humiliation at Wigan earlier in the season.

And after the opening 45 minutes of this derby, we were contemplating the prospect of re-running that outburst - and we weren't the only ones, Alan Shearer himself terming his side's first half display "pathetic."

By the final whistle though, our description was more along the following lines:

Jubilant, unbelievable, staggering, tremendous, amazing, necessary, outstanding, terrific, hilarious, euphoric, remarkable, joyous, exhilarating, astounding, laughable, overwhelming, unique, superb, momentous, astonishing, comical, knockout, ecstatic, magnificent.
After some harsh words in the dressing room, Newcastle came out little-improved for the second half, the same problems as before still painfully evident.

Dyer showed little in his emergency front runner position, failing to link up with the similarly -isolated Shearer. And in central midfield Faye and Clark were incapable of providing the sort of pressing threat that Bowyer had brought to the side in this winning run.
Meanwhile N'Zogbia and Solano had no outlet as we looked disjointed and lacking across the park - the Peruvian trying to get things going, but the young Frenchman a peripheral figure and lucky to re-emerge for the second half.
We were quite simply, passionless, something plainly unacceptable for a derby game of this magnitude (the mackems later whinged about beating themselves but if anything we had an even stronger case to use this line).

Cue the Roeder reshuffle; throwing on Chopra to try and feed off scraps and hopefully show some abrasive qualities up front, Dyer dropping back to spearhead the midfield.

That was the remedy - and the cure took precisely seventeen seconds to take devastating effect.

What followed was payback for every slight, insult and slab of misfortune - both real and imagined - that's come from this dark place.

2-1 in the rain, the playoff debacle, Jim Pearson's missed penalty, Shearer's missed penalty, Rowell's hat trick, Billy Hardy, The Toy Dolls, whatever.

A plot more implausible than "Goal" unfolded here in front of the disbelieving eyes of red and whites, who only minutes earlier had been giving thanks and praise to the side who had seemingly salvaged one grain of pride from a season of utter misery by beating the old enemy.

They were to be gloriously mistaken after three goals in seven minutes - including Chopra's first Premiership goal and the Spanish misfit belatedly getting off the mark.

Misery gave way to complete humiliation, enough to silence even the staunchest mackem. Meanwhile, those behind the goal supposedly guarded by Davis were in a state of advanced delirium.

Great satisfaction for the visitors then on and off the field, with Glenn Roeder as elated as anyone.

After a consoling handshake for the pitch invader who tossed away his mackem season ticket wallet (which contained NO match tickets), the Newcastle caretaker kept his cool to press the flesh with his opposite number.

However the mask slipped around 30 minutes later as he re-emerged from the tunnel to punch the air in delight as the Toon fans locked in the ground gave him a big ovation.

Just days short of the third anniversary of his sudden illness, this was a special moment for Roeder, regardless of what happens with the manager's job.

At the start of this season he was involved in some pitchside argy-bargy with Ball as the mackems beat us in an Academy game - but he could surely never have dreamed of exacting revenge in quite this glorious manner on his next visit to wearside.
There's an evening of clairvoyance at the stadium of plight later this month, that could attract a larger crowd than their two remaining home games of the season. But it won't take a medium (mystic mag?) to predict that the future is anything but bright in this part of the world.

Certainly alleged saviour Niall Quinn will need to sell more than disco pants (or lucky heather) to be able to back up his hollow waffle about being bigger than us. Just what is it about wearside and hoaxers?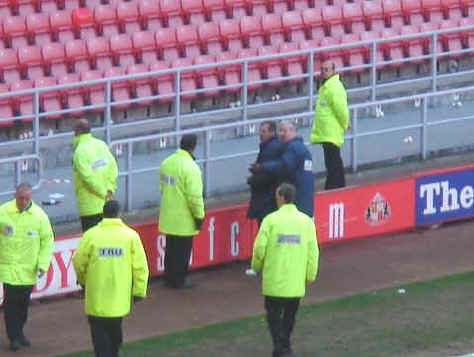 The funniest moment of the day had to be the mackem groundsman responding to post-match taunts from the travelling fans, throwing down his bundle of corner flags before being restrained by another groundsman (see photo) and then stewards as he tried to get at the mags - who were by now doubled up with laughter.
In a final show of petulance the miserable mackem then removed his coat and threw it to the ground to the cheers of the jubilant Mags. If only they were still filming Premier Passions....
However the mirth-making antics of the mackems were tempered by the realisation that there was no sign of Shearer returning to share in the on-field celebrations with the rest of the team after the final whistle.

Given the magnitude of the occasion, that was to prove a very significant absence as word quickly spread during the return journey that the injury was almost certainly enough to mean that he'd kicked his last ball for us.

We started off singing "we'll meet again" at the poor wretches in red and white, but by the end the lament was for our own number nine. Proper farewells (albeit non-playing ones) are promised, but this was the final chapter in the playing history.
What a way to go though.

On our last visit here, in 2003, he had an early effort chalked off before succumbing to injury midway through the first half - a chipped ankle bone adding to the broken knuckle and stitches in a head wound he'd suffered going into the derby game.

And when Solano tucked away the winner from a penalty in that match just over 15 minutes later, Shearer could have been excused for thinking that the chance to exorcise those spot kick demons would never come his way again.

Today though was payback.

He'd doubtless have preferred to have signed off without needing yet another consultation with the medics and have made his final bow on home territory.

But inflicting the mortal blow to our oldest enemies in their own backyard was a damn fine way of settling unfinished business for the last action hero.

One question does remain though. If we got four with half a team and no Owen, how many could we have rattled in with a full turnout? Had it been a dozen it could hardly have been any funnier...
Biffa
PS How about this for a classic example of sub-normality. Our fourth goalscorer was who...??
(asterisks added, apologies for the author's foul-mouth):
You'd think we'd be used to seeing Sunderland throw away games this season. But being one nil up against the Scum at half time and to lose 4 -1 takes the p*ss to be honest.
Covering the games for ALS this season has been difficult considering how sh*t we've been but today is just gutting.
Sunderland fans deserve better and to be hammered at home by your rivals is depressing.
The lads started the game well buoyed by the draw at Old Trafford on Friday and edged the first opening fifteen of an edgy game.
Derbies are always gong to be tough affairs and this was shown in the opening stages when both teams started physically.
The first half was predictably us piling forward with little quality and them defending as best they could which was good considering Boumsong was on the bench.
Chances were few and far between in the opening stages and most of the first half was played out in midfield.
We took the lead just before half time when Hoyte slotted home from just inside the area after pressure from Lawrence paid off. Hoyte's finish was good for a right back and mirrored the goal of Patrice Cateron a few years ago.
Half time was mint and the bogs enjoyed the good times again. Oh how the game is cruel.
After the break is and still seems like a blur.
Being one nil up at home the lads tried to make the game fair by giving the Scum a goal back. Caldwell left an aimless ball for Davis to deal with. Davis left an aimless ball for Caldwell to deal with. The result being ones each.
Then just in case anyone thought the FA weren't up Shearer's arse the ref blew for what seemed like nowt (and probably was) and gave them a pen.
Anal scored his millionth pen and the writing was on the wall. Within two minutes the game had swung and the feeling in my gut was indescribable.
Two quickly became three when N'Zogbia danced through and slotted past Davis. Three became four when Chopra went through and rounded off our misery.
The Portsmouth game springs to mind, but today was worse. They are nowt special but this result will let them have the bragging rights for at least a year.
I've already had a few texts off some Scum mates and I'm expecting a few more.
Today was supposed to be the day we salvaged some pride but it will go down in history as a drubbing.
The match also seen a bit of bother, a few pitch invasions and Murray Out chants. However I'm sure Bob will be happy to hear that there was some "Murray In" chants heard ringing around the ground for the first time on the final whistle. Unfortunately they were from the Scum.
Final Score: F*ck Off
Man of the Match: Me and the other thirty seven thousand Mackems who turned up today. Would they have that many in our predicament? No. [Exactly - we'd have 12,000 more....]
Aidan Crowe
(A Love Sowprame)

Reports