Date: Saturday 22nd April 2006, 3.00pm

Venue: St. James' Park

Conditions: Hazy sunshine


Newcastle United

West Bromwich Albion

3 - 0

Teams
30 mins
Having earlier crashed a fine volley off the crossbar, Nobby Solano got the scoring underway with his sixth league goal this season.

Shola Ameobi's infield ball gave Matty Pattison a sight on goal, but the youngster opted to play in Michael Chopra to his left, who cut inside before trying his luck from inside the area. Neil Clement made a block, but the ball fell nicely in the six yard box for the Peruvian to knock it in. 1-0

40 mins Chopra was fouled on the edge of the box by Clement as they challenged for Solano's floated forward pass and for the second Saturday in succession, the linesman on the Milburn Stand side put his flag across his chest and referee Howard Webb pointed to the spot for our fourth spot kick in the last five games.

With the SJP crowd humorously shouting "Shearer, Shearer", Solano and Shola initially seemed unsure who would take over spot-kick duties.

However it was Ameobi who took the ball and beat Tomasz Kuszczak with a low effort into the corner of the Gallowgate End goal. Although the strike wasn't the hardest they all count - our former number nine leading the applause. 2-0

Half time: Newcastle 2 West Bromwich 0

90 mins Pattison was warmly applauded as he made way for Lee Clark and Charles N'Zogbia moved across to a wide role. Shola Ameobi strode on to the Frenchman's pass to fire past Kuszczak. That's four in his last four games now for Shola, who is now just 167* goals away from beating Shearer's record....3-0

(* 166 if you believe that he scored two at home to the mackems this season)
Full time: Newcastle 3 West Bromwich 0
Glenn Roeder commented:
"The win keeps us in there, the win keeps us in with a chance. I said to the players yesterday when we discussed West Brom, they would come here today with what I would describe as a 'do-or-die' approach.
"But then I also said 'but don't forget, it's do or die for us. If we don't win, we will probably go out of the European race'.
"It was do or die for both teams - thankfully, we did the doing.
"I always believe the best policy is to be truthful, and I'd probably say Kieron (Dyer) won't be fit for the last two games.

"We need to get to the bottom of this problem. We are not going to try to rush him back to play a part next week or a part in the Chelsea game.
"That would be unfair to Kieron. We need to solve why his hamstrings after playing games tighten up and become strains.
"But as we showed today, if we have to go to war without some of our first-choice players, we have young players who want to come in a fight for the club and wear the shirt, and that's what we will do in the last two games.
"Kieron has probably now finished for the season and it's all about getting to the root of the problem and getting him back for pre-season fit and ready to train."

Captain Shay Given added:

"I found out on Thursday morning when Glenn called me into his office. I wasn't sure whether I was going to be made captain or not because the last time he called me in it was to tell me it wasn't me, but Scott Parker.

"He said I'm captain until the end of the season and I was delighted, especially as it was my 30th birthday. It was extra-special leading the team out against West Brom and a very proud day for me."
Bryan Robson slurred:
"I've been praising the lads a lot of the way they've been playing in games recently, I think their performances have been good and they've been a bit unfortunate not to get more out of games. But today I didn't think we deserved anything.

"The first half was very poor. For whatever reason we just didn't compete. There were no energy levels at all from us and we didn't pass the ball well. If I'd had 11 substitutes at half-time I'd have put them all on.
"It was no disrespect to bring three on because the whole team was poor.
"I don't know whether today was the effect from not beating Bolton in the last game because the lads knew how important that was. They showed disappointment and no energy in this game.
"The only thing we did in the second half when we made the substitutions was we played with a bit more pride and played a bit more football.
"I mentioned to the lads that Newcastle had got a good squad. It was good to see all the players they'd got out but I said we should underestimate them whatever team they played.
"Their confidence was high after a good run and I said we'd have to be really up for it and compete, but Newcastle came out really well, they got balls up to Ameobi and he caused us problems.
"We didn't compete it was a really poor performance in the first half. The way the other results have gone has more or less put us down. Mathematically it is still possible for us to stay up and as far as I'm concerned we will prepare well for the game against West Ham on Monday.
"We have to make sure we win our last two games and hope the other games go for us on Saturday."
Paul Robinson added:

"The supporters spend a lot of money every year following the club - and they wasted a lot of money on Saturday. For them to have travelled all that way and watch that first-half performance was very disappointing.
"We've put ourselves in a very difficult position in the league - but we'll keep going.
"All we can do is keep our fingers crossed on Saturday and try to get back to winning ways on Monday against West Ham.
"Whatever happens on Saturday, we have to go into the game on Monday and look to get three points. We have to get that bad performance out of our system and put on a good display.
"We don't want to let the fans down again. We were bang out of order in the first half. We've got a lot to make up for."
Throstles @ Magpies - last 10:
2005/06 won 3-0 Solano, Ameobi 2(1pen)
2004/05 won 3-1 Kluivert, Milner, Shearer
2003/04 lost 1-2 Robert (LC)
2002/03 won 2-1 Shearer 2
1990/91 drew 1-1 L.O'Brien
1989/90 won 2-1 Quinn, Anderson
1989/90 lost 0-1 (LC)
1985/86 won 4-1 Reilly 2, McDonald, Clarke
1984/85 won 1-0 Beardsley
1977/78 lost 0-3

By our calculations this was our 500th Premiership game and our 250th on Tyneside.

Our vital statistics so far are:
| | | | | | | | |
| --- | --- | --- | --- | --- | --- | --- | --- |
| | P | W | D | L | F | A | Pts |
| Home | 250 | 148 | 56 | 46 | 466 | 239 | 499 |
| Away | 250 | 69 | 75 | 106 | 294 | 367 | 282 |
| Total | 500 | 217 | 131 | 152 | 760 | 606 | 781 |
In those 500 games we have used 121 players.

We extended our winning streak to five games, while captain Shay Given got his first clean sheet in ten league and cup games.
Our no.23 celebrated his 23rd Premiership start of the season with goals 2 & 3!

Michael Owen returned to the squad for the first time since December 2005 but didn't make the final 16 after failing a slightly pantomime-like fitness test on the pitch.

The Baggies extended their winless run to eleven games, since beating Blackburn at the Hawthorns in early February.

We didn't actually relegate our opponents on Saturday but it became a mathematic improbability with the bookies making them 100/1 on to be relegated.

Waffle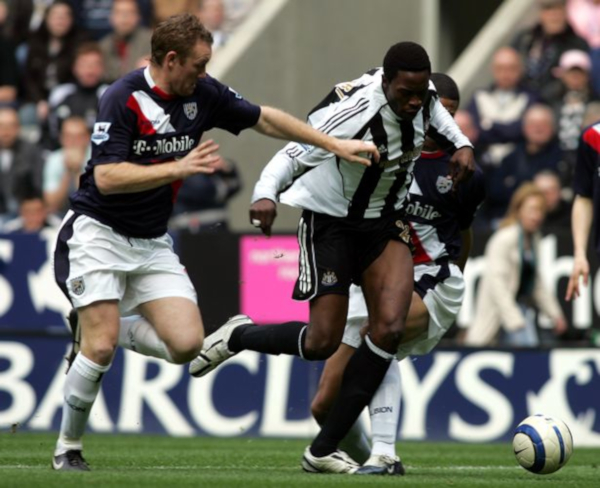 What was scheduled to be the last match of Glenn Roeder's interim stewardship of the club brought win number ten from fifteen league and cup games and a points tally of 31 from a possible 39.

Since the former Magpies captain moved across from the Academy to the first team, he's overseen a rise of half-a-league's-worth of places and a discernible improvement in the mood of the whole city.

That positive spirit has also survived a further plague of injuries, with the expected retirement of Shearer becoming public knowledge on the morning of this fixture. Thankfully though that news didn't dominate the post-match headlines.
Compared to the side that won 3-0 at the Hawthorns less than six months ago, Roeder had to fashion a side without Owen, Shearer, Taylor, Parker, Emre and Dyer.

And although he didn't appear in that game, the recent loss of Bowyer was another blow to our midfield given his pre-injury form - the situation then deteriorating further with news that Clark is playing on while in need of a double hernia op.
Under the circumstances Roeder could have been forgiven for turning to Robbie Elliott to reprise the midfield role he once starred in (eg Norwich away, Jan 1994).

However, having given one of his Academy player Matty Pattison a taste of the first team against Everton, Roeder chose to blood the 19 year-old from the off despite the fact he seemed to have gone off the boil in recent reserve games.
Although primarily a central midfielder Pattison started against Albion on the left flank, as Roeder moved N'Zogbia infield to his preferred position and chose to ignore reserve left winger Alan O'Brien - who had briefly featured in the first team just before Souness departed.
Luque of course was also left to languish on the bench despite notching his first goal in England on his last appearance. Whether the Spaniard would have started had Shola taken his gob doctor's advice isn't known, but the message was clear enough to the former Deportivo man, who had been reputedly less than wonderful in training.
However, it has to be said that our mood might have been less sanguine, had our depleted forces not been opposed by a side even more forlorn than the red and white shambles who succumbed in such comedy fashion on Easter Monday.

Albion shambled on to the field looking like they'd been on an all-night tour of local ale houses and looked a beaten side before kickoff.

Once the ball started moving things got no better, old boy Steve Watson looking as if he was close to bursting into tears at one point. The comparison with our non-performance at Manchester City this season was obvious - the Baggies voting with their feet for the demise of their boss.

Putting that into context it took us a wee while to warm up, but we did hit our stride and ease into an interval lead without too much difficulty.

Mention has to be made of Faye though, who despite having the freedom of the park and finding himself in the final third of the pitch more in 45 minutes than in the rest of his United career, was simply rotten.

We may lose out on the chance to punt Butt to Bruce if we win at St.Andrews on Saturday, but peddling this gimp back to Pompey and Redknapp has to be a priority - an ability to control and pass the ball is a pre-requisite at this level, surely?

Half time came and went but with the points secure and newly-appointed captain Given on the way to keeping a first clean sheet in ten games without any great heroics.

It was all a bit too easy, but we lacked the will (or the energy) to go in search of further goals that seemed there for the asking. Were we to miss out on European qualification in the final shakedown on goal difference we could yet pay for this.
However after a couple of misadventures in front of goal, Shola got the crowd back on his side again in the dying seconds with his second of the game to send most folks home happy.

Two left then, and next up a trip to the hellhole that is the porn palace.- and a chance to break our record of never having won our last Premiership away game,

Unlike the ramshackle outfits overseen by messrs Ball and Robson though, Bruce's side have at least managed to make a fight of it in recent weeks and whatever side we send out will get more of a game than we did today.

The Newcastle players might be advised to keep a wee bit of energy to sprint off the field at the end though before the Pompey result gets announced - things could easily get very naughty indeed.

As seems to be the case season after season, we're now collapsing over the finishing line as the stresses and strains of nine months catch up with us.

However we still look to have just enough momentum - even without the number nine - to keep on the ladders and off the snakes.

Add in a touch of Owen magic perhaps and there could still be a happy ending to the season that looked beyond the realms of reality twelve weeks ago.

Biffa