Date: Saturday 29th April 2006, 3.00pm

Venue: St. Andrew's

Conditions: Warm and sunny.

Admission: £39 (last season £38)
Programme: £3 (last season £3)





Birmingham City

Newcastle United

0 - 0

Teams
Half time: Birmingham 0 Newcastle 0


Full time: Birmingham 0 Newcastle 0
Glenn Roeder said:

"For Birmingham - and, to an extent, for us - today was all about winning. We needed three points for a European place.

"It's still possible depending on results elsewhere. But only possible."

On the hobbling Michael Owen:
"His pain isn't severe at all, it's just a dull ache. He's not overly concerned at all at the minute.

"When he came off, he wasn't entirely 100 per cent happy. But to try to get to the bottom of why would be wrong until his body cools down and we see him on Monday.

"He said that after five or six minutes, he turned away to the right and just felt a little bit of discomfort. It is in the same area as where he had the problem before.

"But there is no swelling, and when I asked Michael about the severity of the pain, he said there's no severity at all. It's just a dull ache.

"It's nowhere near as bad as when he needed a second operation on his foot last month.

"And I wouldn't have taken a chance in putting him out there for 30 minutes today if he hadn't trained so well this week. He's done everything we wanted him to in training without a problem."

"It's not the time for everyone to start saying Michael is going to miss the World Cup. But it is a concern." Meanwhile, Roeder hailed his side's battling qualities after withstanding an aerial assault to keep a clean sheet.

"Birmingham are a very hard team to play against playing that way. They were very, very direct and I thought our boys stood up to it really well.

"That doesn't make it a great spectacle, but our two centre-backs were excellent. The whole back four stood up to be counted."
Shay Given added:
"We didn't play like we did in the previous game against West Brom and it was disappointing in that sense.

"We didn't do a lot going forward and we could have done better in front of goal, but sometimes you don't play so well and when you do it's important to keep a clean sheet at the back, and we did that.

"Birmingham had a couple of chances, and I made a couple of saves in quick succession, and then Titus went on a rampaging run right through the middle of their team.

"His legs were very heavy at the end, he had defended well all afternoon, and he didn't have enough left to get there. He made a heavy touch and the keeper did well to clear the ball.

"After those saves I suppose I'd better not go out in Birmingham now! I have to be totally focused on my job for Newcastle and had we sneaked a goal at the end those saves could have been more important.

"That's 12 clean sheets this season and that's an improvement on where we were last season.

"We knew before the game how big a battle it would be, it was their cup final to stay in the Premier League. We needed to win to try and stay in the race for Europe.

"We didn't win but we didn't lose either and we've still got a chance of getting into Europe.

"It didn't do us a lot of good as Bolton and Blackburn are now in the driving seat for sixth place. They've both got a game in hand on us, so it's going to be very close.

"But we've still got a mathematical chance of qualifying so, hopefully, it'll go down to the last game of the season."

Bruce said:

"Everybody here is just hugely disappointed. Everyone knows what dropping down a division entails.

"It's been a long six or seven months. I felt we had enough to get out of trouble, but in the end we weren't good enough.

"It's for other people to decide my future. But there's a huge rebuilding job to be done here, and I hope I am given the opportunity to do it."

The last time we won our final away league of the season was the promotion-clincher at Grimsby in May 1993.

Since then we've lost titles, seen trophies presented, kept our boots clean before cup finals, qualified for Europe and bade farewell to already-relegated sides - but not brought home three points:

2005/06 drew 0-0 at Birmingham
2004/05 lost 0-2 at Everton
2003/04 drew 1-1 at Liverpool
2002/03 drew 2-2 at West Brom
2001/02 lost 1-3 at Southampton
2000/01 lost 0-3 at Liverpool
1999/00 drew 0-0 at Derby
1998/98 lost 0-2 at Leicester
1997/98 lost 0-1 at Blackburn
1996/97 drew 0-0 at Man U
1995/96 drew 1-1 at Forest
1994/95 lost 0-1 at Blackburn
1993/94 lost 0-2 Sheffield United

For completeness, the last top level success was in May 1988 on a sunny day at Portsmouth when we won 2-1.

Toon at St. Andrew's - last 11

2005/06 drew 0-0
2004/05 drew 2-2 Jenas, Butt
2003/04 drew 1-1 Speed
2002/03 won 2-0 Solano, Ameobi
2000/01 lost 1-2 Dyer (LC)
1999/00 lost 0-2 (LC)
1992/93 won 3-2 Peacock, Scott, OG 1985/86 won 1-0 Reilly
1979/80 drew 0-0
1977/78 lost 0-3
1976/77 won 2-1 T.Craig, Barrowclough

Waffle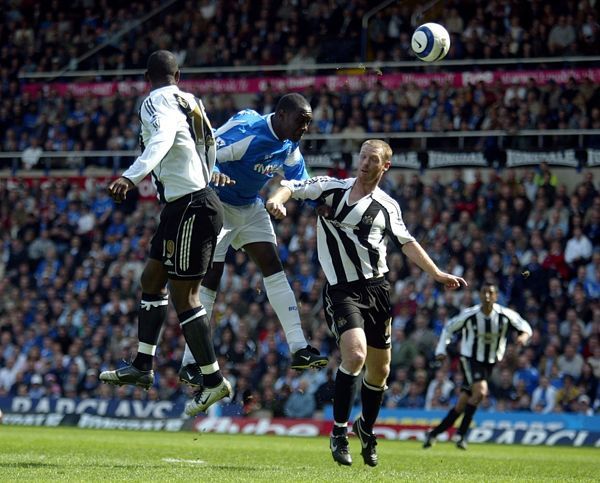 Maybe it was just me.

I thought I was turning up for a nerve-jangling encounter between one side fighting for Premiership survival and another desperate to take advantage of recent good form to get into the UEFA Cup. I was expecting a blood-and-thunder affair full of commitment and endeavour backed by two fervent sets of supporters producing a cauldron of noise.
No, it wasn't just me. City Supremo David Sullivan started off his programme notes by saying this was his club's biggest game in 13 years and his manager and the press also seemed to be stoking up the stakes with talk of dramatic twists and turns in this relegation dogfight.
But amid the media hyperbole and frenzy, did someone forget to tell the players?
I've seen some abject displays at this horrible ground over the years but I'm struggling to think of any as turgid as this one. At least the weather was decent - we don't normally get to the see the sun in this part of the Midlands (a 1997/98 friendly being the only other time I can recall) - but for some reason the sunshine seemed to bring on a Saturday afternoon snooze.
I've been to games at St.Andrew's when there hasn't been much riding on the result but the atmosphere has been far more intense and intimidating. Were the natives too nervous to inspire their side or had they been beaten into submission by Bruce's long-ball game (and the Liverpool cup humiliation)? Who knows? I just didn't get it.
The sides were serenaded onto the pitch with "Can you feel it", which given the dubious history of The Jacksons always seemed an unsavoury title (Randy has a big solo part in it, I understand...) but it induced the horrible happy clapping home reaction that just seems to be an integral part of small and newly (re) constructed grounds like this. Whether you like Local Hero or not, it has a certain dignity about it.
The play was admittedly sterile but I couldn't believe that they didn't sense we were there for the taking. We had somehow put together five wins in a row with a side missing plenty of first choice players and a front five of Pattison, Faye, N'Zogbia, Chopra and Ameobi is possibly the weakest we've fielded for a number of years. I honestly thought we had no chance.
But after a few minutes of seeing Heskey, Melchiot, Cunningham, Jarosik and other lumbering has-beens I realised that we certainly had very little to fear.
But neither side seemed willing, or probably more accurately, able, to prise open any decent scoring opportunities. Mistakes seemed to be the only way one side was going to prosper and Ameobi failed to make the most of one mix-up when he was unable to convert when 'keeper Taylor fumbled in the box.
At our end Moore and Bramble got in each other's way which allowed Jarosik to fire a shot from the left side of the penalty area but it only troubled the tape holding up the netting and spectators behind the goal, rather than Given.
That was just about the only slip-up from our central defensive pairing who performed well and looked fairly formidable all afternoon. Both threw themselves into tackles and mopped up any headers that Heskey or Jarosik reached before Forssell and others could take advantage.
The full-backs, Babayaro and Carr were also reasonably solid, although there are times when Carr just looks to be fighting well above his not insignificant weight. None more so then when he was done for pace in the second half and was booked for a playground hack.
Nobby Solano had a day to forget. He was busy and involved in the play but he couldn't pass to save his life. Whatever his pass completion percentage was before this game, his average went plummeting down.
N'Zogbia also struggled at times but like against the mackems he's always capable of a mazy run or two and after the break Melchiot came close to chopping him down in the box. The tackle was just about a good one, although Charlie needed plenty of spray to numb a sore foot.
And that brings us nicely to what seemed to be the only talking point of the day for us - the return of Michael Owen. For me, it seemed like Glenn was trying to do Sven and the nation a favour by putting him on. We knew he would play - Sven had told us midweek - and it seemed common knowledge that he'd play for half an hour. There was a time when info like that would be kept up sleeves. But then again, Owen is seemingly an England player first and foremost who just happens to play for Newcastle....
He was always going to be more effective than the man he replaced - Chopra - who had actually done pretty well - he held the ball up and laid it off neatly but he hadn't got a sniff of the goal all afternoon. There was the odd twist and turn from Owen but (inevitably) this was a pale shadow of the player we'd seen earlier in the season.
He had our best chance - a header that went over from six yards from a fine Carr cross - but he was surprisingly nowhere near a low cross that flashed across the goal later on. He trudged head bowed after the missed header back to the centre circle as if he'd just missed the chance to save us from relegation. Perhaps that was the point at which he felt the twinge in his foot but it was Forssell and Heskey who had their heads bowed with minutes to go.
The ball fell to Forssell eight yards out who hit Given's legs and when Heskey fired it back in, a deflection off Carr seemed certain to throw the home side a lifeline. Given thrust out his left arm and saved superbly and the danger was cleared and with news filtering through that Portsmouth were winning, the Brummies looked doomed.
Bramble broke from the corner and was suddenly striding unopposed into their half. With Babayaro to his right a goal seemed inevitable but his touch was heavy and Taylor did well to smother and with that our slim UEFA Cup hopes looked even thinner.
I hadn't seen the board raised for any injury time so when the ref blew for full-time it was something of a surprise but the home supporters seemed to be motionless. Most of them knew that they were down but they seemed to be in genuine shock. I don't think many of them had expected their fate to be sealed today and they clearly weren't prepared for their fate.
Our lot inexplicably cheered and applauded as our opponent's demise suddenly seemed to be more important than our European aspirations. A few of the players who took the time to wave goodbye to this season's travellers got my applause, including the flawless Given, but I didn't feel the team in general deserved much recognition.
There were taunts aplenty from the away end but initially they seemed to be falling on deaf ears. This seemed to be a good time to get out of this awful place - for who knows how many years. As we made it through the away car park and out on to the road there didn't seem to be many distraught Brummies. But judging by the increased noise still inside, the stunned silence was soon turning into anger.
While we headed towards the train station the other half of NUFC.com was locked in the ground while the Police tried to keep out weapon-wielding home thugs who were finally responding to the derision. As well as relegating the horrible Bruce, thus surely ensuring he never manages our club, it's nice to know we won't have to run this particular gauntlet again next season.
However, their play-off replacements could still be Leeds....
Niall MacKenzie