Date: Sunday 7th May 2006, 3.00pm

Venue: St. James' Park

Conditions: High hopes & hazy sunshine




Newcastle United

Chelsea

1 - 0

Teams
Half time: Newcastle 0 Chelsea 0
73 mins Ten minutes after Intertoto rivals Bolton Wanderers had opened the scoring at home to Birmingham City, Newcastle regained pole position as Amady Faye headed Emre's corner to Titus Bramble, who volleyed strongly into the Gallowgate End goal. 1-0


Full time: Newcastle 1 Chelsea 0
Glenn Roeder said:
"I feel exactly the same as I've always done when I come up here after we have won a game, very satisfied.
"It's a shame the season is finishing, isn't it? We have come from nowhere.
"They normally say there's a team that goes down that comes from nowhere in the middle of the table. But this time around, it's gone the other way, we have come from nowhere to get a stab at the UEFA Cup next year via the Intertoto.
"It's immensely important. There's a financial issue, which is always very important, and there's an issue that our fans - and rightly so - expect it.
"You can say it is only the Intertoto Cup, but nevertheless, it is an entry into the UEFA Cup and the fact that we have got a chance of playing in the UEFA Cup gives us a little bit more of an edge in attracting other players to come to the club in the summer.

"I noticed when I was here as a player, that when we got a goal up, the fans will not let you lose.
"The volume was as intense on Sunday as anything I have ever experienced, and I know it affected Chelsea.
"In fact at one stage, I looked across at Jose Mourinho and saw he was having difficulty getting his instructions across."
Having spent the game slumped on the bench wearing a thick coat, Jose Mourinho grumbled:
"Newcastle did this game, Chelsea did this game and the referee did not do what he should do.
"Babayaro is a red card in every country, in every division on every pitch; Boumsong is a penalty in every country, in every division, on every pitch.
"A clear penalty, a clear red card, at Blackburn two penalties - people cannot think because you are champions, you don't deserve respect or because you are champions, you don't want to win.
"Because I came with a team full of young boys and without the stars, if you want to say that, it doesn't mean you don't want to win.
"You want to play a game, you want to have the same chance as the opponents.
"We are not guilty that Blackburn needed a victory to go to the UEFA; we are not guilty that Newcastle needed a victory to go to the Intertoto.
"We are not guilty of that. We just want to play a normal game of football, and these two matches were not normal games of football."
"Robben is a lucky boy. He's a very lucky boy to to be going to the World Cup.
"Achilles is the worst injury you can have, and the way he was tackled from behind, he's a lucky boy, a very lucky boy."

Glenn Roeder's Premiership record as Newcastle caretaker manager: P: 15 W: 10 D: 2 L: 3

NUFC vs Chelsea @ SJP - Premiership years

2005/06 won 1-0 Bramble
2004/05 Drew 1-1 Geremi OG
2004/05 Won 1-0 Kluivert (FAC)
2004/05 Lost 0-2 (LC)
2003/04 Won 2-1 Ameobi, Shearer
2002/03 Won 2-1 Hasselbaink OG, Bernard
2001/02 Lost 1-2 Shearer
2000/01 Drew 0-0
1999/00 Lost 0-1
1998/99 Lost 0-1
1997/98 Won 3-1 Dabizas, Lee, Speed
1996/97 Won 3-1 Shearer 2, Asprilla
1995/96 Won 2-0 Ferdinand 2
1995/96 Drew 2-2 Albert, Beardsley (lost on pens) (FAC)
1994/95 Won 4-2 Cole 2, Fox, Lee
1993/94 Drew 0-0

Since already-relegated Hull City beat us 2-1 in 1990/91, we had never lost our final home game of the season and happily that record continued today.

Titus Bramble netted the sixth goal of his Newcastle career and the third in the Premiership. With one away goal to his name, all five of his conversions on Tyneside have come at the Gallowgate End.

Stephen Carr became the seventh Newcastle player to be dismissed this season, after Messrs Boumsong, Parker, Taylor, Bowyer and Babayaro and the rescinded Jenas red.

Mike Riley was responsible for four of those dismissals , in the four Premiership games he's refereed - he was denied a full set though, not waving wave his red card against Cheltenham in the FA Cup.

Three consecutive clean sheets from Shay Given at the end of the season, coinciding with his trio of club captaincies.

Waffle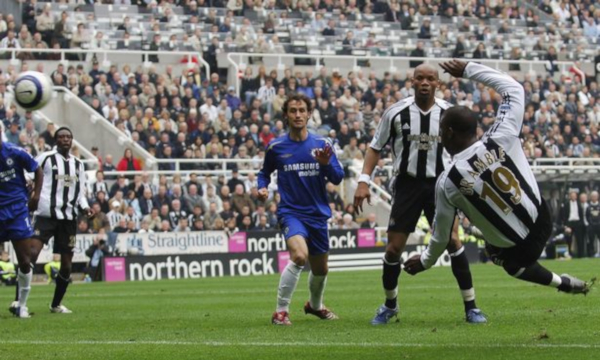 Two seasons on from collectively flouncing out of the ground to leave Bobby & Co. to celebrate fifth place with the blokes taking the posts down, most United fans stayed on after this game to cheer Roeder and his players round the pitch as they secured seventh spot and an Intertoto date.

That apparent application of supporter double standards reveals much about what has gone on at this club during another season of blink-and-you'll-miss-it intrigue, farce, misery but ultimately a small modicum of respectability.

Glenn Roeder has come in and improved the side without spending a penny (given that the transfer window closed hours before his appointment) and in the process allowed us to rediscover a measure of pride and unity that was misplaced somewhere last year between Cardiff, Lisbon and Washington Services.

In the process his stock has risen among the rank and file; not to the level of adulation that one hysterical local scribe would have his readers believe, but to a position at least of appreciation of a job well done. So far.

What the caretaker has achieved was initially down the the fact that he wasn't Graeme Souness.

That fact alone was enough to buck up the playing staff, lighten the moods in the corridors of the club and reinvigorate most fans as the season turned from a potential relegation fight into something a good deal more pleasurable.

If one accepts the notion that the Premiership is an increasingly average league composed in the main of unremarkable teams though, then the successes Roeder has overseen become slightly less fabulous - the gulf in class between us and Chelsea, Man United and Liverpool not being reflected in the margin of our defeats by them.

But applying the same logic though to the latter days of Souness only makes his shortcomings ever more inexcusable - given that both men have been consistently hamstrung by a signficant injury list.

Four months in and with people starting to chant his name, the man who didn't seek office is now tempted to take the reins full-time - some old boy network favour-calling allowing him to study for the required big boys bus pass while in post.

The question is though - now he's ready and willing, is he able?

Already being in charge and showing himself capable of putting out a winning team is a major plus - as is having a declared interest in youth development; something his predecessor could never be accused of.

Like Joe Harvey he was a respected leader on the field for United, both men making over 200 appearances in a black and white shirt but failing to achieve international recognition for England.
Having some prior knowledge of the club, the region and the peculiar demands of the job is a not insignificant factor - as is a willingness to settle in the area and not conduct his business from the departure lounge of various airports. Contrast his Tyne-Wear derby comments with a certain Dutch chap's.

If those are the positives, then there remains a body of opinion that greets the news of his appointment with a heavy heart - not least because of his track record in previous managerial jobs.

There's also the fact that Alan Shearer still seems to maintain a great influence over matters on Barrack Road and that Roeder seems intertwined with him - at least at this point. That could well change though, once that big banner on the back of the Gallowgate is just a memory....

Speaking purely from our own perspective, May 12th 2006 should be when we close the door on the sheet metal worker's son from Gosforth and plan for a new era.

After all, no man is bigger than the club - as Shearer has said himself. He'll always be popular and a welcome sight - but in terms of influence, thank you and goodnight.

Enjoyable though much of the last decade has been, we remain the target of opposition fans to regurgitate their "still ain't got no silverware" / "never won f*** all" chants ad nauseaum. And there's not a damn thing we can do, other than stand there and take it.

The perfect scenario would doubtless be a bold appointment and with it plenty of wedge and an undertaking to let the new manager get on and manage - the risk of bruising a few local egos and disrupting cushy numbers one worth taking.

Expectation remains the name of the game in this Toon - and it's difficult to argue against that, with most of the fanbase enjoyed sketchy memories at best of us actually ever achieving something tangible.

In an ideal world we'd be looking to attract a winner, someone who other clubs would covet. With the best will in the world Roeder doesn't tick those boxes at this stage in his career.

It's no shock that other Premiership Chairman are happy for us to take Roeder - like David Dein's protection of Wenger during the England pantomime, self-interest begins at home.

But maybe such a radical candidate doesn't exist - or has no interest in staking his reputation on
pulling round a club that has been in the doldrums over the years more often than in Europe.

While we didn't appear to be in the Hobson's choice situation that we were marooned in post -Robson, many of the alleged candidates bandied around were given credence only in the minds of bookmakers and cyber crackpots.

Credible options there were - but why those never came to fruition is yet to be revealed. One thing's for sure, if anyone allegedly in the frame ends up in charge on Teesside or Wearside, then the pressure on Roeder will be media-led and immediate.

At the heart of some of the misgivings being expressed about Roeder is a disappointment that we've opted for a comparatively low-key appointment, rather than another so-called big name.

This mindset has existed in one form or another for many years - Willie McFaul, Arthur Cox, even Kevin Keegan's return to the helm "to save us from disaster", as the song says.

The big assumption there has always been that these top-drawer movers and shakers were actually interested in coming here.

If that's construed though as modifying our collective self-image from that of a major force in the Premiership to something slightly more realistic, then that's maybe not a bad thing in our eyes.

We've had enough personalities with airs and graces acquired elsewhere, who mutate from glamourpuss to sourpuss, as the club wheel and deal to try and accommodate their fiscal requirements, before exiting stage left when their fallability becomes all-too evident.

It can't have gone unnoticed how we've improved as a side when players acquired for substantial fees have been absent through injury or non-selection - certainly among those trying to balance our books.

That though doesn't really square with the image that many fans have of ourselves - not to mention one or two people in more influential positions.....

If there is a saving grace, it's that even when he returned to the club at the Academy, Roeder's appointment was greeted more positively than when Souness and his henchmen rolled up at the gates.
And through his efforts (and a hearts and minds campaign of positive media coverage coupled with pressing the flesh on a nightly basis at talk-ins etc.) he's enhanced that standing in four months.

He doesn't start from scratch totally next season, having gained some knowledge of the playing staff as his disposal - and which of those he's looking to dispose of.

But as Roeder knows as well as anyone, the winters are long and the summers are short here. He's at the mercy of the fixture list, our constant battle with injuries and off-field calamities and every other eventuality that makes this club unique.

His appointment seems a realistic one given our current standing in the game, but hardly one that demonstrates a genuine appetite to battle the big guns of the Premiership - and is another example our continual lack of forward planning.

Previous attempts at occupying the upper echelons saw countless millions blown on unrecouped fees and vast payoffs to jettison failures. That has to take its toll eventually.

If the legacy of that is that the cash box is empty, maybe Roeder's willingness to work with what he's given makes him the only game in Toon.

However, he's seen enough to know that his team needs reinforcing - and that unlike the smoggies, he can't whistle up a shadow XI from the juniors. Substantial investment is required. Again.

Maybe behind this appointment is Freddy's so-far fruitless search for what he called "A Geordie Abramovich."

If that's the case, then Roeder will certainly survive in the hotseat long enough to complete his Pro Licence. That's about as long-term as things get round here.

Biffa