Date: Thursday 11th May 2006, 7.45pm
Live on ITV4

Venue: St. James' Park

Conditions: Fantastic.

Admission: £25

Programme: £5





Newcastle United

Celtic

3 - 2

Teams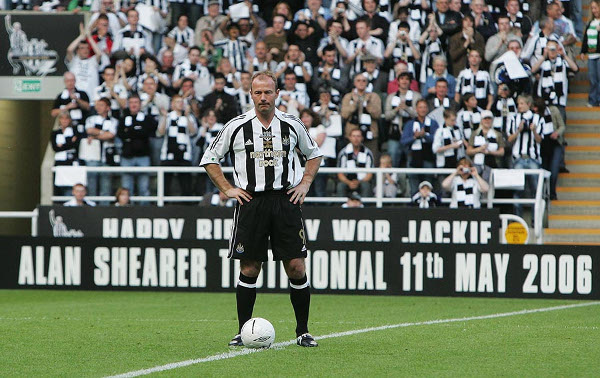 Half time: Newcastle 0 Celtic 0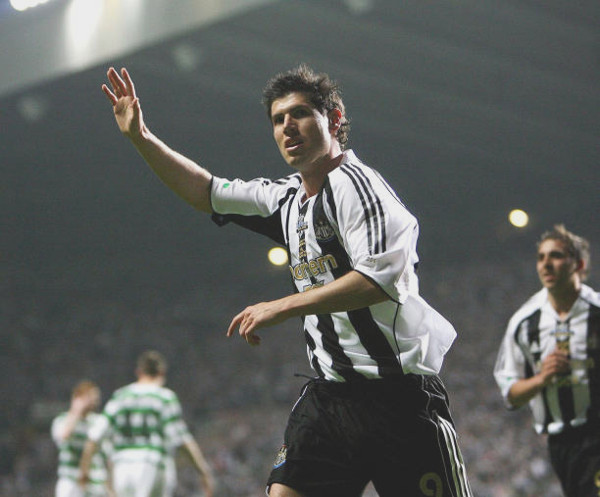 70 mins Robert Lee spread the play out to Peter Ramage who put over a deep cross from the right flank which Albert Luque volleyed first time into the Gallowgate goal from six yards. 1-0

79 mins Shaun Maloney outdid Ramage down the Celtic right and the defender then tripped the forward inside the box. Maloney got up and put the penalty high past Steve Harper's right hand - the 'keeper guessing correctly and diving the right way. 1-1
83 mins John Hartson converted a cross from the right with a fine downward header. 1-2
90+1 mins A mysterious free-kick was awarded on the edge of the Celtic box and quickly taken by Michael Chopra to suddenly find Sir Les in the area, near the byline. The merest challenge would have seen a tumble but instead Ferdinand crossed and the ball went in off Lawson 2-2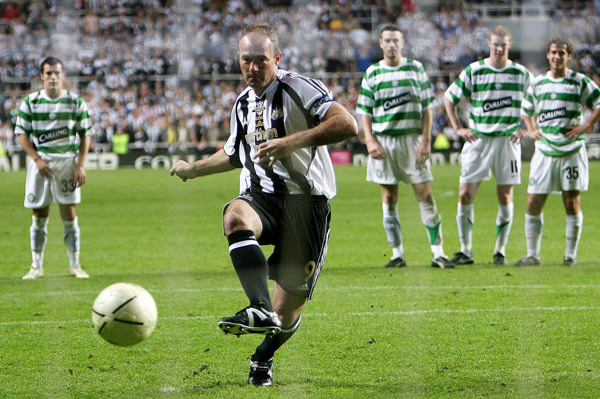 90+3 mins Celtic seemed intent on giving us the ball and at the second attempt it found its way to Ferdinand who charged into the box. Two challenges ensured that Clattenburg could point to the spot and with just seconds left on the clock the scene was set for a late substitution.
On came Alan Shearer to a mixture of cheers and chortles as the referee appeared to have a word with Marshall - presumably suggesting which way he should dive.

The information was whispered in Shearer's ear and our infamous number nine did what he does best for the final time - hit the back of the net and win us the match. 3-2
Full time: Newcastle 3 Celtic 2
The man of the moment, Alan Shearer said:
"There was more than just a tear in my eye when I was walking around. I defy anyone not to have a tear. The way they have been, it's just incredible. Where else do you get something like that?"

"I thank the fans for everything they have given me. It's just been very, very special. It was absolutely brilliant - a big thanks to them all. I'll be on the golf course trying to get my six handicap down."
About his son Will:

"I might not send him down to Southampton - he loves his football, and if he does I'll be right behind him. It's a wonderful life - in fact, I might have a word with the chairman and see if he wants to sign him."
An obviously moved Les Ferdinand said:
"How can you put a night like that into words? Well the only word I can come up with is unbelievable. It really was such an unbelievable night.

"There were 52,000 inside the ground and probably millions more watching on television, but unless you were there to experience it yourself it is hard to describe.

"I would go as far as to say that no club anywhere in the world could generate an atmosphere like that.

"But last night was not about me or Rob Lee, Gary Speed and Steve Watson, who have also told me that were overcome by the welcome they got, but it was all about Alan Shearer.

"When he emerged from the tunnel I can only describe the noise as deafening. And then when he came back on the end and did the lap of honour it was even louder.

"I heard the announcer say that our second goal was an own goal, but I would be letting Al down if I did not claim it. And I guess our match-winning penalty was a bit dubious, but who is complaining?

"After all, it capped off a truly remarkable night - and the memory of Alan Shearer coming off the bench to score at his favourite Gallowgate End with his very last kick in his No 9 black-and-white shirt will live forever in the memory of everyone who was there. I know I will never forget it.

"And I have to say it was an absolute privilege to be invited back and to be involved in an occasion like this at a place which will always have a special place in my heart."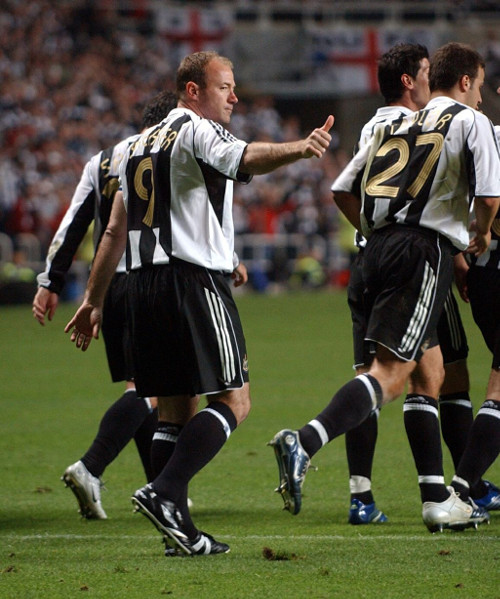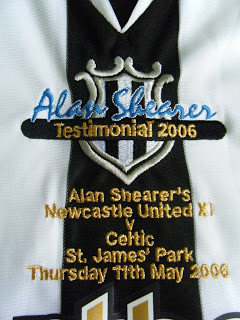 The Newcastle players wore a 2005/06 issue home kit, aside from non-standard style shirt numbers and some commemorative lettering on the front.

Replica versions of the shirt were on sale from the NUFC club shop, along with numerous other items including a metal "Legend" medal.

Scottish and Newcastle Breweries also got in on the act, producing a specially-labelled pint bottles of Brown Ale.

A DVD of the ITV4 live coverage of the game was subsequently produced and sold.

The original 76 page match programme/brochure was a sell out on the night, but subsequently reprinted adding an extra eight pages of coverage of this game.

The two different versions look identical, save for the words "Special Edition" on the cover of the second printing.

Scottish international trio Stephen McManus, Shaun Maloney and David Marshall all withdrew from international duty in order to play in the testimonial game, as did Bulgarian Stilian Petrov.

As part of the evening there was a penalty shootout involving fans of both sides, with Newcastle lining up as follows:

Gary Bates from Hadrian Park
Kieran Crowe from Forest Hall
Alan Moore from Bill Quay
Darren Penaluna from Heaton
Andy Reed from Winlaton
Another shootout at half time then saw England beat Scotand 4-1, Steve Harper saving two or three. Paul Gascoigne netted England's final penalty while Paul Telfer got one for the Jocks.

Waffle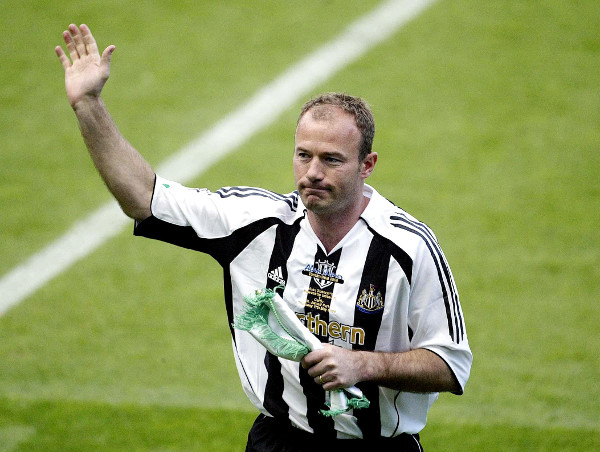 You had to be there.

A glib phrase that usually irritates those that couldn't and inflates those that could, but on Thursday May 11th, 2006, you simply had to be there - at St. James' Park, Newcastle.
For various reasons it was a logistical nightmare for me to attend Alan Shearer's Testimonial, but there was no way I was going to miss it. And yet on the morning of the game, I have to say there was a feeling of indifference about the whole thing.
The injured number 9 obviously wouldn't feature and the team providing the opposition - perennial testimonial guests Celtic - had just come from Roy Keane's testimonial: overshadowed in part by Ruud van Nistelrooy being banned from taking part by his soon-to-be ex-Manager Alex Ferguson.
Michael Owen had also been forbidden from appearing at Shearer's shindig - not by anyone connected with Newcastle United, but by England manager Sven-Goran Eriksson.

Given that Hoops boss Gordon Strachan had insisted some of his players take part rather than play for their country against Bulgaria, this seemed like an incredible case of the tail wagging the dog.

Surely Owen would be facing harder tackles in training than in a testimonial, so it seemed like an ideal game for Michael's World Cup fitness effort (not that some of us care a great deal about his non-NUFC appearances).
We knew that some old faces would be there; Rob Lee, Les Ferdinand, Gary Speed and Steve Watson were all promised. Comparing that cast list with the amazing line-up for Peter Beardsley's benefit game (Andy Cole, Kenny Dalglish, Kevin Keegan, Chris Waddle, Paul Gascoigne, Beardo himself and of course Shearer) pulses weren't exactly set racing.
Like the Beardsley game, Celtic fans were evident in Toon all day. Presumably most of them had been on a week-long binge from Glasgow to Manchester and then Newcastle. It seemed to be good-natured although you've got to wonder why they insisted on singing the Henrik Larsson song - if they really did think "Shearer is a w*nker" then why bother coming to Tyneside?
It was bedlam outside the ground half an hour before kick-off. The scramble for the last few commemorative programmes was unnecessary and unpleasant - people buying fistfuls in an attempt to cash in via ebay presumably.

Queues to the turnstiles were also areas of tension; pissed up Celts and Geordies often barging past frightened bairns who were receiving a rude introduction to the matchday ritual.


Once inside the ground the mood changed though, with a monogrammed black and white scarf handed to everyone as they made their way to their seats.
That gesture so was surprising I almost walked straight past what I thought was someone selling something unwanted at an inflated price.

A free gift from the club? Wow. After 30 years of pain and tens of thousands of pounds spent, a free scarf worth was relatively small beer but it suddenly seemed like it was black & white ermine and placed around my shoulders as if it was.
Kick-off was delayed to make sure everyone got in safely and an operatic warbler started off proceedings. I'm not sure who it was, but she seemed to be well received by those who knew her work, or who had a closer view than me….
And then it was time to hold up bits of coloured card that had been left on the seats. Hmm, I'm not always a big fan of this with the horrible red and white stripes at Highbury still fresh in my mind. The black, white and gold cards looked stunning when held aloft: two massive number "9"s emerging behind the goals and "SHEARER" in gold letters filling the East Stand.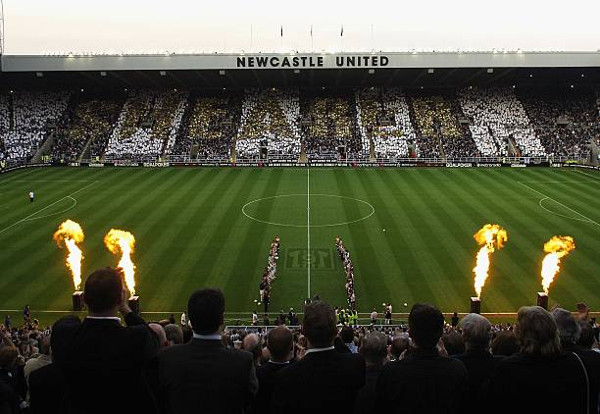 This was a good night to be in Level 7 of the Milburn….
The scarves and bits of card were surprise but welcome additions; this was almost starting to look stage managed and professional and even the groundsman getting in on the act with some neat grass shaving on the halfway line to create the silhouette of a black and white number 9 shirt.

For someone (like the young ball-boy Shearer) present at Keegan's Farewell against Liverpool here almost exactly 22 years previously, these occasions can be a bit unsatisfactory. Recollections of that night include the miserable "TOP MAN" firework display or the dreadful PA man who vainly tried to fill 30 minutes of dead air while we waited for the helicopter. We know now of course that he should have asked the ball boys to identify themselves and saw what their ambitions were....

The teams lined up to give Shearer a guard of honour and as the great man walked onto the turf with his wife and kids, what looked like big speakers suddenly sent huge flames into the air. Again, unexpected and impressive and thankfully less dangerous than sending rockets into the stands - the infamous one at Molineux had only just missed Big Al.
The noise was immense, so much so that young Will Shearer had to cover his ears as the packed ground showed their appreciation. Al said he defied anyone in his shoes not to have a tear in their eye, well I was in my own shoes but I'd certainly filled up at that point. What a reception a really special moment. You wondered what on earth could follow that wouldn't be an anti-climax.
The first half of the match was certainly a bit disappointing, although the first ten seconds were memorable - Shearer kicked it off before promptly being replaced by Michael Chopra and making his way off amid more applause. But who cared about the football?
I've been to Testimonials that have ended 6-3 (Jinky Jim Smith's for example) and they have a bit of a pantomime air about them. At least Newcastle and Celtic were playing "properly" and that made Charles N'Zogbia's run and shot that Gordon Marshall saved onto the bar even better.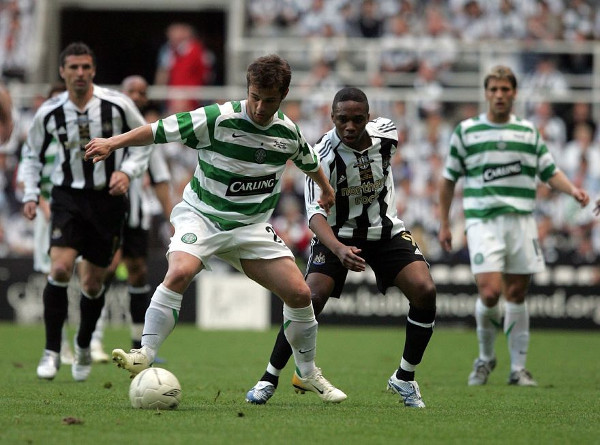 Both sides made a host of changes at the break and it made for a more open game with Speed catching the eye. But just when you wondered why we'd let him go, a wayward pass would jog the memory.
Then came one of the highlights of the evening. It has to be acknowledged that it was inspired by the noisy visiting fans who had started twirling their scarves above their heads but minutes later the home sections followed suit and it was a staggering sight to see the whole ground doing it.
Rob Lee came on with quarter of the game left and straight away his distribution from midfield was outstanding. Within a few minutes he sprayed a pass out to Ramage and his deep cross fell perfectly for Luque to volley a stunning goal past Marshall.
The ovation for Les Ferdinand was tremendous and like the reception for Keegan at Beardsley's Testimonial it threatened to overshadow the star of the show, who occasionally waved from the bench when his name was chanted.
With some old-timers starting to tire, the play was beginning to get stretched and a long ball caught out our defence, leaving Ramage to chop down Maloney in the box. The same player dispatched a smartly taken penalty and it was 1-1.
John Hartson then converted a cross from the right with a fine downward header and once again the evening threatened to fall a bit flat. A late home penalty seemed inevitable but as the time board was held aloft we didn't look like getting anywhere near their area, let alone inside it.
Referee Mark Clattenburg had the situation in hand and in adding three minutes of extra time he was obviously giving United every chance to get the ball forward. Ferdinand did almost equalise, only for a linesman's flag and some wayward control let him down.
But then a mysterious free-kick was awarded on the edge of the Celtic box and quickly taken by Michael Chopra to Sir Les near the byline in the area. The merest challenge would have seen a tumble but instead Ferdinand crossed and the ball went in off Paul Lawson for 2-2. Judging by the players' reactions this wasn't in the script but it was a welcome piece of ad-libbing.
From the kick-off Celtic seemed intent on giving us the ball and at the second attempt it finally found Ferdinand who charged into the box. Two challenges ensured that Clattenburg could point to the spot and with seconds left on the clock the scene was set for a late substitution.
On came Alan Shearer to a mixture of cheers and chortles as the referee consulted with Marshall (whose namesake father played for Newcastle) - perhaps suggesting which way to dive.

The information was duly whispered in Shearer's ear and the number nine stepped up to do what he does best for the final time - hit the back of the net and winning the match. It was the last kick of the game and a fitting end to the evening and Al's playing career.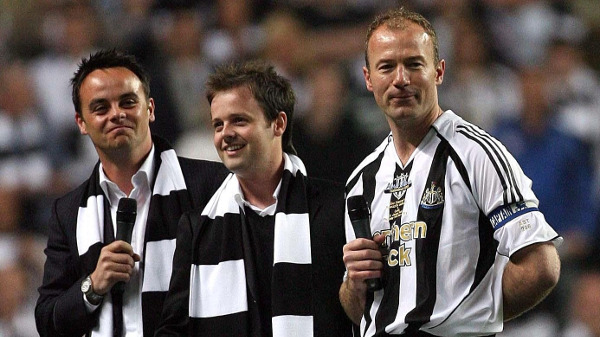 There was still a last chance to say farewell and the warbler was wheeled out again to sing something about saying goodbye. Given the fact that she was far from rotund, the fat lady still hadn't sung and next on the podium were Ant and Dec (looking nervous but very pleased with themselves) to coordinate some award-giving from the Premier League, The FA and from NUFC.
The "Who are ya?" chant for the TV duo was tongue in cheek but some boos for the arrival of Chairman Freddy Shepherd were less charitable as Al received various trinkets, including a cast of the boots with which he broke Jackie Milburn's goalscoring record.
Shearer was interviewed and was unusually tongue-tied as the emotion in his voice was obvious. And then he and his three kids went on a final lap of honour which seemed to fly by as the noise level remained consistently high with all four stands cheering him round.
As he neared the tunnel for the last time, he gave a final wave and fireworks were launched from the stands as shiny tickertape cascading down on to the pitch. A suitable blockbuster finale.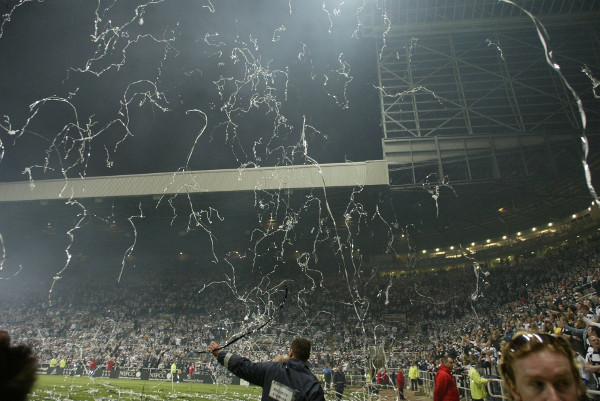 All of us had taken part in, and experienced, an evening of pure escapism. It wasn't a real match and perhaps declaring our undying love for a sheet metal worker's son for kicking a ball into a goal is something we'd struggle to justify. However, the feeling between the hero and legend and his followers in the stands was intense and real - perhaps unique - something none here will forget.

This might just be the closest we ever get to silverware and a victorious homecoming.

Niall MacKenzie
Youtube footage is online here