Date: Saturday 5th August 2006, 5.15pm
Live on Channel 5

Venue: St. James' Park

Conditions: Humid








Newcastle United

Villarreal

3 - 3

Teams
13 mins Jose Joaquin Moreno aka Josico latched on to Poyon's pass and finished off a flowing move with a shot that went through Shay Given at the Gallowgate End. 0-1

22 mins A foul on Damien Duff down the left flank allowed Nobby Solano to curl a perfect free-kick for Shola Ameobi to head firmly past Sebastian Viera. 1-1

34 mins Having earlier hit the post, Diego Forlan ghosted in from the left and slipped the ball to Robert Pires. The former Arsenal winger side-footed through Given's legs for his first goal on this ground, having failed to do score with either Metz or Arsenal 1-2

Half time: Newcastle 1 Villarreal 2

62 mins Calmache's corner was headed in by the totally unmarked Rodriguez, Luque having not bothered to follow the defender as the cross came in. His error was pointed out in no uncertain terms by Steven Taylor before the restart 1-3

79 mins

James Milner's corner from the Strawberry corner was glanced home by the unlikely figure of Nicky Butt from inside the six yard box, the scorer barely celebrating the goal. 2-3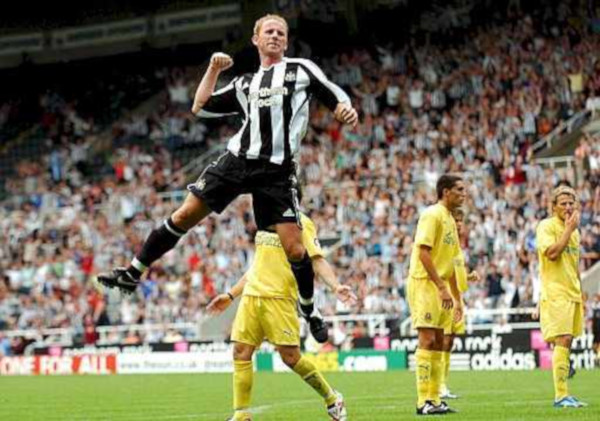 80 mins The same combination then did the trick from the opposite side, Nicky Butt steaming in unmarked to power an even better header into the far corner of the net as Milner dropped his flag kick shorter. A Sheareresque finish - down to the receding hairline - celebrated with a one-armed leaping salute directed at nobody in particular. 3-3

Full time: Newcastle 3 Villarreal 3
Glenn Roeder said hopefully:

There were a few boos when he came on, but Nicky got in some good tackles and the crowd even enjoyed the fouls he gave away because they could see his commitment. I would say our supporters are a forgiving crowd. Nicky doesn't know any other way to play and he'll be strong enough to come through a small section of the crowd booing him. He knows he'll have every chance of picking up his career here.

"He's played for one of the biggest clubs in the world in Manchester United and has a drawer full of medals and caps, so there's no doubt that he's a strong character. I've told the players that, if they play well enough, they'll keep the shirt. Once they've got their hands on it, it's up to them to keep it.

"One of the qualities of our crowd is that they are very forgiving. You can name several players in the last few years that have had run ins or bust ups with our crowd, and yet when they returned to form our crowd have showed forgiveness. And there are sets of supporters around the country that aren't like that."
"It was terrific technique to guide them in and Alan Shearer would have been proud of them.

"I am clocking up the air miles at the moment and looking at a number of players who could have a major bearing on how successful we can be this season. We are very close to finalising one or two deals and the last few days have been extremely busy."
Two-goal Nicky Butt commented:

"I know I've got a lot to prove at this club and I'm not hiding from the fact that I didn't do as well as I could have done the first time round.
"But I'm big enough and man enough to take a few boos here and there and just get on with it. I've been in the game long enough now. I know what my capabilities are and if I can contribute that to the team I'm sure I can silence them.
"Hopefully, the fans can give me a fresh start. They have their opinions and they work hard all week to get the wages to come and watch football.
"If they think I don't deserve to be particularly well supported at the minute then fair enough - it is up to me to prove them wrong, and I plan to do that."
Chilean-born coach Manuel Pellegrini commented:
"We were superior to Newcastle for most of the game except the last fifteen minutes, when there were eight changes between the two sides and the game was weakened.
"I was pleased that we saw more of the ball and with the number of chances we created of which we converted three.

"Speaking negatively we were distracted and marked poorly - to concede three goals from set pieces is something that cannot happen to us.

"Somoza comes to us match-fit because of playing in Argentina and I thought he fitted in well with Josico.

"Overall, we have shown improvement in our fitness, tactics and technical play."

First goals in any match by Nicky Butt for Newcastle at SJP - his only other effort had come away to Birmingham City in a Premiership game back in October 2004.

Shola Ameobi maintained his improved scoring record this season, netting his fourth goal in three appearances.


Waffle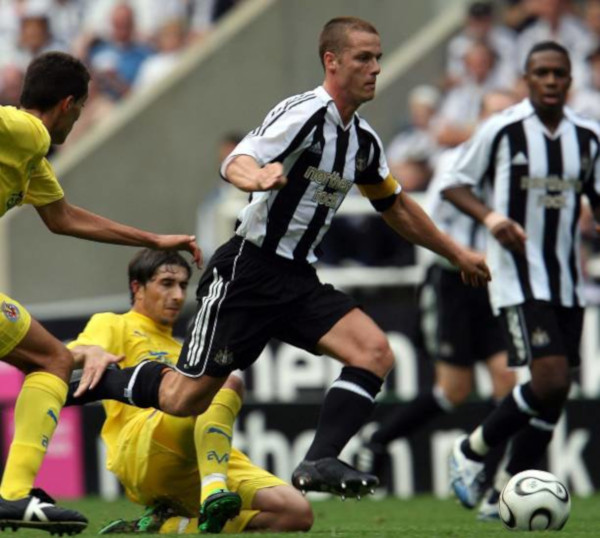 Saturday saw a second successive day of enjoyably meaningless entertainment in front of the Gallowgate End, as United and Villarreal somehow shared six goals.

Friday had seen ball-juggler Mister Woo doing his thing for the fans in advance of the club's open training session - but the following day it was Nicky Butt doing the wooing, as he belatedly tried to revive his fading football career.

Appearing as a substitute for the final quarter of the game, Butt had his chairman, his manager, his agent, representatives of other Premiership clubs and the England Manager watching him - not to mention 20,000 pairs of black and white eyes and many more tuning in to TV coverage.

Replacing the ineffectual Emre who had contributed little of substance, Butt arrived on the field at a time when United looked on course for another deserved home loss following the PSV game.

And given his previous track record at the club, his introduction hardly improved the mood round the ground, with discernible booing echoing out as it had against the Dutch a week before.

Whether that reception riled him we don't know, but what is beyond question is that Butt's steely tackling and perceptive through balls to release Milner down the right had already given him the man of the match plaudits in these eyes, before his unprecedented double scoring salvo.

Before his second goal, the nearest Butt had come to cracking a smile was when he encountered former Old Trafford colleague Diego Forlan during the warm-up. He looked little different at the end of the game as he walked off amid cheers - but he probably felt one hell of a lot better.

If this is what the threat of Thomas Gravesen arriving does to his game, then we should have saved a packet and signed look-alike Steve Stone months ago just to sit him on the bench.......

But although it turned out nice again for Butt, is it a case of too little, too late for the 31 year-old? With Faye and Bowyer gone perhaps not, even if the Dane does arrive from Madrid.

This being pre-season we'll leave our cloak of gloom unworn for now - at least until the transfer window closes and take what positives we can. By necessity that involves not mentioning the defence, of which Boumsong looked the most composed. Yes, you did read that correctly.

Two home games in a week have seen five goals scored in the form of four headers and a penalty. Having a life precludes us working out when that last happened (if ever), but the fact that three of those came from Milner deliveries heartens us considerably.

In the early weeks of this season the England U21 man has shown effort and commitment and what looks like a genuine desire to rebuild his United career on the back of an individually successful season out on loan.

What a shame it would be if an English talent was sacrificed to finance some palm-greasers' deal to sign a bloke who doesn't know Newcastle from Naples or Nijmegen.

Glenn Roeder may talk about players with the right stuff, but to us Milner looks like there's no lack of it in him already at the age of just 20. If starting places are earned, then the listless Solano is in grave danger of losing his.

Contrast this to Albert Luque - and remember this was the game he wanted to be seen in, a game that went out live in his home country, where anyone daft enough to watch it had probably turned over to the bullfighting long before their hero shuffled off.

Before the game he'd talked about wanting to make an impression and get his name in the papers back home - depending on your point of view to make a "look ma, doing well over here" statement, try and regain his national team place or secure a move back to his domestic league

Given that there were agents and reporters present with connections to the Primera Liga, one would have expected something tangible from the lad. This performance though won't have seen him crop up in the Sunday Sol transfer gossip column....

For £10.4m (read the accounts), we would quite like a wee bit more than we saw today, mainly some half-hearted runs with no intention of releasing the ball to a colleague.

Shola's display mightn't have been a five star one, but his goal certainly was - a damn sight more impressive than a penalty conversion the previous week.

We head now for Latvia with some residual goodwill remaining from the Duff capture and the boost that Butt's bonce provided here. Ventspils shouldn't provide us with the problems that PSV and Villarreal did, meaning our involvement in the UEFA Cup should extend for some time to come.

But with that extra fixture load comes a further drain on playing resources - making recruitment efforts all the more vital, if we're to make any sort of impact in this Owenless season.


Biffa