Date: Thursday 10th August 2006, 8.50pm (6.50pm BST) Live on Channel 5.

Venue: Skonto Stadium, Riga (switched from our Ventspil's 3200-capacity Olimpiskais Stadium for TV - saving team and fans a three hour drive).

Conditions: A fine summer evening





FK Ventspils

Newcastle United

0 - 1

Teams
Half time: Ventspils 0 Newcastle 0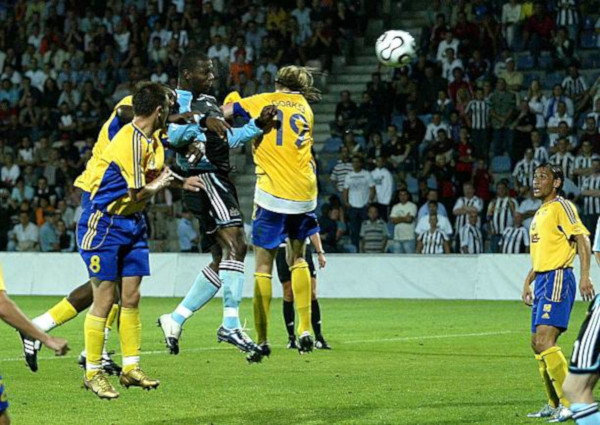 71 mins Emre swung over the perfect corner from the left and Titus Bramble's bullet header left 'keeper Andris Vanins with no chance. 1-0


Full time:
Ventspils 0 Newcastle 1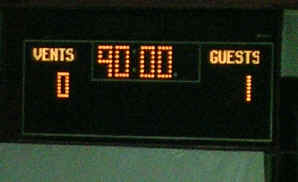 Unperturbed by the competing attraction of Bananarama's "Na Na Hey Hey Kiss Him Goodbye" over the Stadium PA, Glenn Roeder said:

"We must make sure that the players are not too relaxed, that they don't think they can take it easy in the second leg because, as we have seen tonight, Ventspils have some good attacking players.

"We must make sure we are just as motivated for the game at St James's Park as we were for this one. I have to say that the quality Ventspils showed during the match was excellent and they are to be congratulated.

"We're pleased to take a lead away from here with us. We kept a clean sheet which was important and we scored an away goal which is always useful in Europe. It goes without saying, it's stating the obvious, that I'm pleased to come away from here with a win.

"We prepared for this match as we would prepare for a Premiership match against Chelsea or Manchester United. We gave them respect and they deserved it.

"I'm pleased we have got through it but we know the Premiership season is starting in a week.

On the goalscorer:

"Titus has chipped in with a few goals over the last few months, no more important than the one against Chelsea on the last day of last season that got us into Europe in the first place. Now he has scored another vital goal that, without doubt, gives us a big advantage in the return leg.

"They asked questions of both Titus and Craig but overall I thought they dealt with them very well.

The things I am trying to stress to him are the quality of his passing and his concentration. They are parts of his game I am forever talking to him about and trying to make sure he concentrates for the full 90 minutes.

"Without doubt he is a player who needs to know he has the support of us all to go out and play well. But the goal he scored was a tremendous header, he angled it away from the keeper and gave him no chance whatsoever.

On the incoming situation:

"Going into four competitions we know we need to add numbers and quality to the squad.

"Every day we are getting closer. I know it seems an awful long way but we are getting closer to making two or three signings.

"We are very close to signing two or three players in the next seven to 10 days.

"Every day we are getting closer to making some signings.

"We know we have got to add numbers to the squad and I want players I can start with to create competition for places.

"There is no better motivation for a player than knowing his place is under threat.

"It is not going to be easy to get a player of (Obafemi) Martins' quality to St James' Park but I do like him and I do not mind saying that.

"He is a player I admire and we are looking at his situation at Inter very closely.

"However, we do not have any information we can give out now to our fans about that player or any other player we are potentially close to signing."

On the non-story about an Emre dispute:

"Emre had a slight knock and I was not prepared to take any chances with any of our senior players with the Barclays Premiership season so close.

"The tunnel was near the dugout and he had to get to the dressing room for ice. He was just using his experience because if he had come to the dugout first I would have told him to get to the dressing room and get some ice on his injury."

On Boumsong's non-selection:

"It is possible Boumsong will be leaving on a 12-month loan and it would have been foolish to cup-tie him."


Roman Grigorchuk said:

....nothing that we could interpret.




European record: P109, W61, D20, L28, GF193, GA112.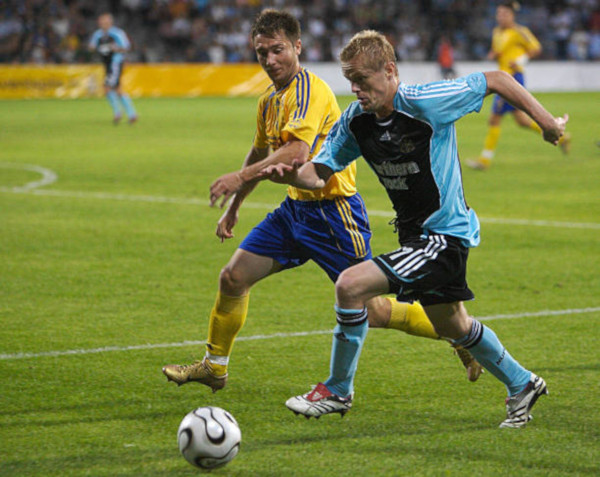 There was a competitive debut for Damien Duff.

Second outing for the blue and black third kit after success in Norway.

Goal number seven of Titus Bramble's Newcastle career and the fourth in Europe.

He's now just one strike away from equaling the club scoring record of Bobby Moncur - our most prolific European goalscorer from defence after netting UEFA Cup goals at home to NAC Breda and Real Mallorca and away to Basel and Ventspils.

It's almost four years and some 41 matches since any United defender other than Titus found the net in European competition - Andy Griffin's deflected effort in the home Champions League game against Juventus.

Waffle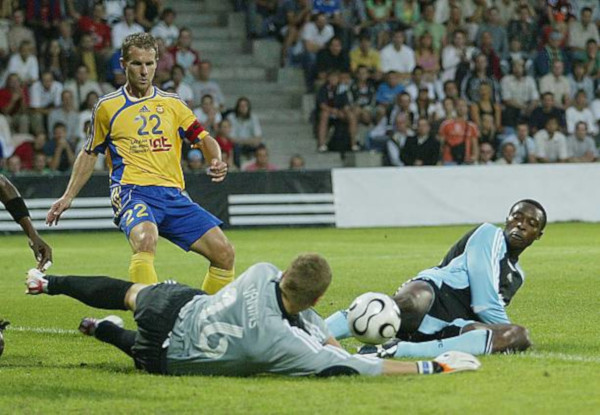 An odd evening all round - and in keeping with the neutral venue, a game that seldom got into gear.

True, there was the satisfaction of an away win and a clean sheet that puts us a small step nearer the meaningful end of a cup competition.

However that has to be balanced against a performance that hardly enthralled those present or slumbering in front of the goggle box.

Bramble's goal provided some solace to the travelling band that made it to the Latvian Capital, but was a rare highlight on a night when we mostly chugged along in a half-paced doodling style more suited to a pre-season friendly.

Hoying a shed load of midfielders on the park in random fashion hardly put the frighteners on the Latvians tonight and there's little reason to suggest that a similar ploy will render Wigan powerless on Saturday.

Emre buzzed around to no great effect but was probably the pick of our amorphous bunch in terms of effort, while Butt was steady if unspectacular.

The belated introduction of Charlie Zog meanwhile proved that Latvians are no different to anyone else in being susceptible to a player with pace and control - time will tell whether he's being used sparingly or has been pushed down the pecking order.

Duff showed little flashes of things hopefully to come but lacks the sharpness that only comes from playing matches. Whether a marked reluctance to come back and help Babayaro was due to fitness or attitude remains to be seen though; the Nigerian looking horribly exposed at times and as a consequence dragging Moore out of position.

Parker did little to suggest that the new England boss had dropped a clanger by not selecting him in his first squad, interspersing trundles across halfway with unconvincing forays forward.

Like Solano, his season is yet to commence - and if Gravesen does appear, then the Captain's place is by no means assured. And only Roeder knows whether the Peruvian has enough in the tank to withstand a challenge for a wide spot from Milner, assuming the latter isn't pressed into emergency striking service of course.

Of course all of these grievances can be countered by returning to the stock mantra - that we're still to field our dream XI, or at least a formation composed of what is commonly understood to be the component parts of a team. Frankly it's all a bit fur coat and nae knickers at present...

The log jam in the transfer department means that we continue to rely on Shola to spearhead our attacking efforts - taking the new Alan Shearer label a step too far for our liking.
Vague hopes of punting Luque in the next few weeks meant that he remained on the bench, but the Catch 22 situation of selling him before reinforcements are acquired means that the Spaniard remains in limbo.

That's a shame, because he could have done with playing tonight - not only for himself, but also to take some of the pressure off Ameobi and allow us some to get match practice in a genuine two-men-up-front style - Lord knows the hour we saw against Villarreal hardly provided a confidence booster.

Roeder and his Chairman are doubtless as aware as anyone of the necessity to bolster our striking options, but while efforts continue off-field, the season proper creeps up with our team bearing a decidedly cock-eyed look.
Given the averageness of the opposition, there seems little chance of a repeat of 2003's second leg home misadventure against Partizan Belgrade; but scraping past a side labelled as non-league standard by our own scouting team is hardly the stuff of legend.

With the days before the domestic season diminishing rapidly, there remain more questions than answers about this team as the under-strength forward line overshadows whatever positives that can be gleaned at this stage.

Nowt new then.
Biffa