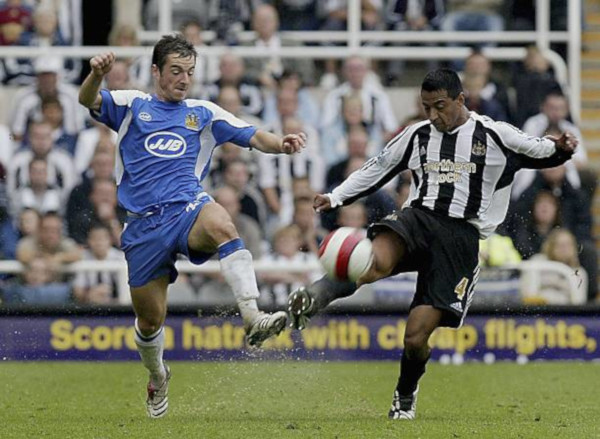 Perhaps it was just me, but I thought this was a vital game for the club and, in particular, for Glenn Roeder.
To go into a Premiership season, and possibly a lengthy UEFA Cup campaign, with a squad so bereft of firepower beggars belief. Shola Ameobi certainly deserved his place in the starting line-up after a decent pre-season but for him to virtually be the sole striker at the club as we start the new season is simply staggering.
Even clubs like, err... Wigan... have Heskey, Camara, McCulloch and Connolly - none of them worldbeaters but, be honest, wouldn't you swap one or two of them for Shola?
His hip injury still seems far from sorted and the heavy challenge he took in this game seemed to hasten his departure. It was only a matter of time before the problem reoccurred but even Roeder was unlucky for it to happen in the opening Premiership game.
Of course, we had Albert Luque on the bench - an incredibly expensive bench-warmer - but how have we not managed to secure strike cover at this late juncture? Why was Dirk Kuyt still being watched as Liverpool secured his signature? We knew Alan Shearer was retiring years ago, so surely he had been watched months ago?
On his recent BBC Radio Newcastle interview Roeder said: "We needed to be looking at potential targets as long ago as 12 months ago.

"At the end of last season we should have been in a position to have gone and sourced three or four potential signings. But for whatever reason we were not in that position to do that.

"And that is why through the close season, myself and the backroom staff have been working very hard to playing catch up and try and find a player or two of enough quality to wear our shirt. It is proving very difficult."
So what happened during February, March, April and May then?? As Caretaker manager (with ambitions to take the job permanently, despite his earlier protestations) Roeder and his staff should have been taking care of scouting and potential signings.
In contrast to our single signing (admittedly an excellent one), Wigan had been very busy during the summer and perhaps that would go in our favour. While Paul Jewell knitted his new signings together, this squad had ended the season together and had already played three Intertoto games.
But for Roeder to claim, "There's no pressure to bring anyone in as such. If truth be known, last year we won plenty of games with this present squad" filled me full of dread. The truth, actually, was that we hadn't won any games with the present squad. Without Shearer we beat an awful West Brom side and then already Champions, Chelsea but Michael Chopra played in both of those. And it's not unfair to say that our end of season results certainly flattered us.
Whatever, I had no doubt in my mind that a defeat in this game could see us plummeting into a relegation downward spiral. Think about it. We've started seasons terribly with squads much better than this and most people would agree that under Gullit, Robson and Souness we were on our way down before they were relieved of their duties.
The atmosphere and mood as kick-off approached seemed as quiet as our transfer activity and there certainly wasn't a feeling of new season optimism. Having said that, there wasn't much overt negativity either and it goes without saying that we all want the current squad and management to succeed.
Roeder said he knew his starting line-up earlier in the week and I think most of us did too. Nicky Butt had got himself back in favour and was expected to start while Moore and Bramble seem to be the manager's preferred pairing at the heart of the defence.
We started brightly and even an irritating miscontrol from Ameobi didn't provoke any murmurs. Like I said earlier, and we've said many times before, no-one would be more thrilled than us to see the lad become another local legend.
Some crisp accurate passing was paying dividends and captain Parker's long range left-footed effort looked to be goalbound before new England keeper, Kirkland, saved well. Duff was causing the visitors a few problems down both flanks and at the back Moore was looking pretty assured while Given saved a McCulloch header.
United were forced into an early reshuffle when Butt dived in recklessly and came off worst when a trailing boot caught him in the head. He left the pitch to be patched up but only returned for a further five minutes before Charles N'Zogbia replaced him - both receiving warm applause when the switch was made.
We just about deserved the lead when Parker headed us in front not long before the interval. Carr played up a decent ball to Ameobi in the box and he did well to control and then swivel a cross over into the middle. Parker and Baines tried to meet the ball and both seemingly got a touch which left Kirkland helpless. From Parker's reaction, he clearly felt the final touch was his.
The relief and delight was audible as the home support started to believe in the players but just before the break Wigan almost levelled when Camara headed the ball against the foot of the post as Given scrambled across the sodden surface.
By this time the rain was torrential and parts of the pitch were becoming unplayable as the ball and players threw up huge splashes of water - Bramble sliding on his ample backside for fully 20 yards in the Gallowgate/Milburn corner.
If the heavy rain had continued, the game might well have been under threat but thankfully it eased off and the brand new surface drained sufficiently.
We went close to doubling the lead after the interval and a Solano lob from an Emre free-kick sailed just over the crossbar. And at the other end Solano cleared off the line when De Zeeuw almost converted a corner.
But Wigan's increasing pressure finally told when an awful Carr header - Taylor could have comfortably cleared it - fell to Heskey who was able to play in McCulloch and a curling shot easily beat Given.
The mood suddenly changed and the visitors now looked favourites to go on and win it. The "easy, easy" chants from the away fans seemed a little over the top but there was tangible self-doubt amongst the home ranks.
Therefore the timing of what proved to be our winner was crucial and a fantastic flick from Duff sent away N'Zogbia who ran at the Wigan defence with great pace. He unleashed a powerful low drive that Kirkland could only parry and Ameobi was on hand to guide the ball home with a leaping right-foot shot that took the wind out of Athletic's sails.
The visitors battled hard to get back on terms and as we started to pick up a few injuries it was backs-to-the-wall stuff. With ten minutes to go it should have been 2-2 when Landzaat fired over from 12 yards and then we survived an optimistic penalty shout when a throw-in was flicked on and the ball hit Bramble's arm.
It was a decision that incensed moaning Scouser, Jewell, but to have given a spot-kick would have been more than harsh. And anyway, the throw-in should have been taken ten yards further forward as the ball virtually hit the corner flag - a throw from that angle couldn't have been flicked on the way it was.
We survived the three extra minutes and the the victory was ours, although I've heard three points greeted with louder roars at St. James' - presumably collective sighs of relief not registering very high on the decibel counter.
With the transfer window starting to close we need to move swiftly to take advantage of the decent (and admittedly fortunate) start to the season. We've been promised three more new signings, although for me three still looks to be the bare minimum.
Perhaps the takeover talk that emerged over the weekend will mean that if we can take advantage of the luck that Roeder seems to have on his side at the moment, then January could see some serious transfer activity.