Date: Sunday 17th September 2006, 3.00pm

Venue:

Boleyn Ground



Conditions: Sweltering

Admission £32 (last season £37)
Programme £3.50 (last season £3)





West Ham

Newcastle United

0 - 2

Teams
Half time: West Ham Newcastle 0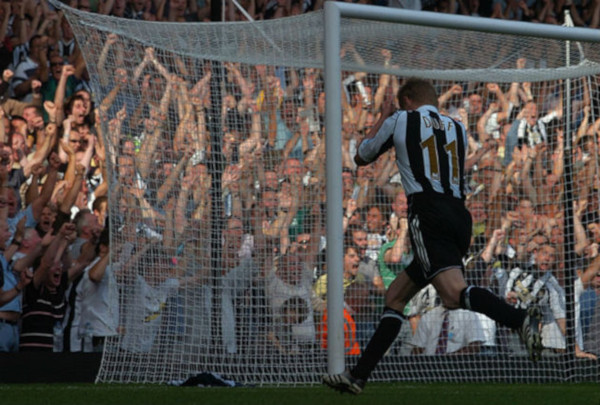 50mins: Newcastle broke upfield with Obafemi Martins doing well to carry the ball and outwitting Javier Mascherano before slipping the ball to his left, where Damien Duff ran on into the box and planted it emphatically past Roy Carroll. 1-0
75mins: Some "after you, Claude" style play from Lee Bowyer and Danny Gabbidon allowed Obafemi Martins to nip in just outside the box and direct a low shot beyond Carroll. 2-0
Full time: West Ham 0 Newcastle 2
Glenn Roeder said:
"Taking everything into account this has to be my best win as Newcastle manager.
"Yes, winning at Sunderland by 4-1 was a great day, but to be fair at times at the Stadium of Light we were under the cosh at bit.
"But this wasn't the case yesterday. We passed the ball around so well and there did not look to be a weakness in our side.
"Sometimes when you go away from home you pinch a win but this was hardly the case yesterday. We had maximum performances from everyone and I am absolutely delighted."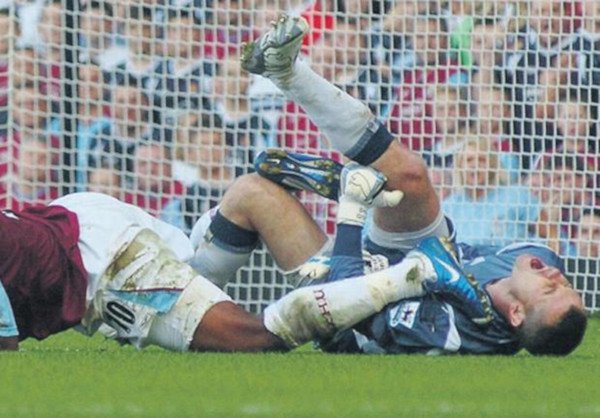 About Given's bowel injury, which saw him remain in a London hospital and have an operation to repair a 1cm bowel tear while the rest of the team travelled back:
"The surgeon said he has never seen an injury like this happen through football. He has seen it happen in car crashes where there has been impact, and I suppose that is what has caused it this time.

"Shay would be the first to admit when he sees the pictures that Marlon Harewood thought he had an opportunity to get to the ball.

"I suppose if it was Shola we would have expected Shola to try to get to the ball if his team was losing 2-0. Shay being Shay, as brave as he is, was not going to turn away and not go for the ball. He went for the ball, both of them were trying to the ball fairly and unfortunately, Shay came off worst.

"Shay is going to have to spend a few days in hospital. He had an operation in the lower part of his stomach where he had a one-centimetre tear in his lower bowel that had started to leak. He needed that to be repaired. He is in great hands - the person who did the operation, I personally know - and he is a great surgeon.

"'That has been done and he is feeling a lot more comfortable now than he did half an hour after the game. It is a question now of waiting for Shay to get fit again. But this is all about Shay, this is not about us rushing him back or anything like that.

"'He will be given all the time he needs and all the help he needs by the club to make a full recovery, which he will do - and in the meantime, we are lucky to have Steve Harper."

Immediately after the game, the Magpies boss had attempted to take the heat out of the waving incident by offering an apology in front of the TV cameras:
"I apologise if I have upset the West Ham crowd and I obviously did. I did nothing more than any other opposing manager would do when his own supporters are cheering his name.
"Our supporters are the best in the country. They travel everywhere and are starved of success. They carried on singing my name and I carried on waving to them.
"I will put my reputation on the line - that Glenn Roeder has never been involved in causing any trouble. I'm not an excitable person. It was completely unintentional."

However a couple of days later he revealed that he'd been called "Tumour Boy" and suffered taunts of "why didn't you die three years ago?" from occupants of the Dr.Martens (main) Stand:

"One of the saddest things about Sunday was that when I looked at the faces of some of the people who were shouting at me, they were men of my age.
"Men in their forties and fifties, men screaming about brain tumours and death, men who, God forbid, might find themselves in the same position as me one day.
"But you know what, at least I was there to hear them yelling what they were yelling. I'm much happier that I'm alive to hear it and not lying beneath the ground somewhere. I was lying on a table for five hours when I had my brain operation and I recovered from my illness and I have moved on.
"I know that it was only a minority of West Ham fans who were shouting the abuse and I have had a lot of emails from supporters who were there.
"Some of them were apologising on behalf of their fellow supporters but there was one from a man who said he was one of the ones who was yelling at me. He said that when he was on his way home, he realised what he had done and that he had made a terrible mistake and he hoped I could forgive him.
"Well, the thing is that I have been through worse things in my life than what happened on Sunday and, by the time we got back to the team bus after the game, I had put it all out of my mind.
"I don't have any regrets about apologising for waving at the fans. I was advised by the match delegate, Peter Shreeves, that that was what I should do and Peter's a man I respect.
"I didn't want any more trouble. I didn't want our result to be overshadowed. I just wanted to move on. But I think the Newcastle fans would have found it upsetting if I had not acknowledged them when they shouted my name.
"I do feel that in this politically correct world of ours, the majority stay silent and we let ourselves be controlled by the loud minority.
"And it is also important to mention that when I came out of the tunnel at the start, there were just as many West Ham fans clapping me as shouting at me.
"I gave everything I had to West Ham when I was manager there. I worked my socks off for them. I didn't kill anyone. I never once criticised the football club when I left it and I was delighted when they got back to the Premiership quickly.
"Even now, I don't bear them any ill-feeling. Life can be too short for that."
Alan Pardew yawped:

"If you were to put me on a lie detector and ask me what my best team is I would have a problem. But over the next few weeks, it will evolve.
"I'm sure that once we get in the groove we will see what our best team is. I don't think any manager, when he gets new players, can say what his best team is until he sees how they blend in with everything else.
"He (Carlos Tevez) wasn't injured. He showed moments for us, but I just felt we were running out of options. I haven't had the chance to work with him in terms of options for our full-backs. We tried to change it with Marlon, but the goal changed the game for us.
"He was fine about being taken off. Let's be honest - he hasn't played a lot of football recently. He and Mascherano looked tired."

First Newcastle goals for Damien Duff and Obafemi Martins.

Steve Harper's 34th Premiership outing - and third as substitute:

Hammers v Magpies - Premiership years:

2006/07 Won 2-0 Duff, Martins
2005/06 Won 4-2 Owen 3, Shearer
2002/03 Drew 2-2 Bellamy, Jenas
2001/02 Lost 0-3 No scorer
2000/01 Lost 0-1 No scorer
1999/00 Lost 1-2 Speed
1998/99 Lost 0-2 No scorer
1997/98 Won 1-0 Barnes
1996/97 Drew 0-0 No scorer
1995/96 Lost 0-2 No scorer
1994/95 Won 3-1 Lee, Mathie, OG
1993/94 Won 4-2 Cole, Lee 2, Mathie

Only five of our squad today were in the 16 for the last meeting here, in December 2005: Given, Ramage, Parker, Ameobi, Harper. The other eleven were injured, transferred or unselected: Boumsong, Bramble, Elliott, Solano, Faye, Shearer, Owen, Bowyer, Luque, Chopra, Gate.


Waffle
By the time West Ham visit Tyneside in the return fixture next January, their high-profile Argentinean duo may have made a similar impact on the Premiership to that of their fellow countrymen Ricky Villa and Osvaldo Ardiles.

There again, they could be en route to sunnier climes after failing to adjust in the manner of our twin flops Daniel Cordone and Christian Bassedas.

As it was, the appearance of Carlos Tevez and Javier Mascherano here was more of a boost to Glenn Roeder (who revealed he enquired about the former in the summer) than Alan Pardew.

While we had won 1-0 in Tallinn the previous Thursday, the Hammers had gone down by the same score at home to Palermo.

And despite our travels we looked by far the fresher side here, with Tevez (who facially resembles the love child of Clarence Acuna and Christopher Lee) leaden-legged and the other one a non-entity.

Indeed there seems to be some emerging discontent round these parts that grafting this pair into the side has created on-field confusion and off-field disharmony, rather than the slack-jaw pronouncements and hyperbole about a new Premiership force.

Enough of imports from the land of corned beef; Roeder's first managerial return to the club that sacked him three years ago saw him emerge victorious, following a tremendous display from his current side.

However, the Boleyn Ground natives were restless and took Roeder's response to "give us a wave" requests from the away section as their cue to unleash a wave of abuse in the direction of their former boss.

This came in the form of both attempted physical attacks on the away dugout and a raucous chorus of "you're the one who took us down" - a reference to the ill-fated 2002/03 season that ended with West Ham's exit from the Premiership and Roeder's hospitalisation.

Obvious to most present though was that this had everything to do with the score and very little to do with the man waving.

Frustration at a non-performance by a side who were average in the first 45 and shambolic when they turned round can manifest itself in a number of ways.

At SJP you may see paper aeroplanes or a mass walk out for an early pint, here you're treated to the unedifying spectacle of grown men spitting venom about brain tumours in the style of the mackems and their "Robson's nearly dead" ditty.

This incident took place during a lull in play while Shay Given was being treated and although a cordon of police and stewards were placed around Roeder, he was more concerned with the medical staff stretchering his first-choice 'keeper off to the dressing room.

Given was subsequently taken to hospital and underwent surgery on Sunday evening to repair a bowel tear that could sideline him for up to three months.

That injury and the Roeder abuse though shouldn't be allowed to detract from the fact that we secured a well-deserved victory by playing superior football to the much-vaunted new cockney Premiership pretenders.

Lacking the presence of long-term injury victim Dean Ashton the home side failed to seriously threaten our latest defensive partnership of Moore and Ramage.

Damien Duff and Obafemi Martins both opened their goalscoring accounts in the second half with memorable strikes as the home side withdrew their Argies and tried to regroup.
Meanwhile Shola didn't score, but led the line manfully - no coincidence that we've done better thus far this season when he's been in the side.

A good week for the new signings was completed with Martins' strike a suitable reward for a more switched-on performance and the first real sight of him running with the ball in something approaching full flight. Even Sibierski almost announced his Premiership return with an exocet of a shot that whistled just over Carroll's goal.

In a mirror image of last season's fixtures, we now head for Anfield on the back of success at the Boleyn.

It's to be hoped that we can serve up some more of eye-catching one-touch football that was an unexpected delight here - although we will doubtless face a sterner examination of our backline from the variable threat of Messrs Kuyt, Crouch and Bellamy. Still, at least Bowyer is no longer in our colours.

As it was though it was a happy band of travellers who made their way out of Upton Park in the Sunday afternoon sunshine, a tad more optimistic that our season is now belatedly underway after the one-dimensional displays of recent weeks.
Biffa