Date: Sunday 24th September 2006, 4pm. Live on Sky

Venue: St. James' Park

Conditions: Dry & pleasant
Newcastle United

Everton

1 - 1

Teams
14 mins The flag of Barry Sygmuta remained by his side as Shola Ameobi (illegally) found himself in yards of space at the Leazes End - one of three players beyond Everton's backline as Emre knocked a free kick in from the left flank. After controlling the ball and looking up at the linesman, Shola shot through Howard for his second Premiership goal of the season. 1-0
41 mins Bramble and Moore were occupied elsewhere, as Tim Cahill headed home a firmly-struck right wing cross from Mikel Arteta - United failing to heed previous warnings when the same player delivered balls into the same area.
1-1
Half time: Newcastle 1 Everton 1
Full time: Newcastle 1 Everton 1
Glenn Roeder commented:

"We obviously prepare and watch the opposition and I noticed that on a few games recently Everton came screaming out on wide free-kicks.
"We talked about it as we went out but it didn't happen as we planned because you will tell me he was a yard offside. We knew how to take advantage of Everton playing the offside trap.
"In my opinion, the second-half chances came our way first. If we took the good chances that came our way first, the chances that came Everton's way in the second part of the second half wouldn't have materialised.
"So we feel we've worked extremely hard, put a real shift in and only taken a point from the game."
About Martins:
"He is very disappointed, but my disappointment would be if he was not getting chances - that would disappoint me more.

"I know he will start to take the chances. Since he has been here, his ability to finish in small-sided games and practice matches in training is fantastic.

"He is a young player and he is maybe getting a little bit uptight when he pulls the trigger. But when he relaxes, he will finish those chances.

"He is a really good lad to work with, very conscientious and hard-working."

About Ameobi's ankle injury:
"It is too early to say. He turned to run, put his right foot down and felt something quite sharply in his ankle go.

"Until we have that scanned tomorrow, we do not know. He is fairly comfortable, he is not in too much pain tonight and we hope it is not too serious."

About Harper:

"I'm pleased for Steve. But it would have been ridiculous if we'd lost that game. We had enough chances to win."
The goalkeeper himself added:
"The fans are amazing, and I'd like to thank each and every one of them.
"I didn't sleep Wednesday or Thursday night, though the last two nights have been better, and it really did give me a big lift.

"When something like that happens you just want to go out there and put it behind you. With their help I was able to do that.

"We're disappointed, really. We scored an early goal, and the manager should take some credit for that. He told us that they fly out and play offside, and we were ready for it.

"We got a good lead and Scott Parker was a bit unlucky not to score a second - their goalkeeper made a good save. At 2-0, you would fancy your chances.

"But we had a couple of warnings with headers, and you can't let Cahill have a free header.

"We knew about Arteta - we were fully aware of him. We knew he was a big danger. If you give him time on the ball he can pick people out. Like I said, we had a couple of warnings before Cahill scored with a great header.

"It was disappointing to come out at 1-1. We came out on the front foot in the second half, and it was a really enjoyable game.

"You can't fault the effort, but we couldn't get the winner.

"We probably had more chances than them, but when you're on the front foot trying to win a game at home, you leave yourself open to Andy Johnson and his pace."
David Moyes said:
"This year, I really am trying not to mention referees or linesmen.

"I make mistakes and players do the same — we make more than any one official over the course of a game — but if anyone can explain that to me . . . We do try to run up for offside, but Ameobi was the last man, the ball went straight to him and he's scored.
"You can't even turn around and say there was a mix-up. One of our players was a bit late moving out, but not as late as Ameobi. What do I do? Do I just stand back and say that's fine? I'm passionate about winning for Everton and my job is to make sure we do it. We got a bad decision there.
"He (Cahill) is one of the best at getting into the box. We can play him in the middle of the park, we can play him in between the striker and the midfield, we can play him right up top.

"You need to look at his goals - I think he has got four goals now. It is a great return.

"The system we are playing, we are creating more chances than we might do if we played any other way, so that is what we will do.

"I do not know how many opportunities we had, and but for a bad pass or the wrong decision at the last minute we could have had a few more goals.

"We are now playing him slightly further forward than just a central midfield player, but he is as good as anybody in the business at getting into the box and scoring goals.

"He is robust and whole-hearted and he does a good job for us."

Bramble's first ever red card came just short of the 200th appearance of his senior career.

Toffees in Toon: Premiership Years

2006/07 Drew 1-1 Ameobi
2005/06 Won 2-0 Solano 2
2004/05 Drew 1-1 Bellamy
2003/04 Won 4-2 Bellamy, Dyer, Shearer 2
2002/03 Drew 3-3 Dyer 2, OG (LC)*
2002/03 Won 2-1 Shearer, Bellamy
2001/02 Won 6-2 Shearer, Cort, O'Brien, Solano 2, Bernard
2000/01 Lost 0-1 No scorer
1999/00 Drew 1-1 Shearer
1998/99 Lost 1-3 Shearer
1998/99 Won 4-1 Ketsbaia 2, Shearer, Georgiadis (FAC)
1997/98 Won 1-0 Lee
1996/97 Won 4-1 Ferdinand, Lee, Shearer, Elliott
1995/96 Won 1-0 Ferdinand
1994/95 Won 2-0 Fox, Beardsley
1993/94 Won 1-0 Allen

Waffle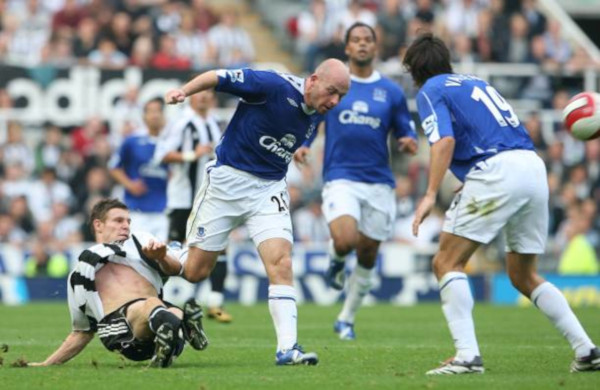 A mixed week that saw a well-earned win at the Hammers and equally deserved defeat at Anfield concluded with spoils shared against the side that, on current form, were the best of that trio.

Everton ended the game having extended their unbeaten league run to nine games (counting the last three outings of the previous campaign), but really should have been beaten on a day when their good luck seemed finally to have ended - and fortune turned to us.

Nobody will blame David Moyes for his gripes at the bungle that allowed Shola's shot to stand although he was just one of a trio of transgressing Toon players.

However Glenn Roeder's "so what" stance was equally valid, mirroring as it did the Everton boss after his side beat Watford recently - courtesy of a penalty awarded in their favour for a handball decision that TV replays showed to be totally wrong.

The only thing that was surprising was that some poor sap with a satellite dish and a personality disorder didn't ring in a radio station to call for the introduction of fourth officials, goal line technology or some other techno twaddle to nail down every last nuance - and knock the life out of the game in the process.

While the result didn't go as we hoped though, we can at least take some solace in the stats that proved we spent a greater percentage of time in the oppositions' final third of the field than in any of our other games to date.

And it's perhaps pertinent to point out that the anguished expressions on and off the field that accompanied Martins and his three main attempts to score were at least as a result of chances made but spurned - that in itself an improvement on his earlier showings for us, when he barely had a sniff near goal.

Enough of the lily-livered young Mister Grace "you've all done very well" platitudes though. The fact remains that less than a month into our tightrope-walking squad selection we're down to what a Premiership Manager who never, ever, ever takes bungs would call "the bare bones."

We knew it, you knew it - we'd be short-handed. If it can happen here, it will. The main interest watching Newcastle is not that we screw things up, it's that we continue to find ever more convoluted ways to do it.

To the accompaniment of much head-shaking, we attempted to fashion a comfort blanket to see us through to 2007 by begging and borrowing what we could on the final day of transfer dealings.
The results speak for themselves.

While to all and sundry our headcount was of concern, some of us were slightly more worried about what was actually contained within said bonces, not to mention the size and strength of heart and limb they were attached to.....

Glenn Roeder could barely conceal his contempt for our alleged left back Babayaro after yet another piece of avoidable daftness was caught on camera - this time apparently slapping Dirk Kuyt in the face with an invisible glove at Anfield, a move which neatly gives him the thick end of a month off.

Unfortunately our prevarication in acquiring a left back meant that, we were forced to break up the fledgling partnership in central defence between Moore and Ramage that had shown some signs of promise - partly due to Moore's verbal marshalling of Ramage and the latter's willingness to listen.

Even that though was a lashed-up partnership.

Post-transfer window newspaper comments about our massive disappointment in signing Robert Huth just don't square with the information that came from the player, Stamford Bridge and Smogside.

The fact remains we failed to replace Boumsong with anyone and in his absence, Titus has now taken on the added responsibility for bungling, diving in and ensuring that pundits have ample stocks of scorn to pelt our defence with.

To be fair, it's a role that he's quickly settled into, but with his current contract up at the end of the season, should he worry? Probably not, with this expected to be Craig Moore's last campaign in Europe.

The recent appearance of a malnourished Olivier Bernard on our doorstep seeking board and lodgings may help in weeks to come, but at present he's unplayable.

Don't forget though that Olly has been available for most of 2006, turning out for Sheffield United against Greenock Morton as our Intertoto campaign got underway in July.

Had our acquisition of him been anything more than last-gasp expediency he would now be in our side, having gone through a full pre-season, rather than a couple of reserve team trundles.

Moving swiftly past the goalkeeping situation which looks like seeing another unexpected arrival to compensate for our ill-fortune, let's turn our focus to the attack.

Whether Babayaro bothered to watch this game or went elsewhere to pull his groin further isn't known, but Luque was certainly spotted exiting SJP before kickoff - the arrival of Rossi and Sibierski putting him further down what passes for a pecking order here.

The US/Italian youngster has so far only been seen on the periphery at SJP: indeed, by the time he is eligible to appear for us again against Bolton next month, he'll have played just 41 minutes out of a total of 630 possible - far less than for his adopted country's U21 side.

And with Martins trying to find his feet in a new environment, the burden of responsibility up front falls fairly and squarely on the shoulders of Shola - that's the Shola who has been carrying a hip injury for almost as long as we've known Shearer was going to retire; the Shola we'll apparently try to nurse through to January before he goes under the knife and faces three months out.

A scandalous situation frankly and unfair on Sibierski to expect him come in to lead a line and score regularly for the first time at the tail end of his career.

This would have been a good game to win - three points in the bank, three points taken one of our rivals to a top seven place and only a second win in seven SJP games this season to boost the mood of home attendees.

But despite some genuine effort and entertaining moments, it just didn't come. And our set pieces are still terrible, corners a joke and crossing of dubious quality - compare our easily-cleared floaters with Arteta's razor-sharp delivery for Cahill's goal.

We go into the international break hopefully still in the UEFA Cup and almost inevitably on the back of the usual point-free return from Old Trafford, hoping that we incur no further injuries, but waiting for the next disaster to befall us - whether self-inflicted or beyond our control.

Biffa