Date: Thursday 2nd November 2006, 8.45pm (7.45pm GMT)
Live on Channel 5

Venue: Stadium

Renzo Barbera

Conditions: Incredulous

Admission: €15 (£10.50) - no official programme




bootleg prog

Palermo

Newcastle United

0 - 1

Teams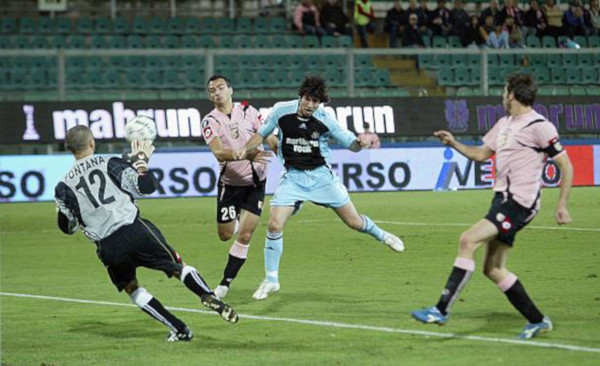 37 mins: A stunning James Milner cross from the left fell perfectly for Albert Luque to nod in from eight yards at the far end of the ground from where the disbelieving Toon fans were stationed.

Some eight minutes later the Spaniard was still celebrating, waving at those travelling supporters as he left the field, before high-flying Sibierski in the centre circle and giving him a little demo of exactly how he headed the ball in. For one second we even thought he was going to try and swap shirts with an opponent….1-0
Half time: Palermo 0 Newcastle 1


Full time: Palermo
0 Newcastle 1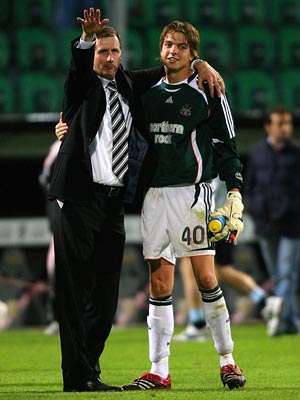 Glenn Roeder commented:

"We are not playing right now like a team which reflects our position in the Premiership.
"We had Palermo watched and saw them win against Milan and Fiorentina and a few other games. What we saw suggests that where they are in Serie A is a true reflection.
"They had us on the back foot and we had to play very well to keep a clean sheet.

"We are hopeful all four lads who didn't travel (messrs Babayaro, Duff, Parker & Carr) will be fit for the weekend, but they are doubtful.
"There would have been no chance of them being able to play on Thursday so we decided to leave them at home for treatment."
On Tim Krul:

"To be honest, we did not expect him to make his debut for another 18 months or two years.

"We intended to send him out on loan to gain some match practice and we will still do so at some stage. He has that Dutch mentality which I like and is a joy to work with in training.
On Giuseppe Rossi:
"Rossi cannot play in the UEFA Cup, and rightly so - I would have done the same if I was Sir Alex Ferguson. He has done us a favour in lending Rossi to us and it is right that he goes back there on January 1st and be eligible to go into their Champions League squad."

Tim Krul added:

"What an atmosphere, it was unbelievable, and a I got a clean sheet as well. It was a header from the tall guy and then I got up and threw my body in the way."

Francesco Guidolin said:

"A draw would have been a fairer reflection of the game, and a point certainly would have been welcome, but we are still on course to qualify from the group.

"We started well and missed two or three good chances. We also had a bit of bad luck. These are things that can happen when you've got a lot of first-team regulars sitting on the bench."

Our European record now reads:

Played:114 Won:65 Drawn:21 Lost:28 Goals for:198 Goals against:112

Italian Jobs - away games in Europe:

1970/71 Inter Milan Drew 1-1 Davies (FC)
1972/73 Roma Won 2-0 Tudor 2 (AIC)
1972/73 Como Won 2-0 Moncur, Tudor (AIC)
1972/73 Fiorentina Won 2-1 D.Craig, OG (AIC)
1992/93 Lucchese Drew 1-1 Kristensen (AIC)
1992/93 Bari Lost 0-3 (AIC)
1999/00 Roma Lost 0-1 (UEC)
2002/03 Juventus Lost 0-2 (CL)
2002/03 Inter Milan Drew 2-2 Shearer (CL)
2006/07 Palermo Won 1-0 Luque (UEC)

FC=Fairs Cup, AIC=Anglo Italian Cup, UEC=UEFA Cup, CL=Champions League

There was a first team debut for striker Andy Carroll as sub at the age of 17 years and 9 months - becoming the club's youngest ever participant in a European fixture. Tim Krul meanwhile made his senior bow at the age of 18 years and 6 months.

Waffle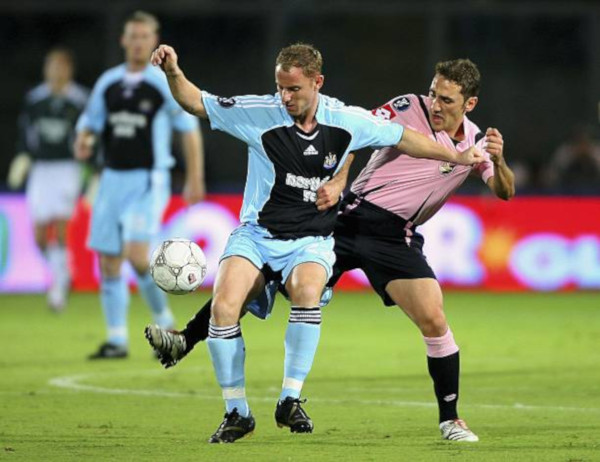 In the midst of what turned out to be a desperate week as far as Premiership progress was concerned, United slipped into Sicily to write an unexpected chapter in their European history.
Pitted against the Serie A surprise packets of the season, expectations of victory among the small band of travelling diehards were low. After all, our opponents were fresh from a San Siro success and second in the league only on goal difference.

And despite Palermo fielding half a side of reserves, Newcastle's well-documented problems had seen the likes of Parker and Duff left at home and a bare-bones front line consisting of the Spaniard and two untried youngsters on the bench – all three fresh from Monday's reserve match.
Add to that the expected but vaguely ominous pre-match quotes from the manager about this competition not being the first priority and talk in the away cage was of the keeping the score down / fantasising of a draw variety.
But while the headlines were hogged by Luque's goal and Krul's dream debut, the whole team deserve credit for an intelligent and cohesive performance - especially in the opening forty minutes when we made the Italians look poor.

With the one-paced Spaniard alone up front much was required of the midfield, both in terms of providing an attacking threat and also protecting a defence composed of four central defenders.

Happily we were able to achieve both, thanks to some selfless running from Milner (plus a peach of a cross) and wise heads of Solano and Butt, who competently shored up things up.

An early touch for Krul settled both his nerves and those of the Toon fans away to one corner of his goal and from then on, he just got better and better – almost visibly growing in stature.

Regular reserve and junior watchers were already aware of the potential of the Dutch teenager who starred in the Youth Cup last season, both saving and scoring penalties to lead us to shootout successes.

And on the back of rave reviews playing for his country in the World Youth Championships, recently-appointed Toon goalkeeping coach Terry Gennoe was quick to acknowledge Krul's credentials.

However it was widely expected that his senior team debut would come on loan to a lower league club at somewhere like Gigg Lane – rather than for Newcastle in a televised UEFA Cup tie.
Harper's and Srnicek's ineligibility though handed Krul his chance and ninety minutes later he walked from the field arm in arm with Glenn Roeder, having posted a mature performance that gives the manager food for thought when pondering on his options between the posts.
For the goalscorer though there was rather less praise, after an uninspiring display that did little to enhance his reputation or prompt bids for his services (at least one Italian clubs is alleged to be monitoring him – the Gateshead Pizza Chef social club XI, we presume….)

Score he did though and although the chance was an easy one, the run and position was all –important.

Equally vital was the response to a belated charge from Palermo after the break, as they called up reinforcements from the bench in an attempt to slice through the defence that was marshalled by Moore.

At times they succeeded, but were unable to beat Krul – and lost heart in the closing stages, as we broke downfield on several occasions leaving home players sprawled out on the turf – only to be pulled up for questionable refereeing calls.

Hold out we did though – the game ending with 17 year-old debutant Andy Carroll leading the attack and Glenn Roeder taking to the field to reprise his Upton Park arm-waving salute (without enraging the natives this time).

So, after recording victories and clean sheets in Norway, Latvia and Estonia so far this season we were able to repeat the feat against a decidedly more competent side. Can we not start wearing those lucky blue shirts in the league?
Qualification from the Group Stage is now virtually assured, which presumably means that more youngsters will be blooded in this competition – possibly in Frankfurt. That's if the likes of Huntington, Krul, Carroll and Troisi haven't been called upon for Premiership action of course.

Putting aside pertinent talk of fixture congestion and regardless of what happens in Saturday's league game and Tuesday's Carling Cup tie, this result and performance stands as a notable achievement for players and manager. Unfortunately it's Premiership results and points that will ultimately decide the fate of them – and us.
It was Bobby Moncur (one of the media corps on this trip) who once said that Newcastle were daft enough to win the cup. On nights like this it's possible to agree with him – shame that we're also daft enough to go down…
Biffa