NUFC.com in association with

Throwing caution to the winds, Marco's
match prediction was for United to win
4-0, 5-0 or 6-0 on the night. Not quite...


Date: Thursday 22nd February 2007, 7.45pm
Live on Channel 5

Venue: St. James' Park

Conditions: Pedestrian




Newcastle United

Zulte Waregem

1 - 0
(4-1 agg)


(all blue away kit to follow)

Teams
Half time: Newcastle 0 Waregem 0



68

mins Damien Duff's through ball to Obafemi Martins saw the striker dash down the left towards the Gallowgate End and neatly lift the ball over the advancing 'keeper - not dissimilar to Tino Asprilla's UEFA Cup effort against Metz into the same net just over a decade ago.



Oba celebrated with his usual acrobatics, thankfully not replicating the shirt-on-corner-flag antics of Tino that night, that earned him a booking and a ban.

1-0

Full time: Newcastle 1 Waregem 0

Glenn Roeder said:

"The aim was to qualify for the last 16, so it is job done in that respect. They came and did a good job defensively and made it difficult for us.

"I was disappointed that we did not handle their formation and tactics.

"There were a lot of senior players out there and it was quite obvious from where I was standing that all the room was in the wide areas, where we would have out-numbered them two to one.

"It was patchy. There were parts I was quite happy with and parts I was not quite so happy with.

"It is all about us raising our game, it is about expecting our standards to be higher because that is what I want to do.

"Hopefully, over the last dozen games - a few more than that if we stay in the UEFA Cup - we can finish the season really well and play good football and winning football.

"There are things at the club that need to be improved upon, and from the football side, that is consistency.

"We need to play better more often and I expect the players to handle the expectation of playing better more often.

"I have always said to be a Newcastle United player, you have to be a brave player."

"I thought it was a wonderful crowd. It shows you how much Newcastle supporters love their football and we could have done better for them. We were too slow in the build-up."

On the coming meeting with AZ coach Louis van Gaal:

"There's a discussion he's arguably the best coach in the world. He has had periods in his career where he has been to the very top.

"He has vast experience, so it is something I am really looking forward to. "

Waregem coach Francky Dury said:

"This is a complete team - a very, very strong team.

"They always play 4-4-2 with wingers like Duff and Milner. Parker didn't play against us but he is the captain and a very good player, like Butt. Dyer has good penetration and with a quick striker like Martins you can't give them space on the counter-attack.

"If the supporters are behind the team they can maybe go further but beware of AZ. They play technically much better football than us and while I'm a coach, van Gaal is a master."


Twelve games games in Europe this season - nine wins and three draws.

Our European record now reads:

Played:118 Won:68 Drawn:22 Lost:28 Goals for:204 Goals against:115

We've only netted once in the first half of our six home ties this season - Sibierski's opener against Vigo:

Lillestrom 1-1 (Luque 50)
Ventspils 0-0 (No scorer)
Tallinn 2-1 (Martins 47,50)
Fenerbahce 1-0 (Sibierski 79)
Celta Vigo 2-1 (Sibierski 37, Taylor 86)
Waregem 1-0 (Martins 68)

Our first clean sheet in 18 matches - the last having come in the UEFA Cup away to Frankfurt in November 2006.

This fixture saw Nolberto Solano reach the 300 game mark for United.

Premier: 199 starts, 19 as sub, 37 goals
FA Cup: 25 starts, 0 as sub, 2 goals
League Cup: 14 starts, 3 as sub, 2 goals
Europe: 35 starts, 5 as sub, 7 goals

Total: 273 starts, 27 as sub, 48 goals

We maintained our 100% record in competitive games on Tyneside against Belgian sides - (although we went out on the away goals rule to the team from Brussels):

1969/70 Anderlecht won 3-1 (Fairs Cup)
1994/95 Antwerp won 5-2 (UEFA Cup)
2001/02 Lokeren won 1-0 (Intertoto Cup)
2006/07 Waregem won 1-0 (UEFA Cup)

Goal number 14 of the season for top scorer Obafemi Martins - the same total as Alan Shearer registered in his final season as Newcastle player.


Waffle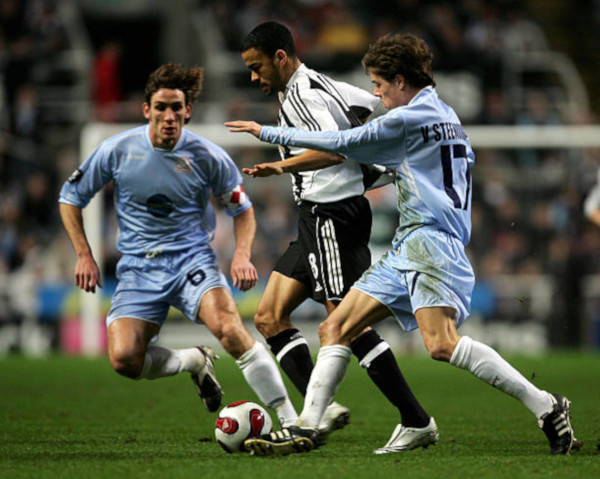 The wearer may no longer be a sheet metal worker's son from Gosforth, but Obafemi Martins has Alan Shearer's knack of donning the number nine shirt and sending a European crowd home with some tangible reward on a night that otherwise fell firmly into the instantly forgettable category.

This isn't the first time in recent seasons that we've come up against the most moderate and unadventurous of opponents when seeking to build on a first leg lead at SJP - yet failed to record the expected resounding victory, seemingly lowering our standards to match those of the visitors, who were more Yeading than Reading.

As he had done against Levadia Tallinn though, Martins took what chances came his way and put the tie to bed, allowing us the briefest of reflections before we move on to what looks like a genuine test of our UEFA Cup credentials.

Glenn Roeder spoke after the game of an eagerness to pit his wits against AZ coach van Gaal, as this competition finally slips into gear after eight months and a mere dozen games.
However, the Magpies boss will be mindful of the fact that the Tyneside leg comes first before we cross the North Sea to face Alkmaar, who can broadly boast of having never lost a European tie at either their old 8,000 or new 16,000 capacity stadia.

Quite simply, we need to take a lead of sorts to Holland - and with a miserly seven goals in six home ties to date, that may prove to be something of challenge

And although Roeder was otherwise engaged helping Chris Waddle struggle at Burnley a decade ago, messrs Given and Srnicek can remind him of the night Van Gaal came to Tyneside and lost, but then masterminded a vital 1-0 win for Barcelona later in the same Champions League group.

Nobody would suggest that the Dutch side founded only 40 years ago are in the same bracket as the Catalonian giants, but like Guus Hiddink's PSV three years ago, AZ are obviously no mugs.

Van Gaal may no longer have the likes of Figo, Luis Enrique and Rivaldo at his disposal, but has enough talent in his ranks to have seen Roeder present in the stands when their season began back in August with a kickabout against Arsenal.

Back to tonight's game though and the appearance of Luque for the hamstrung Sibierski dampened hopes of a goal glut, with memories of his lumbering 59 minute non-display in Frankfurt still fresh.

And despite playing on home soil against a weakened side of part-timers, our own part-timer showed little inclination to get involved, appearing blind to the presence of Martins.

And by the time the Spaniard was hauled off in this game, even his colleagues seemed glad to see the back of him, with our goal following within minutes of his saunter to the dressing room.

His teenage replacement Andy Carroll may be raw, but at least he shows some desire and fight.....

In fairness Luque wasn't the sole offender, as our bright opening failed to produce a goal - Taylor's early header off the line the closest we came.
After that though we quickly settled into safe mode - Dyer and Duff in particular frustrating with their own respective soft shoe shuffle routines and our game plan again consisting of the aimless forward ball.

With Waregem packing their midfield it seemed obvious that our wide men would be key, even if we only had height in the box for set pieces - something that doesn't stop Martins from getting his head on crosses when they come anywhere near him.

Although he saw a lot of the ball, Milner had an unproductive night, while Duff seemed equally uninterested down either flank.

That changed after the break though, as the Irishman visibly upped his effort levels and broke into something approaching a gallop - presumably after some-well placed words in the dressing room.

It was Duff's pass that set up the goal and although Martins was irritatingly offside on a number of occasions when we tried to repeat the feat, that proved to be enough against a much-changed opposition lineup from the first leg.

As in the first game though, Waregem showed some moments of invention and Bramble was called upon to make couple of last-ditch face-saving tackles - although giving him the man of the match for doing so was slightly OTT. There again there weren't many candidates.........

The end result was all-important of course, but the watching Wigan boss will have gone back to prepare for Sunday's game with renewed optimism, while the report that the AZ scout compiles will hardly have the Dutch quaking in their clogs.

On a night when the promised presentation of the Intertoto Trophy failed to materialise, we did enough to maintain our interest in the UEFA Cup this season.

If we're to get any closer to Hampden than Barrack Road though, we will need to rise to the occasion when sterner examinations are forthcoming.

While the industry and intensity of the Liverpool home win was missing tonight, we worryingly failed to do much more in front of goal than we had against the Reds and looked less than convincing in defence.

The injury worries that blighted us earlier in the season may have abated, but we still have to attempt to progress with significant gaps across the field.

Shola and Owen's absence and the ass we were consequently forced to utilise tonight shows the importance of a fit Sibierski, while the lack of creativity in midfield highlights the need for in-form options such as Zog and Emre, rather than Pattison and O'Brien.
But in having strengthened our defence domestically, we face the same issues with the back four as previously when it comes to Europe. As we enter the stage of the tournament where stopping goals is at least as important as scoring them, that could prove to be our undoing.


Biffa