Date: Thursday 15th March 2007, 8.35pm (7.35pm GMT) Live on ITV1

Venue: DSB Stadium, Alkmaar.

Conditions: Gut-wrenching

Admission: €30 (Programme €2.50)





AZ Alkmaar

Newcastle United

2 - 0
(4-4 agg)
AZ win on away goals

Teams
14 mins Shoehorned into left back again after Stephen Carr ducked out at the last minute, Paul Huntington endured a difficult evening. And the teenager was completely out of position when Koevermans had all the time in the world to cross to an unmarked Arveladze to easily convert. 0-1

Half time: AZ 1 Newcastle 0

56mins The sucker-punch came when a classic near post corner was powered home by Koevermans, who had easily lost his marker Titus Bramble. Compare and contrast with the goal scored by the Belgians in Ghent - virtually identical. 0-2
Full time:
AZ 2 Newcastle 0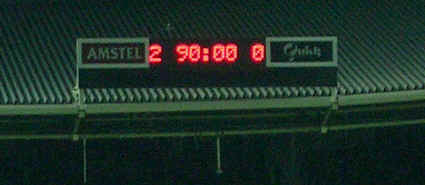 Tell all the boys you know, we're f**cked
Glenn Roeder commented:
"You are relying on the referee to make a decision and he made a decision against us.

"You have to trust the referee to make the right decision. But there is no doubt about it - their very, very dodgy penalty last week at St James' Park has cost us.
"They are not good goals we conceded. Too often crosses come into our box, they are not defended properly and bad decisions are made.

"I have to find defenders who are good enough to play in front of Shay Given.

"Shay Given is a is a top drawer keeper but he does not get the protection he should get. He is exposed far too easily.

"Too many defenders make too many mistakes that cost us points.

"They do well, you are happy with them and you think they have learnt. Then 'bang' they go and make the same mistake again and let you down."
"I am hugely disappointed. I cannot sit here and explain how disappointed I am personally when players I would have expected to perform well have performed poorly.

"We had too many players off form, experienced players, who I would have expected to have done better.
"There were some decent performances, and I don't want to tar everyone with the same brush. But we needed everyone to have played well to have gone through, and that wasn't the case."
"We trained here last night. We did not do too much, but what we did gave me a lot of confidence that the boys were in good shape to come our here tonight and play as a team.

"It's too easy to say that it's another season of failure for Newcastle. Everyone knows the problems we have had in terms of injuries.
"The squad has been decimated for six months with injuries and, at times, I've had to pick up points with a team that was minus a dozen senior players.
"Even now, we're still without Michael Owen, a world-class striker and Shola Ameobi, a player who scored a goal every other game for me last year.
"We've only just got a lot of our players back fit in the last couple of weeks. We got Stephen Carr back after he had got injured playing for the Republic of Ireland, he played one game and he got injured again."
About Paul Huntington (scandalously given 2 out of 10 in the Chronicle merit marks):

"He is a strong lad, a mentally tough lad. He is just 19 years old and he is a central defender who had to play at left-back.

"Although it was not a good experience for him and not a good experience for anyone tonight, he will learn a lot of things from the game.

"In the bigger picture of his football career, it will not do him any harm."

Kieron Dyer added:

"There are no excuses. We let ourselves and everyone associated with the club down. We twice had a three-goal lead in this tie and we have blown it again.
"It is like Groundhog Day. It always seems to happen to us and now it is another season with nothing to play for.
"We have got to get tougher mentally or we are going to get punished the way we always seem to do.
"It is another disappointing end to what should have been a promising night."
"We huffed and puffed a bit at the end and may be I should have scored and so should Oba Martins.
"My first touch was good and I thought I had scored. I could only watch as it went agonisingly wide.
"But I suppose that summed up our night. We were second best on the night. There was not a lot of quality out there and we were made to pay.
"While we still have to try to win as many points as we can and climb up the League table, this will take a long time to get out of our system."
A despondent Shay Given said:

"We probably did not deserve anything on our performance.
"What can we say? We have let the fans down again. The whole team did not play well and we are out of Europe, so it is the end of the season.
A jubilant Louis Van Gaal gushed:

"This was a massive performance. Mentally, it is very tough when you are trailing 4-2, but we had proved before that we could do it.
"The biggest quality of a manager is to get the players to believe in what you want them to do.
"We have had the crowd right behind us ever since we started playing games in our new stadium. When we were trailing 3-0 against Arsenal, they did not stop making themselves heard. And we want to say thank-you once again to our wonderful fans for their tremendous support tonight.

"And I think our team has put in a massive performance. When you are trailing 4-2 from the first leg, you will always be at a disadvantage.

"I want to pay a particular compliment to Ryan Donk. He is only nineteen and yet he marked his man extremely well. The triangle of Donk, Jaliens and de Zeeuw was the key to our success in this game.

"The UEFA named Arveladze Man of the Match, but I think those three players would have deserved that award. Having said that, I must say I quite agree that Arveladze put in a very convincing display!"
Alkmaar's proud record of never having lost a European home game in ninety minutes was extended to 29 games after this victory for them.

At the sixth time of asking, the blue third kit left us down as we dropped our first points clad in it (five previous victories - we wore black and white for the away game in Frankfurt).

Fourteenth and final game in Europe this season for Newcastle - emulating the total of seasons 2002/03 and 2003/04. We've never played more in a single campaign.

Goalkeeper Shay Given drew level with Bobby Mitchell at seventh spot in the club's all-time appearances list:

496 Jimmy Lawrence
472 Frank Hudspeth
457 Frank Clark
432 Bill McCracken
431 Alf McMichael
412 David Craig
408 Bobby Mitchell
408 Shay Given
404 Alan Shearer

Given also extended the club's European appearance record to 62.

This was merely the latest calamity to befall us on this day in history: a 5-4 defeat by Ipswich, hoying petrol bombs at Hammers and Freddy & Douggie's unwanted front page appearance in the News of the World also all fell on March 15th.

Waffle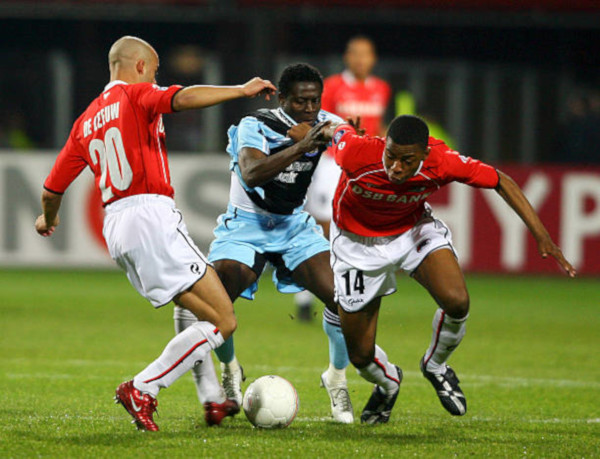 So this time the inquest took place in an Amsterdam bar, rather than an ale house in Lisbon or Marseille.

The venue may have changed, but in all other respects the night we called it a day was a rerun of former failures in this competition as our nine month European Odyssey ended in familiar capitulation.

For the duration of our Hampden fairytale reality had been suspended, but real life intervened on Thursday as our failings were stripped bare for all to see. Conceited, inept, gutless, take your pick.

Behind those bland words "lost on away goals" lies a sequence of events that once again leaves fans questioning the motives and competence of those who represent them on and off the pitch.
The manner of our defeat may have altered but that numb empty feeling is familiar – the dull ache of being kicked in the balls yet again.

And if it didn't hurt quite as much this time, it's simply because we've had it done to us so often - not just in Europe, but also in sundry domestic cup competitions - add in M4 traffic jams and Wembley tube station to that earlier post-mortem list.

Let's just recall that at one stage in this tie we were three goals to the good. It takes a special brand of stupidity to toss that sort of lead to the four winds.

Unfortunately that part of the tie proved to be the only time that we held the initiative and did something with it: for the other 150-odd minutes we proved maddeningly but predictably unable to help ourselves.

The Taylor penalty incident in the first leg has already been mythologised as the point at which we were harshly judged and AZ's lost cause became a salvageable reality.

To take that view though ignores the wasted opportunity of the second half on Tyneside, as we coasted downhill to the final whistle and allowed our opponents to take the initiative.

Despite that though, we still packed our bags for Holland secure in the knowledge that we took a two goal lead and were eminently capable of scoring the goal that would put the tie to bed.

But if Ruud Gullit's team selection for the mackem monsoon game was a "suicide note", then the side picked and the tactics employed in Alkmaar must rate as Glenn Roeder's admission of failure.

If what followed was a reflection of the knowledge attained via the Pro Licence scheme, then the FA should be charged with bringing the game into disrepute.

The omens didn't look good when the manager attempted to belittle pre-match suggestions that we would need to score in Alkmaar in order to advance.

And sure enough our muddled approach seemed to confirm suspicions that we had in fact come hoping for a 0-0 draw – a typically one-dimensional mindset that we've seen numerous times in the league this season and which had worked in Frankfurt (a comparatively meaningless tie).

From the off it was clear that the flowing football seen in the first leg was back in the box marked entertainment and our more familiar ploy of randomly hoying the ball forward to Sibierski to supply knock-downs to non-existent colleagues was back in vogue.

How much of that was planned is unclear, but from the off it plainly didn't work - and Roeder was unwilling or unable to alter things, or at least get players to play in their allotted positions. Kieron.

AZ duly took advantage of our unbelievably porous left side and thereafter moved forward without interference, as we proved unwilling to defend from the front or provide any obstacles to the home side crossing from a variety of angles.

In attempting to deflect post-match criticism, Roeder trotted out the familiar lines about the injury list – that's the crippling series of problems that every victory this season has seen us defy and of course is something that United never resort to as an excuse…..another Thompson House untruth.

While it remains unclear precisely what difference a fit Owen or Ameobi would have made given our approach, certainly some fit full backs would have made a radical difference to proceedings.

But again questions have to be asked of our medical team, after Stephen Carr failed to appear – yet another abortive comeback from injury.

Do we actually carry out fitness tests, or are the likes of Carr and Babayaro such favourites of Roeder that their own opinion is relied upon without question?

The initial XI selection was questionable, but to then ignore the obvious malfunction of the side and fail to use what resources were still available to him simply beggars belief.

Duff failed even to match the semi-competence of his first leg performance (which has been retrospectively elevated to the level of Geoff Allen's single-handed tormenting of Feyenoord in 1968) and did precisely nothing to help the rookie stand-in full back behind him.

Dyer meanwhile failed to make an impression wherever he was meant to be playing, while Martins was a non-event.
And even if one pursues the line that Roeder and Pearson allowed their defensive instincts to inform our approach, the manner in which we defended generally and conceded the two goals were hardly shining examples of their success on the training pitch.

Much of the blame lies at the feet of the players, who served up the most tepid display imaginable and in at least one case visibly gave up the fight as the game reached a climax – hardly a Captain's display, Scott.
This was a cup final for Newcastle fans and players and unfortunately we provided a classic example of the non-performance we reserve for games like these - with all the misplaced optimism that entails.

The supporters vainly tried to urge their side forward but got zero response from those carrying their hopes and dreams, who gave a passable impression of not giving a tinker's cuss about the occasion or its importance.

In typical Toon style though, the agony was prolonged until the final seconds, as AZ were unable to score a third goal that would have removed any doubt from our exit.

Instead we had the torture of hoping against hope that a stray ball would bounce in off someone's backside, with the team's attempts to make something happen extending to N'Zogbia appearing for a whole four minutes - after quarter of an hour of indecision on the touchline.

Meanwhile Milner sat on the bench while we persisted with the narrowest possible formation and tumbleweed blew down the totally abandoned right flank - a bloody funny way to treat a player who only hours before (along with Zog) had been labelled the future of the club.

After showing admirable dedication to the cause despite our best efforts to flog him last August, Milner couldn't be blamed if he submitted a transfer request after this farce - our reading being that Roeder would rather lose to prove some obscure point than change his side to include him.

Did anyone really want to win this apart from the fans and the likes of Given and Taylor?

Or are those poor players bored with having to sign bus tickets as they pass through Newcastle airport en route to another foreign destination. They certainly rolled up here with the air of a job already done - witness the pre-match warmup that had about as much life in it as the one before Shearer's testimonial.
As we predicted last year, the first time we faced a halfway competent side who were up for the fight (ie not Fenerbahce or Palermo) we exited from this competition. Hardly a revelation.

And with domestic form that has tailed off since the 2007 high of getting....gasp.....a draw with Man United, the whole thing is in danger of becoming a snoozeathon.

No European competition next season is a further disincentive to new signings - and hardly the best preparation for young Michael before Euro 2008.

And with the forces of darkness down the road on the rise again, our time in the sun may be drawing to a close.

Of course playing the red and whites again would give us the chance to extend that fine record at the Stadium of Plight.

Peering into a pint glass tonight though, that wasn't much solace - getting on a bloody bus down the road just doesn't compare with grand perambulations around Europe. From Norway to nowhere.....

The low countries are aptly named.

Biffa

Reports