Date: Sunday 18th March 2007, 1.30pm

No live TV, no other London games = no excuse for a KO time that shafted away travellers.

Venue:

The Valley



Conditions: Scattered showers
- but enough of us....

Admission: £30 (last season £25)
Programme: £3 (last season £2.50)





Charlton Athletic

Newcastle United

2 - 0

Teams
Half time: Charlton 0 Newcastle 0
53mins Chinese Captain Zhi Zheng marked his first Premiership start by getting off the mark for his new club. ZZ reacted first to head the ball into an empty net after Darren Bent's free kick from a central position had beaten Shay Given but rebounded off the bar. 0-1
88mins Zheng again caused the damage, being leant by Nolberto Solano as he made for goal. Solano's twin-folded arm reaction removed any doubt that he'd transgressed, despite his post-match protestations. Jerome Thomas sent Shay the wrong way from the spot 0-2
Full time: Charlton 2 Newcastle 0
Glenn Roeder waffled (after having locked his players in the dressing room for an hour):

"I needed to tell the players what my thoughts were because once again this was a game we should not have lost but we did - just as we should not have lost at Fulham and Wigan.
"Everything we did wrong got a mention in our dressing room after the game.

"In the first half, we showed a good reaction to what happened to us in Europe but then paid for some bad misses and for letting only the Charlton goalscorer react to their free-kick hitting the bar.
"We had lots of possession but that's no good if you don't take your chances. Charlton are certainly capable of surviving in the Premiership because they have a fixture list they would want and they always give everyone a tough game at The Valley.
"This was a major result for Alan (Pardew) but if you are asking what our main problem is I would have to say an average of nine, 10 or 11 injuries every week.
"We are now down to six but we've had no fewer than nine major operations on players this season and perhaps people don't know how difficult that is."

Solano (along with Sibierski one of only two players to speak to the press post-match) said:
"It has been a tough week for everybody, but it is only one week. We cannot make excuses.
"We have enough quality in the team to take points. We have a break now for the international week and we need a lift.
"We need to start to concentrate and play more like a team, not as individuals. We need to work hard together as a team.
"We know we have to sort out the problems. We need to be all together and we need to respond.
"The next game is at home against Manchester City and it is going to be a very important game. We need a big response."
Alan Pardew sparkled:

"He (Zheng) has suggested in his little cameos for us that there was something in there.
"We've taken a long time to integrate him and we're feeling the benefits of that. He's a good player who's finding his feet very quickly in the Premiership.
"He's not the type to pull out of a tackle, but his technical ability is his biggest asset.
"We did toy with playing him at left-back today, which suggests he can operate just about anywhere, but I think his best position is in and around the striker where he played in the second half.
"It was an enormous game. I hate saying games are must-wins but it was today.
"We're making everyone a bit nervous. Saturday's results were disappointing for us, but we can only do what we need to do. Whoever plays us is going to have a tough game - and hopefully we've given a few of the teams around us a horrible afternoon.
"Newcastle set up with a diamond and that caused us some problems and took the sting out of our start.
"We struggled and the discipline of the back four during the period helped us to win the game.
"I thought Souleymane Diawara, who has come in for some criticism before at this club, was outstanding today. The clean sheet was very important and we look strong at the back now - and we've got flair going forward.
"I was very pleased with the second half and I think we deserved to win in terms of our endeavour and quality. In hindsight I think I made a mistake with our set-up as Darren and Marcus had been in the treatment room all week.
"I made the call yesterday on Darren, although he's not 100 per cent and I don't think England duty would be right for him or for England.
"He's not quite right as he's got pain in his medial ligament. I'll send him to be assessed by England but I think in all honestly he won't make it.
"We've got a bit of a rest now for the international break which is going to be good for us. Ben Thatcher will be OK and Darren Ambrose, who had a bad knee, should be available in a week.
"We've managed to keep the momentum going despite a break last weekend, and hopefully we will keep that going. As I sit here now I'm very happy and looking forward to the rest of the campaign. We can do it."

We have now failed to score in four of our last five games in all competitions:

This was our 10th away defeat in the Premiership - most losses is 11 (last season).

So far we've collected 11 points on the road - our worst ever PL haul was 15 in 1997/98.

Our lowest PL away goals total was 13 in 97/98. This season we're still two short of that total.

(Before the season ends we face trips to Sheffield United, Pompey, Reading & Watford).

Antoine Sibierski has managed just one Premiership goal in his last 14 appearances, totalling 14 hours and 38 minutes.

Damien Duff has managed just one goal in his 25 starts and 4 subsitute appearances for United in all competitions.

NUFC Valley Record since its rebirth:

2006/07: Lost 0-2
2005/06: Lost 1-3 Parker
2004/05: Drew 1-1 Bellamy
2003/04: Drew 0-0
2002/03: Won 2-0 Shearer, Solano
2001/02: Drew 1-1 Speed
2000/01: Lost 0-2
1998/99: Drew 2-2 Ketsbaia, Solano
1996/97: Drew 1-1 Lee (FAC)

Faye piece from programme:

Ever since he arrived in England from French side Auxerre in 2003 the midfielder has been forced to endure the mis-spelling of his forename as 'Amady'.

The problems all stem from an extra 'a' in his passport, but now the Addicks have managed to clarify the situation.

"The proper spelling of my name is Amdy," he confirmed to the Valley Review for the Newcastle United match.

"The only reason I have been known as 'Amady' is because my name is actually spelt wrong on my passport.

"On all of my other legal documents it is spelt without the second 'a', it's just on my passport that it's spelt incorrectly and when I came to England to join Portsmouth that was the main legal document I had with me."

It was Amady Faye who was registered with the Premier League, therefore, at Fratton Park and later Newcastle, the club from which he joined the Addicks in a £2m deal at the start of the season.

"I have learned to live with it, but it's good to set the record straight," he added.

(our understanding of the Newcastle situation was that he was originally referred to as Amdy but then this was altered to Amady, apparently at the player's instigation).

Waffle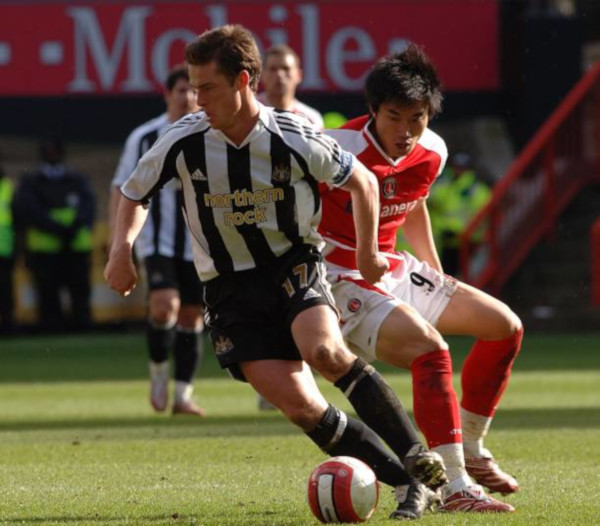 A defeat that was in equal parts totally predictable and utterly unacceptable.
After conspiring to achieve the messiest retreat from Europe since Dunkirk, whatever fading hopes of engineering a return ticket there next season via the league surely went up in smoke after another failure to win against shambolic opposition.
West Ham, Fulham, Boro, Wigan and now Charlton - woefully uninspiring excuses for football teams all, but like Birmingham enough to knock our gutless wonders out of their stride.
Now that the Hampden diversion has ended, attention is focused back on our domestic form with a vengeance - and it's not pretty.

Today we followed an increasingly familiar pattern this season - shading the opening exchanges but failing to score (or trouble the opposition defence) and promptly imploding once the opposition organised themselves enough to get upfield and stick one in.
In an attempt to shake things up we took to the field with four changes to the starting XI. But while the names, formation and composition of the defence had changed our attitude was no better - and the club's official scapegoat Titus couldn't be blamed for any of it.....
Yes, Martins conspired to miss a chance from close range and yes Dyer didn't win a penalty for a handball that was as unintentional but illegal as the one Taylor conceded against AZ. But like a hungry tramp, there's no future in dining out on hard luck stories.
Shamefully, Carson's fist away of N'Zogbia's 92nd minute effort was the Charlton keeper's first meaningful contribution. Never mind Scott, Frank Carson could have kept a clean sheet.

By then a fair few of those clustered behind the goal who had made a 4am departure from Tyneside to get here had turned on their heel and exited in disgust.
They're not booing, or ranting for heads to roll though - slogans aren't been written on bedsheets yet and jumpy jacks haven't gathered to hockle and pogo at Milburn reception. At least not yet.
Instead there's just the realisation that a slow and steady decline back to being also-rans continues as another crack-papering but ultimately futile UEFA Cup campaign passes into history.
That regression is being manifested by an abundance of tickets becoming available - season tickets routinely going spare and away places routinely on public sale (a double whammy of steep pricing and consistently under-par showings on the road making it easier for people to avoid the latter).
Supporters are finding other things to do - even if it's watching the game via a dustbin lid on the alehouse roof. And each one that walks away is expressing a vote of no confidence in the current custodians of the club on and off the field.
And we're talking real people here, who have drunk, fought and shouted for this club - not to be confused with harassed parents and numpty tosspots queuing for the new home shirt, who parade round Eldon Square but rarely grace SJP with their presence. Or maybe they're the sensible ones...

We're talking people who know that Grimsby don't play in Grimsby and Port Vale isn't a place. People to whom a message board is something that gets written on with a felt pen. People who have seen this team fail before, but never at these prices - and with this sort of investment spunked away on deadbeats.

In other words the heart and soul of Newcastle United, just sick and fed up with another season of misplaced optimism, wasted effort and the widening gap between them and the players - it's been a long 11 months since we bade farewell to that bloke from Gosforth.
The familiar lines have been trotted out by the usual suspects: We've let the fans down, we owe them, what we need is a game to get this out of our system, blah bloody blah.
But the reality is that the non-verbal communication of this bunch remains a colossal two-fingered salute directed to their followers.
Players who turn out when they feel like it and then dictate their own on-field positions and level of aggression. The C word - contempt.
At least they've got one thing right, in not even bothering anymore with the pretence of applauding the supporters after another non-performance before swanning off without a second thought to what they've just been part of - pausing only to share a joke and swap a shirt with an opponent.
Luque, Babayaro, Duff, Carr, Dyer, - that's our top five but you have your own - we know, we read the emails.
And as for Martins, did someone tell him that the season is over - or does he just think his 16 goal haul is enough to catch the eye of a bigger club?
There are a couple of imperfect exceptions, with the tenth anniversary of Given's arrival here provoking simultaneous thoughts of admiration and wonderment at what point he will really admit defeat and pack his bags for somewhere where he can win some medals.
Similarly Milner, not always on the good foot and culpable in the set piece stakes but visibly trying when he puts that shirt on.

There was a perfect example of this in the first half as a ball span away towards the corner flag deep in Charlton territory. Other players gave it up as a lost cause, but not the number 16 - who successfully chased and retrieved it.

One could go on pointing fingers at poor performers, such as the powder puff Onyewu, or ask why Parker got more involved today when playing in front of his former fans - but seems unable to inspire himself or his players when appearing in front of our supporters.
And there's always time for some back-handed compliments, such as Duff's improved display when moved to left back - a position that removes any expectation of him trying to beat a man and forces his opponent into a diversion to dribble around the big fecking lump....

(by the way, nobody has yet taken up our claim that it's actually Freddy Flintoff in our number 11 shirt and Duff is really falling out of pedallos in Montego Bay or wherever - it would certainly explain a few things....)
Today we suffered the ignominy of losing to a side featuring Amdy Faye. What else can one say?
It's ultimately the players that bring a boss down, but the responsibility for recruiting, training, preparing, motivating, controlling and organising them ultimately lies at the Manager's door. When things go wrong, it's either due to him making the wrong decisions - or making none at all.
Too many players at this club get an easy ride and like his predecessors, Roeder seems to be unable to alter that and we still don't see quite what difference a fit Owen and Shola will make.
If anything, their return ups the ante further and requires further decisions to be made - and the more choices we have in the squad, the more problems we now seem to have. Was it any coincidence we showed a little more gumption when the team picked itself due to reduced numbers?

Never mind injuries, never mind that Roeder didn't buy the players - what's gone on this season with the likes of Rossi, Milner, Edgar and Bernard is enough to raise questions of the "what the f**k?" variety". And it's still debatable whether those in charge realise the pickle that we are in.

This now goes two ways: we either pick ourselves up by our bootstraps as we did exactly a year ago after defeat in SE7. Six wins and a draw in our final seven fixtures owed nothing to the returning Michael Owen and everything to some unity, tenacity and spirit.

Or, we regress to 2005, when the twin disappointments of FA and UEFA Cup exits were followed by three draws (two of them unbearable nil nils) three losses and a solitary victory.
Perhaps United will follow Charlton's example and sign up turns for on-pitch entertainment.

Before this game we were treated to some dreadful Blues Brothers tribute nonsense - although given the identity of the scorer and penalty winner, ZZ Top or China Crisis might have been more appropriate....
If we're to see this at Gallowgate, how about getting David Byrne and his mob for a spirited rendition of "Roed to Nowhere" as the ground empties within seconds of the final whistle against Blackburn on May 5th - with Aztec Camera reforming for an encore of "Oblivious".
Much more of this and the club will need to recall those free scarves on safety grounds - to stop people choking themselves. Thank the Almighty we've got just enough points on the board.
Biffa

Reports