Date: Saturday 7th April 2007, 3pm

Venue: "Beautiful downtown Bramall Lane"
- as the hyped-up PA man called it.

Conditions: Sunshine all the way

Admission: £28 (last season n/a)
Programme: £3 (last season n/a)





Sheffield United

Newcastle United

1 - 2




Teams
17mins Striker Obafemi Martins was on hand to profit from Duff's cross and Milner's intelligent downward header to volley home at the Kop End for his 17th goal of the season. 1-0

Half time: Blades 0 Magpies 1
74mins A failure to clear the ball in our box eventually led to substitute Christian Nade firing past Given, with Newcastle down to ten men and Kieron Dyer waiting to come on. 1-1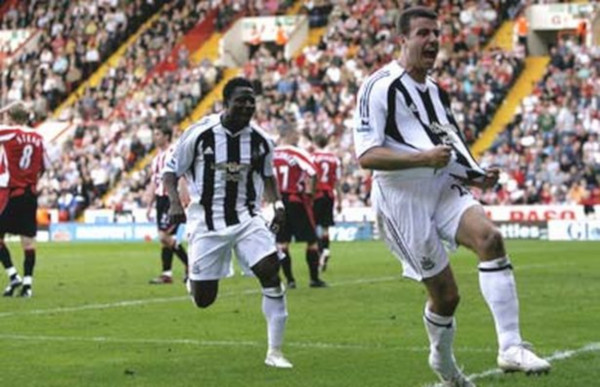 80mins James Milner won a corner down the Newcastle right and when his right-footed out-swinger was delivered, Steven Taylor rose to head home his fourth goal of the season in front of a jubilant away end. 2-1
Full time:
Blades 1 Magpies 2
Glenn Roeder said:

"Relegation has never been an issue for me. I've never looked over my shoulder — only ahead.
"If people are honest with themselves they did not expect that to happen today. I believe it was only inside our dressing room that we believed we could come here and win.
"People have looked at us and thought, at times away from home, we are not hard enough.
"That gave them the motivation to come out and give a fighting performance.
"I think the players answered a lot of questions today. We let Sheffield United off the hook with Sibierski missing the chance to make it 2-0 and run out comfortable winners but thankfully the player I thought was very good today Steven Taylor deserved to get the winner.
"We had a couple of players meetings this week where I just had to remind them about a few things.
"I just think some of them had lost a bit of confidence. It doesn't matter whether you are an England player or play in the second division, we are all human beings and I think a little bit of self-doubt had crept in.

"Scott Parker, who I think didn't have any critics to answer to, is very well respected in our dressing room and they - as far as I'm concerned - are the only people that Scott needs to have the respect of.
"If you knew the man if you could see what he is like after a defeat in the dressing room, it hurts him badly. If he was player that didn't give his best you could understand supporters moaning but he gives his all.
"The players respect him immensely; he is not a vocal captain but he leads through example. It hurt him after last week's game to get the criticism that he got but he won't be leaving the club, he is a fighter.
"In view of how badly he got criticised last week by everybody, including the media, I think he went out and, while he was on, played very much a captain's role.
"Scott covered nearly every blade of grass, winning tackles he probably shouldn't have won.

"I don't feel the pressure. Four years ago on Easter Monday I collapsed with a brain tumour. Things like that change you.
"I am as passionate as ever. I want to win perhaps even more but things like that straighten you out and I actually feel lucky, although I know that's a crazy thing to say.
"Managing Newcastle is not just a job - that simplifies it too much. It is too much of an honour, it's a responsibility to be given this chance so it's never just a job.
"I am so determined to bring some success to Newcastle and like any new business, because I am new, the first couple of years are the hardest.
"Hopefully in two years' time I will have survived and I will have my own squad. Basically I am still working with other managers' squads.
"Obafemi Martins is mine, Damien Duff is mine and Antoine Sibierski is mine and I am happy with all three.
"Getting to the summer I know where I want to strengthen the squad, it has to be strengthened.
"Next year - minus the injuries - I want to accept the responsibility of where Newcastle need to be.
"People need to understand it has been impossible to do that this year with a dozen injuries for six months and I can't wait to write Michael Owen's name on the team sheet as a starter."
"Owen won't play in the reserves, neither will Shola Ameobi but they are back out on the training ground playing football and Michael and Shola are very happy with where they are in terms of recovery.
"But playing on the training ground and putting the ball in the back of the net is a long way away from playing Premiership football.
"We've not put a date on when Michael Owen will return simply because he is a world-class footballer and he is of interest to world football.
"If he doesn't make that date hysteria breaks out and there is no need to. He will continue his build up in training this week, as will Shola. It didn't seem the right thing to do playing him in the reserves. There would have been too much interest."
Scott Parker spoke:
"The manager made me captain last year and it (criticism) hurts, of course it does - I have feelings.
"But there was never any question in my mind I would leave here. I've been playing some good football and they (Newcastle) are close to my heart.
"It wasn't hard (going out onto the field) - It is the job and you have to go out there and be professional and do the best you can and I like to think I did that while I was on the field.
"You are always delighted when people are saying nice things about you and when you feel you are being supported and being wanted there is no better feeling.
"It hasn't been easy the last few weeks. We have had a lot of pressure from all angles; at times from our own fans, and rightly so at times and I suppose that comes with playing at a big club.
"I think we know what to listen to and we know what to believe and as long as we stay confident in ourselves and believe in each other we can get results.
"Winning instils confidence. Before Saturday it was a little bit low but now it is much better.
"We have got a tough game on Monday. We have another tough one against Chelsea at home but we have got some good fixtures in there. We can hopefully get up the table and get as many points as we can.
"It has been a disappointing year, there is no hiding that. We've had a lot of injuries - not using that as an excuse - but we all know we could have done better at times but we have to draw a line under this season and hopefully come back better and stronger next year.
"Games like Saturday only help that."
Neil Warnock (who in his radio interview with the BBC referred to a mysterious Newcastle defender called Elliott) said:
"I'm sick as the old proverbial. At the moment you can't put the bitterness away - you can almost taste because you know how important these home games are.
"Heads are down in the dressing room - wouldn't expect anything else.
"You can't ask any more as a manager when your players give everything but it's disappointing that Newcastle haven't really had to work for their goals.
"You don't need me to tell you that their second goal is a straightforward corner kick.
"It took us all that time to claw our way back in and to concede again just a simple goal it is disappointing."
"When we equalised I could see us winning it. At 1-1 I thought they were for the beating and to concede an elementary goal is really a kick in the teeth.
"I think we have had five or six great chances. It just shows what a fine line it is at the top level. If you don't take your opportunities you get punished."
Our fourth Premiership success on the road this season - coming after wins at West Ham, Blackburn and Spurs.

Obafemi Martins scored his seventeenth goal of the season for Newcastle - and his eleventh in the Premiership. Our number nine has hit the target in each of our four Premiership away wins.

Steven Taylor netted his fourth goal for the club - all of which have come this season; two now in the Premiership and one each in the UEFA Cup and FA Cup.

Toon @ The Lane - last 10:

1993/94 lost 0-2
1989/90 drew 1-1 OG
1988/89 lost 0-3 (League Cup)
1978/79 lost 0-1
1976/77 drew 0-0 (FA Cup)
1975/76 lost 0-1
1974/75 lost 1-2 Keeley
1973/74 drew 1-1 Robson
1972/73 won 2-1 Tudor, Macdonald
1971/72 lost 0-1

With three away games remaining this season, we still require one goal and two points if we are to avoid our lowest ever Premiership totals on the road:

NUFC Premiership away record:



93/94

: 31 points from 21 matches
(9 wins, 4 draws, 8 defeats, 31 goals scored)
94/95: 24 points from 21 matches
(6 wins, 6 draws, 9 defeats, 21 goals scored)
95/96: 26 points from 19 matches
(7 wins, 5 draws, 7 defeats, 28 goals scored)
96/97: 26 points from 19 matches
(6 wins, 8 draws, 5 defeats, 19 goals scored)
97/98: 15 points from 19 matches
(3 wins, 6 draws, 10 defeats, 13 goals scored)
98/99: 19 points from 19 matches
(4 wins, 7 draws, 8 defeats, 22 goals scored)
99/00: 17 points from 19 matches
(4 wins, 5 draws, 10 defeats, 21 goals scored)
00/01: 17 points from 19 matches
(4 wins, 5 draws, 10 defeats, 18 goals scored)
01/02: 32 points from 19 matches
(9 wins, 5 draws, 5 defeats, 34 goals scored)
02/03: 22 points from 19 matches
(6 wins, 4 draws, 9 defeats, 27 goals scored)
03/04: 18 points from 19 matches
(2 wins, 12 draws, 5 defeats, 19 goals scored)
04/05

:

16 points from 19 matches
(3 wins, 7 draws, 9 defeats, 22 goals scored)


05/06

: 20

points from 19 matches
(6 wins, 2 draws, 11 defeats, 19 goals scored)


06/07

: 14

points from 16 matches
(4 wins, 2 draws, 10 defeats, 13 goals scored)

NUFC away goals - Premiership 2006/07:

West Ham: Duff, Martins
Arsenal: Dyer
Blackburn: Martins 2, Taylor
Bolton: Dyer
Spurs: Huntington, Martins, Butt
Fulham: Martins
Sheffield United: Martins, Taylor

Waffle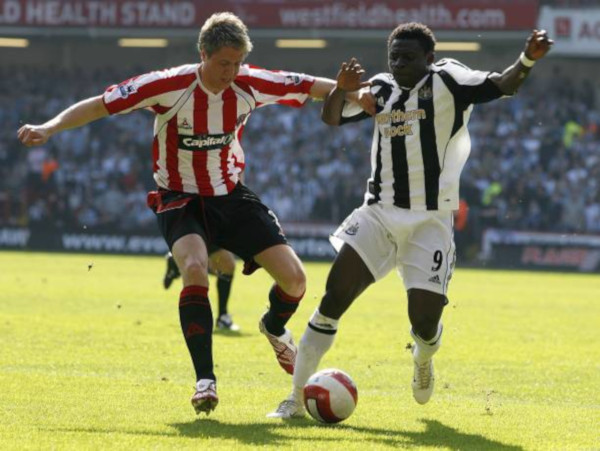 For once, the sight of fans clad in black and white filing disconsolately out of the ground gladdened our hearts, rather than deepening the furrows on brows.

Today it was those Blades supporters who bizarrely chose to wear their toon-styled away kit doing the worrying, Steven Taylor's late header ending our four game winless streak, providing much -needed respite for Glenn Roeder and increasing the possibility of Steel City derbies next season.

Pre-match gloom had centred on our inability to impose an allegedly superior playing style on average opposition in recent months, allied to an absence of battling qualities - the latter being precisely what Warnock's side had built their reputation on this season.

Add to that a venue that we have traditionally struggled at and an over-reliance on goals from a striker who had been coasting for a month, and reasons to be cheerful were in short supply.

After some totally justified criticism following the latest in a series of non-performances last week though, today at last saw the players doing their talking where it mattered - on the field.

That improved attitude was evident in a starting XI boosted by some common sense managerial decisions, restoring the effective right-sided partnership of Milner and Solano and relegating the fitful Dyer and Babayaro to the bench.

Reshaped, we showed some welcome hunger for the fight from the off and a collective spirit that manifested itself in our getting bodies in the way of attempted shots and crosses.

Such was the freedom afforded to Newcastle that even Duff was able to get within shooting range - although he proved incapable of testing the 'keeper, which is frankly, duff.

One goal ahead though is never a great position for us to be in, and the glaring miss from Sibierski just after the hour was always likely to be punished, rocking us back and asking questions of our temperament.

But with the home fans roaring their side on to greater efforts in carving out a winner, we began to find some gaps on the counter attack -Taylor's header duly saving our blushes and Given's vital reaction in the final seconds denying Sheffield another equaliser.

While it's fair to say that we could have won by a greater margin, this display was radically better than the brittle and listless flops at Wigan and Charlton that saw us found wanting in all areas.

After yet more hot air in the run up to this game, it was comforting that we did our talking on the pitch for a change, displaying the battling qualities and fortitude that have been sadly lacking in 2007, as we've thrown the towel in too damn often.

Sheffield United and ourselves were joint bottom of the form table before kickoff and although we claimed the points, it was with very little to spare - comfortable it wasn't.

Undoubtedly a vital win, it was no more than the sort of return we should have been expecting against weaker Premiership sides, staffed with players assembled for a combined outlay of what we paid for Martins.

And if that sounds pious, then just go back and look at the respective XI's fielded by Roeder and the likes of Jewell, Pearce, Curbishley and by Warnock today.

Keith Gillespie was probably the home side's best player today - that's the same Keith Gillespie we were glad to see the back of late last century. Had we lost for a second time to a team featuring the likes of him, there really would have been nowhere for Roeder to go, except home.

We're the team with the names, the reputations and the rampant egos - everything in fact but the points. Once the entertainers, now the underachievers - and stuff the injuries, we were doing better when Roeder didn't have to make choices.

Those who put in a good shift for the cause today deserved the applause that came their way at the final whistle - although many of them barely acknowledged it.

If nothing else, this success will hopefully put the SJP crowd in a more forgiving fettle on Monday and make for a less rancorous, more positive atmosphere.

But if we revert to type, the players and manager have to be prepared for whatever abuse comes their way. Please don't tell me that I don't understand what I'm seeing Glenn, enough of us have have been coming here for long enough to know when charlatans and p*sstakers are on the field.

Failure to continue this revival (or ride our luck) against Arsenal will see us teetering on the brink once again, with a perpetually fruitless trip to Fratton to be followed by the novelty of playing Chelsea in the League on Tyneside when the current Champions will actually be trying.

Keeping the players we want, dumping the ones we don't and attracting the required calibre of new faces become the paramount issues of the day once our Premiership survival is secured.

Whether Roeder is capable of doing those three things - or content to have input into the attempts of others - remains open to question.

A good day then, but it'll take a lot more than this to convince supporters that the current manager is actually in charge - or deserves to be.


Biffa