NUFC.com in association with

Michael Owen to net the first goal was
the free scoff selection for this fixture.


Date: Saturday 5th May 2007, 3.00pm

Venue: St. James' Park

Conditions: barren




Newcastle United

Blackburn Rovers

0 - 2

Teams
14mins Nolberto Solano failed to clear on the edge of his own box and Pedersen laid the ball back to Warnock. He flighted it onto the penalty spot for an offside-looking Benni McCarthy to guide the ball past Steve Harper in the Gallowgate End goal. TV replays showed that Oguchi Onyewu was slow to come out and was level with the scorer. 0-1
Half time: Newcastle 0 Blackburn Rovers 1
73 mins Bentley had acres of space to canter down the right and after coming inside James Milner, floated a ball onto the head of Jason Roberts - who couldn't miss from six yards out.

Quite what Peter Ramage and Onyewu thought they were doing marking fresh air in the middle remains a question only they can answer.... 0-2

Full time: Newcastle 0 Blackburn Rovers 2
Glenn Roeder said:

"It's been a dreadful season. What has happened here this year has been out of my control and I believe I deserve to go into a second season.
"We're all big boys and I understand the rules of football but things have happened to me this year that have been out of my control.
"The people with any understanding will know the problems the club has had this year, which have been out of everybody's hands.
"If, come Christmas, we're not where we ought to be - in that top six or within a point or two of the top six - and we have one or two injured and not 12 injured, I would accept the questions that are being asked now.
"I feel I deserve to go through the summer. Judge me in a normal season, without those injuries, around Christmas time.
"I've had meetings with the chairman already - about ins and outs, comings and goings and other issues at the club - the whole shebang - and there are other meetings planned.

"There are players who have been here too long and they will probably have to move on.

"That is a reference to nobody but I think some players will benefit from moving to another club. Very few players stay at a club a long time and do very well all the time - we have a few players that have gone stale.

"It can be a cruel business, but decisions have to be made and if you donít let players go who are not what youíd expect a Newcastle player to be and good enough to be in a team thatís challenging for Europe, then actually it becomes a very easy decision. Because itís the right one.
"We are very frustrated. The first goal, I am not sure if it is offside, but it is a bad goal to give away. Whether it was marginally off or marginally on, it was a bad goal to give.
"We missed a fantastic chance before they scored, Kieron (Dyer) had a great chance and goals change the game and how you feel.
"We had several half chances after that and I think the game was summed up when Michael (Owen) did everything right when rounding the keeper and hits a fantastic shot and the defender does well to get back and head it off the line.
"We have had plenty of opportunities and are not sticking them in the back of the net."
"Chants like that happen in football stadiums around the world. I understand the fans' frustration.
"When I see my team create chances and miss them, I am as disappointed as any of the fans because I know the importance of winning games when you are a manager.
"But it has not made me lose any confidence in myself. I am very much the same person who was here last year who had a fantastic finish to the season.
"I have not changed as a person. Of course I understand, 100% understand, where the fans are coming from.
"They want a winning Newcastle team and I also want a winning Newcastle team. At the moment, we have not been winning and I understand their frustration.
"To win matches, you need to score goals and we have not done that for four, five, six weeks now, and that has cost us greatly.
"I do understand their feelings.
"My determination could not be increased anyway, it is always flat-out. I am always striving to do better, like I expect my players to."


"
In all the time I've worked with the chairman it has always been his style not to say anything.
"All last year there were 20 or 25 managers that were going to be appointed and yet for a period of time I knew it was me while all the speculation was going on.
"I've got to know him over the last year and it does not affect my thinking to know how he is thinking himself. I've had a few meetings with him about next year and there's others arranged next week."
"Titus Bramble picked up a calf injury and he wasn't in a position to come out and Stephen Carr had to go straight down the tunnel to get some ice to put on a thigh muscle after a pull.
"I think it was important the players walked around the pitch, even though the reaction, understandably, wasn't very good. It would have been bad not to show our appreciation to the fans who always turn up in their thousands and deserve to have had better results.
"It's easy to take the applause when you're winning. For me personally it would have been a real weakness in character if you could not walk around the pitch and show your appreciation.
"They wouldn't have enjoyed the reaction and there were one or two who did not want to do it but I pushed them back on."
"All people are different.
"I suppose Stephen could have gone in and got an ice bag on his thigh or hamstring and come back out. But I'm not going to criticise him any more than that. He said he had to get ice."
Mark Hughes said:
"We were excellent, I thought the guys at the back were rock-solid.

"Chrissy Samba and Ryan Nelsen dealt just with everything they had to and when they saw the opportunity to break out themselves they did that as well.

"We had a great platform in which to counter-attack and win the game."

About Benni McCarthy (16 goals in his first Premiership season - 5 more than Oba Martins):
"He's done excellent. In fairness he was struggling at half-time, he got a real bang on his back and I was going to make a change at half-time but he wasn't prepared to come off.

"He wanted to give it a go and he lasted a good twenty-odd minutes after that so I think that shows how keen he is to work hard for the team and be a team player."

There was a first appearance for Michael Owen at SJP since a 1-0 home win over Arsenal on 10th December 2005.

It's now just one goal in his last ten Premiership appearances for Obafemi Martins.

Rovers in Toon - Premiership years

2006/07 Lost 0-2 No scorer
2005/06 Lost 0-1 No scorer
2004/05 Won 3-0 og(Flitcroft), Shearer, O'Brien
2003/04 Lost 0-1 No scorer
2002/03 Won 5-1 Solano, Robert, og(Grenko), Jenas, Bellamy
2001/02 Won 2-1 Bernard, Speed
1998/99 Drew 0-0 No scorer (FA Cup)
1998/99 Drew 1-1 Shearer (lost 4-2 on pens: LC)
1998/99 Drew 1-1 Hamann
1997/98 Drew 1-1 Gillespie
1996/97 Won 2-1 Shearer, Ferdinand
1995/96 Won 1-0 Lee
1994/95 Drew 1-1 Lee (FAC)
1994/95 Drew 1-1 og(Flowers)
1993/94 Drew 1-1 Cole


We extended our scoreless home sequence to 470 minutes - the worst since April 1951. At least then we had the excuse we were keeping our powder dry though, before going to Wembley and beating Blackpool in the FA Cup final.
It's just one win in our last ten Premiership outings.

NUFC - Premiership home stats:

93/94: 46 points from 21 matches
(14 wins, 4 draws, 3 defeats, 51 goals scored)
94/95: 48 points from 21 matches
(14 wins, 6 draws, 1 defeat, 46 goals scored)
95/96: 52 points from 19 matches
(17 wins, 1 draw, 1 defeat, 38 goals scored)
96/97: 42 points from 19 matches
(13 wins, 3 draws, 3 defeats, 54 goals scored)
97/98: 29 points from 19 matches
(8 wins, 5 draws, 6 defeats, 22 goals scored)
98/99: 27 points from 19 matches
(7 wins, 6 draws, 6 defeats, 26 goals scored)
99/00: 35 points from 19 matches
(10 wins, 5 draws, 4 defeats, 42 goals scored)
00/01: 34 points from 19 matches
(10 wins, 4 draws, 5 defeats, 26 goals scored)
01/02: 39 points from 19 matches
(12 wins, 3 draws, 4 defeats, 40 goals scored)
02/03: 47 points from 19 matches
(15 wins, 2 draws, 2 defeats, 36 goals scored)
03/04: 38 points from 19 matches
(11 wins, 5 draws, 3 defeats, 33 goals scored)
04/05: 28 points from 19 matches
(7 wins, 7 draws, 5 defeats, 25 goals scored)
05/06: 38 points from 19 matches
(11 wins, 5 draws, 3 defeats, 28 goals scored)
06/07: 28 points from 19 matches
(7 wins, 7 draws, 5 defeats, 22 goals scored)

Roeder's final NUFC Premiership stats: P51, W21, D11, L19.

Waffle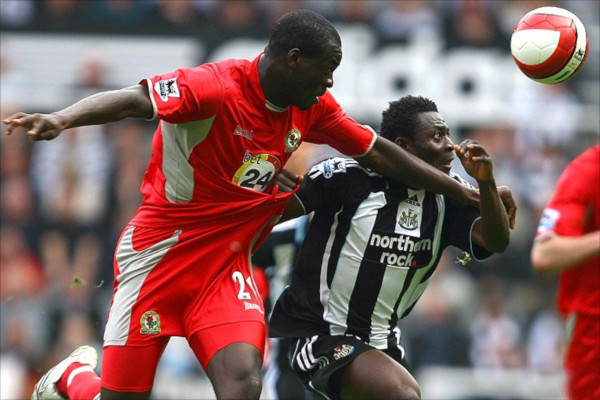 And so Glenn Roeder finally got his wish and wrote the name of Michael Owen on a teamsheet at SJP. Unfortunately for him, the other names that he penned once again left him quite literally defenceless in the eyes of both Freddy and the fans.

Our immediate post-match inquest ended with the message that Roeder had "nowhere to go" - a feeling that was then rubber-stamped at a hastily-convened meeting on Sunday at which his 15 month tenure came to an end with immediate effect, not even allowed a valedictory farewell at his old Watford stamping ground.

While the post-match "protest" outside the Milburn Reception was trotted out as proof that the natives were agitating for change, the real story was to be found the gaps in the stands as another below-par home campaign petered out.

Quite simply the fans voted with their feet, registering a motion of "no confidence" in the administration.

Not for the first time though, that was interpreted by the powers that be as "sack the manager".

If nothing else, Shepherd has at least given whoever becomes our sixth manager in the decade since Keegan abdicated slightly more of a run-up to their first campaign in charge.

The comparative luxury of a pre-season and a full transfer window weren't accessible to messrs Dalgish, Gullit, Robson, Souness or Roeder - none of whom began a season at the helm.
There again, that didn't do Roeder much good second time round....

Whoever arrives though faces the same problems that have stumped and ultimately defeated his predecessors.

Our current administration has such little credibility that possible new managers (and players) are eyed with mistrust and almost considered tarnished by their very willingness to sign up for this madhouse.

The Turkey/Xmas scenario precludes the current custodians of the club from dismantling it willingly - and surely that extends to the level of decision and policy-making power Roeder's successor will be allowed.

Be it training methods, player and staff recruitment, pre-season arrangements or whatever, it seems unlikely that they're prepared to give somebody the freedom to mould the club from end to end.

After all, we retreated from that very scenario when Martin O'Neill rode into town with a notebook full of initiatives. Someone should have told him we don't do planning round here - just damage limitation and crisis management....

So if all we're doing is replacing one figurehead/patsy with another one, is that anything more than riding on that first wave of new manager positivism (eg Souness registering seven wins and two draws and 22 goals scored in his first nine games)?

Back to the visit of Rovers though (who may have gained no fans post-Souness but seem to be a bit happier and less strife-torn under Hughes) and for us, a clear case of new strips, old shite.
It's a typically Newcastle situation to reflect that the seeds of our demise and Glenn's downfall were sown by the act of qualifying for the Intertoto Cup - the very achievement that made United battle the authorities to convert his caretaker stewardship into a more permanent arrangement.

Dirty mackem that he is (and richly deserving of a toe-ending for his unbecoming recent post-match gloating) Reading assistant Kevin Dillon hit the nail on the head when he spoke about gaining nothing from beating teams of waiters in July.

Struggling past successive no-mark XIs, we then embarked on a goal splurge against the most competent side we faced - only for AZ to suss us out by the time we got back to their place.

Those fourteen fixtures though took their toll on us domestically, three of our six signings unable to appear in Europe (Rossi, Onyewu, Bernard) and various injuries reducing our limited personnel options still further.

And the post-Alkmaar throwing in of the towel by numerous players looks more and more as if a decision was made by some in the dressing room that the Intertoto wasn't going to be on the agenda again - we're struggling to explain our loss of form any other way....

Given all that, Roeder deserves credit for keeping us up this season - before "senior players" informed Freddy that he'd lost the dressing room with one game to go.

Taylor has shown some encouraging improvements and welcome signs of maturity that can reasonably be attributed to Roeder or Pearson passing on their defensive wiles.
None of the four other outfielders who did it for us were here last season though - new boys Sibierski and Martins being joined by Butt and Milner returning from exile in the West Midlands.
Twelve months on we've gone backwards from the side who carved the mackems up on their own ground.

Shearer retired, Chopra sold, Luque not sold, N'Zogbia in bits, Shola and Owen out of the equation, Duff and Dyer a laughing stock. It's been so long since we played well and won that it's difficult to remember what that's like.
That 4-1 reverse at our hands is now being spoken of on wearyside in similar terms to the pivotal 1-2 monsoon defeat that saw off Gullit and strengthened Shearer's status at SJP.

That's perhaps an over-egging of the pudding(s), but it's undeniable that the return of the cavemen from down the road to the big league is focusing minds somewhat.

A poor start to next season in comparison to them would certainly have seen far more spectacular protests in Toon, while it's an easy line to compare and contrast the off-field changes on wearside with the Tyneside Kremlin.
However, talk that the Roeder "resignation" news was leaked to try and keep the championship -winning red and whites off the local back pages is a bit OTT.

With no chance of relegation or European qualification, we had an opportunity today to end the home programme on a high note, providing some crumbs of comfort in the form of a victory and a half-way committed display.

That the team singularly failed to do so shows the obvious contempt that the players hold their manager and their public. Now the former has gone, but it's routinely expected that the latter remain loyal - that's loyal to those in power.

The sight of people hurrying for the exits clad in new forty quid toon shirts or waiting around to abuse their own side is both savagely amusing and embarrassing.
The lack of anger from the stands though is perhaps the most telling aspect of this miserable finale - resignation is the word.

It remains to be seen how many season holders remain in a rotten fettle when the renewals come through the door - certainly nobody will have been inspired to invest a brass farthing in the club after this display.

So for the second year running we bid farewell to a loyal servant of the club.

2006 saw Shearer make his final bow, while Roeder now departs in vastly reduced circumstances - no testimonial, but with some residual goodwill for his onfield service. In retrospect, a man who never wanted the job shouldn't have had the job.

Whoever comes in now has to contend with the unique pressures of managing here: the mindset of the fans, the power of the local media, the structure of the club, the burden of history, the legacy of previous managers and that ability to repeatedly f*ck it up that some call luck or a curse.

Without doing more than changing the name on the office door, it doesn't really matter who takes it - the outcome will be the same.

Biffa