Date: Saturday 21st July 2007, 3pm

Venue:

Brunton Park



Conditions: Light rain for the most part

Admission: £12 seats, £10 terrace

Programme: £3





Carlisle United

Newcastle United

1 - 1

Teams
Half time: Carlisle 0 Newcastle 0

56 mins Danny Livesey headed home a free kick at the Warwick Road End - full toss 0-1

90 mins Nolberto Solano volleyed in the Petterill End in front of the away following 1-1
Full time: Carlisle 1 Newcastle 1
Sam said:

"There was a 12,000 crowd, which made for a really good atmosphere, and the Carlisle lads certainly played very, very well and gave us a really, really big test.

"In the end our deficiencies in putting the ball in the back of the net nearly cost us the game. We really should have scored three or four and then, of course, we fell foul of the ultimate sucker punch. I thought we were comfortable and not under any threat, but we didn't defend the most important bit, the set piece, and the set piece is where Carlisle have scored.

"Fortunately Nobby popped up with a great goal at the end to make it 1-1! I don't actually get too much out of winning or losing at this stage of the season...but I know a lot of people do.

"We we're missing a couple of lads through injuries as well. I was a little disappointed that Shola, Michael and James didn't get to play in some part of the game. I would have liked for that to happen, but in the end the most important thing is that they are fit for the start of the new season.

"Instead we've come with a group of players that probably played a little longer than I wanted them too, and that was mainly because we only had the young lads to back them up. But the exercise was great, I thought the competitive nature of the game was excellent, seeing as how it was only our second pre-season match and it was a really, really good workout.

"Danny Livesey was with me at Bolton and it was a good header from him. He's certainly grown up now from when he was at Wanderers - from a boy to a man - in fact Macca was with me at Bolton as well. I thought he did great last year and I hope he does even better this year because it looks like he's got himself a decent side."

Goalscorer Solano added:
"This is the hardest pre-season I've had since being at Newcastle.
"I want to be a coach in the near future so I find Sam's methods very interesting. The only problem in Peru is there isn't much money to invest in the game.
"I'll definitely keep a lot of these ideas for when I move into management. You have to keep up with the new ideas. We have our own personal masseur and we were wearing heart monitors.

"In terms of tactics, there are no secrets anymore, so Sam's ideas might give us an advantage.
"Wearing the heart monitors is bad news for us because they show just how hard you've been working out - the manager can see who's been cheating, but it pushes us even harder.
"I'm only 32 and I there are other players playing until they are 36 or 37. They might play in different positions, different conditions, but there is no reason why I can't go on longer."
Neil McDonald commented:

"It's always nice to get a goal and take the lead and it was slightly disappointing in the end, although the result didn't really matter, because it would have been nice to keep a clean sheet. We've learned a lot, we've still lots to improve on and I'm very happy with the fitness both with and without the ball at this stage of the season.

"I don't really want to talk about individuals, the whole team played really well. I was happy with the shape when we didn't have the ball, and we just need that cutting edge when we have it. We got in to situations where we could have played the killer ball, but we still have another three weeks to go for that.

"The sharpness in front of goal tends to be one of the last things to develop in pre-season. I work from a solid base, making sure we're nice and tight, because the fewer goals you concede, the better chance you have to win games. Once we are there with that, we look at what we do in the opposition half. I can't see me changing that, that's the way I work.

"It sends us away to Scotland on a high. Up there, we will top the fitness up again and do some good work with the football, away from everyone, and we'll build up again for the games against Queen of the South, Middlesbrough and Blackpool.

" All of those are there to lead up to the most important game since we've come back, and that's Walsall. That game is getting nearer, we're really looking forward to it and we can't wait for these next three weeks to fly by."
Precautionary withdrawals from the squad were Shola Ameobi (back), Shay Given (heel) and James Milner (groin) - the latter after reporting discomfort following the warm-up.

Those names were added to the other absentees: Michael Owen (thigh), Damien Duff (foot), Celestine Babayaro (groin), Emre (ankle), Mark Viduka (Asian Cup), Steven Taylor, David Edgar (both just returning to training after close season international duty) and Albert Luque (not fit enough).

Joey Barton added to the tale of woe by sustaining a partial fracture of the fifth metatarsal in his left foot that required an operation to pin it 48 hours later. He now faces a six week layoff, the captain for the day leaving the field just past the hour mark after taking a stray kick on the foot. And although he continued briefly after hobbling off the field for treatment, he was soon replaced and later underwent a scan.

The Cumbrians featured former Magpies in the shape of Paul Arnison, Kevin Gall, Neale McDermott and of course manager Neil McDonald.

Pre-season pitch time (in minutes):

Ameobi 45+0=45 +2 goals
Barton 74+68=142
Bertram 12+7=19
Butt 45+62=107
Carr 74+83=157
Carroll 45+90=135
Dyer 63+75=138
Forster 0+0=0
Francis 3+7=10
Geremi 0+28=28
Given 45+0=45
Harper 45+83=128
Huntington 90+28=118
Krul 0+7=7
Lough 16+22=38
LuaLua 16+15=31
Martins 45+75=120
N'Zogbia 78+90=168
Owen 45+0=45 +1 goal
Pattison 27+0=27
Ramage 87+83=170
Rozehnal 45+62=107
Solano 45+90=135 +1 goal
Troisi 45+15=60

Waffle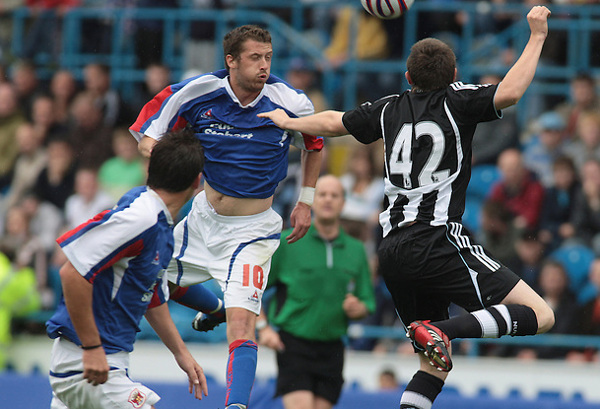 A damp afternoon in Cumbria was saved from being a total washout by a fine Nobby Solano strike in added time to send the travelling support away with something positive from a drab encounter.

After a scoreless first half the home side took the lead on 56 minutes, as a deep Mark Bridge -Wilkinson free kick from the left flank was headed in by Danny Livesey - who made six appearances in the Bolton Wanderers first team under the management of Sam Allardyce.

And with Newcastle making widespread changes in the second half to leave a virtual reserve side on the field, they barely threatened a goal until Andy Carroll flicked on James Troisi's left wing cross for the Peruvian to chest the ball down and finish in style.

On a day when little went right for the Magpies, nobody appeared to have brought their shooting boots with them and an attempt at 4-3-3 simply had too many square pegs in round holes.

One bright spot was a decent debut for Geremi, who came on to steady things and was as close to scoring as anyone in black and white with a free kick.

However, our well-documented defensive shortcomings were again evident, with N'Zogbia filling the left back berth to no great effect and Carr again encountering some hostility from Newcastle fans.

The game was briefly held up in the second half as a trio of home followers attempted to get out of their section of the stand adjacent to the away following.

They were quickly overpowered by a large number of stewards and led away, but some trouble was reported both outside the ground and in the city centre. Ten away followers were arrested and subsequently gave guilty pleas to charges of affray.


Biffa