Date: Thursday 26th July 2007, 7.45pm
Live on Setanta

Venue:

St.James' Park



Conditions: fine and dry

Admission: £15

Programme: £2




Newcastle

Celtic

4 - 1

Teams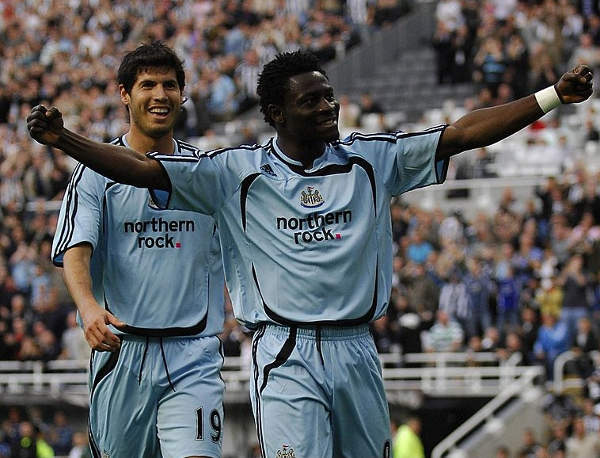 11 mins Just as the travelling supporters up on Level Seven were launching into their first mass rendition of "there's only one Keano", Obafemi Martins silenced them by taking Solano's pullback and coverting a low right-footed at the Leazes End.

The move had begun down the right with Carr feeding Solano then moving forward for the return before being tackled, with the ball then running free to the lurking Peruvian on the right hand side of the area 1-0

30 mins Geremi's ball from the centre found Milner out on the left, who hadn't really featured in the game before this point. He cut back to avoid two defenders on the left hand side of the box and arced in a through ball for the onside Albert Luque to volley in, with via the keeper's legs.

The Spaniard that paused momentarily as if bewildered - we're not sure whether he was waiting for a free kick to be awarded against him or he'd simply forgotten what to do next... 2-0

42 mins Solano again was instrumental in the buildup, taking a pass from Martins out on the right and having plenty of time sweep in an inviting cross to the far post.

Albert Luque had gone beyond his marker and tipped it home from six yards under the 'keeper. Slightly more meaningful celebrations followed this time, as he jogged towards the North West corner flag and gave a small bow to the home fans. 3-0

Half time: Newcastle 3 Celtic 0

72 mins Substitute David Edgar had barely taken to the field before Scott Brown rose above him to head home McGeady's dinked ball. 3-1

91 mins Steve Harper's layoff allowed Charles N'Zogbia to set off upfield before slipping the ball to James Milner, who turned inside and shot low and true into the corner of the Gallowgate goal to round things off nicely. 4-1
Full time: Newcastle 4 Celtic 1
Sam said:

"We played absolute top-quality attacking football with top-class finishing. All four goals were top quality. The way we achieved the result, particularly in the first half, was in terms of the work ethic - what we needed to do out of possession.

"They didn't open us up as much as they looked like they thought they were going to do. We played the right way tonight, but sometimes the opposition will be patient and we will have to break them down - there are many ways to win a football match, you can't go out and play the same way every time.

"We had to play with resilience and patience. We had to take the ball off Celtic, and you don't have to be an expert to see how we did that tonight.

"I knew more about Albert Luque than I did about Oba Martins because I've been watching Albert Luque since he was a young lad at Real Mallorca, which is about seven years ago now.

He was playing alongside Samuel Eto'o at Real Mallorca and I remember saying at the time that I would like to buy those two but they were out of my price range at Bolton.

"It's always been interesting for me to see how they developed ? it was strange to see Albert Luque at Newcastle and never playing. It was up to me to try and find out why- that's my job as a manager.

"At the moment we are just trying to get him fit. If we can get him fit he will feel better physically and mentally and then we will see what he can produce because he will be better able to do it more often..

It's up to him whether he wants to continue through the pain barrier, as he has been doing in the past few weeks. When he is fit it will help his mental state and the football talent will emerge.

"There's a big value in Kieron Dyer - he could have ended up playing tonight and being one of the casualties.

"Steven's obviously a bit inexperienced and put himself in a position where he got himself injured.

"He needs to learn from that because he's felt the pain of doing the wrong thing at the wrong time. He has to learn that you don't get yourself in that position.

"It really was disappointing for Steven to pick that up. It's his ankle, though it might only be a slight recurrence."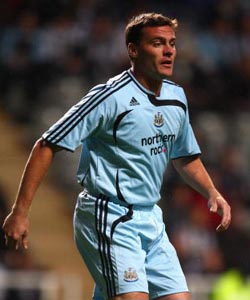 Steve Harper added:

"It was good to get on up front and something I've always wanted to do. I played centre-forward until I was 17, not that you could tell against Celtic, but it shows the situation here.

"In pre-season, though, you have to take precautions, and when Butty hurt his knee I looked along the bench and there was nobody left to come on apart from myself and Tim Krul.

"We needed somebody to play outfield for a time and it was me who got the shout. I enjoyed it.

"We have to limit the injuries. Butty has tweaked his knee and Steven Taylor his ankle and, although they aren't anything major, you have to take precautions.

"We need strength here still: we lost seven or eight players to the squad and we have had four players come in.

"We were actually short last year and this shows the importance of getting three or four new faces in. I understand that the manager has been told there is money to spend although he doesn't know how much.

"I am sure he is working hard behind the scenes with his staff to get the right players in.

"Maybe this will end up being a quiz question, but I don't know what I would have done if James Milner's shot in the last minute had hit the post and come to me. It might have been different.

"Even when Steven Taylor went off and we went down to 10 men, I still enjoyed my 15 minutes out there. But if it had been for longer then perhaps I'd have ended up in the RVI!

"On a serious note, there were a lot of encouraging signs against Celtic – they started very well and passed the ball very well. They looked bright and bubbly even though they were jet-lagged. We got a goal against the run of play and then a couple more.

"It was important to step up a level after the two opening games. We have to continue it against Juventus."


Wee Gordon commented:

"That's the most chances I have made with any team I have come here with. I see a lot of good things coming from that; I see a lot of things that can easily be rectified.

"It was one of the best friendlies I have been involved in. I thought it was a good friendly, good chances, good goals, good saves.

"The football was good at times, so I enjoyed the game. I didn't enjoy the result, but I am not going away a confused manager - I am going away a manager for whom the future looks bright.

"We know what we have got to do; we have one or two wee failings at the moment that need to be put right.

But, generally, it is not too disappointing going back home.

"You never know - in pre-season sometimes you have some great results and you think you are ready for it, and you get disappointed during the season; sometimes you get some horrendous results and the season becomes all right, so you never know at this time.

(We sorted out at half time) one or two things we will keep to ourselves, just functional things, really. We showed in the second half that when you get those functional things right the game became a lot easier - a lot easier.

"I thought the kid at right-back, Paul Caddis, did well - he's only 18; I thought Lee Naylor did well in the second half when we got the shape right to start attacking. Scott Brown did well, so there were good things."


Albert Luque: scourge of the Fenians - three goals in two games against the Hoops at SJP, after also netting in the Shearer testimonial. Maybe we should play The Fields of Athenry just before kickoff to inspire him....

Second successive pre-season trip to Tyneside for the flamboyantly-named Dutch striker Bart Vennegoor of Hesselink -who scored here for PSV Eindhoven almost a year to the day.

Injury ruled out a playing return to SJP for defender Gary Caldwell, but included in the visiting lineup was John Kennedy, who has recovered from a career-threatening knee injury thanks to surgery from Dr.Richard Steadman - the man who mended Owen, Shearer, Bellamy etc.

Injury denied Newcastle's Mark Viduka the chance of facing one of his former clubs but Shay Given did come up against the Celts, having begun his career there but never got any further than the first team bench.

Pre-season pitch time (in minutes):

Ameobi 45+0+0=45 +2 goals
Barton 74+68+0=142
Bertram 12+7=19
Butt 45+62+80=187
Carr 74+83+90=247
Carroll 45+90+45=180
Dyer 63+75+0=138
Edgar 0+0+20=20
Forster 0+0+0=0
Francis 3+7+0=10
Geremi 0+28+90=188
Given 45+0+90=135
Harper 45+83+10=138
Huntington 90+28+45=163
Krul 0+7+0=7
Lough 16+22+0=38
LuaLua 16+15+0=31
Luque 0+0+45=45 +2 goals
Martins 45+75+65=185 +1 goal
Milner 0+0+90=90 +1 goal
N'Zogbia 78+90+45=213
Owen 45+0=45 +1 goal
Pattison 27+0+45=72
Ramage 87+83+45=215
Rozehnal 45+62+70=177
Solano 45+90+45=180 +1 goal
Taylor 0+0+45=45
Troisi 45+15+25=85




Waffle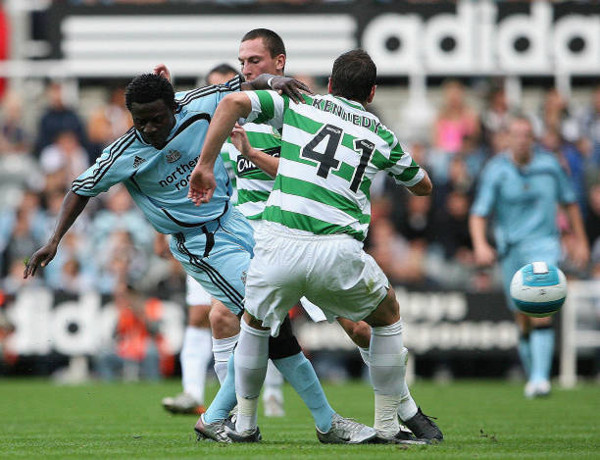 On the face of it, this was a morale-boosting home win and successful induction to SJP for Chairman Chris Mort and Manager Sam Allardyce.

As ever though, tragedy and misfortune lurk behind every corner for this club as we contrived to end the evening with ten players on the field - one of them being Steve Harper, making an unexpected bow in the new blue second strip as an outfield substitute.

On a fine Tyneside night Newcastle kicked off attacking the Leazes End and took the lead through Martins, after the visitors had exposed Carr at right back only for Zurawski to be foiled by Given.

Solano's centre from the right on 11 minutes fell at the feet of the Nigerian striker and he cracked the ball past Boric with the minimum of fuss.

A second goal came on the half hour, with Luque finishing well to volley home Milner's left wing cross - in stark contrast to his earlier goal effort from a free kick, bizarrely blasted across the field into the Milburn Stand for a throw in - prompting thoughts that he'd been in pre-season with the Falcons.....

And with Celtic continuing to make inroads into our penalty area but proving incapable of testing Given - save for one McGeady piledriver - United added a third before the interval.

Solano again worked the opening down the right and his swooping cross to the far post was met perfectly by Luque from close range, for what could have been his hat trick - had he kept an effort down that fizzed over the bar just moments earlier.

Three goals without reply at the interval and the team left the field to generous applause, after putting together some attractive passing moves and finding welcome form in front of goal.

A bevy of changes at half time made for a slow start to the second half, with only a blocked effort from Carroll and a Milner effort from distance to distract attention from the cheering throng of green and whites in Level Seven - intent on partying regardless of their side's failings.

They did get a goal back when former Hibernian midfielder Scott Brown headed home a McGeady cross and caused one or two anxious moments in the Newcastle box, before Milner slammed home a low drive to complete the scoring in added time.

By then though the football match had become a pantomime, with two separate pitch invasions by Celtic loons and further injury blows for Allardyce's men. We can confirm that the first pair who emerged from the Milburn stand were not Lee and Barton.....

First Nicky Butt limped from the field and headed straight down the tunnel on 75 minutes, reducing us to ten men with all outfield substitutes utilised.

That situation was then rectified five minutes later as goalkeeper Steve Harper emerged clad in outfield kit and his own squad number 13, to join Andy Carroll upfield amid much applause.

Our lack of depth was then exacerbated in the dying moments as Steven Taylor picked up a knock and was beckoned off the field by Allardyce, leaving us down to ten men and denying the chance to see three goalkeepers on the field - Tim Krul being our other sub.

We got through to the final whistle with no further incident, although Harper played his part in the move that led to the fourth goal and the mass strip swap after the final whistle revealed that our lot were again wearing heart monitors.

For the supporters, including those who made their debut at SJP via the U11s free entry scheme a memorable and entertaining night.

Much though for Allardyce to ponder from his seat in the Directors box alongside Chris Mort - with the manager possibly reflecting that his recruitment efforts could have been aided by a less favourable scoreline.

While the Chairman will be pleased with the outcome, he can have been left in no doubt by Sam as to the squad deficiencies which are becoming increasingly evident as the season approaches.

Save for the "unavailable" Dyer, this was the sum total of our fit first team squad, featuring as it did a trio of reserve central defenders plus squad players Pattison, Carroll and Troisi.

As for Luque though, married life seems to be suiting him so far, with this rhapsody in blueas good as anything he's produced at the club.

But while it's tempting to draw a parallel with Nicky Butt's rebirth 12 months ago - scores two goals in a pre-season home game and turns jeers to cheers as his career here does a U turn - we're not cracking open the Sangria and San Miguels just yet.

Where the Spaniard is concerned there have been previous new beginnings that quickly petered out - such as the goals he scored this time last year in both Intertoto and League Cup and of course the Miracle of Palermo.

It's never dull here....
Biffa