Date: Sunday 29th July 2007, 3pm
Live on Setanta

Venue:

St.James' Park



Conditions: Cloudless skies

Admission: £15

Programme: £2





Newcastle

Juventus

2 - 0

Teams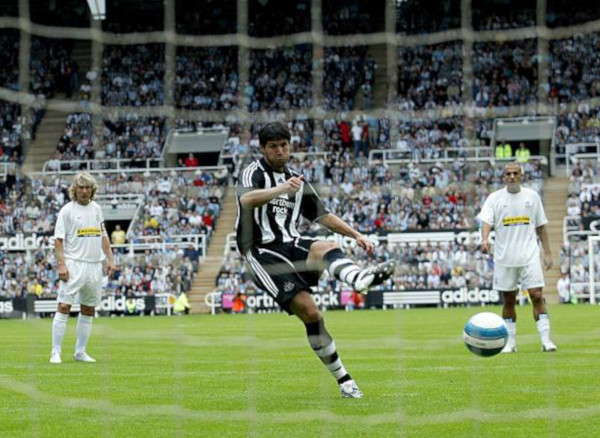 9 mins After James Milner was tripped, Albert Luque grabbed the ball and ignored the pleas of colleagues to place it on the spot and drive home the penalty at the Leazes End 1-0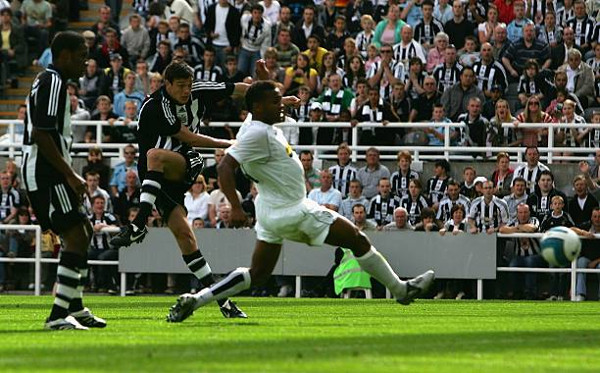 36 mins Andy Carroll's first senior goal was a well-taken left-footed effort, taking a touch before finding the back of the net after Buffon was only able to parry an Obafemi Martins shot. 2-0

Half time: Newcastle 2 Juventus 0

Full time: Newcastle 2 Juventus 0
Sam said:

"It was an excellent performance by our players because we were limited by our numbers and a lot of young players got the opportunity to gain a bit of experience.

"I thought they were excellent. After the first 10 or 15 minutes when we found their front line difficult to handle, we got the penalty and I thought we played some better football than we did against Celtic. I know Juventus are not at full pelt, but we have still beaten them comfortably.
"The most important thing for me was, for the first time under me as manager, we have won the game with a clean sheet and Iím delighted with that, as well as the fact some good young players are getting some valuable experience. But weíre very much still in the transfer market for experienced players.

"Pre-season friendlies can give people false hope and just because we have beaten Juventus and Celtic, it doesnít mean we are going to start the season well.
"I certainly wouldnít want to start the season with the players we had today because that would be a disaster. When the whistle blows on the first day of the Premiership it isnít pretty little football, itís the nitty gritty and when the pressure comes on, inexperienced players tend to fail because of that pressure. We need to get the injured players fit as quickly as we can and then get into the market to sign as many top-quality players as we can.

"James Milner looks top drawer, doesnít he? Iím glad the club did not sell him when they thought about it last summer. I think he is one of the best young wingers in the Premiership.

"Steve (England boss) has been looking for a replacement down the left side where we appear to have been short and, if James continues to progress as he has done, he could be very useful.
"I canít resolve Kieronís family problems and I think the only solution is that he moves closer to them.

"But nobody has come in with an acceptable offer and, until they do, he stays with us. I thought he played very well and if nobody makes an acceptable bid Iíll have to have a chat with him and see if we can resolve the situation so he can stay here.

"We used him for 45 minutes today because we were short of numbers.

"That was as bad as Harald Schumacher's challenge on Patrick Battiston in the 1982 World Cup
"It was more like common assault than anything you expect to see on a football field. Andy was lucky not to end up in hospital. He is a young lad who must have been thrilled at scoring against a team like Juventus, but it could all have turned very sour for him."


Claudio the Tinkerman commented:

"We had so many shots on goal, especially in the first half.
"We were missing something in front of the net, but that was above all down to our early pre-season training and goalkeeper (Shay) Given, who was man of the match.
"The team moved well, passed the ball around quickly, especially with some great one or two-touch football
"Itís a shame we conceded those two goals, as we could have done better in those situations.
"Now we look ahead to the next friendly with Hamburg. I will completely rotate the squad so everyone can gain match fitness."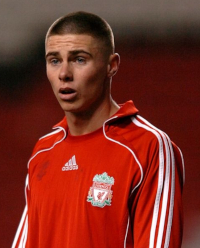 Midfielder Charlie Barnett (pictured) appeared as a second half substitute for Newcastle following his release by Liverpool, having also featured for the reserves in a friendly at Newcastle Benfield earlier in the week.

The 18 year-old collected a second successful FA Youth Cup winner's medal for the Reds U18s last season, marking his SJP debut with a 30 yard strike in the semi-final against United.

However England U16 international Barnett wasn't retained by Newcastle following his cameo against Juventus and moved on, turning out as a trialist in a reserve game for Blackburn Rovers soon after.




This was our third meeting with Juventus at SJP:

2007/08 won 2-0 Luque(pen), Carroll (FR)
2002/03 won 1-0 Griffin (CL)
1998/99 won 2-1 Hamann, Pearce (FR)

We've also faced them twice elsewhere:

1997/98 lost 2-3 Asprilla 2 (FR in Cesena)
2002/03 lost 0-2 (CL in Turin)

Former Magpie Alain Boumsong remained as an unused Juventus substitute, just less than a year after the defender swapped Tyneside for Turin.

Pre-season pitch time (in minutes):

Ameobi 45+0+0+0=45 +2 goals
Barnett 0+0+0+24=24
Barton 74+68+0+0=142
Bertram 12+7+0+0=19
Butt 45+62+80+0=187
Carr 74+83+90+66=313
Carroll 45+90+45+31=211 +1 goal
Dyer 63+75+0+45=183
Edgar 0+0+20+45=65
Forster 0+0+0+0=0
Francis 3+7+0+0=10
Geremi 0+28+90+45=233
Given 45+0+90+90=225
Harper 45+83+10+0=138
Huntington 90+28+45+90=253
Krul 0+7+0+0=7
Lough 16+22+0+24=62
LuaLua 16+15+0+0=31
Luque 0+0+45+31=76 +3 goals
Martins 45+75+65+45=230 +1 goal
Milner 0+0+90+45=135 +1 goal
N'Zogbia 78+90+45+90=303
Owen 45+0+0+0=45 +1 goal
Pattison 27+0+45+45=117
Ramage 87+83+45+90=305
Rozehnal 45+62+70+45=222
Solano 45+90+45+66=246 +1 goal
Taylor 0+0+45+0=45
Troisi 45+15+25+45=130
Waffle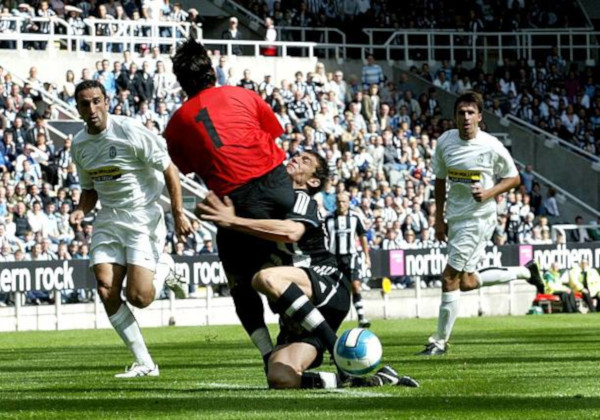 A very young Newcastle side scored two first half goals on Sunday to continue their unbeaten pre-season and overcome a more experienced Juventus side.
Albert Luque netted again, this time from the spot, before limping off to be replaced by our other goalscorer Andy Carroll who tucked in a rebound after Obafemi Martins shot had been saved.
Suffering from yet more injuries, Newcastle finished the game with only Shay Given, Charles N'Zogbia and Kieron Dyer as players who had cost the club a transfer fee.
Luque left the field after half an hour with a groin strain to add to Sam Allardyce's growing injury list. Michael Owen and Shola Ameobi had both failed fitness tests before the game and Mark Viduka wasn't considered after his Asia Cup exploits.
Luque converted from the spot at the Leazes End in the ninth minute, after James Milner had tumbled upon slight contact in the area from Jonathan Zebina.
Carroll made the most of his early introduction and had only been on the pitch for a matter of minutes when he rifled the ball past Gianluigi Buffon who had parried Martins' shot for his first senior goal.
It was almost 3-0 when Carroll was put through on goal and after he touched the ball past Buffon the keeper flattened him on the edge of the box.
Incredibly referee Mark Clattenburg didn't even award a free-kick with the Juve keeper seemingly certain to be dismissed. Thankfully the young attacker was able to continue after treatment.
United made changes at the break with Kieron Dyer, Matty Pattison, David Edgar and James Troisi coming on for Geremi, Martins, David Rozehnal and James Milner.
Despite four senior players departing United never look like surrendering their lead to the Serie A side who are just embarking on their pre-season. Dyer should have increased our lead after linking up with Pattison but his shot was saved by Buffon and he also had one chalked off for offside.
However that failed to take the shine off what was another enjoyable day for a decent crowd including many youngsters.
Putting aside the result though, the lack of depth to our squad is alarming - a teenage trialist (Barnett) filling a shirt as our youth team were otherwise engaged down at Keele University, depriving Sam of the likes of Kazenga LuaLua and Jonny Godsmark.

The manager's pleas for funding to strengthen his side are becoming more and more plaintive as kickoff approaches and Ashley's sum total contribution remains recycling the Parker fee.

Scorelines like this don't tell anything like the full story and most people won't be kidded by the stats of two wins in four days - Allardyce emphasising that point in post-match interviews when he appeared to be speaking as much to his new Chairman as the supporters...

In many ways we're replicating the events of this time last year, when mass grumbling was evident as we failed to acquire bodies to fill the all-too-obvious gaps.

The last-minute bargain basement additions of Bernard, Sibierski and Rossi didn't go down well, with the transfer budget having been splurged on Martins.

One year on and not much has changed - gaps are being plugged with willing but sub-standard replacements and we remain susceptible to injuries - if anything were to happen before Bolton to Rozehnal and Geremi we'd be in big bother.

It's fair to say that if Freddy was still at the helm then the voices of discontent would be louder than in Ashley world - but questions are beginning to be asked as the novelty of having new owners begins to wear off.
Biffa