Date: Wednesday 1st August 2007, 7.45pm
Live on Setanta

Venue: KC Stadium

Conditions: The tide was out thankfully

Admission: £10 advance, £12 on gate

Programme: £2





Hull City

Newcastle United

1 - 0

Teams
40 mins The Tigers scored the only goal of the game via a fortuitous deflection from Bryan Hughes, helping Marney's shot pass Harper. 0-1

Half time: Hull 1 Newcastle 0
Full time: Hull 1 Newcastle 0
Sam said:
"We couldn't take the team down to Hull we wanted to because of all these niggling problems that we've got at this stage of the season.
"We're very disappointed with the number of injuries we've got - the players' tolerance levels are still very, very low. I warned everybody about that before I came. They were deconditioned to a point, and it's been proven.
"We're trying to change them two sessions a day, which is what any club needs to be getting in at this stage of the season.
"We're giving them three sessions a day in rehab terms to get them over their injuries and get them as fit as we possibly can."
"Even if Owen and Ameobi are fit it's going to be extremely difficult to play both of them to start with.
"Obviously Mark Viduka's with us. There shouldn't be much wrong with his match fitness after playing in the Asian Cup in extremely tough conditions.

On playing the youngsters:
""I felt like a grandad when I was looking at their faces, but was a great experience for them.

"In the end, there were a lot of very excited Academy boys, who along with their mums and dads will go home extremely thrilled by having played in Newcastle's first-team at such a tender age.

"We couldn't take the team we wanted to Hull because of all the niggling problems.

"We're trying to change that and we're giving them three sessions a day in rehab terms to get them over their injuries and get them as fit as we possibly can."

Steve Harper added:

"It was a good chance for some of the younger lads. The likes of Darren Lough have been handed the chance to come in and play in the last few games which they would not have had if everyone was fit and they have done themselves proud."
Sand dancer Phil Brown commented:

"I think I learned that we are getting fitter, stronger and better prepared mentally.

"We played some good football on the night, but again it means absolutely nothing because all that matters is August 11th. But if we play like we did last night, it will give us a better chance of getting a good start and a good result.

"The players have come through another 90 minutes of work and there were no injuries reported. Those are two massive positives.

"I think the new lads have settled in quite well. It was a good performance and I thought the engine room was the midfield.

"They passed the ball well, provided energy and provided support for the front men. We tried a couple of systems, one in the first half and one in the second.

"Both systems caused Newcastle problems to the extent that they changed to a 4-3-3.

"But it was interesting that we conceded a really good chance in the last few minutes. Those are the pictures you want from pre-season, so although we beat a Premiership side, I can take those away with me.

On Allardyce:

'He's ahead of the game and not getting the England job is a similar situation to Brian Clough all those years ago. He was outspoken in the Press, different and ahead of his time.
'Those characteristics you can see in Sam and, for me, he was the favourite ahead of Steve McClaren. Sam's character shouldn't limit his chances.
It's about being honest and that's something Sam is.
'I was a colleague for 10 years. At times it was volatile but, more often than not, it was fun. I don't think we'd have had success without the fun.
'He's taken a different turning and is at one of the biggest clubs in the country. He still has England aspirations but knows he now has to be successful for three, four or five years to go for that. England have a manager and, first of all, Sam must be successful at Newcastle.
'He'll bring a strength of character and will never have a team that lies down or gives up. And now, with financial backing, he'll bring quality in.
'There's no doubt that, with the backing, he'll be the most successful Newcastle manager ever.
'He has injury prevention policies, he'll have one masseur per player and he'll spend everything he has to on a player to get them right. If they're not prepared to go that extra mile on the journey then it might be time for them to move on.
'I'm behind him in terms of size of clubs and money. But I've seen the model work when Bolton were in the Championship and hopefully we can follow suit here at Hull.'
This was our second visit to the KC Stadium, following on from a 4-0 pre-season kickabout win back in August 2003. Only Steve Harper remained in the Newcastle side from that game tonight.

Pre-season pitch time (in minutes):

Ameobi 45+0+0+0+0=45 +2 goals
Barnett 0+0+0+24+0=24
Barton 74+68+0+0+0=142
Bertram 12+7+0+0+19=38
Butt 45+62+80+0+0=187
Carr 74+83+90+66+0=313
Carroll 45+90+45+31+78=289 +1 goal
Danquah 0+0+0+0+12=12
Doninger 0+0+0+0+25=25
Dyer 63+75+0+45+0=183
Edgar 0+0+20+45+90=155
Ferguson 0+0+0+0+0=0
Forster 0+0+0+0+0=0
Francis 3+7+0+0+25=35
Geremi 0+28+90+45+54=287
Given 45+0+90+90+0=225
Godsmark 0+0+0+0+36=36
Harper 45+83+10+0+90=228
Huntington 90+28+45+90+90=343
Krul 0+7+0+0+0=7
Lough 16+22+0+24+90=152
LuaLua 16+15+0+0+36=67
Luque 0+0+45+31+0=76 +3 goals
Martins 45+75+65+45+54=284 +1 goal
Marwood 0+0+0+0+0=0
Milner 0+0+90+45+0=135 +1 goal
Morris 0+0+0+0+0=0
N'Zogbia 78+90+45+90+71=374
Owen 45+0+0+0+0=45 +1 goal
Patterson 0+0+0+0+0=0
Pattison 27+0+45+45+90=207
Ramage 87+83+45+90+65=370
Rozehnal 45+62+70+45+0=222
Solano 45+90+45+66+0=246 +1 goal
Taylor 0+0+45+0+0=45
Troisi 45+15+25+45+65=195

Waffle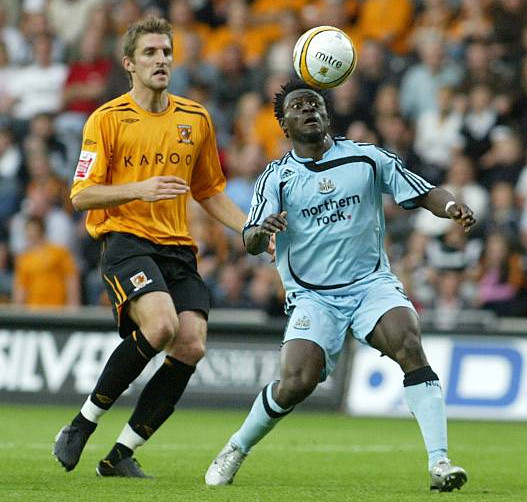 Ten days before the start of the season and Newcastle's penultimate first team friendly saw manager Sam Allardyce pick the sort of team that would risk getting him thrown out of a cup competition in normal circumstances.

Sam Allardyce can't be blamed though for adopting a cautious approach after already losing Joey Barton, David Rozehnal, Michael Owen and Shola Ameobi to injury during his warm-up games. Kieron Dyer meanwhile was absent for talks over a move to West Ham.

As a quick check, 20 of the 23 players we named tonight have come through (or are still among) our Academy ranks, while only eight of the 17 players who were used have ever played a senior competitive game for the club.

If nothing else the medics had a quiet night and there were no new clients for the treatment room, but for spectators this was a waste of petrol, £12 at the gate or a Setanta subscription to see Magpies they'll be able to watch for buttons at reserve/junior venues this season.

Those senior players who did feature failed to pull up any trees, while the host of youngsters introduced failed to establish any pattern of play and left us woefully lacking width.

The Tigers won it via a fortuitous deflection on 41 minutes from Hughes, helping Marney's shot get past Steve Harper, while our goalmouth action was limited to a couple of Obafemi Martins miscues in the first half and one effort cleared off the line.

The second period brought ever slimmer pickings, with only what looked like a blatant handball in the box ignored by the linesman and a late effort from Danquah over the bar worthy of mention.

City also came close to a late goal, Ricketts slamming the ball against Harper's crossbar and former Magpie Michael Bridges failing to steer the rebound on goal.

So, a futile exercise in many ways, with the main benefit some blooding of youngsters - hardly a situation that was paramount in the minds of most who made the effort to reach Humberside.

A game to be quietly forgotten about methinks - but exhibit 'A' in the case for augmenting our squad with experienced players.


Biffa