Date: Saturday 11th August 2007, 3pm

Venue:

Reebok Stadium



Conditions: Scorching

Admission: £32 Upper, £24 Lower
(£39 upper last season)

Programme: £3




Bolton Wanderers

Newcastle United

1 - 3

Teams
11mins N'Zogbia's free kick from distance eluded everyone including Jaaskelainen as it looped into the net 1-0
21 mins We went further ahead in a move that had its origins in the inability of Milner to give anything up as a lost cause.

His chasing down near the corner flag ultimately led to United obtaining possession and the winger crossing from the left for Martins to chest the ball down and then convert a memorable close -range bicycle kick 2-0

27mins Before the half hour, the travelling support at the opposite end of the ground were in dreamland as Martins made it three. His low shot that took a deflection that, while not enough to deflect from its goalbound path, stranded Jaaskelainen 3-0
Half time: Bolton 0 Newcastle 3

50 mins From our corner Bolton broke upfield after an off-balance Geremi couldn't block McCann. Anelka slid the ball past Harper from an angle for what was a virtual replica of his FA Cup Final goal against us (past Given) for Arsenal in 1998 1-3
Full time: Bolton 1 Newcastle 3
Sam said:
"It is a great start to the season for me and my players.
"The application by the players was terrific and I think that the quality of the finishing was the difference between the two teams.
"I'm not sure what level these players are at yet but they are starting to hit a standard I don't want them to drop. These are the standards we have to set ourselves for the rest of the season.
"I have to admit I was a little more edgy and nervous than usual. To bring my Newcastle side here against my old club where I still have so many friends was special.
"The quality of our finishing was first-class, particularly with the first two goals. When I arrived at Bolton in 1999, I started winning matches. I will do the same at Newcastle even if it might take a year or two to get exactly where we want to be."
"I left Bolton in the best state they've ever been. I thought the booing from the fans was banter. I waved to the Newcastle fans and they responded.
"I want to improve Newcastle to a point where they haven't been before. With the support of the owner and chairman, the club is moving forward very quickly.
"I am 40% where I want to be. There is another 60% to go and I have got to buy myself some time to get there. It is about winning matches and we have managed to start well.
"When I took over at Bolton in 1999 we never stopped winning and that gave me the chance to build a fantastic structure at the club.
Responding to pre-match comments from Bolton chairman Phil Gartside:

"He believes I've done things that I haven't, he's got obsessed by it but he shouldn't; life moves on, I've moved on and the club's moved on.
"I've given him a great platform to continue the success I brought, so I don't know why he is so critical.
"I've been very disappointed in a lot of the comments he has made but my actions spoke louder than words. I've kept my mouth shut and we've come here and played them off the park and won the game.
"I'm just looking forward and not back now."
Little Sam commented:

"We didn't start in that first 45 minutes. I thought we got the response we wanted in the second half, but we've been talking about playing, playing, playing and you wouldn't have seen much evidence of that in the first half.
"Maybe we got lost in the irony in that first 45 minutes and I can understand that. It was a big occasion for everybody. It's always an anxious time going into the first game of the season; you wonder if you've pitched it right and obviously we hadn't in that first half.
"I understand the occasion and I think it had an adverse effect on us, but I'm just pleased that we showed in the second half that, when we get the ball down and play, we're a lot more effective than when we go direct.
"It's always a factor when people you train with all week don't play. But we've got a squad here to cover that and I don't want to make excuses.
"Dioufy was excellent when he came on, as the whole team were. In the first 45 we all looked like 11 strangers but in the second half we were more cohesive and looked more of a team."
Toon @ Trotters - Premiership:

2007/08: Won 3-1 N'Zogbia, Martins 2
2006/07:
Lost 1-2 Dyer
2005/06: Lost 0-2 No scorer
2004/05: Lost 1-2 Ambrose
2003/04: Lost 0-1
2002/03: Lost 3-4 Shearer 2, Ameobi
2001/02: Won 4-0 Solano, Robert, Shearer, Bellamy
1997/98: Lost 0-1
1995/96: Won 3-1 Ferdinand 2, Lee
Full record against Bolton:

| | | | | | | |
| --- | --- | --- | --- | --- | --- | --- |
| | P | W | D | L | F | A |
| SJP | 52 | 35 | 5 | 12 | 109 | 52 |
| VP | 53 | 14 | 12 | 27 | 79 | 86 |
| League | 105 | 49 | 17 | 39 | 188 | 138 |
| SJP(FA) | 3 | 1 | 1 | 1 | 4 | 4 |
| BP/ER | 3 | 2 | 1 | 0 | 7 | 4 |
| Cup | 6 | 3 | 2 | 1 | 11 | 8 |
| Tot | 111 | 52 | 19 | 40 | 199 | 146 |
Four debutants - messrs Rozehnal, Smith, Geremi and Viduka took the total number of players to have appeared for us in the Premiership to 133.

A fifth new recruit - Claudio Cacapa - was an unused sub.

Geremi was made Captain and became the first Cameroonian player to appear in our colours.

By our calculation he thus became the 37th nationality to appear for us in the Premiership (listed here in numerical order):
England, France, Scotland, Republic of Ireland, Wales, Northern Ireland, Argentina, Australia, Czech Republic, Greece, Italy, Netherlands, Nigeria, Portugal, Spain, Belgium, Brazil, Cameroon, Canada, Chile, Colombia, Croatia, Cyprus, Denmark, Democratic Republic of Congo, Georgia, Germany, Norway, Paraguay, Peru, South Africa, Senegal, Sweden, Switzerland, Trinidad and Tobago, Turkey, USA.
Debut results - NUFC Managers:

Sam Allardyce - Bolton (a) won 3-1
Glenn Roeder - Portsmouth (h) won 2-0
Graham Souness - Bnei Sakhin (h) won 2-0
Bobby Robson - Chelsea (a) lost 0-1
Ruud Gullit - Aston Villa (a) lost 0-1
Kenny Dalglish - Charlton (h) won 2-1
Kevin Keegan - Bristol City (h) won 3-0
Ossie Ardiles - Bristol Rovers (h) lost 0-2
Jim Smith - Wimbledon (h) won 2-1

Charles N'Zogbia's goal saw the Frenchman repeating his feat of scoring the first one under a new Toon manager, after doing the trick for Roeder against Pompey.

Our opening goal in this game was the 800th we've scored in the Premiership.

And yes, after the first round of Premiership games we are top of the league.

The last time we can find us in that spot was after beating West Ham 4-0 at SJP in our opening fixture of season 2002/03.

The last time we scored three goals in one half away from home (or three goals in a match away from home) was in the 4-1 victory at the Mackems - when Zog was also among the scorers and the referee was also Chris Foy.

No sign of wantaways Luque or Dyer - the former allegedly set to leave for Levante, the latter not in the right frame of mind to play according to Sam after the collapse of his Hammers move.


Waffle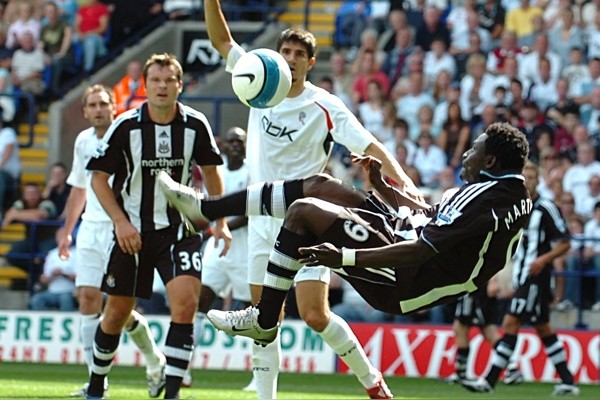 Our typically weak punning headline for this one spoke of Sam Missiles, but perhaps a more accurate parallel could be drawn with that old Strongbow cider commercial where three arrows land in quick succession.
Yes, Bolton's defence were short-handed and saddled with more leaks than a Max Boyce convention - a situation hardly improved forty eight hours later by their acquisition of the willing but limited Andy O'Brien.

But regardless of whatever staffing issues the Trotters had, Allardyce's new charges were in the mood to wreak havoc from the off and rode the tide of good fortune that came their way in a first half that had both sets of fans rubbing their eyes in disbelief.

Three strikes and you're out indeed - and in the bizarre world of Newcastle United, the two scorers were the same pair who went AWOL at Watford in the final game of last season and have spent most of the close season being linked with moves away from Tyneside.

Boardroom-led, pre-match propaganda had attempted to underplay Sam's role in the 21st Century Bolton revival, inferring that fans, players and officials were relieved he'd slung his hook to leave them to push onwards and upwards.

Unfortunately that defiance/delusion failed to transmit itself to the ticket office or home dressing room, with empty spaces evident on all sides of the former and fitful contributions from many of the latter.

Even the trademark physicality of previous seasons was lost from the Trotters, who preferred to leave the hockler Diouf on the bench until the second half - when he showed a damn sight more fight and commitment than most of his colleagues, even if well shacked by our lot.
Sam appeared pitchside at the restart, but no sooner had he succumbed to the "give us a wave" cries from the away end than his old side scored.
For a while that buoyed the home crowd and a slight unease could perhaps be detected among those well versed in the art of watching Newcastle sides unravel.
However that feeling gradually melted away as Bolton failed to find any meaningful width or service to Anelka and we coped with their aimless long punts upfield.

The departure of Speed with quarter of an hour remaining ended any lingering hopes that his side had of clawing their way back into this game, as Newcastle sat in midfield and contented themselves with trying to set Shola away. Unsuccessfully. Now where's that hip grease?
After a sweltering afternoon, the absence of a midweek fixture for us in either league or Europe may be a blessing, allowing the players recovery time from their opening day exertions.

The free week before Villa also gives us a further opportunity to integrate recent signings and chase further new faces, as well as see the injury list reduce.

And of course there's always the post-match analysis and Prozone stats to be looked at in this new world.

After the comparative famines of recent times this was a fabulous result on many levels - taking points from a place where we've tossed away the last fifteen, registering an away win of any description and collecting a maximum points return on opening day.

But while much ballyhoo surrounded the return of Allardyce, for the supporters of his new side, the venue and the occasion were of secondary importance - lagging way behind the instant coherence of the performance, the hints at planning & organisation (revolutionary!) and the sheer entertainment value of the first half display.

Nineteen away games in the Premiership last season saw us register a measly fifteen goals - something that caused some of the most romanticised Magpie diehards to adopt a pragmatic stance and start making value judgements about turning out and parting with their hard-earned.

Quite simply, we weren't worth watching.
Today was all about getting a little pride and belief back - and a renewed sense of optimism that seemed utterly impossible in those miserable final games of last season when we lacked the talent, motivation or application to give Blackburn and Watford a game.
The earliest of early days then but none the less heartening for that.


Biffa