43 mins Ameobi shot 1-0

Half time: Star 0 Newcastle 1

47 mins Ameobi shot 2-1

Full time: Star 0 Newcastle 2
Fresh from netting another brace to go with the pair at Gateshead a week before, Shola said:

"I am delighted with two goals again.
"For me it is all about match fitness and getting back into contention.
"Goals are important for my confidence, but I am just happy to be back out there."
"It is the first time I haven't felt it (the hip problem) now.
"It has been a long road and I am finally over that now and I can just look forward to playing for Newcastle.
"I was happy to get through unscathed again and now I am ready for Aston Villa."
"Blue Star equipped themselves very well and they were hard to break down.
"I didn't think it would be as tough as it was, but it just shows you it is a big game for these lads.
"They did themselves proud and good luck to them for the new season."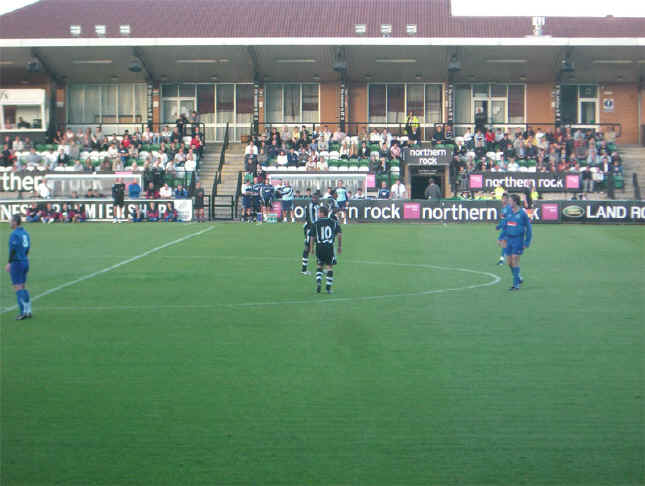 After the game Owen commented about the injury that restricted his pre-season involvement:

"It was only a small injury and everything is fine.
"The injury was just a little nick in my thigh and it came after a long day of running and everything else.
"You always get excited in pre-season and start smacking balls everywhere, and I probably just hit one ball too many and felt my muscle get tired.
"The next day I felt a little bit sore and it was very frustrating.
"I have been working hard in the gym as ever and it was frustrating because I wanted to play in the first game of the season at Bolton.
"I am pleased that we took the decision not to play, as after last season we didn't want to risk it, but I am also pleased that I have only missed one game.
"I was hoping to be available for Bolton and did train Thursday and Friday last week.
"I have been in training for five or six days now and it is up to the manager.
"I will train this week and hopefully be available for Saturday."
Ahead of their first Unibond League campaign, Newcastle Blue Star received something of a boost on Monday as 3,600 fans rolled along to witness their first-ever fixture at Kingston Park.

And although most had come to a see a strong Magpies side featuring Owen, Ameobi, Dyer and Cacapa, the evening will have done the non -leaguers no harm at all on or off the pitch.

Owen featured for an hour and twice came close to netting, only to be foiled by goal line clearances.

His strike partner Shola was more successful, with precise finishes from inside the area on 43 and 60 minutes.

However the home side were never in serious danger of being over-run and created some half-chances of their own, notably striking Fraser Forster's crossbar in the second half.

His counterpart in the opposing goal was busier, but proved equal to efforts after the break from LuaLua, Dyer and Pattison.

This was a gentle introduction to English football for Brazilian Claudio Cacapa, who completed 90 minutes in central defence and found space to make a few forays upfield in the closing stages.

The Kingston Park announcer read his surname as "Casapa", which tallies with emails we've received from Portuguese speaking readers regarding the correct pronunciation.

As for ex-Magpies, Star began the game with Ben Webster, Chris Carr and Dean Critchlow in their side, later substitutions seeing Marc Walton and Kris Gate enter the fray - although the latter limped off with hamstring trouble.

(Thanks to Paul J White for pic)