Date: Sunday 26th August 2007, 1.30pm
Live on Setanta

Venue:

Riverside



Conditions: Arid

Admission: £31 (last season £31)

Programme: £3





Middlesbrough

Newcastle United

2 - 2

Teams
22mins A fine effort from the right boot of Charles N'Zogbia, as he cut in from the left and curled a supreme strike beyond Mark Schwarzer (who appeared to be dressed as a banana) and into the top right hand corner 1-0
28 mins Sucker punch #1: Rochemback's through ball found an unwatched Mido and he clumsily evaded Harper before rolling his shot home and rushing to the away fans who had been mocking him all afternoon.

Some clearly visible gestures and abuse rightly saw Mido booked before play restarted, only for the Egyptian continue with further "V" signs at the away end once play resumed.

Similar gesturing was later replicated by Arca when he was barracked for his mackem past. 1-1


Half time: Middlesbrough 1 Newcastle 1


77mins
Former smoggy Geremi found Mark Viduka in the box with his back to goal and being snuggled by Woogate. The Australian striker trapped the ball on his thigh (or his thing as the BBC web commentary wrote) before rolling the defender and volleying the ball home.


As he'd pledged before the game, the 150th goal of his career in Britain (Celtic, Leeds, Smogs and now us) saw his colleagues throng round him but an absence of celebrations from the scorer.
2-1
80 mins Sucker punch #2: a weak defensive header from a half-cleared corner fell to Arca on the edge of the box and his precise effort beat the unsighted Harper 2-2
Full time: Middlesbrough 2 Newcastle 2
Sam said:
"It feels like we've lost. We let the opposition get goals, they didn't create them and that's totally unacceptable. If we are to be successful, then that will have to stop. Home or away you should never surrender a lead and we have – twice.

"We will have to deal with those injury situations tomorrow and see whether that takes us into the market on a more ferocious basis this week, which it might have to.

"I am well short now defensively, which is where my biggest problems have lain all summer.

"They are back there again now because of two injuries. It is typical, you always seem to get injuries where you are short.

"We are short in that area and we picked up not just one, but two injuries, and certainly one looks quite serious.

"With the window shutting, we will have to have a good look around and see how we go on."

On Viduka's goal and consequent response:

"He knew a lot of people here and said if he scored the winner he wouldn't celebrate too much, but he's done his job here today - he's as disappointed as the rest that it wasn't the winner.''

On Ashley's appearance:

"He didn't hide away – did he? – wearing his Newcastle shirt."

Viduka added:

"It was special coming to my old club and scoring – I'll always remember that one. I was so excited to get my first goal for Newcastle, then I realised I needed to tone down a little bit.

"I'm very pleased about it. It was nice to get off the mark – it was very important for me. Hopefully, it's the first of many."
Poor man's Peter Stringfellow, Gareth Southgate stroked his lion's mane and chipped in with:

"I was delighted with the quality we showed, especially because a few of our players didn't have the right to be on the pitch. Jonathan Woodgate was struggling yesterday with a migraine and Luke Young has hardly had a pre-season.
"I had no intention of playing Jonathan. But once Chris Riggott and Andrew Davies were ruled out, I had no choice."

Of Viduka's goal:

"Inevitable - and typical of Mark. He was fantastic here for us and that's the sort of goal we've seen him score many times here.

"We wish he hadn't done it today but he is a cracking lad. It gave us an uphill task but again we've shown the fitness and the character to come back.''

On the Mido goings-on:

It's OK for 3,000 to abuse one person. But when the boot is on the other foot, he gets punished.
"In terms of civil liberties, I find that very strange. After scoring the goal, we had to calm him down a bit."

Mags on Smogside - Premiership:
2007/08: Drew 2-2 N'Zogbia, Viduka
2006/07: Lost 0-1
2005/06: Won 2-1 OG, Ameobi
2004/05: Drew 2-2 Bellamy, Shearer
2003/04: Won 1-0 Ameobi
2002/03: Lost 0-1
2001/02: Won 4-1 Shearer 2, Dabizas, Robert
2000/01: Won 3-1 Shearer, Goma, Dyer
1999/00: Drew 2-2 Speed, Pistone
1998/99: Drew 2-2 Charvet, Dabizas
1996/97: Won 1-0 Ferdinand
1995/96: Won 2-1 Watson, Ferdinand

Marc Viduka netted against his old side, becoming the 81st Premier League scorer for NUFC.
Full record against Boro:

| | | | | | | |
| --- | --- | --- | --- | --- | --- | --- |
| | P | W | D | L | F | A |
| SJP | 55 | 29 | 15 | 11 | 93 | 55 |
| AP/R | 56 | 14 | 18 | 24 | 67 | 82 |
| League | 111 | 43 | 33 | 35 | 160 | 137 |
| SJP(FA)* | 2 | 1 | 0 | 1 | 6 | 4 |
| AP* | 2 | 1 | 0 | 1 | 3 | 3 |
| SJP(LC) | 2 | 1 | 1 | 0 | 1 | 0 |
| AP/R | 3 | 1 | 0 | 2 | 4 | 6 |
| Cup | 9 | 4 | 1 | 4 | 14 | 13 |
| Tot | 120 | 47 | 34 | 39 | 174 | 150 |
* includes qualifying games in 1896 & 1898
Waffle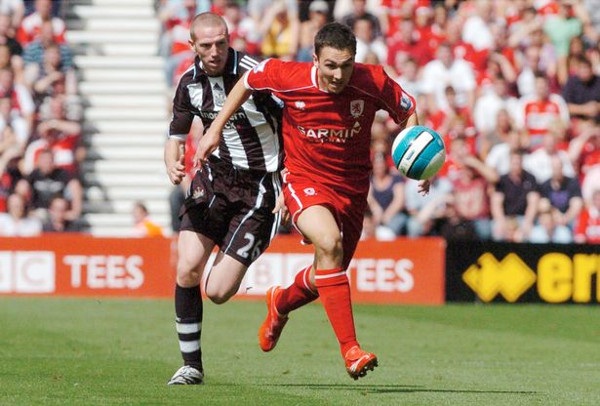 A mixed day for Newcastle's management, owner, players and fans on a ground where they've enjoyed more good times than bad in the top flight.

The point maintained their enviable Premiership record at the Riverside and extended our unbeaten start to the season to three games - our best start since 2001.

However Allardyce was rightly vexed by his side's inability to protect their leads for more than three and six minutes respectively. Maybe those watching in black and white (Ashley excepted) are just a bit more used to this sort of thing...

And with less than week until the closing of the transfer window, injuries to our right back and his replacement at least partially nullified the club's successes in boosting their defensive ranks. Get used to it Sam - we've had a lifetime of this.

If nothing else that mini injury may see Solano sticking around until at least the turn of the year to provide some proven cover at right back and hopefully notch those two goals that would see him reach a landmark half century of strikes in our colours.

Confronted with a short-handed but still lively home side, a point wasn't a bad return from the afternoon given the forced reshuffling that saw Carr limp off within five minutes, Ramage leave on a stretcher after half time and Geremi play in at least three different positions during the game.

The appearance of Cacapa for his first meaningful action in England at least provided the United boss with some positive news from a defensive perspective, with the Brazilian quickly looking at home with a no-nonsense approach to defending and no mean turn of pace when required.

One late intervention to whip the ball off the toes of an attacker was also worthy of mention - but of course ignored in the match highlights provided by an increasingly irritating BBC - who felt it a better use of time to show photographs of pundits in their primary school photos.

Given's return to proceedings on the bench was also something of a fillip to the Magpies - although Harper here continued the decent form he'd showed against Villa and made another noteworthy fingertip save.

Up front the departure of Martins from the field after another relatively unproductive afternoon wasn't without incident as he reluctantly acknowledged Allardyce and ignored the Oba chants from the away end.

His strike partner Viduka had scarcely featured much more, until he found himself in familiar predator's territory - taking the ball in the box and virtually ignoring his covering defender to slot the ball home.

The aforesaid defensive woes meant the Allardyce was forced to choose between Ameobi and Owen for his final replacement, with the latter getting the nod and seeing one half-chance evade his boot.
Overall the draw was probably a fair result, with our defence twice crucially failing to hold out and the team still inevitably having that "work in progress" feel that comes with the level of changes on and off the field we've been through recently.

Against that though we maintained our unbeaten record for the season and have an eminently winnable game next Saturday when Titus & Co. return.

Wednesday's game against Barnsley is well-timed, allowing Allardyce to give Owen and Shola a runout to boost their fitness and also introducing Enrique to the fray.

That last move is crucial to helping balance the side, allowing Zog to be pushed forward down the left flank to provide some wing balance with Milner - and take some of the burden off the latter.

With forgotten men like Emre and Babayaro still to be sighted and Barton a month away from kicking a ball, this team is in a state of flux and will continue to be until midnight on Friday.

However, there's still work to be done if we're not to repeat the folly of previous seasons when trying to go into a sequence of games under-strength and hoping for good fortune.

Experienced toon watchers will tell you that's a risk that seldom comes off round these parts, but at least Ashley has seen the situation with his own eyes - and was presumably already aware that while both Ramage and Carr were squad members neither were obvious names on a first choice XI team sheet.

Those injuries exacerbated the situation, but this was still a work in progress then, with unfinished business to attend to. Do your dealing.


Biffa