Date: Wednesday 29th August 2007, 7.45pm

Venue:

St.James' Park



Conditions: Unimpeded

Admission: £15

Programme: £2.50




Newcastle

Barnsley

2 - 0

Teams
Half time: Newcastle 0 Barnsley 0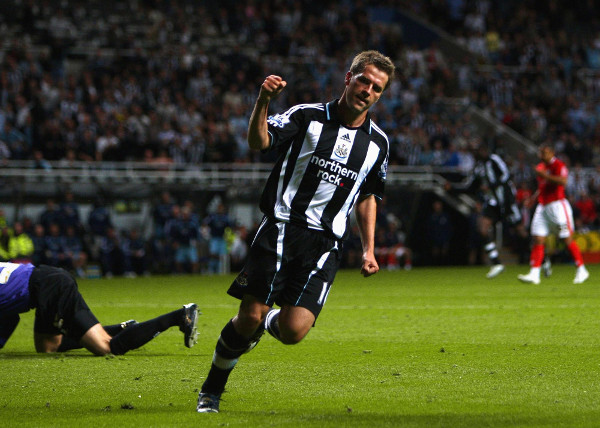 57 mins What must be described by law as "a slide rule pass" from Shola striding through the centre circle found Michael Owen on a "trademark" run towards the Gallowgate End between two defenders. His "typical finish" went under the keeper and just had enough pace to find the "back of the net" 1-0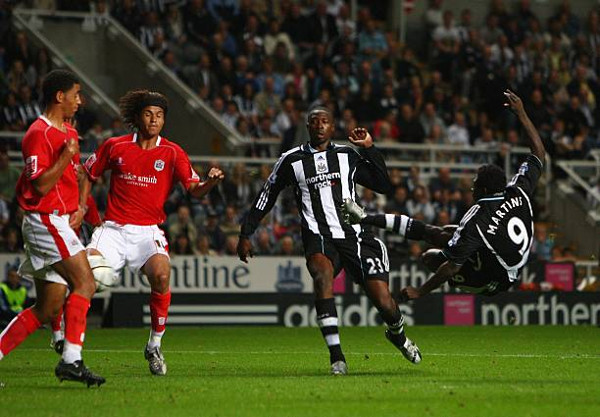 86 mins Within three minutes of taking the field, Obafemi Martins doubled the lead when he took down a Solano cross before acrobatically rifling the ball home. The Tykes' defenders appealed for what looked like a valid handball claim. 2-0

Full time: Newcastle 2 Barnsley 0
Sam said:

"It was a comfortable performance tonight, we were never in any trouble at any stage of the game apart from maybe getting a little over-frustrated in the first half and not being able to break down Barnsley as much as we would have liked.
"It was just a case of waiting and being patient and not switching off at the back, and finally the Premier League showed up with the quality you have got to have to play at this level when the goal went in.
"It was a great ball and a fantastic run and a really good finish, and that is normally the only difference between two sides.
"It was that move, that pass and that finishing which just knocked the stuffing out of Barnsley, and then of course we finished them off with Oba putting the ball in the bottom corner.
"It was a good victory, we are through to the next round and a clean sheet, which is very, very important indeed. I cannot emphasise that enough, it means you are always in the game to win it when you score."
"Steve (McClaren) was here tonight and I don't think there is any question that England have fewer options than I do, don't they? I have four options, they don't have many, do they?
"This is only going to be good for Michael, for Newcastle and for England.
"Fit and well tomorrow and recovered Friday, we will have a look, have a chat and see where we go from there for Saturday for the best and fittest XI to try to beat Wigan before the international break.
"It is not a formality he starts on Saturday, no. I will just have to weigh up the whole situation and use a selection process based on what has been done in the past by everybody and what the situation is going into the game against Wigan.
"Places at this stage cannot be guaranteed for anybody.
"I will see what he is like tomorrow. His level of intensity tonight will be at his highest, probably, since the Germany match, so we will have to see how he feels tomorrow and take it from there.
"We have got four very good strikers - Mark Viduka, Shola Ameobi, Obafemi Martins and Michael Owen - and we will need to use all four of them throughout the season."
Mike Ashley added:

"It does not get much better than this and I really enjoyed the night.

"I could not wait for the ball to go in (for Owen's goal), and when it did it only added to the enjoyment."

To which Allardyce responded:
"It was nice to see him here. He is an extremely busy man, of course.
"But he enjoys his football that is obvious and plain for everyone to see.
"I am glad he enjoyed his night and glad we helped him enjoy it by winning and scoring two goals against Barnsley."
Simon Davey commented:

"I was pleased with the overall performance. It was a proud dressing room.
"They have come to a massive club and competed with them. But for a little lack of concentration and world-class finishing, we lost the game.
"They can hold their heads up high and be proud of what they have done.
"We have lost the game, so we are disappointed and we are out of the cup.
"But the performance, I thought, was fantastic. The players did the club proud.
"We had to make six changes from Saturday and it proves we have got a good squad now that can compete at Championship level."

Debut for Enrique and first start for Cacapa.

Michael Owen's strike came on the eve of the second anniversary of his joining the club and was his first for us at the Gallowgate End.

It also coincided with the anniversary of his hat trick for Liverpool against us in 1998 - all three coming at that same end of the ground.

His eighth competitive Newcastle goal came in his first club start since the last day of 2005 at Spurs. One has to go back to December 17th 2005 at West Ham for his last competitive goal.

Owen's goal ended a 266 minute scoreless spell for him and was the first registered by anyone at home since Obafemi Martins netted against AZ in March, ending a 560 minute sequence.

And one has to go back to March 2003 to find Owen's last appearance in this competition - when his goal sealed a 2-0 victory over Manchester United in the final at Cardiff. Nicky Butt watched from the bench that day - this time he was on the field alongside Owen.)

Full record against Barnsley:

| | | | | | | |
| --- | --- | --- | --- | --- | --- | --- |
| | P | W | D | L | F | A |
| SJP | 14 | 9 | 2 | 3 | 28 | 10 |
| Oak | 14 | 1 | 6 | 7 | 15 | 21 |
| League | 28 | 10 | 8 | 10 | 43 | 31 |
| SJP(FA) | 2 | 2 | 0 | 0 | 7 | 3 |
| Oak/CP/GP | 3 | 1 | 1 | 1 | 3 | 4 |
| SJP(LC) | 3 | 2 | 1 | 0 | 4 | 1 |
| Oak | 3 | 2 | 1 | 0 | 3 | 1 |
| Cup | 11 | 7 | 3 | 1 | 17 | 9 |
| Tot | 39 | 17 | 11 | 11 | 60 | 40 |
Waffle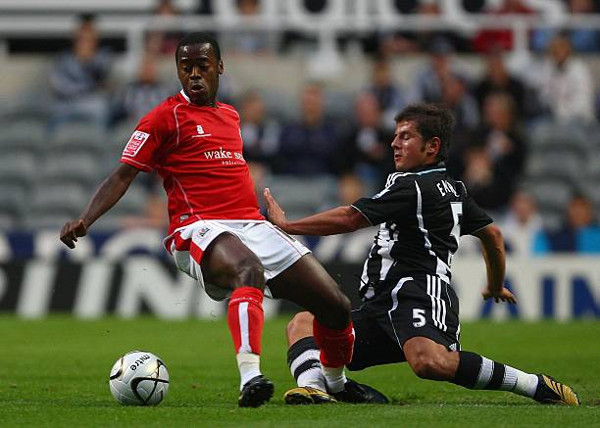 Our unbeaten start to the season continued with an expected progression at the expense of a lower league side as we made a comparatively rare recent appearance in the Second Round.

And if those who attended this non-televised affair weren't quite as exultant as the owner afterwards, then they at least had the quiet satisfaction of seeing Michael Owen's effort end
his - and our - goals famine.

Our well-documented issues at the other end of the pitch were also partly addressed by the displays of new boys Enrique and Cacapa, although the welcome clean sheet came against less than potent opponents, who lacked several suspended and ineligible first-choice players.

The return of Emre in midfield gave rise to hopes that the creativity that had been somewhat lacking here against Villa would return and Owen and Shola would enjoy something approaching a service of passes.

However the Turk's contribution was non-existent, a couple of Barnsley chops in the first half reducing his limited impact still further and hardly extending hopes of a late Bundesliga bid for him.

Obvious though Emre's talent is, he's never shown any genuine work ethic in our colours. There have been flashes of badge-kissing brilliance and cameos of over-commitment, but no consistency.

A questionable injury record and an apparent recklessness with his fitness when international caps are concerned isn't in his favour when the next phase of our rebuilding programme gets underway.

Expect Emre's departure in January then, unless Allardyce can alter his attitude and fitness to a level where he can be confident that the player won't let him down when called upon - during the African Cup of Nations for instance.

It's doubtful whether his departure would really be mourned - especially if Ashley could be persuaded to dip into his partying allowance to fund the arrival of a genuine midfield trickster.

Butt's introduction early in the second half hardly improved our tempo, with him and the willing Geremi unable to pierce holes in the massed red ranks and our crossing and set pieces nothing to write home about.
A resolute Barnsley side brought one early set piece stop from Given and struck a post with him a spectator in their rare forays upfield.

Aside from that though, it was a question of probing and hoping - and when we did manage to mount a counter-attack, Ameobi provided the required through ball, Owen the finish. Just.

Further crowd-pleasing goals proved frustratingly elusive, but Martins appeared to liven things up in the closing moments and cracked in a second to end the evening on a high note.

It's easy to read too much into this display, but as a small staging post on the road to post -Roeder respectability it's a significant one.

A handily-timed game then and almost the equivalent of a fourth home friendly - only with decidedly more relevance and importance to us than Spaniards scoring against Scotsmen.

Getting real pitch time for new faces and fitness seekers made this is a useful exercise - and in this Europe-free season, to win any domestic cup tie is a big plus.

Against that however is our entrance into this competition at an earlier stage than has recently been the case - and the consequent elongated number of rounds before any tangible excitement is felt.


Biffa