Date: Saturday 1st September 2007, 3.00pm

Venue:

St. James' Park



Conditions: Initially frustrating, ultimately euphoric.





Newcastle

Wigan Athletic

1 - 0

Teams
Half time: Newcastle 0 Wigan Athletic 0
87 mins Titus Bramble's aimless clearance out of defence fell straight to Steven Taylor. Finding Oba Martins out wide, the striker powered down the right flank before sending over a centre at pace that Michael Owen planted into the net with a near post header. 1-0

Full time: Newcastle 1 Wigan Athletic 0
Sam said:

"It was a great goal and overall, a very, very comfortable, good performance.

"We should have had the game all buried with their 11 men in the first half, never mind the 10 men in the second.

"We completely dominated the game, but found a little bit of hard luck. A couple of good saves from the keeper and some poor finishing meant we were frustrated at half-time that we were not one or two goals up."
"Steve (McClaren)] was here today and was here last Wednesday and I think he will be feeling quietly confident now that Michael's match fitness has improved immensely over the last two or three weeks with all the games he has now played in."

"We just both hope he stays clear from injury, and we have seen his finishing qualities.

"He got us off the mark against Barnsley and he got us the win today - and it appears Michael Owen's goals are always important goals as well, that's the most important thing.

"He's not scoring the fourth when we are 3-0 up, he is scoring the goal that wins us the game or scoring the goal that draws us a match.

"Steve could look forward to him playing for England and hopefully they do very well and he gets a couple of goals in the qualifiers.

"He is certainly looking good enough now for that, and I hope he does it."
The goalscorer, Michael Owen said:
"It's always pleasing to play 90 minutes and to score a goal to win the game, that's what you play football for. A lot has been made out of me playing 90 minutes and all this rubbish.

"Whether I scored today, or whether I never, it makes no difference, i've been able to play 90 minutes for a long time, but obviously it's glued into people's heads that I'm still injured, even though I did my Cruciate 12 months ago."
Chris Hutchings commented:

"The sending-off within 30 seconds of the second half made a major impact on the game and what we had to do. The referee said he led with the arm, but it was right in front of the dug-out and to me, it was a clash of heads.

"It would be interesting if the referee would come and have a look at it and have his say.

"You come to places like this and you are always going to be under pressure. You have got to ride the storm, and we did that until half-time.

"Obviously, it was a major setback having Kevin sent off.

He always gets a chance, Michael, and he took it today, all credit to him. But we have got to take the positives out of it.

"If they had gone down to 10 men, I would have expected us to come away with the points."
With just three minutes left of this game and our scoreless home league run having just hit the 647 minute mark, another blank return loomed for Sam's men. Enter Owen.
Latics @ SJP: all-time:

2007/08 Won 1-0 Owen
2006/07 Won 2-1 Parker, Ameobi
2005/06 Won 3-1 Shearer 2, Bramble
1953/54 Drew 2-2 Broadis, Milburn (FAC)
For the first time in living memory, no less than three of our goals were included in the BBC Match of the Day Goal of the Month top ten selection - Oba's first away at Bolton and Zog and Viduka's efforts at the Smoggies.

Waffle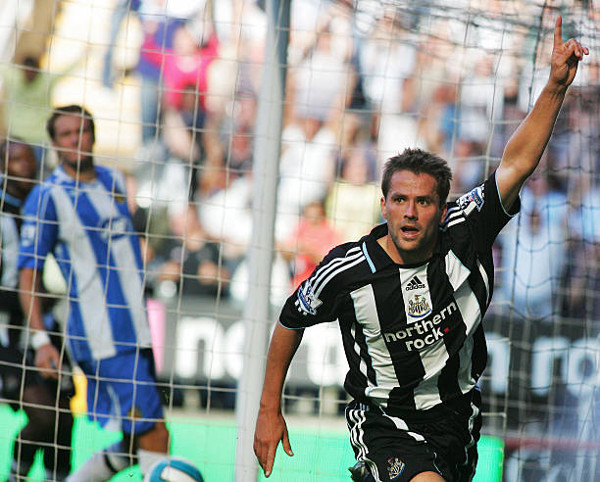 Having seen three games in a week, Mike Ashley now has three favourite clubs in the region - Newcastle United, Blu Bambu and Buffalo Joe's.

The latter nightspot played host to the black-and-white clad Toon owner and his pals after this game - that lucky "Smith 17" shirt must be hotching by now.

Ashley certainly seems to be getting into the swing of things of up here, as he bids to shed the reclusive reputation that he was saddled with when news of his buyout of the Halls emerged.

His continuing presence also undermines theories of short-term ownership for a quick vaultful of roubles or whatever they spend in China - and he looks like he's enjoying it all.

Nice also that he's getting into the papers for wearing toon shirts in bars, rather than for passing comments about them (and their owners' wives) when cracking open a bottle or two.

His celebrations would have been a damn sight more muted though had Michael Owen not popped up late in this one with a timely reminder that he can still do what he's paid to do.

Wednesday had seen him break his duck with an effort that won't find its way onto many career retrospective DVDs, but that was symbolic in a more-low key way.

Four days on however, rather more folks made rather more racket as his fine header found the back of the same Gallowgate net - and whether the England boss or Mike England was in the stand shouldn't concern any of us.

The outpouring of emotion triggered was pure relief that we'd at last managed to kill off an obstinate Latics side reduced to ten men in the opening moments of the second half.

At that point referee Steve Bennett had deemed that Kevin Kilbane's aerial challenge on Alan Smith was worthy of dismissal - the former mackem having been booked in the first half.

However TV replays subsequently showed that Kilbane had clashed heads with Smith, rather than the presumed elbow that Bennett had acted upon.

Wigan and their fans felt hard done by at that point, but could have no complaints at ending the game a man short, after Bennett incredibly ignored two brutal assaults by Heskey that left Taylor and Harper laid out on the pitch.

Even more remarkably he was called into the England team within 24 hours - the plan to defeat Israel must involve some fairly robust tactics.....

(it has subsequently been pointed out that had the referee known of that callup, that he could have felt under pressure not to award Heskey the second yellow for either of those assaults that would have seen him walk)

Aside from a fine diving block by Harper in the first half, chances for the visitors were few and far between.

By contrast, Newcastle somehow managed to go into the break without scoring: Bramble surviving a blatant handball shout, Taylor striking the cross bar and Owen missing two good chances and beating Chris Kirkland once - only for a dubious offside flag to deny him.

A similar procession in the second half had seen Allardyce trying various combinations to break the deadlock - Viduka departing at the interval as Ameobi and Owen were paired.

Martins then appeared in place of Smith, but chances continued to fall frustratingly at the feet of others - Butt blasting over when well placed and trying to play a pass when free in the box with only Kirkland to beat.

Finally though the goal came, with Owen's effort at the Gallowgate End his ninth goal in fifteen starts for the Magpies.

The sponsors gave Rozehnal their man of the match award, but his partner Cacapa turned in another flawless display.

We now go into a two week break in fifth spot and good heart - Allardyce having achieved his goal of overhauling the first team squad and seeing some early returns in work rate and determination from his side as they begin to knit together.

PS: If we beat the Hammers in the next home game, we predict that Ashley will appear in The Adelphi - once he's seen Cass Pennant and his mates off at Manors.....
Biffa