Date: Monday 17th September 2007, 8pm
Live on Setanta

Venue:

Pride Park



Conditions: deflating

Admission: Ł29 (reduced from the original
advertised Ł40 when the game was moved)

Programme: Ł3

Derby County

Newcastle United

1 - 0

Teams
39mins Bywater's long clearance fell to Miller who thumped a swerving effort beyond Harper into the top corner for what proved to be the winner. First impressions that the 'keeper had failed to react and mistakenly thought the shot was going over were substantiated by replays. 0-1
Half time: Derby 1 Newcastle 0

Full time: Derby 1 Newcastle 0
Sam said:
"We didn't score when we should have done. If you don't convert chances when you get them, it means life can be difficult.

"We knew it was going to be a bit of a scrap because Derby were going to fight for everything at home. It wasn't going to be a pretty game, and it wasn't, but when your chances come you've got to convert them.

"In the end, the opposition scored a wonder goal out of nothing- you won't see a better strike in the Premiership this season and it's flown in the back of the net.

"Then it's got a bit frantic in the second half. Because they had something to hang on to, we found it difficult to break them down and create ourselves chances to get back into the game.

"Even though we had lots of pressure and possession, we didn't find the quality to bring us an equaliser and hence, we ended up with a very disappointing defeat.

"Credit to Derby for great fighting spirit and a wonder goal, but from our point of view, we didn't have enough quality to break the opposition down, particularly in the second half.

"However, we'll take it on the chin, learn from it and hopefully come Sunday, we'll be a lot better against West Ham.

"It might have been a fourth booking (for Smith), but it certainly shouldn't have been.

"However, Alan has to calm down in terms of slide tackles, because even a good slide tackle now seems to result in a booking these days.

"It was right in front of me – it wasn't from the side or behind. It was straight in front and straight through the ball. You can't not hit the man when you play the ball, but referees seem to think those are yellow cards today, or they're told to give a yellow card, which is pretty sad.

"If he deserved to get booked for a rash tackle, then fine. But I didn't think it was.

"We think we should have had a penalty just prior to them scoring because Leacock hauled down David Rozehnal at a corner.

"The referee was right in line and didn't give it, then they went down the field and won it with a wonder goal. There's nothing you can do about someone who strikes a ball like that.

"The really disappointing thing for me was we got a bit too frantic in the second half and tried to push forward too quickly. We should have been a little more patient in terms of trying to break Derby down, but didn't create the kind of chances in the second half that might have got us back into the game.
"It was always going to be a scrap against Derby. They were always going to be fired up after waiting for the game to come around following their Liverpool defeat.

"I always thought they would spend a lot of their energy closing us down and that's what they did. To beat that you have to score when your chances come. Our best two chances came early on for David Rozehnal and Shola Ameobi and they didn't even hit the target."
"He (Michael Owen) felt his groin at half-time. I gave him the opportunity to go back on because he wanted to but I didn't want to risk him for longer than five or 10 minutes and we took him off as a precaution.
"We need him to to be fit because we have too many injured as it is. We need to get our whole squad together.


"
We need the Mark Vidukas, the Joey Bartons, the Damien Duffs, the Jose Enriques, even the Celestine Babayaros.

"Michael was one of 14 players away on international duty last week and none of them have performed like they did before they left. I don't suppose Billy Davies had too many international players away
(he actually had eight)
, certainly not as may as we had. If you had got two weeks to work at things, it has to be an advantage.
"I used to seek that advantage in the early stages of my time at Bolton. When bigger teams came to play us in the week following an international break we always fancied our chances. Our players didn't hit their best and suffered the consequences. It was a wonder goal that beat them, but we were not pleased in our performance.
"We have a six-day, three-game week coming up. We've been dealt a blow by the Premier League because of the Carling Cup match.
"We've been told we have to play on Tuesday night after playing West Ham on Sunday so it's my turn to moan now rather than the big boys.
"We have a very difficult week ahead of us and I just hope we have enough men to cope."

Nicky Butt spoke about this game and our next fixture:

"It's going to be a test of our character on Sunday, although we can't dwell on losing this game for too long. We have to move on and show how good we are at the weekend. I'm sure all the former Newcastle boys will be desperate to prove a point. When you return to your old team, you always want to prove people wrong, I'm sure they'll want to do that but we have enough quality in our team and hopefully this will be the kick up the backside we need. Teams lose games. Obviously we're disappointed but we have to put things right against West Ham. They have a few lads that we know well.
"It's one of those games that we're going to have to put behind us and move on. We didn't play anything like we should have done, but hopefully it's just a blip and we can still move forward. We put some pressure onto them but we weren't at the races from the word go. The most important thing is that we don't make this worse. We'll have to have a look at the video, analyse what we've done wrong and move on from there.
"We'll find out if it was one of those nights or not when we play the next game, but hopefully it was. We weren't at the races from the word go and we didn't do anything that we wanted to. Hopefully, we can put it behind us and move on. It's all we can do really.
"I don't think you can say we deserved to win. To be honest, I don't even think we deserved to get a point. They came at us and tried to spoil is, we gave them something to hold onto and they held onto it for the rest of the game. For us just to have one shot on target is very disappointing given the talent that we've got.
"I think the game was a bit of an embarrassment to be honest. No disrespect to Derby, but they're not one of the top guns. We didn't prove ourselves against them though and we've only got ourselves to blame for that. It's doubly disappointing because we started the season well and we could have got ourselves up at the top of the table if we had done well against Derby. It wasn't to be. We didn't play well enough to get any points so we have to congratulate them.
"You would think we would have had the players to have been able to cope with what Derby threw at us. We have enough quality to be able to handle a team that works hard against us and never lets up. We didn't do that though. I can't think of one player that played anywhere near the level that they are used to."
Rams Boss Billy Davies commented:
"It was a special goal, a wonderful strike from an instinctive striker.
"Kenny is an infectious character around the training ground and on the pitch, and I am sure he is going to be a great asset to this club.
"He scored a great goal but his performance was about more than just the goal. He showed great passion and commitment.
"I was not concerned at all and I have been saying it will take us time to find our feet.
"We have taken one or two punches in the face to wake us up.
"How much belief will the win give us? It is a great three points and a great performance against a team that was unbeaten and will be challenging for a top-six finish.
"Newcastle have some extremely good players but we caused them a lot of problems.

"We worked hard, played with pace and defended very well. We were good value for the win. We could have scored four or five.
"I am delighted with the first win but more importantly the way we played.
"Kenny is still struggling a bit for match fitness. I said to him at half time he had to let us know how he was because we did not want to push him too far but it was nice to get as much as we did from him.

"He is what he is. He's an international striker and he's scored goals at every level.
"He has the ability and the pace we need. We identified plenty of other players and we are disappointed we haven't got one or two more but that is for very different reasons.
"I'm certainly delighted to have Kenny."

Former Magpie Andy Griffin added:

"Derby got the result, but unfortunately it was against my old club,

"I'm not happy that I've got one over on my old club – far from it. I have no animosity against Newcastle – I loved it up there and I couldn't speak more highly of the people up there and the football club.

"I enjoyed it and I wish them good luck and I hope they bounce back.

"We knew it wouldn't be easy. You look at the team sheet, and then you look at the bench, and you know they have quality throughout. Newcastle's sides have always had quality players.

"Hopefully, the good times under Sam Allardyce can arrive at the club again. It would be great to see them back in the top three or four.

"At this point in time, though, it's disappointing for them. Hopefully, they'll bounce back, and I think they can do that with the quality they have in the team."

Newcastle's suffered their first competitive defeat of the season at the fourth time of asking (fifth including the Carling Cup victory).

Toon @ Pride Park - Premiership Years:

2001/02 Won 3-2 Robert, Dyer, LuaLua
2000/01 Lost 0-2
1999/00 Drew 0-0
1998/99 Won 3-4 Speed 2, Ketsbaia, Solano
1997/98 Lost 0-1
1997/98 Won 1-0 Tomasson (LC)

Total record against Derby:

P

W

D

L

F

A

SJP

53

27

13

13

87

56

BG/PP

54

18

14

22

72

77

League

107

45

27

35

159

133

SJP

(FA)

5

4

1

0

15

6

BG

5

0

3

2

6

11

SJP(LC)
0
0
0
0
0
0

PP
1
1
0
0
1
0

Cup

11

5

4

2

22

17

Tot

118

50

31

37

181

150
Debuts for Abdoulaye Faye and Habib Beye, take the total number of players to have appeared for us in the Premiership to 136.

Three live Premiership games on Setanta so far this season and we're yet to win one.

Waffle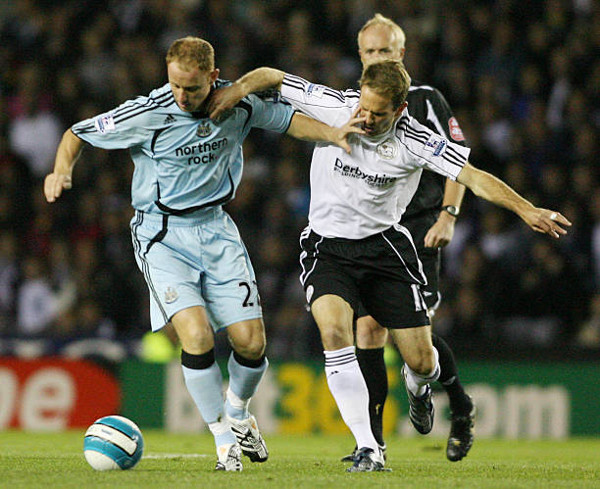 In equal parts predictable and frustrating, this Monday night torture left Toon fans in the ground and watching on TV bemused, becalmed and more than a tad peed off as our decent start to the season melted away.

A non-performance that was an unwanted return to the flawed administrations of messrs Souness and Roeder gave Allardyce plenty to chew over, as the team selected misfired in a game that they had been widely tipped to win.

The ingredients were there - opponents who had failed to win a top-flight game since their return and were coming off the back of a six goal howking. An old boy (Andy Griffin) in the ranks and a self-confessed Magpie nut (Durham-born Steve Howard).

For our part there was the nation's favourite striker fresh from his cantering round Wembley and giving TV viewers a glimpse of his wonderful life the previous day, as football writers fell over themselves to pen "back and better than ever" missives.

And for the manager, there was a first taste of life at this club when things don't go to plan - cue the expected "honeymoon over" lines.

In the event "Fred West" didn't maim anyone and the boyhood fan missed two golden chances to get off the mark in the top flight and have something to tell his bairns about in years to come.

But debutant Miller provided the difference between this being a scoreless draw with a goal that, while not quite in the same class as his fellow Scot McFadden's recent high-profile effort, was still a stonker.

While our stylistic shortcomings will be picked up by many, what will have depressed Sam as much as his injury tribulations was the fact that his side didn't want this as much as the Derby lads - all the fancy diets and conditioning programmes in the world won't give players an appetite.

Those who labelled us as a Bolton clone this evening were off the mark, failing to appreciate how disorganised we were - physically intimidated and inert from set pieces.

Once the initial anger subsided though, a sense of proportion hopefully returned ahead of the visit of West Ham and trips to Arsenal and Manchester City - a big week in anyone's calendar, with an important Cup avenue and two of our supposed rivals in the revivalist stakes. Not the time to go off-message.

Pride Park cometh before a fall then? From the South Stand that viewpoint seemed to have some validity, certainly when considering the non-displays of Owen and Ameobi.

The booing that accompanied the departure of the latter from the field was more an expression of frustration with Ameobi - Owen certainly wasn't at the races, but Shola was bloody dreadful - more the performance of a man giving up rather than straining to win a regular starting place.

Big man, little man may be his desired front pairing, but Sam has seen now first-hand that Ameobi doesn't punch his weight. Frankly, we could have done better up front by going four junctions down the M1 and taking Carl Cort from Leicester back for one night.

Things went from bad to worse when the second half brought no discernible improvement and even less to worry Bywater in the Rams goal, with Martins no better than what he replaced.

Bewildering substitutions seemed to confuse those brought on and left on in equal measure, with alleged contract rebel Taylor uncomfortable when trying to push forward from right back and the deeply concerning sight of Rozehnal trying to make the plays.

So, a bad night at the office/races/dogs/whatever, but no more than that - and hopefully a timely hoof in the derriere.

However, a quick refresher of our reports this season to date brings forth some familiar issues that remain to be addressed.

The square peg/round hole scenario still applies to both N'Zogbia and Smith, the former unable to provide an alternative to Milner's flank work and the latter exhibiting his frustration at being moored in a no-man's land of a position by launching into opponents to earn yellow cards.

The enforced Geremi/Butt pairing still echoes the Parker/Butt mismatch of last season - with a handy reminder of the lack of current options in that area coming in the shape of Pattison sitting on the bench, while defenders were brought on to try and turn round a deficit.

Beye and Faye's first taste of life in Toon was nothing to savour, but at least they've now started the process of integration with their new colleagues - something that Enrique needs to do.

Still the earliest of early days then, with so much remaining to be done in terms of moulding the raw material brought in at regular intervals up to seventeen days before this game. It's fair to say that the cement is still wet.

Sunday promises to be very interesting - not so much for the easy lines of returning ex-Magpies but more for the behaviour of the home fans if things don't instantly come good.

The sweeping changes at this club were never going to instantly bring about the success that we all crave - in the same way that the new eras at Villa, Man City etc. have seen and will continue to see good and bad days.
In the bonkers world of the Premiership, three bad results next week would see a welter of negative headlines about Allardyce, Ashley, Owen and all the rest.

But just because over-paid clowns let loose on keyboards and microphones will relish swiping at us, there's no reason for those who follow this club to go along with the knockers.

For better to try and remain in positive mode - not giving underachievers and shirkers an easy ride, but acknowledging effort and providing encouragement.

The clue is in the word - supporters.


Biffa