Date: Sunday 23rd September 2007, 1.30pm
Live on Sky

Venue:

St. James' Park



Conditions: Surprisingly pleasant.





Newcastle

West Ham United

3 - 1

Teams
2 mins Milner laid the ball back to N'Zogbia who sent over a cross that Mark Viduka met with a superb header to thunder past Green into the bottom corner of the Leazes net. 1-0
32 mins A bit of head tennis wasn't dealt with and when Cole flicked it in, Dean Ashton crashed the ball past Steve Harper with a hip-high volley. 1-1
41 mins Charles N'Zogbia latched on to a David Rozehnal clearance and beat Lee Bowyer before providing another perfect cross from the left that Mark Viduka converted via both shins. 2-1
Half time: Newcastle 2 West Ham United 1
76 mins Martins looked to have done too much down by the byline but was still able to squeeze the ball across the six yard area from the left for Charles N'Zogbia to tuck home. 3-1

Full time: Newcastle 3 West Ham United 1
Sam said:

"It was a great return at St James' Park with three goals, which we have not seen for a while – apart from pre-season.

"The performance at times was a little patchy, but in the end it was capable of overcoming West Ham. There were excellent performances throughout the team, starting with Steven Harper.

"The back four in general kept an attacking West Ham side, which had scored three goals in their two previous games, reasonably quiet.

"Then in midfield Nicky Butt, in terms of how he broke up the opposition attacks and kept driving us forward, was excellent.

"Mark Viduka's two goals were excellent and Charles N'Zogbia, in terms of getting forward and moving up one position, was great.

"We paired Alan Smith and Obafemi Martins up front when Viduka and Owen had to go off, and we did not look any worse then.

"It was very encouraging from that point of view. There were Habib Beye and Jose Enrique and their first tastes of the Premiership.

"From that point of view – with players getting to know each other and getting to know the Premier League – it was a terrific result.

"We have 11 points on the board from six games, and it is a terrific start.

"This is not just a good result for us, it is a great result to get our confidence going, and we will look forward to tomorrow night and the Carling Cup tie at Arsenal.

"The one for Mark Viduka in the early minutes was a good goal but we seemed to sit back on that. I'm finding out about the team. This can only get better from a defensive point of view.

"We needed a bit more width in the second half, we did that and finally got a great result.

"We bounced back after the disappointment of Derby."
Alan Curbishley commented:
"We're obviously disappointed because we thought that we could've got something and should've got something from the game. And if we'd applied ourselves a bit better against Newcastle United, then we would have done.

"To be honest, I felt that the scoreline was a bit harsh on us in terms of the overall match but our defending obviously cost us dearly.

"There are certain situations that you just can't afford to get yourselves into, especially when you're away from home and getting caught in your own penalty box with only two minutes gone is exactly one of those.

"After that, we had to work very hard to get back into the game and, once Dean Ashton equalised, I thought we were the better side but three or four minutes before half-time - just when we were looking to get back into the dressing room to sort one or two other things out - we gave away a poor second goal.

"There was a big hole in our full back position and, although we had three men in our penalty area, Viduka still managed to get the ball, despite being the only Newcastle player in there with them.

"Lee Bowyer's late shot might have turned the game if he'd made it 2-2 before they tapped home their third goal from two yards out. You just can't defend like that.

"We've been beaten 3-1 yet I can't remember Robert Green having to make a decent save for us.

"Deano still needs more football but when you compare his performances against Newcastle and Middlesbrough to his first start of the season at Reading three weeks ago, then you can see the difference in his fitness levels. We've had to handle Dean in a similar fashion to that of Michael and, fortunately, he's having an injury free run at the moment.

"Thankfully, he's not had any setbacks like Michael and, after coming through pre-season, he's now looking stronger and stronger. Deano spent the summer concentrating on the fact that he needed to get through pre-season to give himself a base and we're really pleased for him, right now.

"Dean's been out for a year and a bit and he's just happy to be back playing at the moment. We've not even discussed his chances of getting a call-up for England because we're not looking any further than just getting him through matches for West Ham United.

"Steve McClaren and his people have been to our recent games and they would've all seen that he's getting himself stronger and sharper, so we'll just have to wait and see.

"Anything can happen in this game and things can change so quickly. Only yesterday, I had two players - Scott Parker and Craig Bellamy - whom we thought would be involved against Newcastle and, all of a sudden, they were pulled out of the squad after our final training session.

"Like other teams, we've been dealt a few blows on the injury front - that's not an excuse - but we have been particularly hit and that's how it is for us at the moment.

"The losses of Julien Faubert, Kieron Dyer, Parker and Bellamy have been big losses for us but other players have come in and have got us where we are in the Premier League and it wasn't lost on us that the winning team was going to push into the top four or five in the table.

"Unfortunately, we just didn't have enough against Newcastle and we're down because we haven't taken anything to keep our run going. On the face of it we should have got something but at the end of the day, Newcastle probably deserved it because they defended better than us."

There was a Premiership debut for Jose Enrique, who becomes the 137th player to have represented the club in that competition.

Charles N'Zogbia notched his eighth goal in our colours and maintain his record of never having finished on the losing side when scoring (six wins, two draws).

That goal put him ahead of a fellow Frenchman former occupant of the number 14 shirt, one David Ginola, who managed seven strikes during his time on Tyneside.

With a new contract and a debut for the U21s, the 21 year-old looks to have put a miserable 2006/07 season well and truly behind him. Not sure about his new barnet though....

Hammers in Toon - Premiership years:

2007/08: Won 3-1 Viduka 2, N'Zogbia
2006/07: Drew 2-2 Milner, Solano
2005/06: Drew 0-0
2002/03: Won 4-0 LuaLua 2, Shearer, Solano
2001/02: Won 3-1 Shearer, LuaLua, Robert
2000/01: Won 2-1 Cort, Solano
1999/00: Drew 2-2 Dabizas, Speed
1998/99: Lost 0-3
1997/98: Lost 0-1
1996/97: Drew 1-1 Beardsley
1995/96: Won 3-0 Albert, Asprilla, Ferdinand
1994/95: Won 2-0 Clark, Kitson
1993/

94:

Won 2-0 Cole 2
Waffle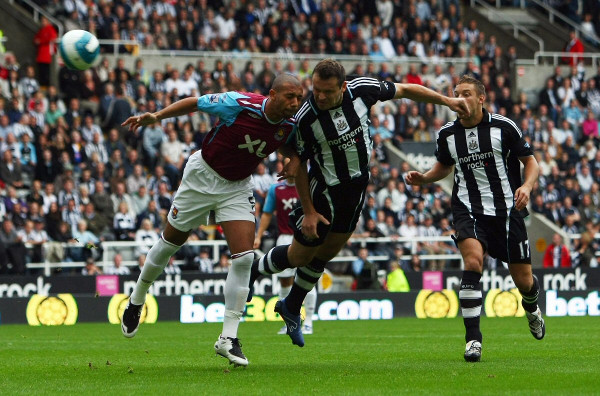 This can ultimately be seen as a vast improvement on Monday's wretched muddle, although Allardyce was rightly careful to stress that much potential remains to be realised from his side.

But while we employed a back-to-basics approach, that thankfully proved to be more than a one-dimensional attempt at pinging the ball off Viduka and seeing where the fallout landed.

An early goal may have boosted the spirits of the home fans but it seemed to do more to encourage the visiting players than our own, with West Ham increasing pressure on our defence and scoring what was an almost inevitable equaliser given their dominance of play at that point.

Our failure to follow the ball out allowed West Ham to camp in our half and for a while we were firmly on the back foot and reduced to the occasional counter attack.

Some initial confusion over the role of N'Zogbia seemed to back up West Ham's targeting of our makeshift left back as a possible key to unlocking our defence.

However when the young Frenchman did venture forward to leave us numerically short in defence, his contribution was invaluable - even if both Smith and Milner at times looked to be trying to make similar runs and contest the same piece of territory.

As important as N'Zogbia's deliveries and Viduka's Sheareresque goalscoring display was the renewed efforts of Butt in the centre, who visibly looked to have upped his game while staying just on the right side of tenacious and may have moved ahead of Geremi in the pecking order for who plays alongside Barton in the coming weeks.

The vital goal of the afternoon and the turning point proved to be Viduka's scruffy second, when he thrust himself forward to ensure enough contact with the ball via his lower limbs to just divert it into the corner of the net.

That proved to be a hammer blow for the visitors that a trio of second half replacements failed to compensate for and that made for more comfortable viewing as Newcastle turned round to attack the Gallowgate.

Almost inevitably though we ourselves made changes that were enforced due to injury concerns.

At least though we were afforded the luxury of not only replacing Owen with Oba but also a central defender (Cacapa) with another (Taylor) and a third (Faye) on the bench.

Of Owen, the best that can be said is that his minimal contribution failed to divert us from our task and that others round him did the necessary.

Martins and Viduka regularly took positions on opposite sides of the field in second half in an apparent attempt to stretch West Ham and provide some gaps for the likes of N'Zogbia to exploit.

And although Martins dragged his chance wide when looking a certain scorer in the final seconds, for the second home game in succession he provided an assist courtesy of a by-line cross - underlining the beautiful simplicity and effectiveness of that sort of pass.

While we improved as the afternoon wore on, things really clicked into place in the latter stages when players adopted natural rather than assigned roles - Smith looking far happier when reinstated to an advanced central role and Zog having the legs to set the crowd roaring as he burst forward on the counter-attack.

An important part of that exercise in balance restoration proved to be the introduction of Enrique, who was allowed a first taste of the Premiership in decidedly happier circumstances than messrs Faye and Beye at Pride Park.

That same deceptive turn of pace that had been glimpsed against Barnsley was again evident and the lesson of dallying on the ball in the box will hopefully have been learned after one quick tongue-lashing (apparently in Spanish) from the multi-lingual Harper.

And on the other flank, the performance of Beye was encouraging with a couple of well-timed tackles and some forward forays that showed his confidence in taking on opponents - and getting back towards his own goal afterwards.

With none of our other misfits appearing, Bowyer did his best to show Newcastle fans what they were missing, but Harper thankfully blocked the one clear chance that the midfielder had to add to his tally of two goals already this season.

Had Bellamy been fit then Cacapa and Co. may have endured a more torrid afternoon, but that's by no means certain given our renewed confidence - Harper deserving of his place and Rozehnal also showing steadiness as he comes to terms with life in the Premiership.

Putting Tuesday's interesting diversion to one side, a similar sort of afternoon to this beckons on Saturday against another side with lofty aspirations - when for the first time we may actually be able to field a side of players in their dedicated positions.

On that basis alone, we've not done badly so far.
Biffa