Date: Tuesday 25th September 2007, 7.45pm

Venue:

Emirates Stadium



Conditions: dry and mild

Admission: £10

Programme: £2





Arsenal

Newcastle United

2 - 0

Teams
Half time: Arsenal 0 Newcastle 0

83 mins Totally unmarked, Danish striker Nicklas Bendtner powered in a thunderous header from Armand Traore's left wing cross 0-1
89 mins Brazilian midfielder Denilson finished the job with a fine right-footed strike from the edge of the box - his first senior goal for the Gunners 0-2
Full time: Arsenal 2 Newcastle 0
Sam said:
"I'm disappointed that we have lost, but more disappointed that we were forced to play this game in the first place so soon after Sunday. What we got in the end was a fatigued set of players who couldn't run anymore.
"As good as Arsenal were on the night, we were difficult to break down. In the end we were victims of the situation we were put in and they finally capitalised on that. Our legs ran out and the players fatigued badly in the last 10 minutes. I couldn't have asked for any more from them in terms of work-rate – they just couldn't give any more in the end.
"We're out of the competition and that's a telling factor. Five or six of my players had to play a full 90 minutes after playing 90 minutes on Sunday. Some of Arsenal's players didn't even play on the Saturday.
"We tried to get the game changed but ran into a brick wall. I don't know why we couldn't play on the Wednesday night the same as Tottenham. I believe the police said we couldn't. That wouldn't have happened in the North-West and I believe they have more police down here.
"We can't control the timing of the game, but the other thing we are disappointed with is that Oba is not sitting here with the match ball. Those three gilt-edged chances were the reason we didn't take it into at least extra time.

"Even though we didn't pass the ball very well, I thought we contained them. We knew Arsenal would pass the ball about well, they've got all the experience now and they're a slick team.
"For Arsenal, this competition is fourth on their list, but for us it's a high priority. Drawing Arsenal away is hard enough anyway, but to do so under these circumstances has contributed to our defeat. Not all of it – we contributed ourselves with the chances we missed – but it was definitely a factor."
Arsene Wenger commented:

"I have strength in depth, if you look at the players who did not play tonight and you add the two teams. We did not play against an average team, we played against Newcastle.

"We have shown technical maturity and looked strong in every department. With this team we can have a chance against anybody.
"The game was of the same level we played recently with the players who did not feature tonight, and with a style of play and continuity. We have wave after wave of generations of young players. We work with them and when they come in, they show top quality.

"We have a group of good quality, very young players. All of them can play on a regular basis in the first team.

"I thought it was a very good game of very good pace. In the first half Newcastle defended very high and slowly we took over, and in the second half it was all us. Many times we should have scored a goal and didn't, but we were good and intelligent - and I like that. We didn't make a rushing mistake, going all forward and getting caught on the counter-attack.
"I must say the game was of the same level that we have played recently, with the players who did not play tonight. You see that the style of play - there is a continuity there and we have all kinds of good players in every position.
"It's not a coincidence that I play Song at centre-back because he's got all the ingredients to play in there, Fabianski will be a great keeper and Diarra for his first game has done well. I think Bendtner tonight was top quality as well - he's nineteen years of age! His presence in the game was great. We have a small group but of very good quality, and very young.
"All of them, for me all of them can play on a regular basis in the first team. You see a player like Armand Traore, he's 18! Just at left-back, the power, going forward, the crosses.
"Diarra is ready to play at that level without any problem. We got him and I must say for much less than was announced in the papers. Just two-million."
"It's just the beginning of the season, we have to show that we are consistent through the whole season at that level. I feel what is the big strength at the moment in my squad is a big togetherness, good camaraderie, everybody is on the same wavelength.

"With a young team it's not easy to keep that."
This was our 119th match in the competition, with the Magpies recording 52 victories and now 49 losses. Goals for currently stands at 183, with 156 conceded.

We've only scored in the first half twice in the last eleven League Cup games but we've not conceded a goal in the first half in our last eight runouts in this competition.

We've now failed to win any of the ten matches (not ties) we've played in London* since a 3-1 victory at QPR en route to the 1976 final (a draw at Orient; losses at Chelsea [twice], Wimbledon [twice], Arsenal [twice], Spurs, Fulham and of course that final defeat against Manchester City).

(* Watford deemed as being
not
in London before the pedants write in)

Magpies @ Gunners - Premiership years

2007/08: Lost 0-2 (CC)
2006/07: Drew 1-1 Dyer
2005/06: Lost 0-2
2004/05: Lost 0-1
2003/04: Lost 2-3 Robert, Bernard
2002/03: Lost 0-1
2001/02: Lost 0-3 (FAC)
2001/02: Won 3-1 O'Brien, Shearer, Robert
2000/01: Lost 0-5
1999/00: Drew 0-0
1998/99: Lost 0-3
1997/98: Lost 1-3 Barton
1996/97: Won 1-0 Elliott
1995/96: Lost 0-2 (LC)
1995/96: Lost 0-2
1994/95: Won 3-2 Keown og, Beardsley, Fox
1993/94: Lost 1-2 Beardsley

Since the 1952 FA Cup Final victory, we've now failed to beat Arsenal in all five domestic cup ties (six games):

2007/08 lost 0-2 (a) LC
2001/02 lost 0-3 (a) FA
2001/02 drew 1-1 (h) FA
1997/98 lost 0-2 (n) FA
1995/96 lost 0-2 (a) LC
1971/72 lost 0-4 (a) LC
1951/52 won 1-0 (n) FA
Total record against Arsenal:

| | | | | | | |
| --- | --- | --- | --- | --- | --- | --- |
| | P | W | D | L | F | A |
| SJP | 74 | 40 | 16 | 18 | 136 | 81 |
| Hbury/Em | 74 | 21 | 17 | 36 | 80 | 119 |
| League | 148 | 61 | 33 | 54 | 216 | 200 |
| SJP(FA) | 2 | 0 | 2 | 0 | 4 | 4 |
| Hbury/W/Stoke | 7 | 4 | 0 | 3 | 7 | 9 |
| SJP(LC) | 0 | 0 | 0 | 0 | 0 | 0 |
| Hbury/Em | 3 | 0 | 0 | 3 | 0 | 8 |
| Cup | 12 | 4 | 2 | 6 | 11 | 21 |
| Tot | 160 | 65 | 35 | 60 | 227 | 221 |
Waffle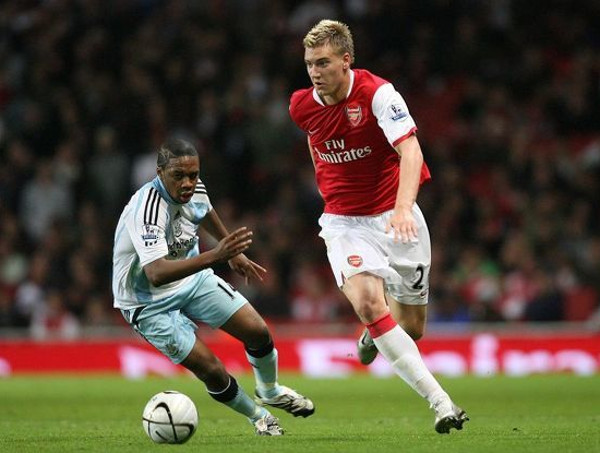 Well, whatever Sam's secret formula for beating Arsenal was, he kept it to himself or failed to make his current charges understand exactly what was required of them.

Back in his Bolton days, Allardyce had manage to ruffle Wenger's feathers on more than one occasion as organisation and brawn won out against craft and subtlety.

But in the same way as the Trotters look a shadow of their former selves without him (allowing for those who believe the Reebok rot set in months before Sam actually left), then whatever our game plan was tonight got no further than the tactics board in the away dressing room.

Whether that was before the game or at the interval depends on your point of view: a first half display of containment that kept the home side relatively quiet wasn't great to watch, but left us more than alive in the tie.

However the tempo and urgency of Arsenal quickened from the outset after the restart - Given called upon to make two quality stops in as many minutes and N'Zogbia heading another effort off the goal line.

And with thoughts of a breakaway winner still in optimistic minds but the prospect of extra time and penalties looking more likely, two late breakthroughs brought a semblance of truth to the scoreline and allowed chin-striking pundits to chunter on about young guns going for it.

Had Martins taken either of his first half chances or provided an instant response to the opening goal by converting another one-on-one chance, this match could have deviated from the seemingly inevitable script.

For the pick of them though, he went for placement rather than the power that failed to see him score on Sunday, with Senderos able to get back to hook the ball away short of the goal line.
And in general, things were a mite too well-intentioned from the side clad in their Argentina knock-off shirts - no wise old heads capable of providing the Wenger youth with some new challenges.

That man could have been Viduka, whose physical presence could have given the home side something to reckon with and his colleagues something to aim at.

Instead though it was left to Martins to wage a solo war, deprived of support and habitually surrounded by a trio of defenders - Ameobi and Smith off the map while Milner and N'Zogbia contributed little and looked fatigued.

Had Arsenal taken an earlier lead then it could make seen a reshuffle, but our 4-5-1 setup was retained right to the death, regardless of some second half switches in personnel.

And on a night when chances were at a premium, we failed to play an enlightened enough game to pressure the home side - winning few free kicks and wasting those and the corners with poor deliveries.

At the end, all the travelling fans were left with was another battle with public transport while contemplating the seemingly-obligatory premature exit from this competition that every Newcastle manager since Gordon Lee has presided over. The faces and places may change, but habitual disappointment remains.

Trying to take some positives from this evening, now that reserve football is deemed a waste of time for aspiring first teamers, we at least managed to give Enrique more pitch time to adjust to his new surroundings.

There was also a rare sighting of Emre - who certainly hasn't wasted away while he's been sidelined, but who still looks like been beaten back into the team by Barton, who wasn't named on the bench tonight but was stripped and joining in with pre-match and half-time warm-ups.

And we at least avoided a further 30 minutes of play and the chance to take our injured list into double figures as the rigours of playing Sunday/Tuesday started to take their toll. However, Shay Given would doubtless have relished the chance to emulate Harper's spot kick heroics one year on.

This competition may now be taken more seriously by our players, but there remains precious little evidence that supporters should alter their age-old attitude of indifference, as once again we were beaten by the first half-decent side we were drawn against, regardless of whatever age their players were.

Same old League Cup, always losing.


Biffa