Date: Saturday 29th September 2007, 12.45pm
Live on Sky

Venue:

City of Manchester Stadium



Conditions: Sky blue skies

Admission: £27 for a third consecutive season

Programme: £3





Manchester City

Newcastle United

3 - 1

Teams
29mins Geremi lofted a pass to Obafemi Martins who controlled the ball superbly with his left foot and then dispatched it over the onrushing Hart with his right in the same movement 1-0

38mins Elano played the ball inside the out-of-position Charles N'Zogbia to Ireland down our left. He raced into the box and crossed low to Petrov who arrived late and unmarked at the far post to drill a low shot under Shay Given. 1-1

Half time: City 1 United 1

47mins With Habib Beye upfield, Nicky Butt nodded the ball back to N'Zogbia but Zog's weak header to Steven Taylor fell to Petrov down the City left.

Taylor failed to keep up with Petrov despite being on the shorter "inside track" and when the cross came, Mpenza stooped to head back across Given. We had more than enough players to deal with the attack, but their positioning was collectively atrocious. 1-2

87mins Butt mis-controlled but was still able to poke the ball to Beye who laid it back to him. However, the former Red Devil then carelessly gave it away to Petrov before recklessly fouling the Bulgarian, Petrov choosing not to make more of a stray elbow from Butt.

Elano stepped up and hit a perfect free-kick from 25 yards that absolutely screamed into the top corner. Stunning, frankly. 1-3

Full time: City 3 United 1
Sam said:

"We committed defensive suicide. All our defenders have to do is clear the ball back up the pitch for Mpenza's goal and we just didn't.

"After that, they contained us and played on the break, which was exactly what I had asked my players to do.

"We got ourselves into a position to win the game thanks to Oba's great goal and we could've won of we had contained Man City.

"As it is their second goal less than two minutes after half-time has killed us because after that they have sat deep and made it hard for us.

"Our away form has begun to slip a little. We won at Bolton on the first day of the season and then drew at Middlesbrough which was a game we should have won having led twice.

"But then we lost at Derby, Arsenal and now Manchester City so we've got to put it right.

"I just thought that on his Arsenal performance it was the right thing to put him (Shay) back in. It was a really difficult decision. If ever a player did not deserve to be dropped it was Steve, but I went with my gut feeling.

"Elano's goal was wonderful, but the first two goals we conceded were suicidal. The second right after half-time was a real mess-up and you get desperate as time goes on and you throw people forward.
'There was a lack of understanding, but we will just keep working on that. We need to make everyone more and more aware of the demands the Premier League makes
ďWe have too many experienced players injured and thatís a problem that has faced other managers here. We have got to find a way of keeping them fit.Ē
City Boss Sven-Goran Eriksson commented:

"This team is very good, and when the lads play more games together, they will get even better. It's good and I like to see them play football.
"It was a very good performance, so I'm very happy and we could have scored more goals. I'm thrilled at the good football. I hope we can do even more.
"I always said that we are a good team. The players are all starting to speak English as well. I like to see them play good football because they can do it very well.
"You could have given the Man of the Match to so many different players because they all played well. The more we play and train together the better we will get because we can do more tactical work.
"The players are young and hungry and the new ones we have brought in love the Premier League. If we go on playing like that, I'm sure we will have an excellent season.

"Itís always easier to be the manager with good football players as long as they want to work as a collective. A lot of them are good footballers, but they want to do the work, which is very important. And they donít try to get the ball and dribble past five players, they play football.

"Iíve had Baggio, Mancini, Gullit, you say OK, give them the ball and something will happen. Your life is much easier if you have these players because they do things normally that you canít coach. Itís like the DNA in them. They are clever.

"Elano is a great footballer. He has to be to play such an important role for Brazil. If he wasn't, he would not get into the team.

"When he first came here, he was a long way off being 100%, but he is getting stronger and every time he gets the ball, you have a feeling something will happen."
City v United - Premiership Years:

CoM Stadium:
2007/08 Lost 1-3 Martins
2006/07 Drew 0-0
2005/06 Lost 0-3
2004/05 Drew 1-1 Shearer
2003/04 Lost 0-1

Maine Road:
2002/03 Lost 0-1
2000/01 Won 1-0 Shearer
1995/96 Drew 3-3 Albert 2, Asprilla
1994/95 Drew 0-0
1993/94 Drew 1-1 Jeffrey (League Cup)
1993/94 Lost 1-2 Sellars
Waffle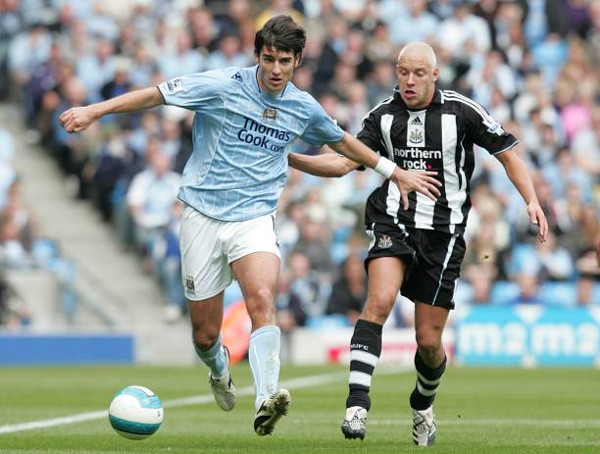 Three away games and three variations on a theme, but ultimately a trio of disquieting performances to pick over, two of which highlighted our shortcomings for a TV audience.

Having fallen behind at Pride Park we proved unable to rouse or reorganise ourselves, before succumbing to late pressure at the Emirates after singularly failing to take the initiative.
And here at this converted athletics track we produced the footballing equivalent of dropping the baton, after Martins netted with a chance requiring greater dexterity than those recently missed.

What happened after that owed much to the organisation and potency of a City side who have been reborn after spending even longer in the doldrums than our lot and seemed to take their cue from a Keegan "Entertainer's" blueprint rather than his England successor.

We can't help thinking though that there was more than a hint of prior planning based on Sven's own observations or Tord's jottings from our recent outings in the Allardyce era.

As well as providing us with a timely reminder of the benefits of attacking with pace, attacking down the flanks and getting to the byline in possession, City also ruthlessly exposed the folly of our selection and tactics.

On one side we were made vulnerable by Smith's nominal right midfield spot that in reality was a roving brief that benefited nobody and exposed Beye horribly.

And on the other flank, N'Zogbia's continuing occupancy of the left back spot at the expense of Enrique (and our attacking flair) was also spotted and exploited in the same way that Ramage had been across the city a couple of seasons ago.

Although that Jorman we once had (and Allardyce signed for about twenty minutes at Bolton) was in receipt of the usual fiscal abuse, our twin tormentors were new faces Petrov and Elano.

The former had the legs on Taylor despite being seven years his senior, while the latter rounded off a fine display with the best free kick seen since Laurent Robert vamoosed - would that Smith could fill a central role for us in the same way as the Brazilian did for City. And pass the ball.

Substitutions were also as mysterious as at Derby, with Emre afforded a whole two minutes to try and inject some creativity into the void that was our midfield.

But as Allardyce admitted, the plot had been well and truly misplaced again by then - as it was against the Rams. I thought we weren't meant to do raggy any more?

However to lay all of the blame at the feet of the defence is only to tell part of the story.

Fans perhaps prepared to accept stylistic shortcomings at the expense of solidity are now starting to scratch their heads at the ease with which we lapse into panic/crisis mode and players become randomly scattered across the field as full time approaches.

Geremi seemed marooned in midfield as the game passed him by much of the time, while Butt's attempts to link up with the attack lacked nothing in effort but much in execution - almost cruel to watch and so patently not his natural game.

Up front there were hints of links between Martins and Viduka, but the Australian's flicks into the area were never close enough for the Nigerian (or anyone else) to seize on.

Meanwhile, Milner ploughed on fruitlessly and opted to dribble rather than shoot on goal in the first half when a chance opened up momentarily - unfortunately symptomatic of his current form.

Our line so far has been of the "too early to judge" variety" but that's starting to wear thin as the dark nights approach and the same issues repeat themselves.

While we remain in the position of being unable to field ten outfield players in their logical positions things don't look like developing much from this point - individual brilliance of the type shown today by Martins and Given, let down by collective errors and a lack of cohesive attacking strategies (and of course our usual hobbyhorse of set piece non-events).

There's a danger that too much expectation will surround the return of Barton to the fray - never mind Owen - but at this moment in time the form, fitness and mood of Emre and Enrique seem to be as vital as anything - and another yellow card for Smith to forcibly remove him from the equation.

This has never been a happy hunting ground for us, but playing like this we'll not enjoy many happy away days anywhere in the Premiership.

Talk about tiredness, talk about injuries, but don't forget that at this point in 2006 we'd played seven more games than this season and still maintained an interest in three cup competitions.

Allardyce remained in the North West to indulge in some Sky punditry at Goodison on Sunday - let's hope he's able to use his first-hand observations to good effect next weekend and lift his side, who are just starting to show signs of slippage.


Biffa