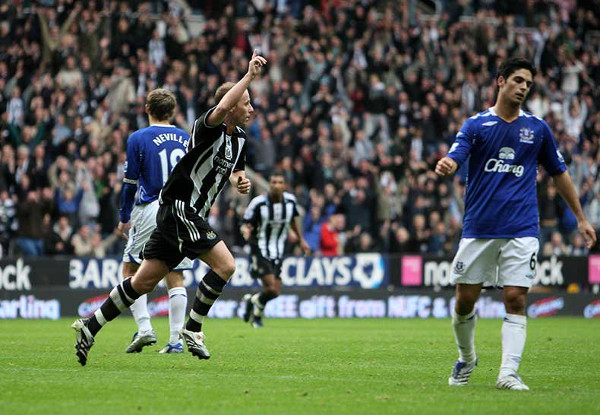 42 mins Alan Smith inexplicably elected not to shoot when well placed in the Everton box after being put in by Charles N'Zogbia. Smith's attempt to find Obafemi Martins was blocked, but the ball broke to Nicky Butt, who shrugged off an opponent before curling a fabulous effort into the top right hand corner of the Leazes net. 1-0
Half time: Newcastle 1 Everton 0
53 mins Former Toon target Baines outpaced Habib Beye and sent over a low ball for Johnson to get ahead of Jose Enrique and force over the line from close range. 1-1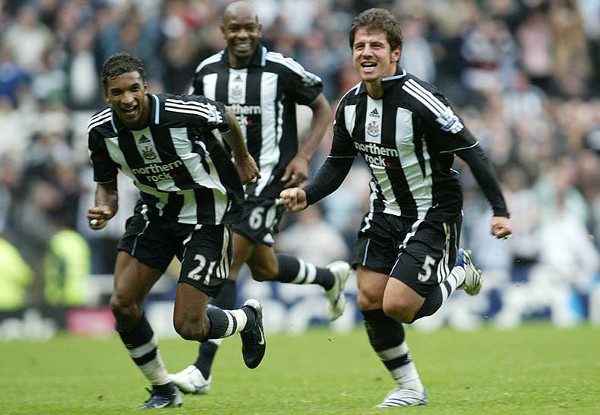 86 mins Owen's half-cleared cross dropped for Emre outside the area and the Turk lashed an unstoppable grass cutter into the bottom corner of the net before embarking on lavish celebrations with fans and colleagues. 2-1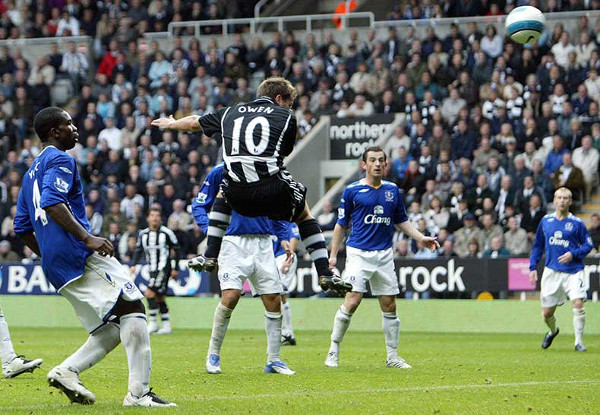 90 mins Almost before Everton had regrouped Emre was at it again and his swooping free kick from the left flank was converted by Michael Owen. TV replays showed that he actually missed with an attempted header, but saw the ball glance in off his shoulder. 3-1

92 mins The few away fans still in their places celebrated as Arteta's cross deflected off Smith, deceiving Shay Given as it dropped down, ending up in the net via the 'keeper's hand. 3-2
Full time: Newcastle 3 Everton 2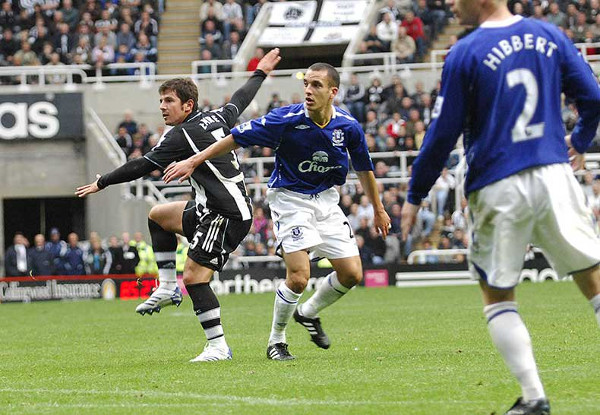 It often feels like we've made a pre-season pact with Everton to allow each other a victory on home soil. Obviously that's not always the case, they've sneaked the odd win at St. James' and we've had one or two wins at Goodison Park.
To be honest, it was a deal I'd have happily entered into as kick-off approached. To me a win today seemed as vital as a defeat would have been critical - it was certainly an important day for Sam's new side.
A defeat to another outfit, who like Manchester City must be seen as realistic rivals, especially at home, might have been a hammer-blow to our season, coming on the back of the defeats at Eastlands and the Emirates.
However, a victory over an in-form Everton would halt the slide and send us into the international break with renewed optimism. Thankfully it was the latter.
Late goals from substitute duo Emre and Michael Owen helped us to a victory that had looked a tad unlikely after Everton's own replacement Andy Johnson had levelled early in the second half.

Nicky Butt's first competitive Newcastle goal at SJP had given us a half time lead on a day when Sam Allardyce handed first Premiership starts to Faye and Enrique.

That and the injury to Viduka allowed Smith to revert to a more orthodox forward role, while N'Zogbia moved from defence into midfield.

Cacapa returned from injury while new father Rozehnal dropped down to the bench, alongside fit-again Owen and Emre.

Having got off to a great start in our last home game when Viduka netted, Oba Martins homed in clear on goal in the opening stages of this one, only to screw his shot badly wide. Some journalists commented that they thought Martins looked a certain scorer, some of us thought he was sure to miss.

We continued to force the pace without causing Tim Howard too many problems, with his own man Carsley coming as close as anyone when diverting Geremi's low centre inches past the upright.

The opening goal arrived just before the interval, Smith electing not to shoot when well placed in the Everton box after good work from N'Zogbia.

His attempt to find Martins was blocked, but the ball broke to Butt, who shrugged off an opponent before curling a fabulous effort into the top right hand corner of the Leazes net for only his third goal in our colours.

The visitors attacked at pace after the interval and soon had their reward when former Toon target Baines outpaced Beye and sent over a skidding low ball for Johnson to get ahead of Enrique and force over the line from close range.

For a while after that Everton seemed to fancy further goals and caused a few anxious moments in our defence.

The introduction of Emre and Owen from the bench wasn't without incident, with Geremi sprinting across the field in response to the raising of "20" number board - only to then realise it was for an opposition replacement.

Martins then left the field to a mixed reception which was either booing of him, booing of Owen (certainly some of that from the away fans) or booing of Allardyce for the decision to leave Smith on the field. Take your pick. Some even thought it was booing of Emre from the away fans after last season's racial abuse allegations, although the boos accompanied Martins' departure. Certainly there seemed to be more cheers than jeers for Owen as he ran on.

Emre tried to make an immediate impression on the game by taking Owen's flick and driving into the box only to fall under challenge - although penalty shouts seemed grossly optimistic.

Owen then saw his shot turned away by Howard and from the resultant corner the unmarked Butt got underneath the cross but could only head over the crossbar.

Salvation wasn't long in coming though for United, as Owen's half-cleared cross dropped for Emre outside the area and the Turk lashed an unstoppable grass cutter into the bottom corner of the net before embarking on lavish celebrations with fans and colleagues.

Almost before Everton had regrouped Emre was at it again and his swooping free kick from the left flank was converted by Owen - who TV replays showed actually missed his header but saw the ball glance in off his shoulder.
The TV re-runs also showed Lescott appearing to play Owen onside however, from my seat bang in line I thought he was marginally off. He tried to get onside as the kick was taken but couldn't get past his defender and then saw the ball was on its way to him.
His celebration was uncharacteristically stony-faced and his initial cupped-ear gesture looked to be a reaction to the boos which he may have misinterpreted and also the voicings of suspicion that he had recovered from injury in time to play for England.

It was Owen's third goal of the season in our colours - all of which have come at the Gallowgate End.

There was still time for the Moyes boys to somehow score another, the few away fans still in their places celebrating as Arteta's deflected cross deceived Given as it dropped down and ended up in the net via his hand.

In Sheareresque style though we saw out the remaining seconds as N'Zogbia took the ball into the Strawberry corner and ran the clock down successfully.

A game slightly flattered by the scoreline then, in a contest that certainly didn't deserve five goals, including two stunners, an own goal and three scored by subs within minutes of their arrival on the pitch.
But three goals in the last few minutes are always to be enjoyed, if only as another two-fingers up to the early-leavers.
Make no mistake, this was a vital victory and if we can get Michael Owen back from his England exploits in one piece then the next four Premiership fixtures all look winnable. Having said that, we're certainly just as capable of losing them all, although defeats at relegation-threatened Reading and the mackems would certainly unravel our season spectacularly.
It's been a two steps forward, one step backwards sort of a season so far but there are definitely signs of encouragement to make the disappointments just about bearable.
Niall MacKenzie