Date: Monday 22nd October 2007, 8.00pm
Live on Setanta

Venue:

St. James' Park



Conditions: Crisp.

Newcastle United

Tottenham Hotspur

3 - 1

Teams
45 mins The irrepressible and ever-pressing Obafemi Martins latched onto a punt upfield from Jose Enrique, Dawson missed his kick, letting in Oba who had time to take a touch before firing the ball through the 'keeper into the Leazes End net. 1-0
Half time: Newcastle 1 Spurs 0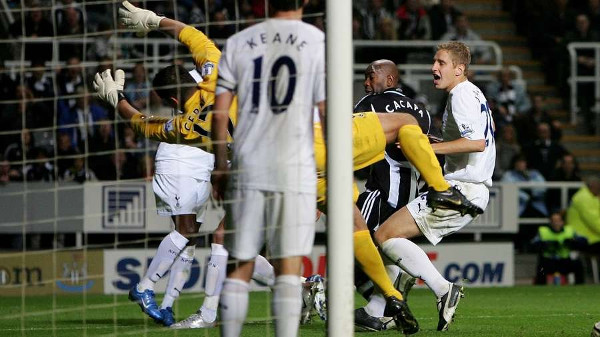 51 mins Emre's flag kick from the South West corner was powered into the net by Claudio Cacapa's head at the near post. 2-0
57 mins Robbie Keane, took advantage of Darren Bent's header rebounding off the post to sidefoot into an unguarded goal. 2-1
73 mins It was JJ who was at fault for the decisive third, allowing James Milner a second chance, after initially slicing a right-footed effort to rifle the ball left-footed into the Gallowgate goal. 3-1

Full time: Newcastle 3 Spurs 1
Sam said:
"I would say we're ahead of schedule. If we can win at Reading, we will be well ahead of schedule.
"We still have some big teams to come, we haven't played them yet. But Tottenham are a big side with big players, a club that has spent big money over the last four years, and we've beaten them comfortably.
"We've outplayed Tottenham, took three points and closed the gap in the table. We haven't moved, but we have got to within a point of the top pack. We have 17 points from nine games, it's the best start to a season here in more than ten years and I think it's all coming together."
"I only play winning football - I don't play anything else. If you think it's sexy, that's great.
"Three great goals, some superb football and excellent finishing - we're a side growing in confidence as we get to know each other a little better.
"But you can't just play off the cuff. They were playing without a game plan or a structure. You can't just let the players play how they feel they should.
"When things are going so bad, you have to attempt to take advantage of their lack of confidence
"Confidence drains when you score against the opposition and you could see their confidence drain when we scored.
"We conceded a bad goal and Tottenham seemed to lose their fear for a while, but they couldn't keep it up and we took advantage and scored three great goals.
"All in all, it was a terrific performance.
Goalscorer Cacapa added:
"I scored around seven goals for Lyon in my seven seasons with them, but none of them gave me as much pleasure as that one on Monday night and I really do feel that I can get more.
"It was a fantastic feeling and such an important goal for us, and I'm on cloud nine at the moment.
"This has been a great move for me, and I could hardly be happier at the way things are going.
"Most of my goals with Lyon came from headers from set pieces and we have some wonderful dead ball kickers like Emre, Charles N'Zogbia and Geremi, and both Abdoulaye Faye and myself feel we can knock in a few goals this season.
"Abdoulaye hit the post with a header in the first half on Monday night, but I was lucky that my effort went in and I'm sure I can improve on my scoring record with Lyon here at Newcastle."
Martin Jol commented:
"Yes we lack a bit of leadership.
"But if everybody is fit we have got a very good team and very good defence."
"You can go into any match with all the best intentions and gameplans but if you concede goals like we do you make almost impossible for yourself."
"Seventy per cent of the goals we have let in this season have been avoidable. We talk about set-pieces and everything like that but we need mental strength out on the pitch.
"I believe in the players but they are young and we need someone to stand up and pull the strings. Every match we make mistakes and we have to cut out that rubbish."
Also worth noting his pre-match comments:
"We had European football for the last two years and they didn't. Why would they [Newcastle] be in the same boat?

"It would be fantastic for them if they were in the first six or seven - playing European football next season would be a good achievement for them.

"We already did that twice so it's different. We are in the group stages of the UEFA Cup and they would love to do that as well."

"It's always about the end of the season. We finished above all the other teams including Bolton.

"The only conclusion you can make over the last couple of years is that teams like Aston Villa, Manchester City - they would be delighted to be in the top six."

Jermaine Jenas spoke pre-match about the "goldfish bowl" quotes that emerged when he left SJP in 2005:

"I have never ever said those famous words really but people believe whatever they want to believe.

"My main concern is Tottenham and I'm looking to going up there and trying to get the three points regardless of whatever stick I might get.

"You can use the stick to your advantage if you are that type of person.

"It was a great city and club to be a part of - we were very successful at the time.

"We had two top-four finishes as well as finishing fifth one year plus a good run in the Champions League.

"They were very exciting times, but I think the year that we didn't get into the Champions League and then went into the UEFA Cup was when things started to deteriorate a little bit."

Meanwhile, Setanta pundit Tim Sherwood was one of around 86 former Spurs players and managers who had their say post-match about the current White Hart Lane malaise:

"Look at Dimitar Berbatov. He will get you the sack as a manager. You want someone to come out and play for you.
"He's a brilliant footballer - but it's lonely when things don't go well but you need character there and I don't think they've got it.
"Berbatov is not happy if you ask me. He did take some persuading to warm up against Newcastle (Jol allegedly had to ask him three times). He could play in any side in the world when on form but I wouldn't want him round me in Spurs' position.
"Tottenham need people willing to fight for the cause and, on the evidence of the Newcastle game, he's not one of them. You cannot have players pulling in different directions in the dressing room.
"I'm all for giving managers time - but only if they are making progress and at the moment there are no leaders on the pitch and, more worryingly, no leaders off the pitch.
"Martin needs to show improvement.

It looks like they are doing nothing on the training ground to address their problems at the back.
"The only problem the board have is who they could bring in to replace him."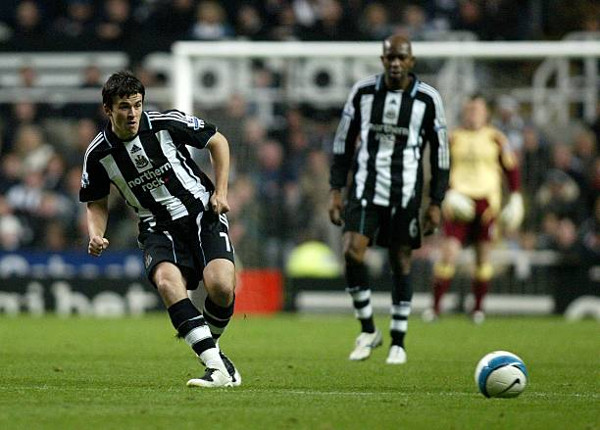 Joey Barton's belated competitive debut for the club saw him become the 138th player to represent us in the Premiership.

Newcastle's unbeaten home start to the season now runs to four wins and a draw (plus the League Cup victory), our best return at this stage since 1995/96.

United's feat of scoring three times in each of our last three homes was last achieved during Glenn Roeder's caretaker stewardship in April 2006, when Spurs (3-1), Wigan (3-1) and West Bromwich Albion (3-0) all got the treatment.
Spurs in Toon - Premiership years:

2007/08: won 3-1 Martins, Cacapa, Milner
2006/07: won 3-1 Dyer, Martins, Parker
2005/06: won 3-1 Bowyer, Ameobi, Shearer
2004/05: won 1-0 Kluivert (FAC)
2004/05: lost 0-1
2003/04: won 4-0 Shearer 2, Robert 2
2002/03: won 2-1 Speed, Shearer
2001/02: lost 0-2
2000/01: won 2-0 Speed, Cordone
1999/00: won 6-1 Shearer 2, Speed, Dabizas, Ferguson, Dyer (FAC)
1999/00: won 2-1 Glass, Dabizas
1998/99: drew 1-1 Ketsbaia
1997/98: won 1-0 Barton
1996/97: won 7-1 Shearer 2, Ferdinand 2, Lee 2, Albert
1995/96: drew 1-1 Ferdinand
1994/95: drew 3-3 D.Peacock, Gillespie, Beardsley
1993/94: lost 0-1
James Milner's strike saw the club register their 500th goal at SJP in the Premiership, fourteen years and two months after Malcolm Allen started things off against Everton.

We've played 275 home games to date and the 544 points amassed as a result came from 160 victories, 64 draws and 51 losses. In those games we've conceded 263 goals.

Claudio Cacapa became the 69th Newcastle player to score at SJP in the Premiership - with own goals accounting for 15 of the 500 total.

Andy Cole remains the most prolific home Premiership scorer in a season, with 22 in 1993/94, two ahead of Alan Shearer's best return of 20 in season 1996/97.

Cole's record was set though in a season when we played 21 home games, which had dropped to 19 by the time Shearer was always scoring.

NUFC - 500 Premiership home goals:

95 Shearer
30 Beardsley
29 Cole
27 Ferdinand
25 Lee
22 Solano
18 Ameobi
18 Speed
15 Bellamy
15 Own Goals
14 Robert
12 Dyer
9 Watson
7 Elliott, Fox
6 Albert, Cort, Dabizas, Ferguson, Glass, Kitson, Martins
5 Asprilla, Bowyer, Jenas, Ketsbaia, Milner
4 Barnes, Bernard, Clark, Emre, LuaLua
3 Allen, Bramble, Gillespie, Ginola, Howey, Hughes, N'Zogbia, Andy O'Brien, Owen, Parker, Sibierski
2 W.Barton, Beresford, Cordone, Gallacher, Griffin, Hamann, Mathie, D.Peacock, Sellars, Viduka
1 Acuna, Andersson, Batty, Bracewell, Butt, Cacapa, S.Caldwell, Dalglish, Domi, Edgar, Gavilan, Guivarc'h, Kluivert, Saha, Tomasson, Venison, Viana

Seasonal totals and top scorer(s) (home games only):

1993/94 51 (Cole 22)
1994/95 46 (Beardsley 8)
1995/96 38 (Ferdinand 16)
1996/97 54 (Shearer 20)
1997/98 22 (Barnes 4)
1998/99 26 (Shearer 9)
1999/00 42 (Shearer 17)
2000/01 26 (Cort 5)
2001/02 40 (Shearer 12)
2002/03 36 (Shearer 7)
2003/04 33 (Shearer 15)
2004/05 25 (Shearer 5)
2005/06 28 (Shearer 6/Ameobi 6/Solano 6)
2006/07 23 (Martins 5)
2007/08 10 (Owen 2/Viduka 2)
The NUFC Premiership away goals total currently stands at 315.

Waffle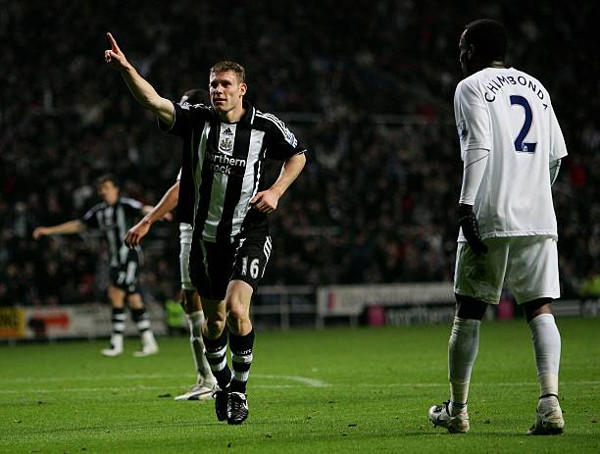 In stark contrast our last muddled Monday performance at Derby, we returned from international commitments this time looking confident, focused and in the mood to end what had threatened to become a Setanta hoodoo (three winless Premiership games in front of their cameras).

As well as our own quality though, we were abetted in the quest for a fifth successive home win in all competitions by the sheer ineptness of Spurs for most of the evening - who were nervous in defence and brittle in midfield.

It's been written before in these pages, but the boys from the Lane really don't seem to like it up the chilly end of the Great North Road.

Dark nights, dropping temperatures and hostile fans all play their part - it being surely no coincidence that two of their three Premiership wins here came when this fixture was in August.

Depending on ones' vintage, the appearance of certain clubs on Tyneside sets the pulses racing that little bit faster - in terms of the Londoners it's this mob that do it for us - never mind your Gooners, Hammers or Sheddites.

Whether it's some sort of repressed anger at the Waddle and Gascoigne departures, memories of bad days on and off the field in N17 or even just Chas and Dave, these buggers have got right up our nose since the days of Mark Falco and Mickey mackem Hazard.

It is therefore with special satisfaction that we can report that there was no doubt about the destination of these points from the moment Martins netted in those vital seconds before half time.

We'd come fairly close before then on a number of occasions, but without really giving stand-in 'keeper Cerny the opportunity to post a performance that ousted Robinson from his preferred status.

And if anything the two sides shared a common problem in being unable to put things together in the final third of the park - with our set pieces yet again not up to standard.

Happily we put that right early in the second half with a fine corner execution and conversion, just reward after we'd come out of the dressing room with clear instructions to build instantly on that first goal.

Martins and Owen as a pairing looked to work on opposite sides rather than truly in tandem - early days though for a duo that had only been seen previously last season against Reading and Blackburn.

For those who doubt the effectiveness of a so-called little man/ little man combo, may we summon up the fleeting glimpse of thrilling football that Imre Varadi and Alan Brown provided here a quarter of century ago - before we failed to convert the latter's loan to a permanent move and reverted to brainless hoofery.

Back to 2007 though and with Barton now on the scene, the opportunities for a genuine box to box midfielder to fill the void created by the runs of Owen and Oba are evident - although the events of November 22nd in a Manchester court may yet derail that particular train of thought...

Had we played Viduka we'd have been more reliant on quality crossing, which would have called the effectiveness of Geremi in a wide role into question, but the ability to give Milner and Zog a half each was the sort of luxury we've too often been without.

In midfield meanwhile, Butt was snapping at heels and spurring on his colleagues into harrying the visitors into a series of unforced errors and losses of possession.

That gave Emre the chance to make some headway against a midfield where Zokora looked uninterested and Jenas continues his adulation of Dyer to such an extent that he now plays in the same fitful, skittish manner.

The former Magpie's goalscoring ratio in the league has actually improved since he moved south (13 from 63 starts compared to 9 from 86) but aside from that, there's little to suggest that Souness did us a disservice by allowing him to leave.

No longer the young pretender (25 in five months), a player who could and should be growing in stature instead continues to look for leadership on the field - it's too glib an answer to say that he's been denied an international career due to the claims on midfield shirts of his compatriots.
And Berbatov's chief interest appeared to be in delaying his arrival on the field long enough not to have to do anything but sidle up to Obafemi Martins at the final whistle to claim his number nine shirt (pre-match paper stories told of an adolescent Toon-fixated Dimitar sleeping in his replica Shearer shirt).

For a while when Keane had pounced to halve the deficit we were on the back foot as Spurs sensed another one of their comebacks could be on the cards.

However some sensible substitutions either side of the crucial Milner goal calmed things down - even if Martins got himself in a bit of a tizzy after another one of his prodigious leaps saw him connect with a forward clearance without a colleague in attendance.

We pointed out recently on these pages that we are in line for our shortest competitive season in almost half a century - barring a significant FA Cup run.

On that basis we have an excellent opportunity to not only continue to make headway in the league to what has to be a default setting of European qualification in some manner, but also to get the infrastructure and squad quality and numbers up ahead of a more grueling campaign.

The collective failures on the international circuit recently also mean that the bulk of our current squad will get their overseas cup-winning duties over with by February, rather than in post-season perambulations across the GAS territories.

It might not make young Michael Owen very happy, but it could do wonders for us.....and by then Sam may also have worked out how he puts Smith back into this side effectively - he certainly wasn't missed tonight.

Never mind the last day bravado of August 31st - the golden date for us next season should be January 31st 2008, whether we're talking big bucks purchases or more low-key acquisitions.

Prior planning - at St.James' Park? Never mind Local Hero, the team should be coming out to Revolution.
Biffa