"Our away form is obviously a huge concern after this result because a point, after the fact that we had lost the previous two away games, would have been very nice and given us a bit of confidence.
"Now we get ever more edgy as time goes on because we have not been able to get a result away from home.
"It is all very well playing well at home but sometimes away from home you have got to be able to dig in and we didn't do that.

"Should we have taken a point? Not necessarily.
"We got back into it when we went a goal behind - when we conceded goals in the fashion we did it made it difficult to get something out of the game.
"It was very disappointing. This season it has been one win at home and then an away defeat.
"It is disappointing when you throw it away like that. Whether we deserved to be level - and you would probably have to say we didn't - nevertheless we had got it.
"Reading were nervous and it gave us our best spell of the game but if you are going to give stupid goals away like that then you are not going to deserve anything.
"It was just such a basic error to concede a goal like that at that stage of the game. We didn't deal with the first ball but more importantly didn't deal with the second either and the young lad comes on, runs behind and scores the winner for them.
"If we didn't deal with the first ball, it was important we did so with the second. We should have known what to expect because we had worked on it in training.
"It was a real killer for us. But credit to Reading. They make life difficult for a team wanting to play football because they don't allow you to. We didn't dig in well enough and didn't do enough when we had the ball. Our energy levels looked down because theirs were so great."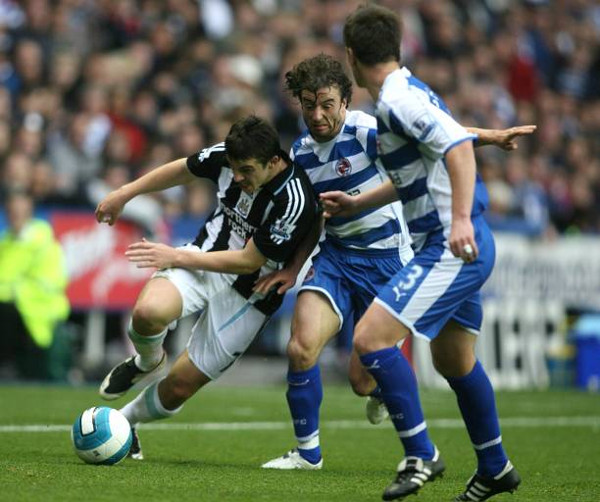 There seemed to be a decent amount of optimism in the air, in the pub and in the ground before kick-off and after two straight victories over sides tipped for Europe again this season.

But after the positive feeling engendered by Monday's defeat of Spurs it was almost inevitable that we'd fail to build on that result against a Reading team who had shown some recent vulnerability.
This just had a "Wigan" feeling about it. A game we should win against plucky newcomers but the sort of game that we just always seem to lose. Bland, new flatpack grounds in retail/business parks tend to bring out the worst in us; Reading, Derby, Wigan - they're interchangeable.
Up front, injury forced us to go for pace rather than height as the Martins-Owen pairing got another chance to shine but pre-match press talk was all about clean sheets and whether Allardyce initiated that discussion or reacted to it, it looked like we'd come for a goalless draw.
The midfield line-up was certainly a surprise. No Milner, no N'Zogbia and no width with four central midfielders ahead of our new-look and promising back four.

Allardyce's decision to hand a first start to Barton, while sticking with Butt placed a burden of creative responsibility on the shoulders of Emre - and the Turk failed to provide anything that remotely resembled service to our marooned front pairing of Martins and Owen, seemingly more concerned with rolling around the turf play-acting.

The latter had a vain penalty appeal denied after he was blocked by 'keeper Hahnemann when latching on to Beye's long ball, but other than that the passing was high, wide and hopeless. It was almost as if our midfield though that Viduka was playing up front. They should have known better - the big striker goes into hibernation at this time of year....
Reaching the interval scoreless was something of a minor achievement for us, but two glaring failures to hit the target by Reading forward Leroy Lita were major let offs - with Given's chief worry being a back pass from Cacapa that had him scampering back into his six yard box.
Our custodian looks incredibly nervous at the moment and communication with his new line of protection isn't great. He didn't have much chance in stopping either Reading goal but his positional sense doesn't look good either at the moment.
Steve Coppell's side took the lead out of the blue eight minutes after the restart, the ball running kindly for my man of the match, Dave Kitson who looped one in from 20 yards, abetted by Given's inexplicable placement off his line.

Our reaction was instant, N'Zogbia and Smith thrown on - the former to the previously-uncovered left flank, the latter replacing Martins up front - the Nigerian possibly limping as he departed.

However it was only the introduction of Milner down the right (Geremi dropping back from there to cover defence with Faye going off) that helped us get back into things.

Attacking the end where the away fans were housed, Milner chased down a ball towards the corner flag, only to see it rebound off said stick back to him, a Reading player then taking his legs and conceding a free kick.

Some discussion with the linesman then saw the ball moved a short distance before Emre sent over the free kick, which didn't get near a Newcastle body but ended up in the back of the Reading net via the torso of Duberry - not as spectacular as his effort for us when playing for Leeds but no less comical.

For the next five minutes there only seemed to be one winner as Milner foraged down the right and N'Zobia ran at the Reading defence at speed. One cut back from our right was missed by the defender but inexplicably Owen had already turned his back on the ball.
Even Owen (and Shearer) have their off days and the service up to the striker was awful. Having said that, Owen was unable to win a single header or 50-50 ball all game and the flicked on header for Rooney in Russia seemed just a distant memory.
It was then the home side's turn to make an inspired substitution, Shane Long arriving on the field with seven minutes remaining as Reading howked a long free kick forward.

Seconds later and the former Cork City player was engulfed by team mates, having been in the right place when Beye and Cacapa collided as both tried to head the incoming ball clear.

Long's first touch in the game was to control the loose ball, his second to batter it into his fellow countryman Given's net, via a post which gave the away fans some brief hope before the net bulged on the opposite side.

Late hopes of a point were raised when Cacapa headed home, but live TV replays confirmed that he was offside - something that the Brazilian's lack of celebration confirmed he already knew.

So, outscored and outworked - twin disappointments that will eat away at the United manager and his staff as they head home after our 18th consecutive failure to record a sheet away from home in the Premiership (21 in all competitions).
As I said after the Everton game, it's two steps forward, one step backwards but that still represents progress. Those away fans hurling abuse at Allardyce immediately after each Reading goal do no-one, least of all themselves any favours.
They may have had a point had they taken great exception to the starting line-up - to come to Reading who had been leaking goals and play for a clean sheet or narrow 1-0 victory just didn't make sense.
This was one of those days that had we attacked from the off we could and should have had the firepower to outscore the home side; Owen and Martins vs Lita and Doyle?
Managers may hate 5-4 games but I'd have certainly taken that scoreline (win or lose) ahead of this meek submission. There are times to be cautious and canny, this wasn't one of them.