8 mins A stunning strike from Noe Pamarot, who lashed a Nicky Butt clearance into the top corner of the Gallowgate net from 25 yards. 0-1
9 mins A ball forward seemed to favour Cacapa but he either misjudged the bounce or lost his man as Benjani brushed him aside before curling the ball around Steve Harper into the far corner. 0-2
11 mins A misdirected back-header from Steven Taylor put Cacapa in trouble but again he was beaten easily by Utaka who took the ball around Harper and found the net from 15 yards. 0-3
16 mins Michael Owen's weak attempt to tuck away a rebounded Charles N'Zogbia shot ricocheted off James and then Sol Campbell into the net. 1-3
Half time: Newcastle 1 Portsmouth 3
71mins A poorly defended Niko Kranjcar free-kick from the left found the net as Taylor's attempted clearance deflected past Harper. 1-4
Full time: Newcastle 1 Portsmouth 4
A shell-shocked Sam said:

"We have to take it on the chin, I have to take the stick - I am the manager it's my responsibility. I know that and I've really got to go and get stuck into the lads and make sure we don't see that sort of performance again at St.James'.

"Disappointed is an understatement - I am devastated by what has happened here today. I am completely gutted inside. The players have to be organised, understand how they should play, keep their shape, keep their discipline.
"Portsmouth did not have to put us to the test because we gifted them the game in those 12 minutes. The basic errors from the back four have to be cut out.
"We are working in all areas during the week and trying to get the players to understand how the Premier League can hurt you unless you stay together as a unit.
"The biggest unit of all has to be the back four, knowing how each other play and understanding each other.
"But after all that, I cannot cut out basic errors. If it's great play and intricate play and the opposition play around you and through you, you have to hold your hands up sometimes if your defenders have been trying to do the right thing.
"But when it boils down to two basic errors like it did, then there's very little as a manager you can do. But you have to keep working and hope it does not knock their confidence too much and keep showing them what solid, good, organised defensive work looks like in the Premier League.
"By no stretch of the imagination is it just the defence. It is the protection from the balls into the back four and the quality of balls the opposition can play without any pressure on them.
"Defending starts from the front, not from the back. But I do not think that, in the first 12 minutes, was the case, it came about because of basic errors.
"From then on, life was very difficult for us."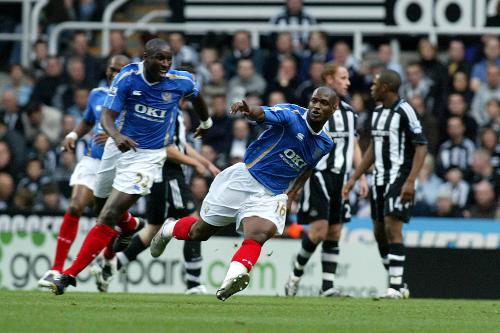 Whoever was enlisted to turn back the clocks last week at St.James' Park looked to have been a little too enthusiastic, with the result that we were transported back to a time of defensive dithering and a home crowd who were anything but supportive of their own side.

After a smart Milner drag back drew applause in the opening moments, it was a case of gone in 197 seconds for our unbeaten home record as Portsmouth netted with one corker and two gifts.

In the comedy world that is Newcastle United, Claudio Cacapa - hauled off here after just 18 minutes - had spent a day leading up to this game experiencing the practicalities of blindness by being blindfolded.

That was part of the Premier League Creating Chances initiative, but obviously someone forgot to tell the defender that it didn't actually extend to covering one's eyes at work - or handing gift -wrapped presents to Premiership opponents......

The consternation of the crowd, paucity of our defending and tepid response all evoked memories of last January's FA Cup humiliation here by Birmingham, but in fairness that was partly due to Taylor's dismissal at 1-2. There wasn't even that excuse today.

The visiting bench could hardly believe it, while the travelling support were in raptures - and uncharted territory, unless there were any Hampshire Septuagenarians lurking up in Level Seven.

Although messrs Adams, Jordan and Redknapp have been no strangers to success here over the years, Pompey had failed to win on Tyneside since a 3-1 victory in August 1949.

A great many of their subsequent visits have seen the Fratton faction indulge in exactly the same sort of meek showing that we served up today, with Redknapp himself presiding over a muddled, hollow rag-bag of a side that gave Glenn Roeder a winning start to his Newcastle reign in 2006.

This was Harry's game though - with the flexible 4-5-1 that saw him win 7-4 at home to Reading recently remaining as potent up front and marrying it up with a little more solidity, most notably from the unflappable Distin.

And it was hard to begrudge the celebrations and songs of the Portsmouth fans, who know only too well about 4am starts, dashed hopes and long pointless treks home across half the length of the country. Not that fecker with the bell though - not him.

Last week's error-strewn defeat at the Madejski had ultimately seen us punished by one defensive cock-up too many, after numerous let-offs. Today though there was scarcely time to blink before Portsmouth punished us further with more clinical finishing.

Three down and we were reeling, with Allardyce making his way to the dugout to tinker in an attempt to stem the blue tide.

But before he'd had the chance to drag off the bewildered Brazilian, Sol Campbell had followed in the steps of Duberry last week, gifting us an undeserved route back into the match by registering a goal in our favour.

That left us two goals behind with more than three quarters of the game left and a home crowd surely requiring only limited encouragement in the form attacking effort to supply vocal support.

And what did we get in the following hour of play before Portsmouth put us of our misery? Nowt.
In the welter of post-match recriminations and talk of inquests etc. that followed, our defensive inadequacies were at the centre of things - with certain newspapers delighting in publishing lists of the deadbeats we'd shelled out mega millions for in the last decade.
Once the anger, bewilderment and embarrassment subsides though, it's not the goals conceded as much as the 60 minute gap between the visitors scoring their third and fourth (at the intended end) and our failure to mount a convincing response that hurts.

The match stats show that we had 49% of play and that James made stops to deny Taylor, Smith and Owen. Overall though, there was a lack of conviction about our comeback on and off the field.

It's not as if we haven't indulged in this sort of thing before after all - overturning a two goal deficit here in January against West Ham, or as we were today, being 3-1 down with a quarter of the game remaining a decade ago when Leicester were in town.

Had Viduka limped into the fray something might have stuck up front, but as it was Owen looked a forlorn figure up front.

Comparisons with Peter Beardsley during our "Land of the Giants" Cuningham and Reilly phase were obvious - save that we were still serving up the sort of high balls even they would struggle to reach, never mind the diminutive forwards we currently deploy.

In midfield meanwhile Barton was getting fit the hard way as Pompey dug in with their numerical advantage in that area and were content to watch us waste possession time after time.

There's been some furore about Zog and Milner being deployed on the "wrong" wings - but in reality it's nothing that they haven't done at various points in other matches - Milner's finest strike in our colours to date coming when he cut inside from the left flank to net against Man United.
More difficult to fathom was the favouring of Smith over Martins - our best guess being that the Yorkshireman had bent the ear of his manager non-stop for a fortnight while suspended to be given a go up front alongside his occasional England striking colleague.

Nothing the former Leeds man did here though justified his inclusion or remaining on the field for the duration. Still don't see this one at all, sorry.
Once the local skirmish is out of the way, we then ramp things up with a double home test of Liverpool and Arsenal, sandwiched by a visit to form side Blackburn - three fixtures requiring decidedly more skill and determination than the shallow waters of the opening part of the season, where we've found sharks lurking nonetheless.

Things should become a good deal clearer then by the time Birmingham appear here in a month - with that old adage about only ever being two games away from a crisis holding good - at least in the minds of the huffy elements of our fanbase, stoked up by irresponsible media f*ck wits.

A victory over the mackems or at least a continuation of our unbeaten run at the dark place would be a colossal shot in the arm ahead of the time when this season really kicks into gear. Defeat though would give the whingers and wailers a field day.

The SJP crowd's collective failure to interact or show genuine empathy in the form of support throughout the game today was as depressing as it was expected. Short memories, lads.

Sh*t-stirring papers claimed that hundreds of fans had left at 0-3 and while that's just not true, the ease with which Newcastle supporters can be separated from their seats is becoming bewildering - turning up now seems to be enough of a gesture of support for many.

It's been obvious for some time that people's attention spans have dropped to around 25 minutes per half, but tolerance levels now seem to be roughly akin to the average chocolate fireplace.

The only logical conclusion is that Allardyce has backed a loser by coming here and has failed already in the hearts and minds battle with elements of the rank and file.

Nine goals and nine points in our previous three home games counted for nothing today to those people, who seem to take a perverse pleasure from seeing us fail - and bring only poorly-masked contempt to the party. Surely you should be used to losing by now? Get over it - and grow up.

We're not in Europe, we're not playing wonderfully, we've not won a proper trophy since 1969.

But surely there's at least now a chance of seeing something turn around here and a club at least trying to re-invent itself, rather than spiral further into the pit we found ourselves in last season.

At that point, any sort of hope had been almost totally extinguished and the name Mike Ashley meant nothing to anyone.

Had we not screwed this game up completely, a draw or win would have extended our unbeaten home start further - a start that's already one of our best this century.

Instead though, we lose and flavour of the month Mark Hughes is mentioned in connection with the job by the papers. After eleven league games the knives are out in some quarters for the manager and his team. Even by our standards that's mad.

Maybe we're totally off the mark though and the only way to ultimately move forward is to dispense with the last major part of the Shepherd administration and chop out Sam.

The big imponderable in all this is that we know the script almost off by heart - that familiar circle of pressure, impatience and reaction.

People had the measure of hire 'em and fire 'em Freddy, but nobody yet knows how the new owner will react to being part of this boom or bust madhouse - least of all Allardyce.
With home support like this though, what chance has anyone got of succeeding here?


Biffa