Date: Saturday 1st December 2007, 3.00pm

Venue:

Ewood Park



Conditions: Defiant / Defeated

Admission: £20 (£32 in 2006/07)

Programme: £3




Blackburn Rovers

Newcastle United

3 - 1

Teams
Half time: Blackburn 0 Newcastle 0

47mins A Geremi free-kick from the left flank was swung over and glanced in by the head of Obafemi Martins at the Darwen End, to the delight of the assembled travelling hordes 1-0
54mins Charles N'Zogbia was judged to have fouled Santa Cruz - the second questionable refereeing decision within a minute. David Bentley stepped up to hit an unstoppable free kick past the motionless Shay Given. TV replays confirmed that Carr broke ranks from the wall under pressure from a Rovers player 1-1
67mins The home side broke away and Bentley got his second with a low drive that cannoned in off the foot of the post 1-2
92mins Pressing forward for a leveller, Rovers punished us again, Tugay popping up in the box to ram home a low drive into the gaping goal 1-3
Full time: Blackburn 3 Newcastle 1
Sam said:

"I have to say thanks to all those fans who made the journey. It is really difficult to take after the support we had, that we got nothing from the game.

"The fans were magnificent today and if they get behind us again against Arsenal on then I'm sure we'll stand a great chance of getting a result.

"It was a terrific effort and we had lots of opportunities to win but this is the Premier League and it is a cruel place. We were in control of game for long periods but unfortunately we fell foul of being caught on the break. That is the disappointing thing for me.

"When we got in front, instead of going 2-0 up we went 1-1. At that particular time Charles N'Zogbia had a chance to make it 2-0 but was wrongly ruled offside.

"They go up the other and score. While I am bitterly upset at the result, the performance was excellent. We have got to play like we did at Blackburn when we are next at home.
"Then you will get support from 52,000 fans. They do not want to see players playing poorly

"We had a good performance from 11 individuals against Blackburn and did not deserve to lose.
"It keeps the bad run going and can eat away at your confidence. But my job is to make sure we maintain this kind of spirit and commitment, combined with our ability.
"That's what is needed if we are going to turn things around and get some points on the board.
"Joey (Barton) is a strong man with a strong opinion. He likes to say what he thinks - but some of the interview he did was shredded and taken out of context.
"Joey's commitment to Newcastle was there for the fans to see today. You could also see their commitment to him and the rest of the team."

This came in response to Barton's interview that appeared in Saturday's papers, when he spoke about his impressions of the Liverpool home game in particular and the Gallowgate fans in general:
"It was surreal. I don't think I have heard a crowd that vicious. I was sitting on the bench and after 20 minutes I had picked up on it. It was still 0-0 at that point. At half-time I was walking down the tunnel with Peter Crouch and he turned and said: 'I have never heard a crowd so vicious.' To be honest it shocked me.

"I can understand their frustration. I'm not saying it's not deserved, but we want them to stay with us.

"Unless it is addressed and we all get together as one and say: 'Well, we're not having the best time of it, but let's give my support to Newcastle United', then our next home game is against Arsenal and, if we are greeted by that sort of atmosphere, we will lose again.

"Unless they change that mentality and get with it, start supporting the side through poor results, then things won't change. It's the easiest thing in the world to be negative, but I would like them just to try to be positive, to say: 'Even if 51,999 are going to be negative, I will try to be positive.' If we can all be positive, before we know it we will turn it around.

"We want to earn the respect of the fans. If I had been watching the Liverpool game I would have been disappointed, but it's easy to be negative. As a club, as a city we have to try to be positive.

"If we can get the crowd behind us then it lifts the place – it almost becomes a 12th man. I have watched Liverpool and the Kop become a 12th man in the Champions League. That is what we need. The amount of people, with their passion, it can have a similar effect at Newcastle; if it doesn't, it's detrimental."

"People have talked about a fear factor up here and you sense it. The minute someone gives the ball away, or the minute someone does something wrong, or there's a backpass, they are greeted with disapproval and jeers. It's like England, the fear of failure.

"Without being unkind to them [the fans], the Keegan era is gone. In an ideal world we would be playing like that but this is not an ideal world. The squad is in transition, there's been injuries to players like myself.

"This is a high-pressure football club. I can only speak for myself and how I feel. I know there are others feeling it. You look at the calibre of players over the last 10 years since Keegan and there are a lot of good players – the Kluiverts, Jenases and Parkers – and this crowd has been vicious enough to eat players up. They are top, top players and they didn't do so well here. When you think about it, you can understand it. It's easy for someone to buckle in that kind of atmosphere."

"Negative breeds negative. Unless it is turned around here with some drastic change of thought, it's going to be the same here for this manager, the next manager and whoever comes in after that. Sam's a good manager and the players have to turn up on Saturday and do it, because he is getting the brunt of the criticism. It should be the players. He doesn't deserve it.

"This is a time for coming together and seeing who the men are amongst us. If we don't, this club will be in big trouble. It's trench warfare, if you sit there in the trench you will be bombarded and overrun. I will go to war with them [Blackburn]. It's not about passing the ball around and being nice. It's about going to Blackburn – one of the best teams in this league, one of the best units – and overcoming them. It's not the time to shirk responsibility. As the manager said this week, anyone who doesn't fancy it: leave."
As far as we're concerned, this is the right sentiment at the right time but coming from the wrong player - it's an unpalatable truth and he deserves recognition for breaking ranks from the age-old "great fans" script that is trotted out time and time again by current and former Magpies.

However, Joey Barton hasn't actually done anything for this club yet which somewhat undermines his rant - and gives a get-out clause to people who didn't want him in a black and white shirt to disregard his pertinent comments.

Had those same sentiments been expressed by Shay Given for example, they would have been more difficult to be ignored than from someone who has played six games for us - but maybe a fresh pair of eyes is a better judge of what we accept as reality round these parts.

Barton is a little off-beam in his specific gripes about the Kluivert, Jenas and Parker departures; especially in the case of the sulky Dutchman who received far more support than he ever deserved from Newcastle fans and went on to similarly abuse the benevolence of both Valencia and PSV diehards.

However the overall tone of the article matches our current despair over some of our fans - we have lost at Ewood, but the defiant mood of the support was genuinely uplifting.

Let's hope the message gets through when we return to home ground on Wednesday and Saturday.
Rovers Boss Mark Hughes commented:

"We had a big disappointment on Wednesday when we did not defend our set plays particularly well. We lost the game as a consequence of that.

"The scoreline was not really a reflection of how we performed but in the second half today we played a lot better.

"Newcastle's goal livened us up for we realised we had a situation to contend with.

"We had to dig in and compete. We saw our way through it and scored some great goals as well."

About two-goal David Bentley:
"It was an outstanding strike and an important moment for us as it was the equaliser.

"That opened the game up and we got the run of the ball. David also got a good second goal, although his luck was in with the ball hitting the post."

Rovers v United - Premiership years:

2007/08: Lost 1-3 Martins
2006/07: Won 3-1 Martins 2, Taylor
2005/06: Won 3-0 Shearer, Owen, N'Zogbia
2004/05: Drew 2-2 Dyer, Robert
2003/04: Drew 1-1 Bellamy
2002/03: Lost 2-5 Shearer 2
2001/02: Drew 2-2 Shearer 2
1999/00: Won 2-1 Shearer 2 (FAC)
1998/99: Won 1-0 Saha (FAC)
1998/99: Drew 0-0
1997/98: Lost 0-1
1996/97: Lost 0-1
1995/96: Lost 1-2 Batty
1994/95: Lost 0-1
1994/95: Won 2-1 Hottiger, Clark (FAC)
1993/94: Lost 0-1
We have failed to avoid conceding a goal in each of our last TWENTY Premiership away games - a record stretching back to November 2006 at Manchester City.

Just five points recorded from a possible 21 away from home this season as our winless home and away run extended to five games (four defeats and a draw).

23rd goal of his Newcastle career for Obafemi Martins - his 16th in the Premiership and sixth of the current campaign.

Waffle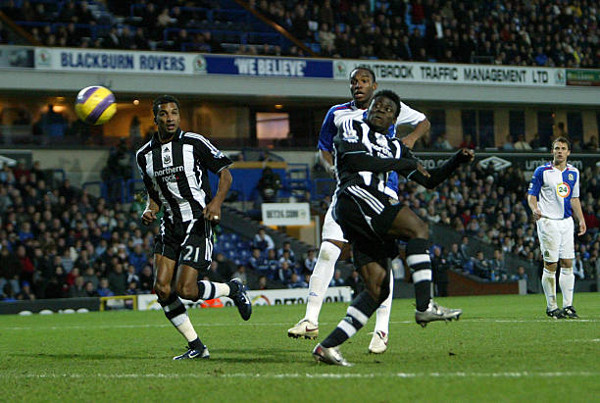 An old fashioned big day out in the North, with plenty of away fans, plenty of noise, plenty of drink and slogans on bed sheets. And of course we lost, like we often used to do....

After a week when it was open season on our support after the grumbling and desertions of the Liverpool game, people here turned out in force for one of our shorter and better priced away trips to stand up and be counted - and heard.

And while the pertinent and provocative comments of Joey Barton in that morning's newspapers may have further inspired some of our followers to prove that we remain (among the) "loyalest supporters the world has ever seen", there was no audible backlash against the midfielder.

The atmosphere built in the Darwen End and reached a crescendo just before the teams came out, when some wise guys started chucking black and white beach balls around the place.

Crucially, that initial enthusiasm remained in place once things got underway, as we managed not to gift the opposition a goal and displayed some substantial commitment to the shirt.

And as we'd written and hoped pre-match, that effort was reciprocated from the support - even if we were slightly taken aback by the repeated refrains of "Big Sam's Black and White Army" that boomed out throughout the game, regardless of the score.

While there wasn't much to get excited about at the far end where Friedel stood guard, at least there was a little more going on in terms of efforts to get forward and fashion goalscoring chances than against Reina - who could have painted his own goalposts the previous week without fear of disturbance.

Eyebrows were raised again by a team selection that left Enrique out of the picture and put Faye back into stiffen the defence despite question marks over his fitness.

We were to lose that gamble fairly early on as the former Bolton man (and his flame red cycling shorts) limped off, leaving us once again with the ill-matched Rozehnal and Beye in the centre.

Up front, there was a start for Alan Smith in a more orthodox attacking role as he led the line ahead of an allegedly off-centre Martins, who was playing across the field well before Viduka's introduction.

The England man looked more comfortable in familiar territory and visibly reined himself in on a couple of occasions when the red mist seemed to have descended, consequently managing to avoid a yellow card.

Not sure about his blonde Mohican though - the subject of a few ribald comments of the Davy Crockett hat / raccoon tail variety.

Beneath all the positive spin lies a failure to keep a clean sheet or claim a single point - all facts as unarguable as our continuing injury issues, but slightly more avoidable.

And our bewilderment with the current manager isn't lessened by his fixation with keeping Geremi on the field, seemingly in direct contravention of the evidence of his - and our - own eyes.

Edgar may as well pack his bags now - and share a taxi to the airport with Shola, because they're up the road. Playing players out of position remains a fairly foolproof way of achieving a payoff round these parts.

Having seen revivalist Rovers concede four here in midweek, the chances of a second successive surrender by a Mark Hughes side weren't great.

And after our three goal salvoes here of the last two seasons, things were never going to be that simple again - especially when Oba missed a decent chance to double our lead and Barton was unable to force the ball home after a mega stramash.*

But there was a spirit evident among those selected by Allardyce for this game, which along with a modicum of football at a decent price provided more entertainment for the traveller than any away game this season since opening day at the Reebok.
This particular winter's tale may not have had a happy ending - and Wednesday could yet see SJP again become our own house of pain - but please not a theatre of hate. Have a bit a pride, eh?

Not all of the 6,000 plus travellers will be there against Arsenal, but hopefully those who are will help inspire the Barrack Road malcontents into some positive support of the team they've paid to watch.

A flavour of that Ewood backing will also surely have come across on TV and radio to those sceptical season ticket holders - along with enough signs of revival onfield to cling to.

That should at least give all but the most vitriolic booers hope that the team might compete with the unbeaten league leaders on Wednesday - and see them deign to supply some encouragement.

If one doesn't follow the other, those fans should question why they bother going at all.

Birmingham remains a must-win game for Allardyce and his team - but the mood of players and fans in this corner of Lancashire may just have made that three points a little more likely.

If Liverpool was rock-bottom, then this was a slight return. We're five feet high and rising - or at least the number nine is....

On both Wednesday and Saturday, the keyword is defiance, not surrender. Be impatient with failure and shirkers but don't crucify people.

PS: If you think Barton was talking bollocks - show him that he was, by cheering not booing.

* one of Scottish TV football commentator Arthur Montford's favourite expressions - a one word description of a goalmouth scramble, seen less and less these days due to less clarty pitches and over-eager whistlers. Read more about Mountford here


Biffa