Date: Saturday 8th December 2007, 3pm

Venue:

St. James' Park



Conditions: Rain & hail





Newcastle

Birmingham City

2 - 1

Teams
9 mins Cameron Jerome fired the visitors ahead, latching onto a long pass that David Rozehnal missed and rounding Shay Given before putting the ball into an empty Gallowgate goal. 0-1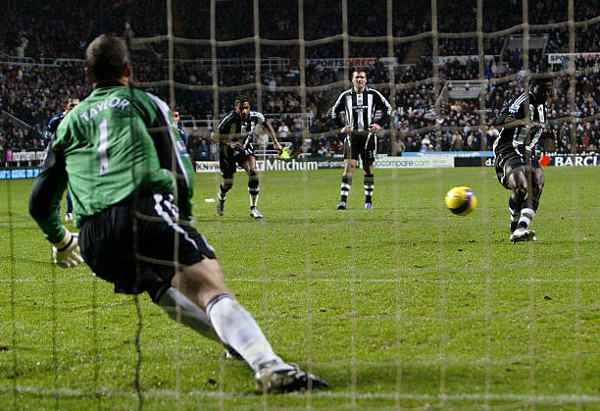 39 mins A trip by Sadler on Obafemi Martins in the box was penalised and he unconvincingly found the back of the Leazes End net via a post - with Taylor diving the right way. 1-1
Half time: Newcastle 1 Birmingham 1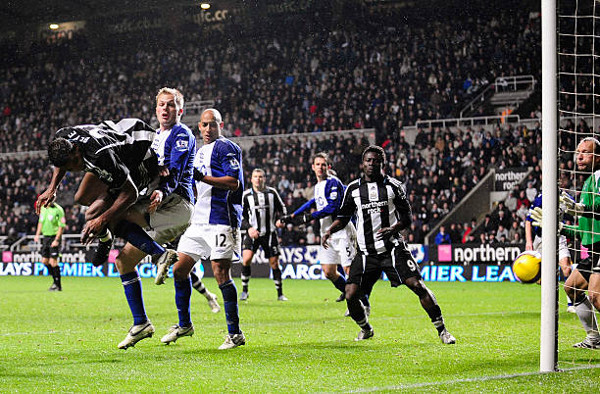 91 mins Emre's corner from the right found Habib Beye at the near post who headed home to send St. James' wild. The former Marseille defender notched his first Toon goal after having won the vital corner and urged the crowd - and seemingly himself - on to one final effort. 2-1
Full time: Newcastle 2 Birmingham 1
Sam said:
"They're starting to get to know each other. Charles N'Zogbia linking up was important, but James Milner is a well-established Premier League player at 21 and can only go on from here.
"Joey Barton is coming to fruition and he has played three games this week for the first team this season and has not looked fatigued.
"Alan Smith up front and Steven Taylor at the back are doing well, and the players are starting to get to know each other.
"The players are now giving of their best on a regular basis.
"It is a really, really big three points. Nothing else really mattered today but three points and we got them.
"We have worked very, very hard over the last seven days Blackburn and then Arsenal and now Birmingham - and now finally got what we deserved.
"Birmingham, for us, is a winnable game. It would have been a huge disappointment had we not won this game.
"The enjoyment comes later on - the relief is always when the whistle blows and you have won a game that you deserved to win.
"We made hard work of it and we were our own worst enemies in the first five or ten minutes.
"But the reaction of the players was terrific. The fans kept with them and got behind them and they responded in the right way.
"We gave everything we had to find that final chance and the quality of corner was the key.
"Habib Beye, one of our star men, has got the goal. It was a well deserved three points in the end."
"From here on in we have got to make sure we go down to Fulham and cut out those silly mistakes and start putting our away form right in terms of results."
Big Eck said:
"Nobody could see what Rob has seen (to give the penalty).
"I've seen the pictures since and Sadler wins the ball and Martins is never getting there.
"I'm not so sure, it was very soft. It was a really harsh decision against us and a couple of decisions have gone against us and turned the game for Newcastle.
"It was cruel because we looked comfortable. Newcastle threw a lot in to the box and we coped admirably. We know we have got to pick ourselves up.
"We have taken three points from six and most people would have tipped us to take zero from six so that is a positive for us.
"With a little bit more belief we could have come away with an even better result than a draw, never mind losing the game."


Sam's vital stats (Premiership): P16, W6, L6, D4 = 22 points from a possible 48.

Rebuilding the fortress (Premiership): P9, W5, D2, L2 = 17 points from possible 27

That compares to the first nine home games of our other Premiership seasons as follows:

1993/94 19 points, 20 goals scored
1994/95 21 points, 23 goals scored
1995/96 27 points, 21 goals scored
1996/97 17 points, 20 goals scored
1997/98 17 points, 12 goals scored
1998/99 17 points, 14 goals scored
1999/00 15 points, 21 goals scored
2000/01 16 points, 12 goals scored
2001/02 19 points, 15 goals scored
2002/03 24 points, 18 goals scored
2003/04 15 points, 14 goals scored
2004/05 12 points, 16 goals scored
2005/06 16 points, 10 goals scored
2006/07 15 points, 11 goals scored
2007/08 17 points, 14 goals scored

This was the fourth consecutive home game in which we've fallen behind.

NUFC vs Brum @ SJP since 1970

2007/08: Won 2-1 Martins(pen), Beye
2006/07: Lost 1-5 Milner (FA Cup)
2005/06: Won 1-0 Emre
2004/05: Won 2-1 Ameobi, Bowyer
2003/04: Lost 0-1
2002/03: Won 1-0 Viana
1992/93: Drew 2-2 Cole, Lee
1985/86: Won 4-1 Beardsley 2, Anderson, Whitehurst
1979/80: Drew 0-0
1977/78: Drew 1-1 Nattrass
1976/77: Won 3-2 Burns 2, T.Craig
1975/76: Won 4-0 Macdonald 2, Gowling, Burns
1974/75: Lost 1-2 Macdonald
1974/75: Drew 1-1 Macdonald (Texaco Cup)
1973/74: Won 3-1 Tudor 2, Clark (Texaco Cup)
1973/74: Lost 0-1 (League Cup)
1973/74: Drew 1-1 Robson
1972/73: Won 3-0 Macdonald, Howard, Gibb

First penalty to be awarded in a match featuring us this season - our last one anywhere came at Pompey in April (scored by Emre) and the last one for us here was versus Liverpool in February (Solano on target).

First goal for Newcastle by Beye, who follows new boys Viduka and Cacapa in getting off the mark, leaving Barton, Enrique, Faye, Geremi, Rozehnal and Smith still to register competitively.

Waffle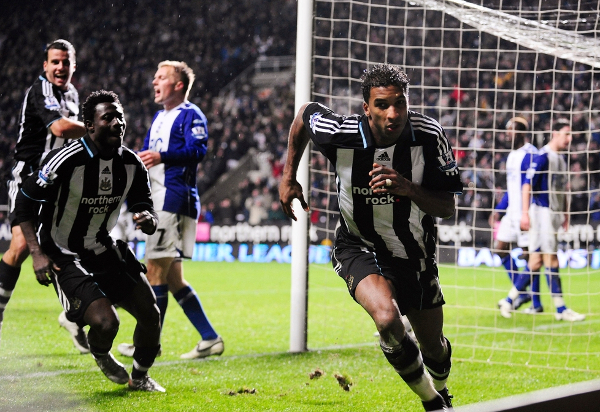 Having been reduced to quoting bourbon-soaked country lyrics in midweek, we'll stay in tune toon and take as our text that Geordie Musical "The King and Wey Aye".

Getting to know you,
Getting to know all about you.
Getting to like you,
Getting to hope you like me.

After a week that had began with raging newspaper headlines and radio phone-ins and a gallant defeat, we progressed via a stirring home draw to a last gasp victory that was almost a scripted happy ending.

Whether Sam had given himself a Yul Brynner was indeterminable though, due to his winter get-up and sensible ski hat - worn under doctors orders after he defied medical opinion to attend the game and spent 45 minutes standing out in sleet and rain.

And those good folks who stayed to the end here and did the audience participation thing were sent away with a warm glow - and cold feet.

Meanwhile, press box occupants frantically rewrote their match reports/obituaries as Allardyce rode out the storm and received further welcome messages of support from his dressing room.

All that was really missing was the sight of Corbridge's answer to Danny la Rue addressing the nation in that patented exasperated whisper to explain another pointless exercise. Hopefully Steve Bruce will be reading out the jokes from his crackers coming Boxing Day when attempting to lighten then mood after a home defeat at the JJB.....

In truth though, this wasn't a day for purists to assess tactics or formations, it was about ending a losing run by any means possible and defying the conditions to find those vital goals.

Memories of the FA Cup humiliation by these lot here in January weren't far away from our thoughts and were invoked by James Milner in his pre-match interview.

And the lad played as if he had a score to settle - being unable to find the net to compensate for his instantly-forgotten cracker in that tie, but dragging his team on to the offensive almost single-handedly at times.

If the obligatory early setback didn't quite evoke the gutteral response of Adebayor's opener in midweek, then enough home fans were prepared to stay with the side and make a racket while another recovery job was undertaken.

However that patience was starting to be stretched as we exhibited similar difficulties in retaining possession - albeit in pretty rotten conditions.

Butt had looked to be noticeably struggling to play twice in four days - although there were rumours of injury/sickness in mitigation. His replacement by Viduka gave us a more conventional look, although hardly helping Martins - who had struggled to get into the game and found himself pushed wide.

That alteration to the formation lifted the mood and saw the ball starting to stick upfield a little bit more often, as the visitors were content to drop deeper and allow us to start running with the ball towards their box - N'Zogbia exhibiting brief bouts of this recently-neglected part of his game.

Our first penalty kick of the season arrived with immaculate timing and was dispatched with some difficulty by Martins - who won the award and claimed the ball, with our current policy being not to have a dedicated spot kick taker.

The goal boosted both team and crowd in equal measure and the deteriorating conditions were forgotten as we continued to commit bodies into attack.

This was one of those games when we didn't want half time to come - in stark contrast to some recent occasions when the referee's interval whistle was akin to the "all clear" sounding.

From the restart we were unable to maintain that momentum though, as the rigours of the week's fixtures seem to catch up with us and City looked the keener and more potent.

Support was maintained from the stands though, with periodic bursts of encouragement.

That peaked with the appearance of Emre - rightly interpreted as an attempt to stir up the team and find some new angles to test McLeish's men from

However, Barton's unimpressive contribution could easily have seen him replaced, rather than Geremi - and the former Man City man was perhaps fortunate to only be yellow-carded when taking an opponent out.

The Turk claimed a late penalty after what looked like a clear handball by Jerome from his free kick, but goalkeeper Taylor had hardly been tested in the Gallowgate goal (save for Martins and Milner efforts) when that all-important late corner was forced by Beye.

Of all the moans about Allardyce's Bolton, surely the gripe about them scoring from set pieces was the most irrelevant one to Newcastle fans? After all, we've hardly made our name on that trick - certainly not from corners in living memory.

If there was one encouraging aspect of this display from our attacking, it was the success we enjoyed in both driving to the byline to centre and also swinging low crosses across the box.

Neither option really paid dividends, but the sighting of N'Zogbia in more advanced areas was a boost, while a fit Owen would surely have anticipated and latched on to one or two of said passes.
There were enough signs of life in the three matches this week to keep the negativity at bay, but failure to win this one would have been portrayed as two points lost (regardless of the circumstance) and used as a weapon against the manager - and his players.

The supporter despair after the Liverpool defeat now seems to have been lifted - the players having now put themselves into a position where they can be allowed some (brief) breathing space, leaving the media to pursue other targets. We're not a good news story.

This was a vital and deserved victory for players and manager, but also some payback for the loyalty and emotional investment of the fans - for reminding people that it does matter what form support takes.

Any form of relapse against Fulham, Derby and Wigan would put us and Sam back into the mire - the difference being now though that nobody on either side of the white line can claim not to know exactly what will follow round these parts, after the events of the last seven weeks.

The immediate objective is to claim as many of those next nine points as possible - and worry about everything else afterwards, be it the Nations Cup calls (taking both today's scorers away) or a gruesome fixture list.

PS - Once again we'd like to dedicate the winning goal to all of those who'd left before it went in...


Biffa