Date: Saturday 15th December 2007, 5.15pm
Live on Setanta

Venue:

Craven Cottage



Conditions: Chilly

Admission: £35 (£35 last season)

Programme: £3





Fulham

Newcastle United

0 - 1

Teams
Half time: Fulham 0 Newcastle 0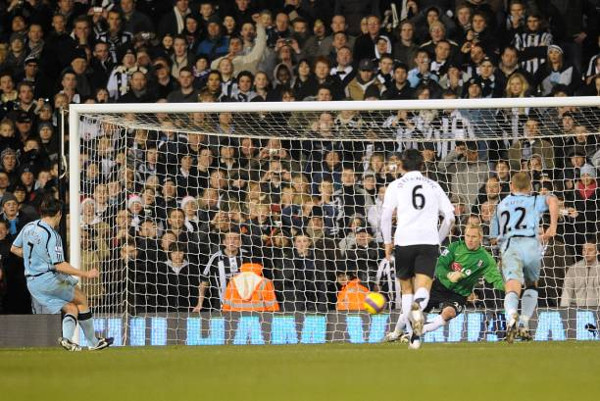 92 mins Substitute Mark Viduka flicked on the ball to Alan Smith and when he played it on to an unmarked James Milner, birthday boy Elliott Omozusi went through Smith.

Referee Howard Webb pointed to the spot after Antti Niemi had saved Milner's scuffed shot, sparking the inevitable protests from home players including former Magpie Aaron Hughes.

With last week's spot kick striker Obafemi Martins off the pitch it rapidly became clear that Barton was intent on taking the penalty - although he had to persuade Milner, who had also stepped up.

Joey Barton's side-footed conversion was slightly more convincing than the Oba effort last week, although the 'keeper again almost got to the kick. Barton celebrated with the fans behind that goal and within moments was back there again, tossing his shirt to the crowd.

1-0

Full time: Fulham 0 Newcastle 1

Sam said:

"We asked the lads to stop Fulham first and foremost.

"I wanted a more resilient performance without trying to take away the opportunity to attack the opposition. That got a little disrupted by Fulham but, once we bedded in, we carried on going and dug this one out.

"Claudio Cacapa stepped in after four weeks out and did a terrific job. His performance at the back is one of the reasons we got three points.

"We need to (strengthen) if we can for reasons to find a better player than we have. But also because we have four players going to the Cup of African Nations. Our squad will be diluted when that happens so if we can find a promising signing or two we will but it is a difficult period for everyone.

"I have had discussions with the chairman and they (Chris Mort and Mike Ashley) have shown great support up to now. We're trying to carry on the right way and moving the club forward as quickly as we can.

"With 5,000 fans behind the goal today singing and shouting like that hopefully it is a good Christmas to look forward to and we keep it this undefeated run going.

"When the January window opens let's deal with it then and see what we can get.

"We have played much, much better than this and lost, particularly in our last away game when we played Blackburn off the park. Today we probably didn't deserve to win but they certainly didn't deserve to, that's for sure.

"It was a penalty, yes. The challenge was made, he completely missed the ball and took the man over. The referee was there on the spot right in front of it and gave the right decision.

"Points are all-important in The Premier League. We dealt with what Fulham had to offer and waited for our opportunity. We got one at the very end and got three very valuable points.

"I said before the game that I wanted to send our fans home happy and I'm delighted we've got the win to do that.

"They were simply magnificent again today and it was great to get the winner in front of them as well. You could see by the celebrations of the players and the fans how much it meant.

"To have 4,000 fans here on a Saturday tea-time in London and so close to Christmas was brilliant and was a huge boost."

Ex-Mag and Setanta sports pundit Les Ferdinand added:

"I think every time we have watched Newcastle use 4-3-3 it hasn't worked, because of the simple reason that Martins is not comfortable playing out there and if you are going to play that system your players have to be very comfortable and disciplined, and Martins is not. He is drifting inside all the time, so when you want your spaces out wide and leave the man down the centre and join him, he is there too early.

"Sam Allardyce has not got the personnel to play 4-3-3 at the moment, not the way he wants to play and with the players he has got. Maybe in the January transfer window he will look to change that.

"They have grafted in the last few games, and if you graft eventually your quality will come out. Okay, we didn't see too much of it today, but they were away from home and their away record has been pretty poor, so what they had to do was graft out a result today, sometimes you have to.

"Newcastle a month ago would have lost that game, or they wouldn't have carried on until the 90th minute when they got the penalty, and I think that is the difference, that is the positive thing he will get out of it.

"The team are looking a lot fitter now, he has got the likes of Joey Barton back, Michael Owen to come back, Viduka, and it is all about getting time on the pitch. He is still struggling with injuries because he has lost Taylor now for a few weeks, he has had to rush Cacapa back, but the rest of the team are getting some time on the pitch and the training ground."

Boss Lawrie Sanchez commented:

"The penalty was symptomatic of our season. I keep saying it but I think it is true - we keep playing well right to the moment when we lose.

"With five minutes to go I was disappointed we were only going to get a point. And I was even more disappointed when we were cruelly beaten. That has been the story of our season to date, I'm afraid.

"There was contact, without doubt. The ball had been passed by the time it was made and when the shot went off and was saved he has dragged it back and given a penalty.

"I can't really argue with the penalty and I thought he (Omozusi) had been man of the match up until then.

"We have got Wigan next week and myself and the team have got to prove we are good enough. We are in the bottom three and fighting for our lives."

Former Mag Aaron Hughes added:

"Away fans bring a lot to grounds, especially Craven Cottage.

"That end hasn't even been half-full for a lot of games, but Newcastle came down and it was no surprise it was full. It's how I always remember it being when I was there. You'd go to other stadiums, and they'd always be packed.

"European football's great, and because of the size of the club, it's what everyone looks for. A club the size of Newcastle should be playing in Europe – it's where they belong.

"But it's very hard to break into the top four – you would have to have some season to do that. Everyone else is looking for fifth or sixth."

One of the quotes of the season so far came from the unlikely source of Gary Lineker, who termed Sam Allardyce's progress across the field seconds before the second half started "the campest jog across a pitch since David Pleat at Maine Road" - or words to that effect...


This clean sheet was the first on our travels since November 2006 (Man City), a sequence of 20 Premiership games (23 league and cup games). It was also our first at Fulham (Craven Cottage and Loftus Road) since November 1946 (first in 22 attempts).

Toon at The Cottage:

2007/08: Won 1-0 Barton (pen)
2006/07: Lost 1-2 Martins
2005/06: Lost 0-1
2004/05: Won 3-1 Ambrose, Kluivert, Ameobi
2003/04: Won 3-2 Robert, Shearer 2*
2002/03: Lost 1-2 Shearer*
2001/02: Lost 1-3 Speed
1983/84: Drew 2-2 Beardsley, Keegan
1982/83: Drew 2-2 McDermott, Varadi
1981/82: Lost 0-2 (LC)
1979/80: Lost 0-1
1978/79: Won 3-1 Connolly, Withe, Shoulder
1967/68: Lost 0-2
1966/67: Lost 1-5 B.Robson
1965/66: Lost 0-2
1960/61: Lost 3-4 Allchurch, Hughes, Woods
1959/60: Lost 3-4 Eastham, Hale 2
1955/56: Won 5-4 (FA) Casey, Keeble 2, Milburn, Stokoe
1951/52: Drew 1-1 G.Robledo
1950/51: Drew 1-1 Walker
1949/50: Lost 1-2 Milburn
1947/48: Lost 0-3
1946/47: Won 3-0 Bentley, Wayman 2

(At Loftus Road*)

First goal for Newcastle by Barton, who follows new boys Viduka, Cacapa and Beye in getting off the mark, leaving Enrique, Faye, Geremi, Rozehnal and Smith still to register competitively.

That goal was our 823rd in the Premiership, of which 319 have come away from home (where we have conceded 407).

Three of our last four victories have come courtesy of last minute (or extra time) winners: Owen v Everton, Beye v Birmingham, Barton v Fulham.

We broke our duck of winning competitively in the blue change kit at the third time of asking, following a defeat at Derby and a draw at the mackems.


Waffle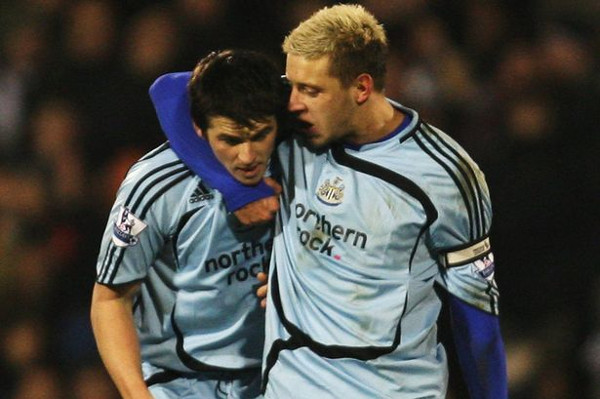 As well as the Thameside location that Craven Cottage shares with the Tate Modern gallery, this evening brought some similarly challenging work for the SW6 audience to appreciate.

The bizarre sculptures of Louise Bourgeois may be wowing them a few miles upriver at Southwark, but our own avant garde exhibition continues to divide critical opinion.

"Winning ugly" was the refrain heard from players and pundits alike, but while the latter sneered at our lack of invention and general competency, the travelling punters seemed happy enough at the final whistle.

After the alleged worst performance in living memory at home to Liverpool, similar hyperbole labelled this game the most rotten 90 minutes overall in a similar time period.

We beg to differ - the Palace "paper dart" home game and Watford away last season were hardly re-enactments of Real Madrid versus Eintracht Frankfurt 1960....

Barren though it was for the most part, we've seen quite enough brave and memorable defeats on our travels not to look this gift horse in the mouth -certainly we played better against both Blackburn and Arsenal for a whole point gained.

Hopefully this will be something of a watershed, as we at last shored up our leaks and recorded a clean sheet away from home after thirteen months of futile efforts.

And in this pantomime season, we found that the streets of London were paved with gold, once Smith had toppled over like a chopped beanstalk and principal boy Barton had his wish granted.

Once the short-term feel-good factor of this fortunate three points wears off though, we can reflect on it being no more than the minimum requirement for this fixture - failure to do so last season weakened Roeder's grasp on the tiller significantly and Sanchez has done little to improve on Coleman's muddle.

Quite simply we now have to build from this, having stripped things back to primer and ultimately proved ourselves capable of picking up the pieces left by opponents at the death to claim the win.

Those supporters who provided grand backing here will only feast on scraps for so long, before the justifiable quibbles over selection and style manifest themselves.

The transient excitement of a last minute winner doesn't obscure the instantly forgettable ninety minutes that had gone before it. An important win rather not an entertaining one then - but that's where we currently are.

Poor passing and sloppy defending went unpunished by two sides whose first objective was not to concede. We said "first", but such was the wretchedness of both attacks that "only" was as apt.

The two main international strikers on show were as rotten as each other - the Windsor Park goal machine Healy again unable to reproduce his potency at club level.

And as for Super Eagle Oba, most of what he did in this match was just annoying - including his slow march from the field when substituted, for which he should have been fined. Those who jeered his replacing and shouted his name as he dawdled off merely fell into the same trap as Oba: - the club is bigger than him (or Owen for that matter).

Viduka's introduction provided both a visible target for Milner to aim at and also something resembling a partner for Smith, who duly made the run that brought forth the pass and led to that vital spot kick award.

The Australian also showed in a shimmy or two a damn sight more class and subtlety than anything else on the park - save for N'Zogbia when he threw off the shackles and bombed on.

But....we got the goal that ensures memories of the scoreline will live on long after the non-event of a match have faded.

Barton's first strike was reward for persistence rather than inspiration, with too much of his passing of the hoofed variety. Hopefully that goal will push him on to being more effective and influential.

In the last couple of weeks we've begun to show signs of spirit, competency and organisation - as well as some good fortune. However, the last thing we need is anyone banging on about anything more than the immediate tasks facing us.

Even allowing for the dictats of sports editors and club publication strictures, the utterances of Geremi and others after the Arsenal draw about "weathering storms" and "answering critics" were as concerning as they were inaccurate.

Let's try and keep the hackneyed old guff about cup runs or anything else to a minimum and stop short of celebrating mediocrity.

What we're now seeing is the bare minimum of acceptability - we're now proving we're neither great nor awful, which is precisely why we're in mid table.

Avoid wild mood swings in either direction and leave the over-reaction to outsiders. Men at work.
Biffa