Date: Sunday 23rd December 2007, 2pm
Live on Sky

Venue:

St. James' Park



Conditions: Porous

Newcastle

Derby County




2 - 2

Teams
6 mins One-time Toon target Giles Barnes rifled a low 20-yard effort in the bottom corner of the Gallowgate goal after he was given time and space to line up his shot. 0-1

27 mins
Alan Smith was on his backside after hesitating on the edge of the box but somehow the ball broke to Mark Viduka, who took a touch and hammered home from 15 yards. 1-1

Half time: Magpies 1 Rams 1

52 mins A long clearance was flicked on by Howard and Teale but birthday boy Kenny Miller still had to get past David Rozehnal - which he did with alarming ease - and tuck the ball past Shay Given 1-2

87 mins Mark Viduka took Given's epic upfield clearance and caught it on the half-volley 2-2

Full time: Magpies 2 Rams 2
Sam said:
"I am disappointed, disappointed that we had to come back from a goal down and disappointed that we had to come back from 2-1 down when we clearly had enough opportunities to have buried any game.
"But we encouraged the opposition to have something to hang on to and then go right to the very end.
"Even though we nearly won it 3-2 at the death, we still have two clear problems to resolve: one is our basic defending allowed the opposition to have two shots on target and score two; and we had numerous chances to convert more than the two we scored.
"Mark Viduka showed us the way forward with his finishing because he had three opportunities and converted two, and the first of them was our most difficult chance of the day.
"But the others went begging and ended up giving the opposition something to hang on to on two occasions.

"Then the second half - a long ball and we just had to get the basic defending right. Ultimately we got something out of the game but we are still very disappointed. We have missed numerous chances and not won a game that we should have won.

"I'm very pleased at the attacking play apart from the conversion of chances. But we have to take it on the chin. We've kept the unbeaten run going which is important. Derby at 1-0 and 2-1 up are going to defend for their lives, like they did, but that doesn't stop the disappointment of ourselves.

"We have to go to Wigan now on Boxing Day and make sure we put this one behind us.

"There's no injury to David. It was a tactical change. I thought we needed a bit more aerial power to cope with Steven Howard and his threat. It was their first point of attack.

"The defensive problem has cropped up again - but we've got more options available in defence.

"We've been running on only one centre-half but now we've got Steven Taylor, Claudio Cacapa and Abdoulaye Faye back and that gives us more options to tidy up that area.

"We are very disappointed, but we are on a run because we are undefeated. We should have beaten Derby and it's our own fault all together that we didn't.

"We know we should have won this game but we haven't lost it and now we have to go forward with our undefeated run."
Paul Jewell said:
"When you come so close to the end of the game and you concede a late goal, especially in the manner it was conceded - if they had scored a great goal, fair enough, but the two goals Newcastle scored were from absolutely shambolic defending by us.
"That has been a trait of ours all season, obviously, as well as not scoring enough goals - that's why we are bottom of the league.
"But the performance of the players in general was terrific.

Of the alleged Mears penalty in the dying moments:
"Tyrone said his footing went - it looked like a bit of a dive to me. I don't know why he dived. When I asked him at the end of the game, he said he lost his footing - so that tells me he probably dived."
This was the fifth consecutive home game in which we've fallen behind.


Rams in Toon: Premiership Years:

2007/08 Drew 2-2 Viduka 2
2001/02 Won 1-0 Shearer (pen)
2000/01 Won 3-2 Cort, Cordone, Glass
1999/00 Won 2-0 Eranio OG, Shearer
1998/99 Won 2-1 Dabizas, Glass
1997/98 Drew 0-0
1996/97 Won 3-1 Elliott, Ferdinand, Shearer
Mark Viduka hit his fourth and fifth goals in a Newcastle shirt, following from his debut strike at the smoggies and a first half brace at home West Ham. That's his best total in the Premiership before Christmas since 2000/01 (when he notched 12) and an improvement on each of his three seasons on Teesside, when he managed just three each time.

Waffle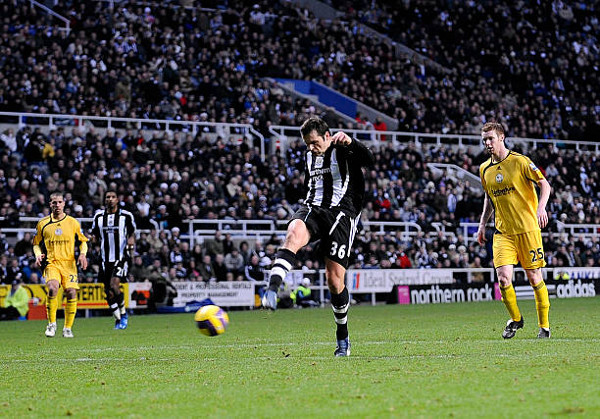 Oh dear.

After the Pride Park shambles that was our first defeat of the season, Sam Allardyce bemoaned his squad selection difficulties and the international timetable that had left his players jaded.

Three months on and neither reason could be trotted out for this deeply disappointing draw, with the absent trio of Viduka, Barton and Duff all back in harness.

Derby showed more quality than the first time round but regressed in that they were incapable of keeping the clean sheet that had delivered them that sole seasonal success to date.

Where the final seconds of our last two games had brought late joy for the Magpies, today's 87th minute leveller was celebrated with relief rather than joy - and perhaps Emre's added time swipe wide was balanced out by a decent-looking penalty shout up at the other end seconds before.

Viduka's pair of predatory finishes were in stark contrast to much else that went on in attack, our finishing being wayward on those occasions when we actually tried shooting and our crossing being deplorable - notably N'Zogbia's party piece of picking the 'keeper out time after time.

And regardless of Sam's seal of approval for our attack, we were anything but impressive against a side who had lost their previous seven games and managed just one goal at the right end away from home, while conceding 24.

The self-congratulation society seemed to be staging their Christmas party when we fell behind for the fifth successive home game, the players seemingly in the mind set that what had been spouted after the Fulham game and before this one actually bore some resemblance to reality.

We did mount a recovery and pressed Derby back instantly, Viduka duly providing an equaliser 20 minutes later, although our over-elaboration had seen us fail to test Bywater in the visitors goal and ignore Milner and Martins as both sought to stretch the Rams down the flanks.

Martins in particular was a non-event - apparently sulking due to his wide placement and being visibly geed up by his colleagues on several occasions. So much for bowing out with a bagful of goals before his Ghanaian posting - or even the assists that he produced from that position earlier in the season.

Combine that waste of a shirt with the basic deficiencies in Barton's game ie not being able to pass or get away from opponents and Smith's dubious value (were Shola to be posting performances of the calibre of our new captain, he'd probably have been hounded out of the club and city by now).

That reduces the effectiveness of our side to the point where it's difficult to see them beating anyone - and adding in defensive lapses in concentration, stumbling to a point against this lot starts to look more understandable.

If falling behind once was careless, then to do it again was verging on the criminally negligent.

And before Viduka's late leveller we looked as if it was all too much bother for us and that our pre-match preparations had been on Stowell Street, such was the stodginess of our display.

The crowd had stopped short of getting on the side's back, but in the absence of any concerted and directed pressure weren't exactly raising the roof with waves of support.

Just when the defeat looked inevitable though and the booers were clearing their throats, we salvaged a point to avoid defeat - before mounting a suitably inept attempt at a winner in added time, before this final home game of a typically turbulent year was wound up.

Had Viduka's goal been the winner though, we'd have only been back to the same point as last Saturday night, where relief in the victory outweighed darker thoughts. Nothing more.

Yes, there is something admirable about recovering from being behind twice to claim a point, but like winning the Championship, you must have dropped down to that level in the first place....

The context is the thing - if a battling point here against Arsenal was rightly acclaimed, then a stuttering stalemate against the Premiership whipping boys was probably deserving of a poorer reception than the reserved for the final whistle today.

Those who suffered last week at Craven Cottage to the bitter end were rewarded with three points and a clean sheet to warm them through, but could reasonably have expected something slightly more expansive today than merely a demonstration of our inadequacies.

Seven points from the games against Birmingham, Fulham and Derby may have extended our unbeaten run, but any satisfaction has to be tempered by looking at the fixture list from here on in:

Starting off with Wigan (100% failure record there without scoring), moving on to Chelsea (no win in 20, no goal in seven) then welcoming resurgent Man City (one goal, one point in our last four meetings).

And any potential relief caused by the FA Cup is tempered by the fact that our opponents top the form table in the next division and doubtless have the hopes of a nation with them, as they bid to claim a scalp in front of the TV cameras.

Thereafter the hits keep coming, with a visit to Old Trafford (no win in our last 26 attempts) followed by Sam's old side turning up here - by which time things may be going swimmingly, or we may be praying that someone has bought Anelka.

Taking all the above into consideration reveals the necessity of beating the Rams and putting those three points on the board - boosting players and fans alike before the hectic festive run of games.

That we failed is naturally a big disappointment and that we enter that year end maelstrom with concerns remaining at both ends will be a headache to Allardyce - and his bosses.

Regardless of this deflating display, we still go into Christmas with on a five year high, points-wise:

2001 36 points, 1st
2002 32 points, 4th
2003 25 points, 5th
2004 21 points, 13th
2005 25 points, 10th
2006 25 points, 11th
2007 26 points, 9th

Unfortunately those stats were cold comfort to those filing out of the ground at the final whistle - and before, in the case of our more incontinent and impatient party people.

We'll turn out at Wigan in our thousands of course - and the fans will doubtless provide backing akin to that provided up the road at Ewood at the start of the month. Whether they'll have anything to cheer though remains a sizeable question.

The jury remains out and the hearts and minds job is being undermined by our persistent refusal to be competent and consistent, today not even painting over the cracks with a victory of any sort.

There's no point talking about rebuilding the fortress if you leave the back door open, but Allardyce can feel let down by his players again, after having at least tried to be a little more expansive at home.

Quite simply, after our little breather we're back to make or break fixtures. Your time starts now.

Biffa