Date: Wednesday 26th December 2007, 3.00pm

Venue:

JJB Stadium



Conditions: Mild and bitter

Admission: £25 (£20 last season)

£3 programme





Wigan Athletic

Newcastle United

1 - 0

Teams
Half time: Wigan Athletic 0 Newcastle 0
65mins Ryan Taylor notched his second Latics goal with an effort similar to that which brought about the first. The free kick was slightly more central and at the other end of the ground to last season's, but the 25 yard blast whizzed past Shay Given with a sad air of inevitability. 0-1
Full time: Wigan Athletic 1 Newcastle 0
Sam said:

"You expect a reaction, and I don't blame the fans. If I was them I would be singing what they sang because we're not good enough.
"I'm a top man in my field and I know it's not good enough, so it doesn't take much for them to work out it's not good enough. They are not daft.
"The level of form they have dropped to is unacceptable. Everyone can have an off day, but our off days are really off.
"Right now, the only pressure on us is what we are putting on ourselves because we are performing at that level.
"We should be big enough and professional enough to cope with what is thrown our way.
"We are professional managers and players and we have to perform under pressure, whether it be good, bad or indifferent.
"We have to accept that pressure and use it as a positive, not a negative, not shrivel and die.
"You have to roll your sleeves up, wear your heart on your sleeve and go and fight because that is what gets you out of difficult situations.
"Then you use the abilities you have, but we can't rely on ability alone to win us matches. You need more than that to win games in this league.

"It was a poor performance - we couldn't cope with Wigan being high-tempo and hard-working.

"Some of our players have not lived up to their reputation.

"The front players have not held the ball up and the creative players have not created. Today the appetite to beat the opposition was not there.

"I'm not happy to have my future in their hands."


The squinting/whispering Steve Bruce commented:

"We've played three teams in the top 10 since I arrived, and won two and drawn one. If we keep going like that then I hope we can stay out of the bottom three.
"I'm not going to get carried away. But we've given ourselves a chance - so I'm very, very pleased.

""I've been poorly in the night. I've been repeatedly sick for 24 hours and burst a blood vessel in my eye. I'll scare the kids, and no, I haven't even had a drink! But this has cheered me up.

"The players look as if they've the stomach for the fight, and if they keep playing like that, then I hope that we can stay out of the bottom three.

"A month ago we were marooned with Derby, but now we've won a couple of games back to back at home and given ourselves an outstanding chance of survival."

(for anyone missing out on their regular dose of Geordie credential-restating from Steve, fear not....the Corbridge Mag was in full flow when composing his programme notes):

"Being a Geordie myself, I know what the club means to Newcastle people. My family are here today and it's always a big occasion for me personally when I face my hometown team. The Newcastle result is one I always look out for!"

Unfortunately the programme editor was unable to include his full copy, meaning we were deprived of talk of pit shafts, The Esso Northumbria, Bedlington Terriers and pease pudding.

However said programme did include a feature on the Wigan players having a team-building day out at a paint-balling event. This extended to twelve pages of photos of people wearing masks.

Damien Duff made his first start of the season after coming on as a substitute against Derby County in the previous game.

Mags @ Latics:

Springfield Park:
1953/54 Won 3-2 (FA) Broadis, Keeble, White

JJB Stadium:
2005/06 Lost 0-1
2005/06 Lost 0-1 (LC)
2006/07 Lost 0-1
2007/08 Lost 0-1
Our Boxing Day away disappointments:

2007/08 Wigan Athletic (a) lost 0-1
2006/07 Bolton Wanderers (a) lost 1-2
2005/06 Liverpool (a) lost 0-2
2004/05 Blackburn Rovers (a) drew 2-2
2003/04 Leicester City (a) drew 1-1
2002/03 Bolton Wanderers (a) lost 3-4
1997/98 Derby County (a) lost 0-1
1996/97 Blackburn Rovers (a) lost 0-1
1995/96 Manchester United (a) lost 0-2 (played on 27th)
1994/95 Leeds United (a) drew 0-0
1993/94 Chelsea (a) lost 0-1 (played on 28th)
1989/90 Stoke City (a) lost 1-2
1988/89 Sheffield Wednesday (a) won 2-1



Waffle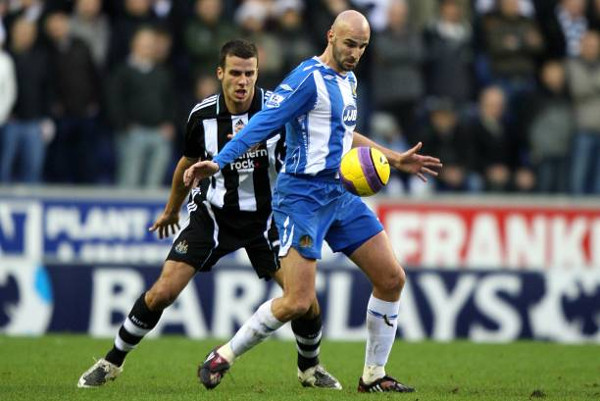 "We're shit and we're sick of it".

5,500 Newcastle fans made another wasted journey to watch their side on Wednesday, delivering their verdict on the rubbish that passed for a performance at the JJB Stadium with second half choruses of the above phrase.

The bare facts are that in twelve days we've won one, lost one and drawn one of our three games against struggling sides - serving up 270-odd minutes of tepid, uninspired football that fooled nobody - least of all us.

Our fourth 1-0 defeat in as many visits here came thanks to a 25 yard free kick conversion from Ryan Taylor - whose goal had divided the sides here last season.

However Allardyce's side can have no complaints after another inept display in which they failed to ask questions of a Latics side with one win in their last fifteen games.

And despite our relegation-haunted opponents having failed to keep a clean sheet in their last sixteen outings, it took us 52 minutes to get a shot on target - and that was an outlandish effort by Viduka on the edge of the box with his back to goal.

A formation that was 5-4-1 in all but name saw Barton and Butt make way for Geremi and Emre in the centre, with Duff making his first start of the season and Milner down the right, attempting to support the lone Viduka.

The other player? Smith, swapping a forward role against the Rams for a holding midfield role today that in reality saw him shoulder to shoulder with Taylor in defence.

The travelling fans supported their club but made their feelings known about the lineup with barely a quarter of the game gone when the first Oba shouts went up.

A poor playing surface didn't lend itself to a decent game and the Latics were equally as inept, but found a way past Given that always looked likely to be a winner.

What passed for a response from Newcastle was as meek, mild and utterly unacceptable as had been served up from the first whistle - leaving home boss Steve Bruce the only contented Geordie in the whole ground.

And for discarded Toon duo Bramble and Sibierski there was the satisfaction of putting one over on their former employers, Titus responding to jeering by turning in a competent display and clearing Viduka's effort off the line.

With half the season now gone, we sit in the bottom half of the table with trips to the top four still to be endured - plus the visits of Manchester United and Chelsea to SJP.

A generally favourable set of fixtures to date this season have largely been wasted by Allardyce and his players and as things start to shape up at both ends of the table, we find ourselves in no-mans land, on the crest of a slump.

As we've said before, our crowd at away and home games exist as two separate entities, even though many of the same fans are in both groups.

Whether it's the standing up or the concentration of like- minded supporters, the mood of the travellers tends to be more forgiving than the SJP malcontents.

It therefore follows that when those who in their own words "travel far and wide" start to vocally question what they're seeing - and shout for number nines past and present - that we're in dangerous waters.

The positive vibe from them that survived the defeat at Blackburn and defied the stupefying last -gasp success at Fulham was extinguished today by collective planned negativity and repeated on-field underachievement.

The significance of this venue in our recent history cannot be discounted, with the November 2005 League Cup defeat here being a mortal blow to the Souness regime.

Freddy Shepherd left here that night with dents in his Range Rover caused by disgruntled United fans - two years on and Mike Ashley had his ear bent by those same supporters as shared in their misery from behind the goal.

Exactly how willing our new owner will be to give funds to our current boss next month will prove very interesting.



A late cameo appearance here from Enrique did little to suggest that our £7m acquisition is any nearer to staking a place in the team, while Ashley will presumably query why the fully-fit Ameobi continues to be frozen out.

And as for this line being trotted out about our losing a quarter of players to African Nations Cup duty next month, that was public knowledge in the last transfer window when Messrs Geremi, Beye and Faye were signed.

Allardyce chose to side with the fans in his post-match press conference and questioned the commitment of his players - which will do little to ease the ongoing tensions in the dressing room.

The sort of aimless toss we served up is unacceptable in any game of football, be it professional or park, but at least it would have been understandable had it been Stamford Bridge we were playing at today.

To be staggeringly negative against a side with Sibierski in the attack stuck in the throat - and gave rise to sarcastic comments about whether Allardyce would have tried to play both Harper and Given had Heskey been fit.

But to avoid pressurising a defence including Bramble is just extracting the urine big style.

The former Ipswich man remains a decent, one-dimensional defender - as we saw in a Newcastle shirt. But what we also witnessed too many times for comfort was "The Titus moment", when the concentration wavered and he reacted in a costly manner to pressure.

Fat chance of that happening today, as we failed to take any shots or even get the ball to the byline. And as for set pieces? Abysmal.

People in football aren't stupid - be they punters or club employees.

The former tend to watch more football than is probably healthy and make observations on the form of other sides and their pattern of play.

The latter of course are paid a decent amount (make that a lavish amount in the case of Newcastle's cast of thousands) to prepare dossiers on strengths and weaknesses.

Any cash-strapped opponents need not send scouts to watch us at present though: a cursory glance at Match of the Day will see balls propelled from distance heading into our net past Shay Given, who now seems to have lost his air of invincibility and be as short on confidence as his defensive colleagues.

And handing the captaincy to Alan Smith seems to make little sense - surely someone with a little more gravitas and onfield decorum is more deserving and logical.

Butt should have been at least offered the chance to take the armband when he signed that contract extension.

So much crap has been spouted again about our unrealistic expectations, missing the point totally.

The net result of a trio of dreadful performances in a week is that we're a "crisis club" again, but the shouts of the fans aren't a reflection on our league position or chances of winning trophies - it's purely the fact that we're playing an unwatchable, insipid and joyless brand of football.

Halfway through the season and it's not just the decision on whether to release a season's highlights DVD that rests on the FA Cup tie.

Discounting the Chelsea trip, this becomes a tale of two cities for Sam - Manchester and Stoke.

Sven's side are eminently capable of exposing our defensive limitations in front of a critical home audience, while the Stoke team formed by Tony Pulis will doubtless seek to unsettle us by going toe to toe and drawing us into a war of attrition.

To fail in both and lose the latter in front of a live TV audience would test the resolve of Ashley and Mort to maintain their faith in a man they didn't appoint, but have allowed to create a sizeable off-field empire.

For Allardyce to have to refer to himself as a "top man in his field" betrays the fact the side he has partly brought in and is wholly responsible for organising and motivating is a snide Newcastle United - not the real deal.

He has to prove himself capable of imposing discipline and order in this chaos - and entertainment.

At this point we do on occasion ask for renewed support from the fans to try and encourage the team on to greater efforts.

Not this time - after the support and loyalty was thrown back in our face by players and coaching staff today, it's up to them. Earn your money, earn our respect, repay our loyalty. Or just pack in.

Play like this and you deserve everything you get in terms of grief from the terraces.

Biffa