Date: Saturday 29th December 2007, 3.00pm

Venue:

Stamford Bridge



Conditions: persecuted

Admission: £45/£48 (unchanged last two seasons)

Programme: £3





Chelsea

Newcastle United

2 - 1

Teams
29mins A Shaun Wright-Phillips shot was deflected into Michael Essien's path via what looked like Kalou's hand. With the goal at his mercy from six yards he netted; Steven Taylor unable to stretch to clear the ball 0-1
Half time: Chelsea 1 Newcastle 0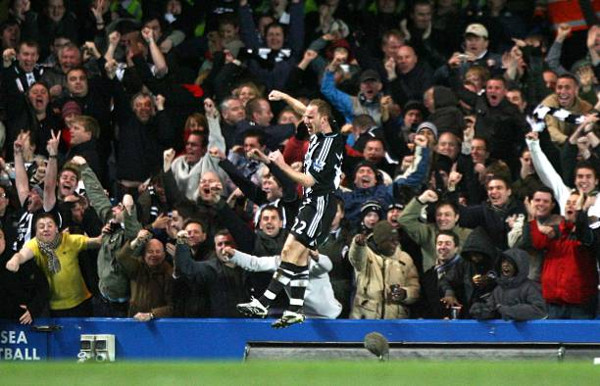 56mins Charles N'Zogbia's low centre ended up in Hilario's net via a shot by Nicky Butt and a deflection from Wayne Bridge 1-1

87mins Mikel's shot deflected off Essien straight to Salomon Kalou, who shot home despite being two or three yards offside. The effort was inexplicably allowed to stand 1-2
Full time: Chelsea 2 Newcastle 1
Sam said:

"It hurts deeply. Not just me but the players and the fans. The assistant referee made a horrible decision. He got it badly wrong.
"It's the worst decision that's gone against me this year. There is no real excuse for it. He can't hide from it.
"It must have been blind fear that stoped him putting his arm up. His arm most have been frozen.
"He's got to make a crucial decision in front of Chelsea fans on their home ground. He could have changed his mind - the ref could have asked him if he's sure.
"Football is a volatile world at the moment with managers losing their jobs because of bad decisions.
"We want to put the Joey Barton thing behind us. We'll deal with that later.
"At least we can take heart from a very good performance. But losing to a goal like that knocks our confidence.

"Before the season started, with that amount of money spent, you knew that it was going to be the most volatile season and it's proven to be that already.
"We're half way through it and seven managers have gone. I've been playing against managers recently and I've actually been at Newcastle longer than them, and I've only been here seven months.
"It's a competitive league, a hugely competitive league. More competitive than ever before.
"More people have entered the transfer market than ever before, spent more money - £530 million spent this summer - and that means that clubs like Sunderland, who have just been promoted, are spending sums like £30 million.
"That's never been seen before. Clubs who have just staved off relegation are spending the £20 millions.
"We're competing with everybody's funding of new players and trying to stay in and be successful in the Premiership.
"This is the only league to play in. You have to produce more instantly and quicker than ever before as a result. But Rome can't be built overnight."
On the claims of a pre-Wigan fallout with Barton:

"We had a few words because he was disappointed about being left out when I didn't think he was fit enough to play, but it has been blown up out of all proportion.

On the dressing room mole who leaked the story:
"I have no proof but a very good idea who it was. I just want him to know that I know."
On the negative atmosphere at SJP:

"It does nobody any good. In this situation we have to be positive. There is no pessimism behind the scenes. The results may not have gone our way but our performances have been better than people give us credit for.
"It was never going to be an overnight job here. It is important that supporters get a clear picture of what the club is capable of in the short term and have the patience to accept that the famine that Newcastle have gone through for years in terms of results will not end in a season.
"There are no instant cures. Success has to be built over a period. I believe I am putting a structure in place which will serve the club well in the years to come.

On the opening of the transfer window:
"We are competing with clubs who are spending more than ever before. We had to do some short-term buying in the summer. Some have worked, others haven't, but there were players at the club who came here for big money but had no residual value when it came to moving them on.
"Their departures did not generate money to spend in the transfer market but our net spending deficit is still only £9m, which is low when you compare it with other clubs.
"Clubs like Manchester United, Arsenal and Chelsea have benefited from signing young players and developing them through their system and we've started to do the same.
"We want to exploit that kind of market to be able to produce first team players of the future. But it has to coincide with an improvement in your current senior players.
"We have some very good players at Newcastle but, for different reasons, principally the absence of the more experienced ones for long periods, we have been unable to make the impact we are capable of."
"We are looking at players who I believe can improve the side, but for every likely target there are half a dozen clubs prepared to spend big money who are chasing them as well."

On his attempts to plan for a better future:
"From the top to the bottom of the Premier League, clubs are prepared to spend to try to make their team better. My aim is to get it right long term.
"The planning and structure for that is in place but it will take time and patience and the backing of the supporters to get us there.
"Changing things is only brought about by a long, slow process but, of course, that doesnít wear well in the game of football.

"But itís the only way you can really sustain success. Because of this football club and its history, itís all doom and gloom. Itís never anything other than crisis, but there is no crisis here.
ďThereís only the disappointment of a result and performance that wasnít good enough. But in the last two games we were only a smidgen away from better results and itís not a crisis.

"People outside make it a crisis or try and influence things, but what we have to do as a team and as a group of people is to stay strong and be focused on what we know is right and not let those influences affect us.
ďIíve never known anybody set up a successful business in three or four months. It simply canít happen. In the past, some people - far too many of them - have gone out and tried to buy their way to the top, but thatís not sustainable.

"It might get you there in the short term, but it canít bring you long-term success at a football club, because it has to come from a more structured and focused plan.

"The best two teams this season are Arsenal and Manchester United and theyíve got the two longest -serving managers.
ďWeíre getting that message across, weíre consistent in our delivery of that information and weíre not going to be distracted from what we know is successful.

"It stays consistent, year in and year out. The players are my challenge, nothing else. Itís them Iím interested in and the club as a whole after that. I have to make them better and make them more consistent.
ďIím working on that 24/7. In between, whether results are good, bad or indifferent, itís about not changing what you know works and sticking to your guns. And not to show any signs of weaknesses, because thatís easy for the players to pick up on and use as an excuse. That isnít and wonít be the case. Itís about staying together and trying to do whatís right."
Avram Grant mumbled:

"I think they (the Chelsea fans) were just excited at the situation (when they shouted 'you don't know what you're doing' at him). But Iím not complaining about the fans or their support. They are behind us

"We missed too many easy ones . If you look at the last two or three years, what made Chelsea champions for two years and United champions last year was that they were teams that didnít miss chances.
"You cannot fail to hit the target or score from five yards or seven yards, like we have been doing.
"If weíre in the same position as we are now when the players come back from Africa and their injuries, it will be very good for us.Ē

Toon @ Stamford Bridge - Premiership Years

2007/08: Lost 1-2 Butt
2006/07: Lost 0-1
2005/06: Lost 0-1
2005/06: Lost 0-3
2004/05: Lost 0-4
2003/04: Lost 0-5
2002/03: Lost 0-3
2001/02: Lost 0-1 (League Cup)
2001/02: Drew 1-1 Acuna
2000/01: Lost 1-3 Bassedas
1999/00: Lost 0-1
1998/99: Drew 1-1 Andersson
1997/98: Lost 0-1
1996/97: Drew 1-1 Shearer
1995/96: Drew 1-1 Ferdinand (FA Cup)
1995/96: Lost 0-1
1994/95: Drew 1-1 Hottiger
1993/94: Lost 0-1


Nicky Butt scored our first goal here since August 2001, ending a run of seven scoreless games - his goal coming 699 minutes after Clarence Acuna's effort at the other end of the ground.

It's now over 21 years since we last won at Stamford Bridge, today a twentieth unsuccessful attempt in league and cup fixtures (November 1986, won 3-1).




Waffle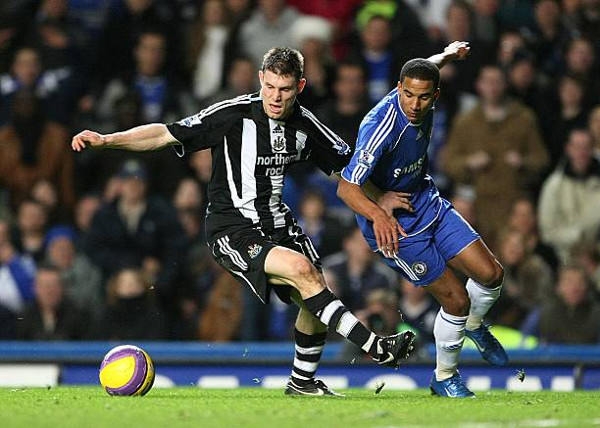 Not so sh*t and not so sickened then as we were at the JJB - at least by our own side.

However our usual yuletide misery was extended today on a ground where we've enjoyed nothing but poor fortune and the occasional refereeing rick to spoil those times when the home side haven't wiped the floor with us.

With Chelsea missing a host of familiar faces, any sort of result from Wigan would surely have sent us out at the first whistle with renewed optimism that we'd finally get something here.

As it was though, we began in a relatively lifeless manner with the Blues failing to get their passing game together, but still making too many inroads towards our goal for comfort.

An opening goal duly arrived and although Martins proceeded to miss a couple of good half- chances when his first, second and third touches let him down, there seemed little reason for optimism at the half time interval.

And when Given was quickly required to scoop a Butt clearance from under his own crossbar after the restart, things looked no more favourable for Allardyce and Co.

However, that incident seemed to spark a more positive display, with an equaliser bundled home by Butt, who had popped up at the sharp end due to the increasing influence of Faye in a midfield anchor position (we were virtually 4-1-4-1 at this point).

It's worth noting also that N'Zogbia was the prime mover in the goal - his dart forward with the ball a reminder that he's the most dangerous dribbler on our books and will always do his best work going forward than trying to defend.

Butt's goal/assist was also reward for a spirited display in which he tried to lead by example - a captain without the armband, in our eyes.

At that point Chelsea were looking as devoid of inspiration as they had been deprived of first choice players through injury and suspension, with a real sense that their unbeaten home league run could come to an end after 72 matches.

The home fans had been quiet all afternoon and after grumbles greeting the replacement of Joe Cole, Avram Grant's decision to withdraw Michael Ballack led to shouts of "you don't know what you're doing...."

And had Duff and Owen been a little more match fit, then that disquiet could have been turned into real division in the stands - something that we've been not totally unfamiliar with in 2007 ourselves...

A battling Toon display was left in tatters though with three minutes remaining, when linesman Mike Cairns incredibly failed to see Kalou standing on his own by the penalty spot as he netted - before running away with a guilty expression on his face and a sly look across at said official.

Butt and Given led the protests towards the linesman with both yellow-carded. Meanwhile the decision of the Stamford Bridge giant screen operator to replay the incident merely added to the mayhem, as it became obvious to all present that the officials were guilty of serious misjudgment.
A more positive United were full value for what should have been a creditable drew until the linesman's blinkers denied us, but the fact remains that we have taken just four Premiership points from a possible 48 on this ground.

Less comfortingly, another day of toil for Milner would ideally see him taken out of the firing line for a breather, but with our midfield resources stretched already this may not be viable - unless we can cajole Enrique onto the field and push Zog forward.

Going into 2008, our future seems widely to be viewed as becoming a tale of two Cities.
Anything other than victories against Manchester and Stoke will pile on the self-inflicted pressure that just one point from nine and more unwanted front page headlines have placed on the club.
The impact of the returning Owen and Duff needs to be immediate as we look for a lift, but it does beg the question of why we were unable to raise our game at Wigan in the manner we did so here.

Putting aside the sense of injustice and righteous indignation, it's difficult not to feel that Sam is battling against insurmountable odds.

Be it the latest Barton debacle, the loss of his African contingent or today's late winner - at the moment this looks to be going only one way - into a brick wall.

Despite the sympathetic words of Chris Mort who visited the dressing room after the game, our downturn in fortunes seems as inevitable and predictable as we'd feared - and there's more to come from an unforgiving fixture list.

Had we taken a point from this game it would have been a creditable return - as was the draw with Arsenal.

However what will ultimately bring the current boss down are the manner of the performances against Derby, Wigan and Fulham.

Our approach and play brought one success from those three must-win games, and that joyless victory was due to a late favourable refereeing decision in South West London - a bit like today's face-saver for Chelsea.

Despite the reams of copy from the manager and his supporters in the game, the suspicion remains amongst many fans that our current squad would be capable of producing something more watchable under different guidance.

On the evidence of the first half of the season, we don't see that changing frankly.

It's not just in the dressing room that confidence seems in short supply - the hearts and minds of the support haven't been engaged to date by what has been served up.

That's nothing to do with great or unrealistic expectations, just common sense.

Biffa