Date: Wednesday 2nd January 2008, 7.45pm

Venue:

St. James' Park



Conditions: Occasional swirls of white powder

Newcastle

Manchester City




0 - 2

Teams
38 mins A through ball from Stephen Ireland was tapped into the path of Elano, whose low 18 yard left-foot shot swished past Shay Given in the Gallowgate goal. 0-1

Half time: Newcastle 0 Man City 1
76 mins On the pitch for barely a minute, substitute Gelson Fernandes netted a first goal in English football. The Swiss U21 international (despite born in the Cape Verde Islands) converted a rising left foot shot from 15 yards after Etuhu knocked Corluka's pass into his path in similar fashion to Elano's opener. 0-2
Full time: Newcastle 0 Man City 2
Sam said:
"
There were some really defining moments that unfortunately ended up going against us. First and foremost is not converting some great play and some great chances in the first half.
"I thought Elano's tackle was a straight red card, there was no question about that. It was reckless, dangerous, career-threatening and not dealt with.
"It may sound like excuses, but it is a turning point in the game. And then the referee looks like he's given a foul from Nedum Onuoha on Damien Duff, and then he sees the linesman with his flag up. But that didn't look offside, he looked level when it was played.
"That defining moment, yet again, has changed it around because straight from the free-kick Manchester City have gone 1-0 up.
"It could have all been so different if we'd put one in the back of the net or if some of those decisions went in our favour rather than against us.
"The pressure still mounts, even with that support, and it mounts on us all, particularly me, because we've lost a game of football at St James' we shouldn't have lost but we have.
"That's a big worry for us at the moment. What should have been a point at Chelsea and something here is now three defeats on the trot and again, the pressure grows.
"A team like us shouldn't be losing at home particularly and shouldn't be losing three on the trot.
"It's a low moment for us all but we've all got to stick together and believe that how we played tonight will get us out of trouble and that starts at Stoke City in the FA Cup.
"We've got an extremely tough month with the games coming up so we've got to keep believing, and keep trying to play the right way and keep trying to get the results that some of the performances deserve.

Nicky Butt (captain for the evening in the absence of Geremi and Smith) commented:

"We're all behind the manager, we're all together in the changing room. We're all fond of the manager and want him to be here, and I'm sure, hopefully, he'll get that time he needs. These are tough times, definitely so.

Ultimately, the players are the people who get results and we've got to stick together and hopefully turn the corner, sooner rather than later.
"Everybody knows as well as I do that managers get looked upon by their results. But things will never improve unless he's given time. This club of all clubs can show you that. I've been here three and a half years and I've had four managers. Sooner or later someone has to say 'This is the manager we're going to stand by in good times and bad times' and hopefully get the rewards at the end of it.

If you look at teams that are doing well, like Everton, they're the clubs that have stood by their managers for a long time. If we do that, I'm sure we'll do it right.
"Ultimately we'll all be judged on results. That's the way football is but two or three weeks ago we were getting beat and playing crap as well, so then the eyebrows do raise.

But, just lately, there have been signs we are improving. We are together. It's going to be tough, tough times now, especially with four lads going away to the African Cup of Nations, but we're paid to get results.

We've had bad results and, rightly, we've been getting stick, but if we don't stand up and be counted, we'll keep going down and down and things will get worse and worse."
Sven adult books said:
"Of course I am very happy - it has been a long time since we last won a game away from home and it is a very nice way to start 2008. We scored beautiful goals.

"Gelson is very happy in the dressing room, I can tell you.

"Everything is very good for us but Liverpool have played one game less."

On Sam's current problems and resultant job pressure:
"The longer you are in this job, you know sooner or later, it will happen. It has happened to me many times in my career, and that's football.
"You cannot expect to always play good football and win. Sometimes there are hard times - and it can be for weeks, it can be for months. But Sam Allardyce is a very good manager - you saw that in the past with Bolton. Give him time and he will sort it out, I am sure."
On Elano and his challenge on Faye that Allardyce branded a red card offence:

"It was not the so-called two-footed tackle which has been debated so much. It was a tackle and a yellow card, but I don't think he should have been sent off for that.

"It is very difficult to rest a player like him. When he gets the ball he is something special. But he has not been the real Elano since he was away for 10-14 days on international duty in October.

"But he is on the right track now. We've had some long talks and we agreed he should play on and his form would comeback. And in a couple of games you will see the real Elano."


United v City @ SJP - Premiership years

2007/08 Lost 0-2
2006/07 Lost 0-1
2005/06 Won 1-0 Owen
2004/05 Won 4-3 Robert, Shearer, Elliott, Bellamy.
2003/04 Won 3-0 Shearer 2, Ameobi
2002/03 Won 2-0 Shearer, Bellamy
2001/02 Won 1-0 Solano (FAC)
2000/01 Lost 0-1
1995/96 Won 3-1 Ferdinand 2, Beardsley
1994/95 Drew 0-0
1994/95 Won 3-1 Gillespie 2, Beresford (FAC)
1994/95 Lost 0-2 (LC)
1993/94 Won 2-0 Cole 2

First footing: Newcastle's opening home game of the year results (last 20 years)

1988 Sheffield Weds drew 2-2
1989 Derby lost 0-1
1990 Wolves lost 1-4
1991 Blackburn won 1-0
1992 Charlton lost 3-4
1993 Peterborough won 3-0
1994 Manchester City won 2-0
1995 Manchester City drew 0-0
1996 Arsenal won 2-0
1997 Leeds won 3-0
1998 Bolton won 2-1
1999 Chelsea lost 0-1
2000 West Ham drew 2-2
2001 Coventry won 3-1
2002 Leeds won 3-1
2003 Liverpool won 1-0
2004 Leeds won 1-0
2005 Birmingham won 2-1
2006 smoggies drew 2-2
2007 Man United drew 2-2
2008 Man City lost 0-2

City became the first side to do the double over us this season.

Waffle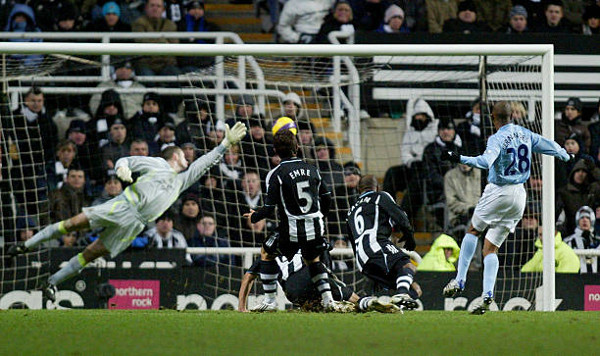 After 35 minutes of this game, a dozing new year crowd had been brought at least partially to life by some heart-warming football from United which threatened to banish the December blues.

With City unimpressive and sitting deep in their own half - save for a Cacapa slip that almost brought back memories of that Pompey nightmare - we were getting bodies forward and testing the opponents from a variety of angles, albeit without carving out much more than half-chances.

An early opening for Beye had seen his near post header pushed out and follow-up cross/shot blocked, while Martins looked to be in lively form - even if passes to colleagues were at a premium.

Amid all the "Sven's back" hype it's as well to remember that going into this game City had claimed less points away from home than ourselves.

And it's a moot point whether those who are quick to make the comparison of the Swede "sorting" out City in more rapid and effective fashion than Sam has managed here would have approved of the lack of style they showed.

However, all of our early promise was destroyed by two sucker punches, an inability to score points by landing accurate blows or knockouts leaving us empty-handed once again.

This may sound more like a Ricky Hatton fight than a football match but there was no split decision and no dodgy judges to blame (just crap linesmen, again).

We've incurred 1 point in 12 over Christmas, now suffered 3 defeats in succession and 2 wins in our last twelve games. And at home we've conceded first in our last six games - coming back to win just once - and seen our defence leak 13 goals in those half dozen fixtures.

An improved display from United raised hopes that 2008 would see a change in fortunes, but a failure to turn our first half dominance was to cost us dear as City claimed a goal on the counter through Elano before the interval.

The replacement of the erratic Martins by Owen almost paid instant dividends as his first touch came close to an equaliser - only for the ball to squirt away of the trailing foot of 'keeper Joe Hart.

However our influence on the game gradually ebbed away from that point as we failed to register either accurate attempts on goal or decent distribution and crossing, while City sat back and waited for us to run out of ideas and energy before repeating their scoring trick in similar style.
That ended the game as a contest and sent disconsolate home fans towards the exits, having watched a side do a job on us that in many ways was the epitome of what Allardyce is trying to get his squad to deliver.

A frustrating night all round confirmed a few things: luck has deserted us totally and confidence is strictly rationed.

The final whistle brought a chorus of boos from the home ranks, but the only negative chanting during the game directed at Allardyce or his players came from the City fans with a range of anti-Sam songs.

Our reason for saying that is to give some perspective to those not present who will form their opinions on the post-match views expressed on TV and radio.

To say that there's a groundswell of opinion against Allardyce is untrue - nobody was shouting much about anything tonight, least of all for Alan Shearer.

This apparent collective will to see Sam sacked and replaced by the local hero that fills newspaper columns remains an illusion - along with us preferring to lose matches in the name of entertainment.

Unfortunately any attempts to get behind our manager, players and club at present keep stalling as we fail to string together any semblance of form - soundbites from our season amounting to a litany of "if only's".

Coming after the gallant display at Chelsea, parts of this game were from the same mould as the Arsenal home draw, which has to be taken as a positive in these thin times.

No defeat is acceptable, but there was less to be downhearted by than against Derby or Wigan: Duff looking lively and Beye again showing some promise, along with Butt's tenacity - battling on despite having an off night with some of his passing.

In the centre of defence though the worries remain, with N'Zogbia's forward exploits down the left exposing Cacapa's lack of pace and Enrique anything but convincing when he was introduced at left back.

Viduka though was embarrassing - with his lack of movement emphasised by some brainless lofted balls for him to waddle towards.

Victory for City over an imploding Newcastle side just over two years ago finished off Souness - this defeat by the same side doesn't have the same death rattle about it.

However it's undeniably another blow for Allardyce - much more of this and at some point the towel will be thrown in by his corner, whether his guard remains up or not.

Take your pick: Barton's incarceration, recent refereeing decisions, the Nations Cup callups, Owen's miss tonight, the banana skin cup tie up next, the visit to Old Trafford after that, or the ceaseless media attention.

In the end though, a defence that cant defend and an attack that can't score will nail the coffin lid down at some point between now and the season's end. If that doesn't change, then ultimately something else will.

We're led to believe that a cup exit at Stoke won't spell the end of the current administration - but a failure to beat the Championship side will feel like the end of this season, with only pain and misery to follow.

After talking about City's part in the demise of Souness, it's as well to recall that the away draw against Birmingham exactly a year ago and consequent home replay defeat fatally weakened Roeder's grip on the tiller.

It took another four months (and 13 points from a possible 42) before he fell on his sword, but much damage was done by our failure to beat a lower league side.


Biffa