Date: Sunday 6th January 2008, 6.00pm
Live on BBC1

Venue:

Britannia Stadium



Conditions: Lashing down

Admission: £20

Programme: £3





Stoke City

Newcastle United

0 - 0

Teams
Half time: Stoke City 0 Newcastle 0
Full time: Stoke City 0 Newcastle 0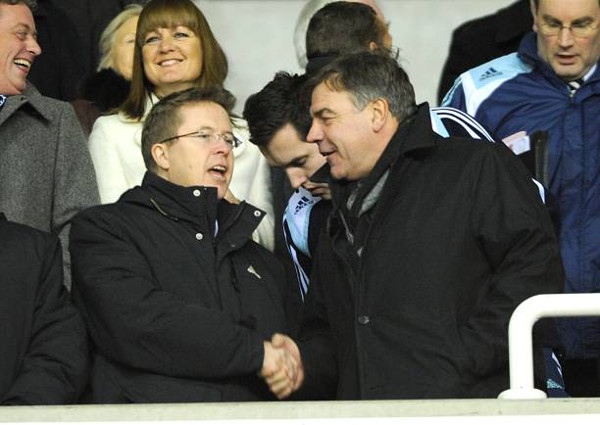 before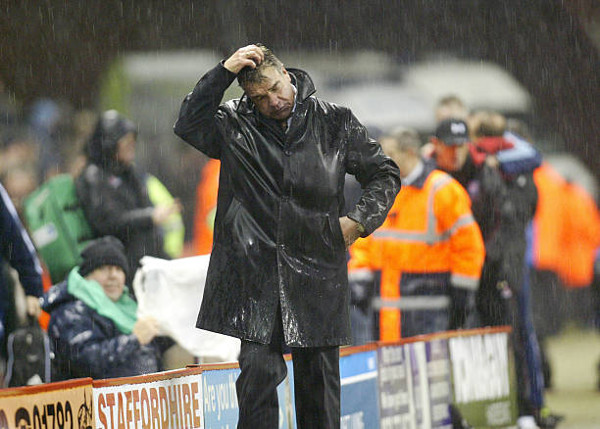 after
Sam said:

"I think we could have won it in the first half and the beginning of the second half, we could have lost it in 15 or 20 minutes midway through the second and could have nicked it at the end. Not scoring when we had clear-cut opportunities (in the first half) was the disappointing thing. It meant when the pressure did come we had a little bit more to withstand.
"It got a little bit desperate at one point but we got through that and then one of our local boys could have been the hero in the last minute, but Andy Carroll slid the ball wide of the far post instead of just inside it.
"It was a horrible night weather- wise but a good performance from both sides. In the main we coped with most of what Stoke had to offer. We controlled the game for long periods but couldn't find the cutting edge.
"Two young lads came on and did some good things in possession of the ball. Andy Carroll could have been the ultimate hero but didn't quite make it. At least he got the chance to miss.
"The service has to get better. We need to find a little more cutting edge in every department - I don't quite know how we didn't score at the end of the first half.
"Overall it was a good performance and a good result, although we could have done without the extra game with the players away at the African Nations Cup but (four) Premiership sides got knocked out by lower division teams and there was none harder than this one for me."
Shay Given added:

"We're delighted to disappoint everyone who wanted us to fall flat on our faces. People wanted us to fail so they could have another go at the manager, but we avoided becoming the upset they all wanted. We stuck together and we knew what to expect from Stoke.
"The television cameras were at Stoke because they expected it to be another upset, that was why there was all the interest in us. We had to go there and do a professional job, although obviously it would have been better if we had won the game.

"We passed the ball well, but the conditions
got worse as the game went on and that helped them rather than us. We created a few chances but we didn't take them and we had to defend well at the end because they put us under a lot of pressure in the second half.
"The main thing was to avoid defeat, but the tie is not over yet. They showed some good quality, particularly in the second half and they are a team who are flying high in the Championship, so it's certainly not job done.
"But we're delighted we're still in the draw, especially after watching the games over the weekend. A lot of Premier League teams were knocked out by lower league opposition and Liverpool only managed to draw at Luton, so the FA Cup still has the ability to produce plenty of shocks. We're happy we're not one of them at the moment because this competition can do that, it's their cup final.
"We had a nightmare against Birmingham City last year having earned a replay, so there will be no complacency. Those memories are still too fresh in the memory for that.
"We as players have to stand up and be counted because the only reason the manager is under pressure is that we are under-performing. We've got to put that right, stick together and start playing better. As I've said before, the manager doesn't cross the line, it's up to the players. The team he picks has to start performing for Newcastle United."
Ever-so-slightly mad Potters boss Tony Pulis pulled down his baseball cap and commented:

"I would give Newcastle credit for good defending. They are a smashing team. We had good opportunities, but they got men between us and the goal, and it might be that Sam turns it round from here.

"It was a smashing Cup tie, but obviously we're disappointed we haven't won the game because we had the better chances. (Chairman) Peter (Coates) has put a lot of money into this football club and so it's nice to have a replay for him as much as anyone.
"Our fans really did get behind us and they have made it a great cup tie. There'll be over 50,000 for the replay and we will take a big, big contingent up there for a great night out - and how our fans deserve that.
"These are exciting times, the best the club has known for some years, and long may they continue. I don't believe it hasn't gone in the net. You expect Jon to smash them in. But that's gone now and it doesn't take away from a great performance from everyone.
"The players will really relish the opportunity of going up there for the replay - and who knows?"

Tony's hardly the master of predictions though - having assured all and sundry that the Britannia was a sell out for this game, he seems to be labouring under the delusion there'll be a full house for the replay. Twelve months ago we drew 26,099 to the equivalent game against Birmingham...

Kazenga LuaLua made his competitive senior debut for the Magpies.


This was our first competitive game at the Britannia Stadium and our third visit in total.

August 1999 saw us debut at the ground which had opened two years previously. That was in a 2-1 pre-season friendly victory that featured a playing cameo from then-boss Ruud Gullit.

And we were back here in January 2004 for a Fourth Round FA Youth Cup tie, recording a 1-0 success in similar damp conditions to tonight, thanks in part to a fine defensive display from Steven Taylor.

We've faced Stoke in the FA Cup five times before:

1909/10 drew 1-1 (a)
1909/10 won 2-1 (h)
1950/51 won 4-2 (a)
1955/56 won 2-1 (h)
1960/61 won 3-1 (h)

While we have also achieved two League Cup successes:

1976/77 won 3-0 (h)
1995/96 won 4-0 (a)
Newcastle's Third Round Record - Premiership years:

2007/08 Stoke (a) drew 0-0
2006/07 Birmingham (a) drew 2-2 (lost replay)
2005/06 Mansfield (h) won 1-0
2004/05 Yeading (a) won 2-0
2003/04 Southampton (a) won 3-0
2002/03 Wolves (a) lost 2-3
2001/02 Crystal Palace (h) won 2-0
2000/01 Aston Villa (h) drew 1-1 (lost replay)
1999/00 Spurs (a) drew 1-1 (won replay)
1998/99 Crystal Palace (h) won 2-1
1997/98 Everton (a) won 1-0
1996/97 Charlton (a) drew 1-1 (won replay)
1995/96 Chelsea (a) drew 1-1 (lost replay on pens)
1994/95 Blackburn (h) drew 1-1 (won replay)
1993/94 Coventry (h) won 2-0
Waffle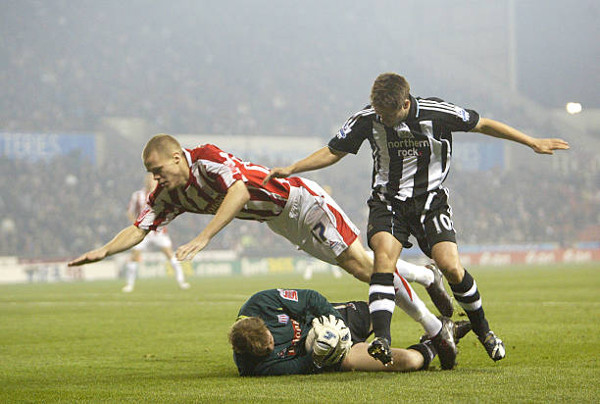 The Newcastle boss may have gone public after this tie with thoughts that his charges play too much football - but from the South Stand it was difficult to see that we'd played any.

Yes, we kept a clean sheet and in doing so ended a run of three defeats and we're still in "the hat" (which is of course now a bag and an industrial food mixer).

For that the defence deserves considerable credit, especially the battling performances of Taylor and Faye, who both put their bodies on the line to give Shay some respite between the posts.

However that hardly lifted the spirits of those trudging away on a dirty Potteries night, having seen us fail to show any hint of our alleged Premiership pedigree, even allowing for the factors of a heavy pitch and unfamiliar and hostile surroundings - especially if you're a Tom Jones fan.

And the following day's Fourth Round draw was another howk in the plums for the travelling fans, who have already suffered at the Emirates in the League Cup and now face the prospect of two trips in four days to the most impregnable ground in the land (currently one defeat in 43 games).

In truth though we were hanging on by our fingertips in the second half - Given's and Taylor's in particular, although Steve Bennett managed to avoid pointing to the spot for the latter in what would have been a harsh but typically malevolent decision from this dedicated Toon hater.

We're unable to agree with those who painted this a positive performance overall though - for the simple reason that we failed to show either the battling qualities required across the field or the necessary guile to create and convert chances.

The Potters are by no means the pick of the Championship and during their recent unbeaten run failed to take more than a point of the likes of Barnsley, Plymouth and Hull.

Yet their set piece play, fitness and general movement eclipsed us too often for comfort. By the end we seemed physically and emotionally spent, while they looked as if they could have ploughed on - thankfully there was no extra time in this tie.

Others may take pride in keeping a lower league side from scoring, but our failings at the other end were only too evident.

Whenever the FA Cup comes around we provide easy copy for the media on a number of levels.

Be it the H*r*ford game (shown within the first minute of Saturday's Football Focus) or our 1950s heritage and more recently Wembley disappointments, a tear-jerking montage of which formed the introduction.

What of the last men to score in an FA Cup semi final for us though?

The 1998 and 1999 hitman was in his usual place on the BBC couch, while Rob Lee was nowhere to be seen, but of the 2005 Cardiff consolation converter Ameobi there was no sign.

While Milner was genuinely under the weather, the absence of Ameobi and Emre from the squad was given rather unconvincingly as injury.

In reality the man who has scored 46 senior goals in our colours and had as many chances looks to be completely out of favour with the management. Meanwhile the Constantinople charlatan was out of the country, which seems a strange way to treat yet another leg-related ailment.

The sight of Carroll and LuaLua appearing in the closing stages almost transported us back a year to St.Andrews, where both were selected by Roeder to try and ram home his lack of squad depth and warmed up for most of the second half without getting on.

This time though both took to the field - the former on his 19th birthday after returning from an eventful stint on loan at Preston that did little to further his career, the latter having his first runout since an unimpressive showing against Shrewsbury in the FA Youth Cup.

However both showed considerably more enterprise and enthusiasm for the struggle, Lomana's brother trying to push forward and causing a few scares, while big Andy nearly won it in the dying seconds as he shaved the outside of a post - almost managed to start a fight with a home player.

On a day when we were looking for a Cup hero and for players to stand up and be counted" (an over-used phrase in 2007), the two rookies came as close to achieving that as anyone.

Certainly the contributions of their elders and supposed betters in midfield and attack did little to raise the sprits of a travelling crowd who were resolutely vocal and supportive of their side and manager (witness the Big Sam chants) but who got precious little back in return.
Captain Smith was again treading water in a deep midfield role while Duff scampered skittishly down the wing to no great effect in his third game back. N'Zogbia looked to be our main threat restored to a more advanced midfield role but invariably ran into trouble by failing to release the ball.
Butt launched a couple of efforts high over the bar, while the little and large combination of Viduka & Owen was ineffective, despite the latter pleading for better service, specifically the ball to feet.

Miserable though it was, perhaps this could be some sort of turning point in a sort of ground zero style - Given certainly sought to portray that feeling of collective strength through adversity in his post-match quotes.

However the 'keeper also made the admission that we'd under-performed previously - presumably he had both Derby and Wigan in his mind at that point.

It's an obvious question to ask why that was the case - our best guess is that as a whole the squad now accept that nothing will happen to the management until the end of the current season and are just getting on with it - or phoning their agents.

Having suffered through the absence of Beye today, we now lose Faye to international duty and Butt for two games through suspension.

On that basis and with upcoming league trips to Old Trafford and The Emirates we really could have done without the burden of an extra game, with success in that replay presenting us with another trip to Arsene's kingdom.

The worry is that our present mid-table slot is eaten away at by the chasing pack and we get pulled into the mire by resurgent sides such as Wigan, whom we've already gifted three points to.

Cup glory was never likely but a seemingly futile campaign could end up doing more harm than good - as it was though, Allardyce isn't far away from where Roeder was exactly a year ago after a cup match that brought added grief rather than relief.
That ain't a good place to be.


Biffa