Date: Saturday 12th January 2008, 5.15pm
Live on Setanta

Venue:

Old Trafford



Conditions: merciless

Admission: £39-£47 (£35-£42 last season)

£3 programme

Manchester United

Newcastle United

6 - 0

Teams
Half time: Manchester United 0 Newcastle 0

49mins Ronaldo opened the scoring with a low effort from a disputed free kick that beat Shay Given at the Stretford End. 0-1

55mins Tevez had the easiest of finishes after Given's suicidal clearance rebounded off the unwitting Cacapa - the ex-hammer celebrating by sucking on a dummy in tribute to his bairn. 0-2

70mins

Rooney and Tevez set up Ronaldo to stroke the ball home 0-3

85mins A Rio Ferdinand finish reminiscent of an effort for England against Russia. 0-4

88mins Ronaldo again in similar style to his second 0-5

90mins A first-time volley from Tevez crashed down from the crossbar and was adjudged to have crossed the line. 0-6

Full time: Manchester United 6 Newcastle 0

Caretaker Nigel Pearson said: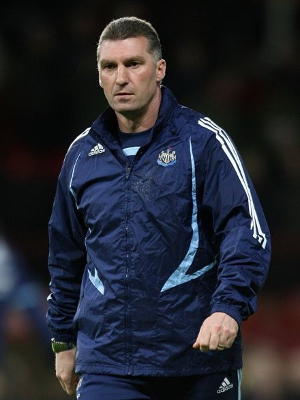 "There needs to be foundations put in place for this club to be stable over a long period of time.
"It's difficult for me to be as frank as I'd like to be because of my loyalties to the club. In the industry we work in, the trade-off between short term and long term, getting that balance right, is very difficult.
"But there's going to be a long way to go before this club gets back up there. People have to understand that.

"I remember when there was speculation about Sir Alex Ferguson having two games left at United and here we are 21 years later and he's doing very well.
"You do need some good fortune and you certainly need support. I've been part of a regime under Sam Allardyce where we hoped we could weather the storm and come out the other side because, when you're trying to effect change, there are going to be certain setbacks. It's not always a smooth line of improvement.
"Unfortunately, it hasn't happened, but that doesn't mean I don't wish good things for Newcastle because they're potentially a very big club."
Sir Alex Ferguson commented pre-match:

"The expectation levels at Newcastle are too great, a lot of people are saying that now.

"When you analyse the situation up there, it is beyond belief.

"They have had two managers who have won World Cups - Jack Charlton and Ossie Ardiles - as players, four who have won the European Cups as players - Kevin Keegan, Kenny Dalglish, Ruud Gullit and Graeme Souness - and Sir Bobby Robson, who took England to the World Cup semi-finals.

"You would think one of them would have won something given the right time. I don't know what you can say about the situation up there but it is a strange club.

"I heard all the rumours (about Sam going) but I still could not see it happening. Sometimes, when a manager is under pressure it filters through to the team. You can see signs in players trying to do their best for their manager but they just cannot find it.

"I didn't see that on Sunday. I thought the spirit and response from Newcastle (at Stoke) was good. You could not look at that and say those players are not playing for the manager, far from it.

"The unfortunate thing for Sam was that Mike Ashley did not appoint him. That was probably the most dangerous situation Sam found himself in.

"I still find it amazing though. The people who picked him did so on the back of an outstanding CV given the work he did at Bolton, plus the experience and presence he had.

"And yet, after 24 games, he has gone. That tells you everything about the modern-day game."

And added post-match:

"I would say Newcastle are the most difficult club to manage in the game, gobbling up managers and spitting them out again with hardly a pause.
"If they regarded their managers as something more than ships that pass in the night they might achieve the stability and consistency that is the basis of success at any club.

"I thought there were too many individuals in the first half (today) trying to walk the ball into the net.

"I stressed (at half-time) that passing was the key element. Once we increased the tempo of the passing and movement they were a fantastic team in the second half.

"You always want a quick start to the second half and the quick goals settled everyone and after that we played some great football.

"I just don't understand Rob (Styles).

"He turned a penalty down in the Fulham game and there's another example today. I think he may be trying to make a point, 'I didn't give it last time and I'm not giving it this time'. It's unfortunate because I think it was unfair."

Nigel Pearson's second period in temporary charge of the club - coming after he took over for the season closing 1-1 draw at Watford last season.

We have been here before with a caretaker boss - Steve Clarke taking command for a 1-5 loss when Dabizas saw red in August 1999.

Conceding six goals in one half of play is no mean feat - although we did manage it in a 1-6 home defeat at the hands of Chelsea in March 1961 after a scoreless first half.

We'd seen the Mancs score six against us on Tyneside (losing 2-6 in April 2003) but to lose by six clear goals was a new low in the Premiership for us, exceeding previous 5-0 beatings at Chelsea and Arsenal.

This was our heaviest defeat since the famous "3 goalkeepers" 1-8 reverse at West Ham in 1986.

And for watching radio pundit Bobby Moncur there was a certain sense of deja vu - Moncs having been in the Newcastle side beaten here 6-0 back in April 1968 - George Best grabbing a hat trick that day (Kidd 2 and Sadler the other scorers).

Since we last beat the Reds at Old Trafford:

71/72 won 2-0 Tudor, Barrowclough
72/73 lost 1-2 Nattrass
73/74 lost 0-1
75/76 lost 0-1
76/77 lost 2-7 Burns, Nattrass (LC)
76/77 lost 1-3 Nulty
77/78 lost 2-3 Martin, Burns
84/85 lost 0-5
85/86 lost 0-3
86/87 lost 1-4 D.Jackson
87/88 drew 2-2 Mirandinha
88/89 lost 0-2 (Mercantile)
88/89 lost 0-2
93/94 drew 1-1 Cole
94/95 lost 0-2
95/96 lost 0-2
96/97 drew 0-0
97/98 drew 1-1 Andersson
98/99 drew 0-0
99/00 lost 1-5 og (Berg)
00/01 lost 0-2
01/02 lost 1-3 Shearer
02/03 lost 3-5 Bernard, Shearer, Bellamy
03/04 drew 0-0
04/05 lost 1-2 Ambrose
05/06 lost 0-2
06/07 lost 0-2
07/08 lost 0-6
We've conceded more goals (278) in league and cup (Charity Shield not included) against Manchester United than any other team. Other 200+ teams are:
Liverpool (264 - 156 games)
Aston Villa (232 - 146 games)
Everton (223 - 153 games)
Arsenal (222 - 161 games)
Tottenham (217 - 138 games)
Manchester City (215 - 159 games)
Chelsea (210 - 142 games)
mackems (205 - 138 games)
Waffle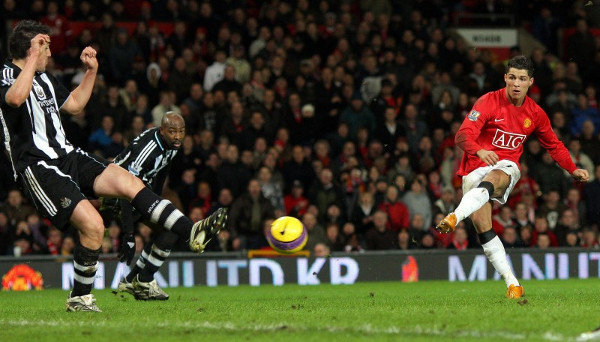 Managerless, clueless, gutless, shameless - and exactly what we'd predicted privately beforehand, as the post-Allardyce era started in suitably shambling style.

The problems of a season/decade/lifetime duly piled up and toppled over in a second 45 minutes as painful as any in living memory, as our limitations were brutally exposed by rampant Red Devils display that would have blasted through considerably better sides than us in similar style.

The Old Trafford graveyard lapped it up and woke from their grumbling slumbers in time to knock out a few sarcastic Shearer-related numbers - which proved to be far more popular than actually shouting for their own lot.

While they would doubtless have gone to town had a certain Mr Barton been present, to our profound regret we were denied the spectacle of 70,000 muppets shouting "you're getting sacked in the morning" at Allardyce.....

We held out until the interval thanks to some worthy if stuttering defending and poor finishing from the home side - Rooney in particular having an off day.

Meanwhile our occasional upfield forays culminated in a Duff shot and Owen's low finish being wrongly flagged offside.

Having seen Ronaldo complete his first hat trick in English football, we then conceded a late sixth when a linesman's flag confirmed that the ball had bounced down behind the goal line.

This decision angered Alan Smith so much that he was given a straight red card before the restart, capping a miserable first playing return to his former club - and leading to post-match suggestions in some quarters that he'd actually engineered his departure in order to avoid upcoming games.

The final punishment was six without reply, but we can take some solace from not ending up in the same plight as Ipswich Town here in March 1995, when they lost 9-0.

And in the second half we kicked three off the line - our man of the match Taylor twice in the right place and Enrique also doing the trick, while Rob Styles defused accusations of pro-Man U bias by refusing a valid penalty shout by Carr on Ferdinand.

Butt was a sub that day for the Red Devils - thirteen years on and he was a passenger for us....

Our next away league game? Arsenal.

With the eyes of the world on us, this admittedly terrible result attracted a disproportionate amount of coverage - and hardly any of it was because Ronaldo grabbed a hatrick...
Never has so much hot air being publicly expended by people desperate to condemn Newcastle fans for doing no more than turning out supporting their side, or ridicule claims nobody sane has ever made about our being "a big club".

Anyone would think we were a big club, given the level of coverage we attract from domestic TV, radio and the newspapers, let alone the battalions of overseas commentators who file inaccurate copy for their Premiership-obsessed readers.

But this is the world we now live in - where University professors discuss the travails of Northern Rock on national radio and have to respond to queries about the team's performance wearing shirts with that brand emblazoned on it. Madness.

Meanwhile, provincial and national writers seem intent on dragging our name into everything possible, such as:

The Peterborough evening paper filling their pages with the spurious "not a big club" debate...
The Daily Telegraph slagging off Mike Ashley in a match report.....of Doncaster v Carlisle....
Journalists adding the words "like Newcastle" to quotes from Hyppia about Anfield turmoil.....

And moving on the text / emails / online survey cobblers routinely presented as "fact":

Sky asking a group of half-cut Toon fans to shout "Shearer, Shearer" outside Stoke - footage which was duly run to back up their claims that the Geordie Nation demanded the man from Gosforth's appointment.

Show me an online survey or vote where there's any validation as to who the people are who are voting? We've taken great pleasure by trying to screw up polls conducted about our rivals - why should we expect them not to try the same trick with us?

Explain to me how Sky or the Chronicle have any idea whether the texts or emails they receive suggesting who should succeed Sam are from Mags, Mancs, Mackems or Mongolians?

And don't even start on the vox pop nonsense - interviewing people who just happen to be walking past the ground / digging holes. etc or serving up another public display of why a certain local hack should be locked in the cellars of Thomson House...or failing that, have his mouth sewn up.

People claimed that we were the nations' favourite when christened The Entertainers under Kevin Keegan - a decade on though, we seem to be more newsworthy than ever - perhaps some silverware could even arrive, if we beat off the challenges of Weatherfield and Walford at the UK Soap Awards....

Our hopes now are three-fold: none of which necessarily involve the acquisition of cups.

A team to be supported with pleasure, not a heavy heart and a sense of duty.....
A manager we don't feel ambivalent, embarrassed or downright grubby about supporting....
For the rest of the planet to f*** right off and mind their own business.

Are these unrealistic expectations? probably.

We always try to keep that line about "these are the best times" in our thoughts - it's damn hard though at times like this, when we feel like exhibits in a freak show.

There has to be a conviction (maybe a bad word to use) that Mort and Ashley will ultimately succeed, after the final legacy of the previous junta was removed - there's still plenty time for this to be a Happy New Year, honest.
Biffa