Date: Saturday 19th January 2008,5.15pm. Live on Setanta

Venue:

St. James' Park



Conditions: Dry, chilly and
surprisingly calm.





Newcastle United

Bolton Wanderers




0 - 0

Teams
Half time: Newcastle 0 Wanderers 0
Full time: Newcastle 0 Wanderers 0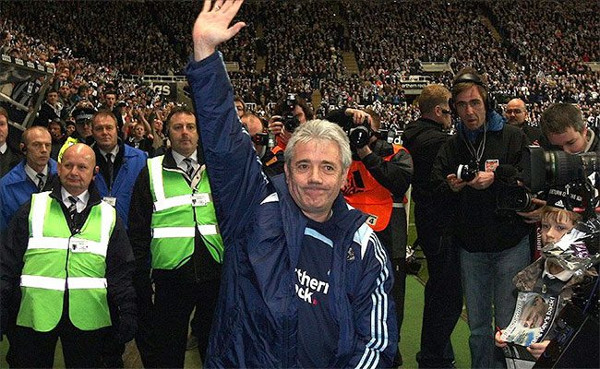 KK said:
"I can help put a smile back on people's faces and that comes from the fact that they trust me, that I've been here before and they've seen that I care.

"I don't have to kiss the badge to show I care. It's a trust built up. They know I'll look after their club. I did last time as a player and a manager and I will this time.
"We've got a fantastic owner here. He's not a chairman - he doesn't want that - but he's given us a lot of responsibility and we've got to make sure we encourage him to stay in this for the real long haul.

"People like him don't turn up at a football club every day of the week and twice on Sundays. He's incredible. He's got no ego. You're used to dealing with egos all over the place in this game, not just with chairmen and owners, but he's very unassuming.

"If we get this place going, we will have the best owner in this country. But that's an 'if' until we get it going.

"The last few days have been unbelievable. It's felt a bit surreal. The whole nation must be sick of hearing my name.

"I want three players in this window and I know the three I'd like - But I might not get any of them.

"I told the players not to be disappointed, We were missing a lot of players. Take that into consideration and forget the hype and it's actually a good result.
"It will improve from here. Maybe we will get players in - we're a quality squad but we are a small squad. We'll have better days. We're short of numbers and we looked tired - there are excuses there if we want them.
"We weren't quite good enough to win the game. A draw was a fair result and because of our endeavour we certainly didn't deserve to lose it.
"The stadium was rocking but Bolton set themselves up to spoil the party - they came to stop us and hit us on the break.
"Our team lost 6-0 last week, has got four players away at the Africa Cup of Nations and has got more suspended.
"The team I put out was a very good one but there wasn't much on the bench when I was looking to change things. From our point of view, the players gave everything.

"Will I be patient? Definitely.
"I'll work with them and talk to them. They're lacking confidence because things haven't gone their way - they haven't won in the league for a while and there have been some big changes at the club.
We'll have to perform a lot better against Arsenal. We know that and we hope we will."

"It was an atmosphere they wouldn't normally get and you hoped that would drive them on a little bit. The fans tried to lift us and they didn't expect a 0-0 draw but things will get better.

On a possible problem with Shearer:

"I couldn't come to Alan's testimonial because I was on a family holiday in the States. It's possibly true that it did offend him in some way.
"Things like that, sadly, have maybe affected him. But it hasn't affected me and I want to talk with him, and I will.
"I'd like to think there is no animosity there but if you are asking me if Alan rings me as much as he used to do then, no, he doesn't.
"For me to fly all the way from America . . . I wouldn't have expected him to do that for me, but maybe I'm thinking like I think and maybe it did offend him.
"If that is the reason he doesn't ring me any more, then that disappoints me. But I'll ring him and ask him.
"I would have thought we are great friends. For all his playing career, and from the minute I met him and signed him in David Platt's mum's farmhouse in Cheshire, we had a fantastic relationship and a very honest one.
"Yes, we are two people who say what we think - but that's good.
"If he says to me I don't want to be No 2 and that is his line then there really isn't any point in having a long conversation. I think there is an involvement for Alan Shearer at this football club and that involvement at this moment could be on his terms.
"I know he has other obligations and commitments. I know because I used to work for TV. So it might be that we can chat about it.
"What a fantastic player to have around the club and help people in the art of goalscoring and finishing and just talking to players.
"But if you can't be there on a Saturday because you have to do TV work then you can't even think of him as a No 2.
"I will probably say to him: 'I'm here now, do you see any role for yourself?' That would be the sensible way to approach it.
"He might say: 'I'd love to do it, but it's too early.'
"But Alan and I need to have that conversation, it's not for the Press.
"I think, if you ask the Geordies (if Shearer should become Newcastle boss one day), then yes. I had a conversation with Alan when he was in his last year at the club. We were playing golf somewhere and the manager's job at Newcastle came up.
"I said to him: 'It will come for you one day, you don't have to go looking for it.'
"I was playing golf and tennis in Marbella but I knew it would come looking for me one day.
"Why? Because Alan and me had built a reputation here so that the fans knew 'this guy will look after our club'.
"Sadly, some of the other managers who have been fetched in don't have that affinity because they haven't played here and proven themselves."
"Who knows what might happen from here. I could be here 10 or 15 years like Guy Roux at Auxerre.
"I've only got a three-and-a-half-year contract, so people will wonder what's going on and I'll have to hand over to Alan Shearer or something.
"This year is going to be about trying to get us in order and get us as high in the table as possible, and we also have to get some players in.
"We have got two weeks left (in the transfer window) and it's a difficult time to take over because I am now having to chase around looking for players.
"That's where Arthur Cox is so valuable to me and he will come back to the club for a period of time to go around and look at the things I won't have the time to do.

When asked if the Halls or Shepherds could have tempted him back to manage at SJP:
"No, but that doesn't mean to say I don't respect them.
"If you talk about the way it finished, then it was disappointing. Sir John Hall couldn't even be bothered to come back and say goodbye to me.
"I've seen Sir John since and said hello to him. I wouldn't probably go out for dinner with him and Freddy and all these people, but it's not that I don't respect them. I do. Tremendously.

Thoughts on current squad:
"I like Mark Viduka, I always have done. He's a player I would have liked to have played with because you give him the ball and he keeps it.
"I'm very excited about Damien Duff and every time I watch N'Zogbia he excites me too because he's only still a kid.
"You look at someone like him (Owen) and say 'wow, I want to work with that guy'.
"Michael is still definitely the player he was and he will have the chance to keep underlining that at Newcastle every week."

Alan Shearer:

"I've got to ring him (Keegan) when I get back at the end of the week (from a trip to Uganda as part of BBC Sport Relief).
"We didn't get into that. I'll sit down with him at the end of the week and we'll discuss it and see what's best for everyone. He's been that busy. He's gone into the football club, he's got that many staff there, he doesn't know some of their names.
"He had a huge game, which was far more important than speaking to any individual.
"It'll be experience (to work at SJP). Newcastle said they were looking for experience in the first place. They've certainly got that with Kevin. He's been round the block a bit.
"I think they need a midfielder, a creative one."
Arthur Cox:

"We want Newcastle in the top six, and pushing the top four, in the next two seasons. Kevin will be looking for a Uefa Cup place this season, if at all possible.
"I am surprised Kevin has returned to football. But Newcastle is the only place he would have come back to. Kevin feels he wants to give back to the public what they gave to him when he was a player and what they gave him in his first spell as Newcastle manager.
"I am really looking forward to going back to Newcastle with Kevin. And I will do all I can to help him be successful."

Michael Owen:

"Kevin sat next to me and said, 'You've played for some big clubs like Liverpool and Real Madrid and have experienced what the atmosphere can be like there - but believe me, you haven't seen half of what this place can be like yet.'

"Kevin convinced me that there are exciting times ahead for Newcastle. I definitely want to be part of it. You tell me a striker who wouldn't want to play in a team with Kevin Keegan as manager.
"Managers can have different philosophies. For instance, Sam Allardyce might prefer to concentrate on his back four, keep a clean sheet and nick a 1-0 result. Kevin Keegan will also want to keep a clean sheet but he will want to put on an entertaining performance and score plenty of goals - and that means everything to me.

"He definitely believes in playing more football, with plenty of passing and movement. I will settle for that.
"You could sense there was a change of mood around the club. There was an even bigger buzz in training on Friday morning. The session was no different to normal but you could sense there was an extra spring in everyone's step.
"Then I got home and watched Kevin's press conference. It was fantastic to see him at work. The whole room was spellbound. You could feel the enthusiasm.

"Anyone who is not uplifted by his arrival must have something seriously wrong with them - the fans and players are certain to respond.
"What I said in my book a few years back was an honest opinion and I stand by it. I don't see any need to take those words back.
"It seems there will be money available for him to spend on the team and he'll bring back the style of play the fans want, a way that lets me play the way I can be most effective.
"Kevin has been quoted as saying he has unfinished business at the club and that's exactly how I feel.
"There has been loads of speculation which has left me in a no-win position. If I say nothing, people think there is something in the rumours but if I respond to them I would spend all of my week denying them.
"I have not been fit enough for long enough to show the fans what I can do but if I can stay 100% right, I know I will do well here under the new manager."

Chris Mort:

"I've told Alan (Shearer) I'd be more comfortable if he has some managerial experience under his belt.
"This is a tough job because of everything that comes with it. Our sense is that we just need someone who has been there and done it.

Alan has been there and done it in every respect as a footballer. He is great with the media, and ticks lots of boxes, but he's not yet there as a manager.
"This is a head decision. Kevin may turn things round very quickly but we're not going to lose sight of the fact that if we are to deliver long-term success at the club we have to build it on a solid foundation."
Gary Megson said:
"Gavin McCann said he got a message from a Geordie friend, full of optimism, who was saying it was going to be 8-0 like it was for Bobby Robson's first game against Sheffield Wednesday.

"It was never going to be like that because we're hard to play against. Newcastle have a lot of work to do. I don't know how much money they will have to spend but I can see this place competing with the likes of Manchester United, Chelsea and Arsenal.

"I'm sure Kevin has had assurances that will be the case because you can't run this club any other way. He has to get through this season first. They have 27 points, which is still not enough to stay up yet it's unconceivable they would go down.

"I can't see by any stretch of the imagination that they could get themselves into trouble. Kevin's an experienced manager and I'm sure he will get them to push on and next season you will see an entirely different side."

Debut results - NUFC Managers:

Kevin Keegan: Bolton (h) drew 0-0
Sam Allardyce: Bolton (a) won 3-1
Glenn Roeder: Portsmouth (h) won 2-0
Graham Souness: Bnei Sakhin (h) won 2-0
Bobby Robson: Chelsea (a) lost 0-1
Ruud Gullit: Aston Villa (a) lost 0-1
Kenny Dalglish: Charlton (h) won 2-1
Kevin Keegan: Bristol City (h) won 3-0
Ossie Ardiles: Bristol Rovers (h) lost 0-2
Jim Smith: Wimbledon (h) won 2-1

Trotters in Toon - last 11:

2007/08: Drew 0-0
2006/07: Lost 1-2 Ameobi
2005/06: Won 3-1 Solano, Shearer, Ameobi
2004/05: Won 2-1 Bowyer, Dyer
2003/04: Drew 0-0
2002/03: Won 1-0 Jenas
2001/02: Won 3-2 Shearer 2, Bellamy
1997/98: Won 2-1 Barnes, Ketsbaia
1995/96: Won 2-1 Kitson, Beardsley
1982/83: Drew 2-2 Waddle, Martin
1981/82: Won 2-0 Wharton, Trewick

Kazenga LuaLua made his Premiership debut after appearing in the last two FA Cup games, becoming the 139th player to do so since August 1993.

Michael Owen was captained, succeeding previous armband-wearers Geremi, Smith and Given.



Waffle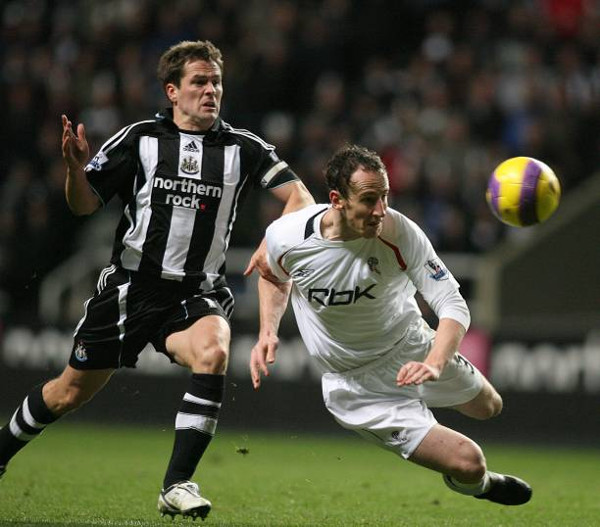 The Keegan appointment had taken me through the full range of emotions. Initial and genuine shock was soon followed by despair, denial and then indifference. And that was just the first 30 seconds.
The subsequent media hyperbole was genuinely nauseating with radio and TV mikes shoved in the faces of the usual suspects and members of the general public telling the world "it's what the Geordies wanted". I'm sure there were even folk claiming that it didn't matter if we lost every game 5-4, King Kev would win us summat....
Well, to be brutally honest, it wasn't what this Geordie wanted.
Supporting this club has turned me bitter and cynical. I don't think I was born that way, it's just been a natural consequence of years of disappointment and despair. The rest of my life has turned out pretty well so it has to be Newcastle United's fault.
My relationship with NUFC was in danger of turning stale after the Souness/Roeder/Allardyce years and recent fiascos threatened to have me turning to marriage guidance counsellors. We've said it many times before but indifference really is the biggest worry for football fans (and marriages).
But as the days wore on and the Bolton match approached something deep down in my core started to reignite. The return of Keegan had relit the pilot light and gradually the old bolier was starting to fire up again.
It was a plainly ridiculous appointment and once again left us open to national ridicule which seems to be our perpetual place in the football world and I thought I'd had enough of that. But as the outside media started to snipe and sneer it all started to make perfect sense.
We clearly have an owner who is as bonkers as we are and who seems to have got into our psyche incredibly quickly. The media gurus couldn't cope with Ashley wearing his shirt and sitting (standing) with the fans. Why not? It might not be what a Chairman should do but he's the owner.
People like Allardyce and Souness had no place here - they should never have been appointed. They weren't good enough to completely change the make-up of the club. Souness had found that out at Liverpool. But the appointment of Keegan - whether it works or not - was probably perfect. A crazy manager, for a crazy club with a crazy owner and crazy fans.
If we can't get Wenger or Mourinho to this club (both big enough and good enough to transform us) then the last thing we want is another Allardyce or Souness (e.g. Mark Hughes). What's the point in that?
The national phone-ins have loved it, loved it. People from all over the country, desperate to point out that it's ridiculous. Desperate to tell us we'll never win anything and that it'll all end in tears. We know! But we'll have some great memories along the way.
And what if it did work? What if he just went and bloody won something? Can you imagine...? As KK said himself, it's not impossible.
Newcastle fans have huge expectations apparently. Do we? Do we really? I expect us to win bugger all in my lifetime but I want to get that anticipation, that raw emotion of going to see a side in black and white give their all and try and entertain. And in doing that I want us to have the same chance as Spurs, Everton, Man City, Villa or even 2004 Carling Cup winners, Boro, of winning a trophy. That's not being unrealistic.
The top four will take a little longer but they're not invincible. Fergie can't go on forever, Liverpool seem intent on imploding, Grant may hit tough times at Stamford Bridge and even Wenger has had transitional seasons.
What I don't want is a team that will bore the pants off us and struggle in the short term with the promise of boring the pants off us and struggling a bit less in the long term. Why would any fan put up with that?
So, having gone through the full gamut of emotions in the days leading up to the Bolton match, I was right behind the appointment, striding to the game, genuinely expectant and full of hopes and dreams. Not quite as I'd been as a youngster on my way to Keegan's debut for Newcastle but not far off. The boiler was fired up and the hot water was pumping through the pipes....
I'm sure most of us felt like that but how many fans of the "big four" have gone to a televised match against Bolton feeling the same? None, I'd suggest. And that's what they resent. They can't cope with the love we have for our club because they simply don't understand it.
Football is not about winning trophies, it's about winning battles and you decide what the battles are. I'd rather be Alan Shearer than Gary Neville. Who's got the most medals? Who's the legend...?
And so to the game, which was as mundane and uninspiring as anything we'd seen in recent years but we already had that one covered:
Two teams tainted by the influence of Sam Allardyce slugging out a goalless draw after the helter-skelter week ultimately had an anticlimactic ending. After such a hysterical build-up, not even King Kev could combat the ginger prince's team of bare-knuckle brawlers as the Trotters hoofed their way in and gatecrashed the party.
Keegan's first Newcastle game as a player was a pretty poor one against Q.P.R., memorable only for his debut goal (and a streaker in fluorescent socks) and from the start this looked like it would have to follow suit.
There was certainly no way it could match his first game as manager, when Bristol City were dispatched 3-0, as Gary Megson's Bolton came for a goalless draw and almost snatched a win.
In Gavin McCann and Kevin Davies, Bolton possess two players seemingly disinterested by the round object everyone was chasing. Both spent the afternoon practising for wrestlemania.
Add to that, the constant niggling and whingeing of Kevin Nolan, the time-wasting of Jussi Jaaskelainen and the persistent head-clutching by Lubomir Michalik and it made for a miserable evening's viewing.
It was no surprise that the game couldn't live up to the hype but where there's Keegan, there's often some magic and you couldn't help feeling a winner might just pop up from somewhere. Captain Michael Owen, perhaps. Alas, it wasn't to be.
The only magic dust in Kev's pocket was used to miraculously restore the supposedly knackered knee of Shola Ameobi. The big striker played the full game and put in a reasonable shift but for a player missing since November to have to come in and do that showed how few options Keegan had.
Kazenga LuaLua came on for Damien Duff and looked as dangerous as anybody but as Keegan admitted afterwards he was struggling to use anyone from his inexperienced subs bench.
In the end, though, it was a Wanderers replacement who almost snatched victory when Jlloyd Samuel nearly scored from close range but thankfully Shay Given made a smart low block with his leg.
So the Keegan bubble has already burst, we hear. Good. Perhaps the media folk can crawl back under their stones and leave us to start the rebuilding work properly.
Bolton are one of only three sides to beat Manchester United this season, so this wasn't such a bad result, especially given our lengthy list of absentees.
But whatever the result, the passion was back. If not on the pitch then it certainly was in the dug-out and the fire was undoubtedly back in the belly of the fans.
We've genuinely got something to look forward to now. We've got the promise of an emotional rollercoaster - whether that be extreme highs or lows - it's got to be better than a future under Allardyce or Hughes.
I hope Keegan does take a huff and walk out on us like everyone is expecting, but I hope that's in a good few year's time and I hope it's his decision. The worst thing that could happen is that we get bored of him, he lingers on and gets sacked, disappearing with a huge payoff.
If he does eventually walk out again, it would prove that he is still passionate. That's all we ask.
Niall MacKenzie