Date: Saturday 26th January 2008, 3pm

Venue:

Emirates Stadium



Conditions: Unseasonably mild

Admission: £32

Programme: £2





Arsenal

Newcastle United

3 - 0

Teams
Half time: Arsenal 0 Newcastle 0

51 mins Eduardo's shot struck the post and fell for Adebayor who found the back of the net before the Newcastle defence could react, registering Arsenal's 100th goal at the Emirates Stadium in the process 0-1

83 mins Togo International Adebayor doubled the lead when he held off two challenges to work a sight of goal and fired a low shot home, Taylor making contact but unable to clear it off the line. 0-2
89 mins Our misery was confirmed when Butt could only divert the ball into his own net as Eduardo threatened to convert a Fabregas free-kick from the left flank. 0-3
Full time: Arsenal 3 Newcastle 0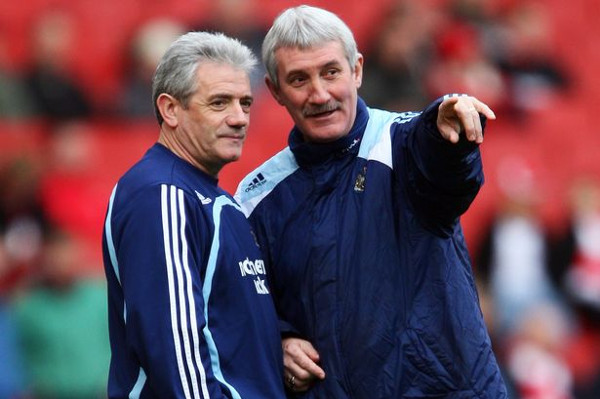 Kevin Keegan commented:
"It was a very good first half performance and we had the courage to play them.

"We were going along nicely and causing them problems, while they were not giving us much grief.

"We could not keep it up and they stepped up, we stepped back and in the end, the gulf was pretty big.

"Our biggest problem is confidence - when the first goal went in, you could not really see us coming back from that.

"At times, our passing in the second half was X-rated stuff, we were just giving the ball away.

"But if we can put 90 minutes in like we did in the first half, then Arsenal will have a tough game here - although you can still play well for 90 minutes against them and they can turn you over."
Arsene Wenger said:

"I need always to win because I want to win, but this team has done extremely well since the start of the season and I was quite confident - I was not worried at all before the game, I must tell you.

"We played against a good Newcastle side who started strong and they created some chances at the start and slowly took control of the game. In the second half it was completely controlled by us and we won in the end - I felt the second goal killed Newcastle. Overall it was a difficult game.
"It was a game where the first goal had a big impact on the result. We scored when we were in control of the game, and that of course was mentally difficult to solve by Newcastle because they knew then it would be difficult.

"If they had scored in the first half, that certainly would have given them more belief. We scored when we were already in control of the game."

Shay Given made his 433rd Newcastle appearance, putting him fourth in the all-time list:
496 Jimmy Lawrence
472 Frank Hudspeth
457 Frank Clark
433 Shay Given
432 Bill McCracken
431 Alf McMichael
412 David Craig
408 Bobby Mitchell
404 Alan Shearer

In three games we've played here to date, all seven goals have been scored at the North End of the stadium (opposite end to where the away fans are housed).

Magpies @ Gunners - Premiership years

2007/08: Lost 0-3 (FA)
2007/08: Lost 0-2 (LC)
2006/07: Drew 1-1 Dyer
2005/06: Lost 0-2
2004/05: Lost 0-1
2003/04: Lost 2-3 Robert, Bernard
2002/03: Lost 0-1
2001/02: Lost 0-3 (FA)
2001/02: Won 3-1 O'Brien, Shearer, Robert
2000/01: Lost 0-5
1999/00: Drew 0-0
1998/99: Lost 0-3
1997/98: Lost 1-3 Barton
1996/97: Won 1-0 Elliott
1995/96: Lost 0-2 (LC)
1995/96: Lost 0-2
1994/95: Won 3-2 Keown og, Beardsley, Fox
1993/94: Lost 1-2 Beardsley

Since the 1952 FA Cup Final victory, we've now failed to beat Arsenal in all six domestic cup ties (seven games):

2007/08 lost 0-3 (a) FA
2007/08 lost 0-2 (a) LC
2001/02 lost 0-3 (a) FA
2001/02 drew 1-1 (h) FA
1997/98 lost 0-2 (n) FA
1995/96 lost 0-2 (a) LC
1971/72 lost 0-4 (a) LC
1951/52 won 1-0 (n) FA
Waffle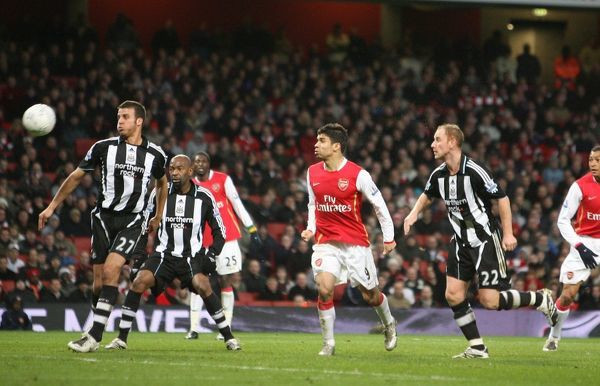 Our reward for beating Stoke at the second time of asking was the tie that nobody wanted - be they fans, players, manager, domestic TV companies (although the Gooners were doubtless content with it......)

Four days before what would have been our second visit to Fortress Emirates this season, to have copped for a third outing was something of a cruel and unjust punishment - but entirely typical of this club.

But while there's life there's hope - and at least a theoretical chance of an FA Cup run (although KK's luck in this competition deserted him on the day he scored against us at Wembley in 1974.)
And notwithstanding the fact a Newcastle victory would have been of almost Hereford-like unexpectedness (just got that apparently still-compulsory H word reference out of the way quickly there) then a semblance of a chance still remained.

Despite the inability of the FA to act on the evidence of their own eyes and punish Adebayor and Bendtner for their onfield coming together, a rare loss to Spurs in midweek and the even scarcer sight of Arsenal conceding five had made this tie intriging enough even without the KK factor.

Injury and international callups had stretched Wenger's resources without obviously weakening them, but when Rosicky limped off in the first ten minutes then the home side looked mortal - if not vulnerable.

That made it even more imperative to score the first goal here, turning the near-silence of the home crowd after that derby defeat into something more negative - as well as giving us a much-needed shot in the arm.

As it was though, we failed to do that - although starting well - and ultimately allowed the home side to play themselves back in, being punished accordingly.

Half-chances fell to Smith, Owen, Taylor in the first half and Owen had a forlorn penalty shout ignored after the break.

But once we'd gone one down, normal service was restored in both camps - Arsenal had some swagger again and we never looked like have sufficient quantities of fitness, power, guile or confidence to mount a comeback.

True, it took until the second half until Given was beaten - but that's something of a hollow boast, given that we were congratulating ourselves at Old Trafford for having done the same there.

Arsenal play the same sort of relentless, probing football that Manchester United serve up - although the North London version is perhaps conducted at a more deceptive pace.

We held out for 83 minutes before conceding here in the League Cup tie, but seven minutes from time today we were in the act of going two behind - with a late third goal making this look unfairly like a leathering.

So the expected Emirates exit and a further public run through our shortcomings.

We certainly had more of a go than we did the last time we were here and had a decent wodge of possession in the opening 50 minutes without turning that into anything more tangible.

By the end though, we were as glad to get off the field as we had been at too many grounds on our travels this season.

It's important to recall that if this wasn't broken then KK wouldn't been called in for his Red Adair act - that's almost been forgotten already in some quarters seemingly.

In many ways the ideal scenario would have been for the new manager to have breezed into the club on February 1st.

By the the FA Cup and transfer window would be both be historical footnotes, we'd be preparing for an eminently winnable home game against the Smoggies followed by a trip to Villa and then two weeks for Keegan to assimilate what he's got in his squad, with the African Nations lads back.

By then though, Strawberry Place would resemble a Gaza Strip border post and with every man, woman and child interviewed already, desperate TV crews would be reduced to soliciting the warped views of shameless, shambling, drooling old fools from the newspapers.

Hang on, they've done that.

Meanwhile, cartoon characters would have been backed on the betting exchanges - every other possible living candidate having taken their turn as favourite to succeed Big Sam (Ray Allan and Lord Charles would have been our choice - the latter with an eye patch rather than a monocle.)

And although it flies in the face of the media agenda, that's simply what we've got to do - forget about the two games at the Emirates, Woodgate and everything else. Ground Zero is Feb 1st.

Having said that, defeat at the hands of the smoggies coupled with some resurgences elsewhere below us could start to make things uncomfortable, with Villa and Man U to come next.

We're not quite in a position yet to write off the season and start tinkering with formations and blooding youngsters - one look at the table and our fixture list confirms that.

PS: One final twist came when Monday's Fifth Round draw sent the Gunners to Old Trafford.

At least Wenger & Co. have a two month gap between visiting there in League and Cup: had we somehow got through today and got the same draw then we'd have had the Red Devils home and away on consecutive weekends.....


Biffa