Date: Sunday 3rd February 2008, 1.30pm. Live on Sky

Venue:

St. James' Park



Conditions: sunny intervals




Newcastle United

Middlesbrough




1 - 1

Teams
Half time: Newcastle 0 Boro 0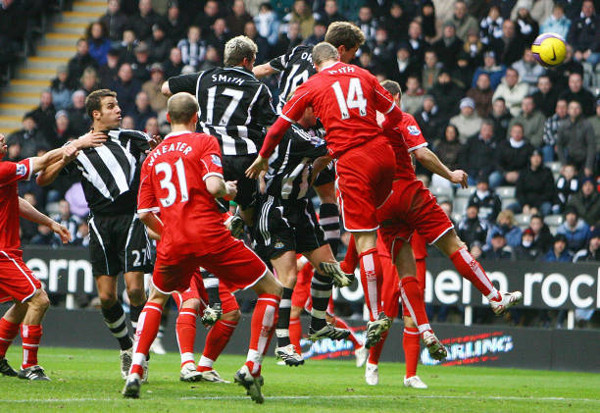 60mins Emre's free kick from the Strawberry Corner was headed in by Michael Owen at the near post. That was his first Premiership goal since netting in almost identical style from the Turk's delivery at the same end against Everton back in October 2007. 1-0
87mins The flag stayed down as Boro's late surge for an equaliser ended with Arca's cross from the right being headed home by Huth to the consternation of home fans, who were convinced one or two players were well offside. 1-1
Full time: Newcastle 1 Boro 1
KK said:

"A draw isn't a disaster.

"I couldn't see anything wrong at all with the first goal that Michael got - I thought Schwarzer just dropped it.
"And the goal that they got was definitely offside - there's no doubt about it in my mind. There were two men in an offside position.
"But they are the things that tend to go against you when you are at the bottom, and we can't change it.
"I thought we did enough to win the game. We got a good goal from a good delivery from Emre - that's what he does best - but then they threw things at us and caused us a few problems. We probably did get exposed a few times but we had chances to kill the game off as well.
"It was ebbing and flowing at the end. We would have preferred to close the game down, but we weren't able to. I'm not sure we can close a game out at the moment.
"The character of the side was excellent, though - we were three minutes away from holding on to getting three points that we just about deserved.

"The service will get better and he (Owen) can make goals out of nothing. I told him I thought he would get two and he should have had two. I just couldn't work out why the referee didn't give the first.
"He had a half chance for the one that counted and it was a great finish but we still need to give him more. He is fit and sometimes the criticism is not fair. He has worked really hard in all the games, and I don't think we have supplied him with enough chances.
He still deserves his place for England because his record is phenomenal and I wouldn't be surprised if he scores in midweek. I would not worry about Michael.
"He always has and he always will. I know we have goals in the team and we have invention. Michael will score goals if we create chances."
Gareth Southgate said:
"We were good value for at least a point. We caused Newcastle a lot of problems and we had some cracking chances.

"Iím disappointed with the goal we gave away; I have to be when someone of Michaelís height gets amongst the giants to score a header.

"The last five minutes was playground stuff - anything could have happened.Ē
Smog on the Tyne - Premiership:
2007/08: Drew 1-1 Owen
2006/07: Drew 0-0
2005/06: Drew 2-2 Solano, Clark
2004/05: Drew 0-0
2003/04: Won 2-1 Bellamy, Shearer
2002/03: Won 2-0 Ameobi, S.Caldwell
2001/02: Won 3-0 Speed, Shearer, Bernard
2000/01: Lost 1-2 Cort
1999/00: Won 2-1 Shearer 2
1998/99: Drew 1-1 Shearer
1996/97: Won 3-1 Beardsley 2, Lee
1995/96: Won 1-0 Ferdinand
Joey Barton's first start for Newcastle since the pre-Christmas home draw against Derby - quite a lot has happened to him (and us) since then.........
Waffle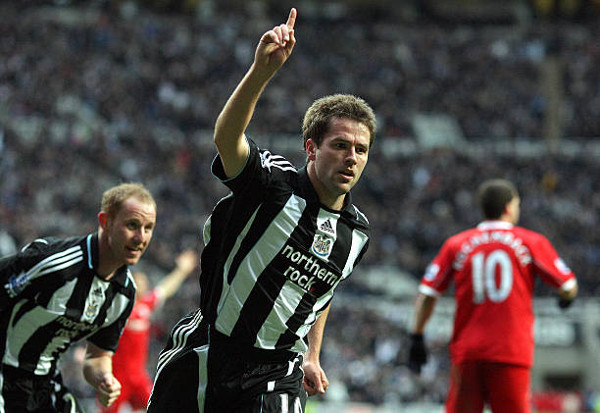 Kevin Keegan came within three minutes of registering his first success since returning to SJP, only to be forced to settle for a point after a Robert Huth header beat Shay Given.

Going into this Sunday lunchtime game without a league goal in over six and a half hours, Newcastle thought they'd broken their drought within the opening five minutes - only for ref Mike Dean to controversially rule it out for a push.

However TV replays showed that smoggy 'keeper Mark Schwarzer dropped the ball under the slightest contact from Owen, who promptly converted from close range.

That was to be the closest we came in the opening half, although Owen had the ball in the net again midway through the opening half only for Dean to correctly judge that Emre's corner had gone out of play.

A fairly rough and ready visiting side were happy to soak up pressure and defend from the front, resulting in too many launched forward balls when our attempts at starting attacks in our own half were thwarted.

After the break things improved however and the crowd started to get behind the Magpies for the first time - their reward came within fifteen minutes when Owen headed home.

Barton then found himself with time to have a shot at the end of a move that had seen Owen dispossessed on the edge of the box. However the midfielder opted for placement rather than power and Schwarzer gathered.

And only a hairline offside decision denied United a second, Duff running on and converting via a post before realising that he'd been called back.

A second goal at that point would have been as welcome as it was vital and looked on the cards, but Owen's slice wide when well-placed was to prove costly.

But with the game apparently decided in our favour, referee Dean and his nearside linesman became the centre of attention once again, allowing Huth's header to stand.

And then with things starting to take on a distinct air of unreality, a hotly-contested free kick in a central position saw Downing smack his shot against a post with Given marooned.

The rebound fell to Aliadiare who swept it into the net, only to be adjudged offside.

Four added minutes brought Viduka sight of goal, but his 15 yard shot wasn't fierce enough to register against his former employers and Keegan was left without a victory in his first four games.

Once the initial disappointment subsides, there are some positives to take from this game, not least of which we at least tried to play positively and at least in the second half gave the crowd something to cheer.

Joey Barton also improved as the game wore on, although a sluggish display from fellow midfielder Butt could have seen us punished by a more offensive side.

Owen was given the sponsors man of the match award but Cacapa posted a decent performance that showed he'd suffered no ill-effects from his Emirates struggles - notably one last-ditch clearance from Dong-Gook Lee.

And while his occasional whipped over crosses didn't lead to a goal, there were some positive moments from N'Zogbia, who showed a semblance of understanding with Duff down the left - where most of our good work came.

We've got a long way to go and not winning this game was a big blow, but things aren't quite as gloomy as they were - not that writing that will make any difference to the anti-Mag brigade and their Toon tales of woe.

More a case of stopping the rot than starting a new era for Keegan & Co. then and with a trip to Villa and the visit of Manchester United next up, it doesn't get any easier for him.

Biffa