Date: Saturday 9th February 2008, 12.45pm
Live on Sky

Venue:

Villa Park



Conditions: spectacularly bright and sunny

Admission: £30

Programme: £2.50





Aston Villa

Newcastle United

4 - 1

Teams
4 mins An early breakthrough at the Holte End, as Milner's excellent cross from the left flank was headed home at the front post by Michael Owen for his second goal in successive games. 0-1
Half time: Aston Villa 0 Newcastle 1

48 mins After failing to trouble the scorer in his previous 75 outings for Villa, Wilfred Bouma's low shot took enough of a deflection off the returning Beye to deceive Given - who sustained a groin pull as he unsuccessfully tried to stretch for the ball. 1-1
51 mins Young's corner from the left was glanced home by John Carew, aided by Duff having deserted his covering spot at the far post. 1-2
72 mins The ball pinging around our area in farcical fashion before Carew knocked it home. 1-3
90 mins Carr's handball allowed Carew to complete his hat trick from the penalty spot - the first spot kick we'd conceded this season. 1-4
Full time: Aston Villa 4 Newcastle 1
Kevin Keegan commented:
"We can't do anything signing-wise so we'll have to do our work on the training ground.
"The reality is you go into a club because there are problems. They are mine to solve now and it's a big challenge. It's not just a case of waving a magic wand.
"We played very well early on for a team that has not been having results go for us and we built the platform for a victory by taking the lead.
"Sadly half the second half came and I'm baffled by what happened because it was the same players but we never really got going after the break.
"Their first goal was a hammer blow and our goalkeeper got injured at the same time and when they got their second we had a mountain to climb.

"I knew when I took the job we had some very tough games.

"All but one of the away matches were against sides in the top half of the table and we've got Manchester United and Chelsea at home.

"We have got enough to be a Premier League club next season but you have still got to get to that 40 point mark no matter what type of club you are."
Martin O'Neill said:

"He (Carew) is fantastic, but we want to put the averages up. There is a consistency that, no doubt, he can achieve.
"We are delighted to have won the game and it keeps us going. To a certain extent it takes away the memory of last Sunday and now we have got to try and push on.
"It was a game of two halves. We were very tentative, which was probably a feeling of last week.
"Here the onus was on us to attack. Newcastle played very well. They kept the ball nicely, by half-time they definitely deserved to be in front.
"We had to try and do something about it and the players' and fans' response was fantastic.

"'It was fantastic stuff in the second half. I thought the first half was getting away from us a bit and there was a definite hangover from the Fulham game.

"I thought the substitutes had a big impact and made a real contribution.

"They added more drive and determination to our play - but that's not knocking Olof and Stiliyan who have been big players for us this season."

Villa v Toon: Premiership Years:

2007/08

lost 1-4 Owen
2006/07 lost 0-2
2005/06 won 2-1 Ameobi, N'Zogbia
2004/05 lost 2-4 Kluivert, O'Brien
2003/04 drew 0-0
2002/03 won 1-0 Shearer
2001/02 drew 1-1 Shearer
2000/01 drew 1-1 Solano
2000/01 lost 1-0 (FAC)
1999/00 won 1-0 Ferguson
1998/99 lost 0-1
1997/98 won 1-0 Batty
1996/97 drew 2-2 Shearer, Clark
1995/96 drew 1-1 Ferdinand
1994/95 won 2-0 Lee, Cole
1993/94 won 2-0 Allen (pen), Cole

Fourth Premiership goal of the season for Michael Owen - and all of them were headers.

Steve Harper made his 99th senior appearance for Newcastle and notched up playing for another manager in the process (he was at SJP under Keegan but not in the first team setup).

Since keeping a clean sheet in the FA Cup at Stoke, our last four away trips have seen us concede no less than sixteen goals - fifteen of those coming in the second half of games:

Manchester United: 49, 55, 70, 85, 88, 90mins.
Arsenal FAC: 51, 83, 89mins.
Arsenal: 40, 72, 80mins.
Aston Villa: 48, 51, 72, 90mins

Carew's treble scoring feat was the first home hat-trick by a Villan since Savo Milosevic in 1995.

It was also the tenth time in the Premiership that we've conceded three or more goals to the same player in the same game:

09.02.08 Villa (a) Carew 39mins
12.01.08 Man U (a) Ronaldo 39mins
12.04.03 Man U (h) Scholes 18mins
23.11.02 Man U (a) van Nistelrooy 15mins
05.05.01 Liverpool (a) Owen 56mins
09.12.00 Arsenal (a) Parlour 74mins
30.08.99 Man U (a) Cole 51 mins (scored 4)
30.08.98 Liverpool (h) Owen 15mins
30.09.96 Villa (h) Yorke 65 mins
04.12.94 Spurs (a) Sheringham 56mins

By contrast our heroes have registered seven triple salvoes in the Premiership for us:

17.12.05 West Ham (a) Owen 85mins
19.09.99 Sheff Weds (h) Shearer 12mins (scored 5)
02.02.97 Leicester (h) Shearer 13mins
21.10.95 Wimbledon (h) Ferdinand 28mins
23.02.94 Coventry (h) Cole 44mins
21.11.93 Liverpool (h) Cole 26mins
30.10.93 Wimbledon (h) Beardsley 35mins

(figure quoted in minutes is from scoring first to third goal i.e. total time taken for hat trick)

Waffle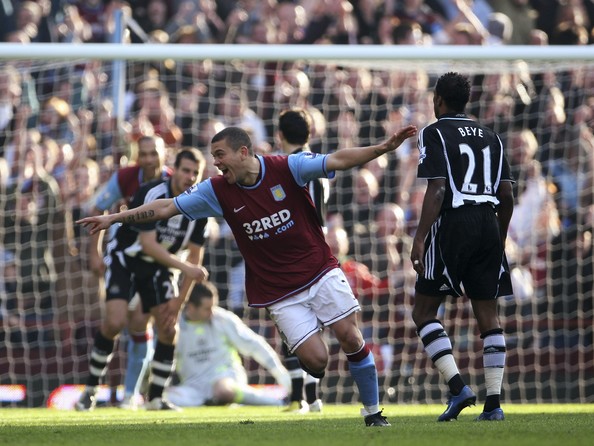 The sun shone, the fans sang, the ball had been in the back of the opposition net and counted - and the world generally looked a nicer place.

And then we changed ends.

Another absolutely shambolic second half showing away from home left no-one in any doubt that our principal target this season is now to maintain Premiership status.

Owen had given us the best possible start with a goal that should have provided a platform to reverse our recent poor run of form, especially on a ground we've traditionally gained points at.

However, we failed to engineer a second goal during 40 minutes of the meekest football from the home side that Villa Park has endured since Martin O'Neill took command.

And although we repelled the beginnings of a fight back before the interval, those warnings just weren't heeded. And as has often been the case, we spectacularly imploded in a second half horror show that left travelling fans standing in stunned silence.
Two quick goals after the break sent us into an alarming downward spiral, with Given departing at that point with what was diagnosed as a groin strain -nine minutes after the arrival on the field of Marlon Harewood, who when at West Ham had caused the 'keeper serious injuries 17 months ago.
With Harper appearing between the posts things stabilised for a while, the 'keeper making two vital instinctive stops.

He could do nothing however to bring calm to a defence who then took us to a new level of defensive incompetence, before Carr's needless handball then put the tin lid on it.

So, no win in nine Premiership games under Sam/Nigel/Kevin, with our fans bemused, press box occupants writing with undisguised glee while the rest of the nation sniggers.

Not like it was in brochure then, but is any of this KK's fault?

There were certainly some aspects of today's team selection and sub deployment that we quibbled with, including Emre's belated introduction when we were two goals behind and the non -appearance of Viduka despite our all-too-evident problems upfield in the second half.

And if Enrique was fit enough to be on the bench, his absence in favour of Carr playing on the opposite flank was a puzzle - although we were pleased to see Beye back in our colours.

Meanwhile Faye sat unused after Villa brought on the burly Harewood to double the physical threat up front - and promptly exposed Cacapa's physical frailties.

But despite all of those 20/20 hindsight criticisms, the fact remains that we deservedly led at the interval, having played reasonably well against a much-fancied Villa side.

Across the pitch people looked committed, with Carr getting through a good deal of work up and down the left wing and Owen more interested and industrious than at any time we can recall since he joined us.

Maybe some old-fashioned unity had broken out and the wise words of the manager were having an effect?

Unfortunately what we believed to be an outbreak of competence and a semblance of confidence seeping back into the team proved to be nothing more than flatulence.

The inept and disinterested duo of Barton and Smith had seemed like the odd ones out in the opening 45, but from the restart the rest of the side dropped down to their level.

Allardyce's legacy to this club is saddling us with this pair of charlatans: one with the distraction of unfinished off-field business, the other apparently suffering from football amnesia.

Both have shown precisely nothing in our colours to justify their selection. Come back Amdy Faye, come back Antoine Sibierski.

So we now have a fixtureless fortnight to endure without even the distraction of international matches - plenty of time then for more rain forests to be sacrificed, as the world and their significant others lay into the whole damn lot of us in the press.

It's becoming increasingly difficult though to provide a riposte to their taunts, as we continue on a downward spiral in much the same feckless manner as before.

Quite simply, the same players who put Sam on his bike have kept on keeping on in their own sweet way.

That's a canny way to repay the loyalty of the new boss, who no doubt added another couple of names to his discard list on the bus home, despite whatever previous public pronouncements of support he may have made.

Points are desperately needed - but it's hard to see where they will come from at this time.

We don't have a team equipped for a relegation fight - ninety minute 110%ers are currently in short supply hereabouts.

Are they bothered? Knowing there's a good chance many of those will be departing from this particular gravy train in the summer regardless of whatever league we're in, we suspect not.

Two weeks then before we embark upon the final dozen games that will decide our season.

That stern test against Manchester United is hardly the best of fixtures to start turning things around, but there has to be some evidence there that we're giving it a go for all of the ninety minutes.

While tactics, selection and motivation are all factors, in the final analysis this has got nothing to do with Keegan, Shearer or anyone else who doesn't have a current squad number on their back.

Big players, big wages, big reputations - and currently big disappointments.

Biffa