Date: Saturday 23rd February 2008, 5.15pm. Live on Setanta

Venue:

St. James' Park



Conditions: shell-shocked

Newcastle United

Manchester United




1 - 5

Teams
25mins Ronaldo shook off Beye with alarming ease and crossed for Wayne Rooney to volley past Given into the Gallowgate goal from three yards after Charles N'Zogbia had allowed Rooney an acre of space to meet the cross.
0-1

45mins Barton lost possession on the half way line and Carrick slid a perfect through ball for Ronaldo to take a brief touch before tucking the ball past Given. Taylor in particular was all at sea as he performed a bemusing pirouette as Ronaldo left him in his wake. 0-2
Half time: Newcastle 0 Man U 2

56 mins Faye was the culprit this time, taking the ball off Ronaldo when he had slipped but he promptly gave it straight back to who played in Ronaldo. Another bizarre non-challenge from Taylor left Ronaldo to round Harper for his second. 0-3

79 mins Andy Carroll
won a flag kick and when Milner delivered it from the Strawberry corner, the sub's mis-timed header fell for Faye six yards out to lash the ball past Van der Sar.
1-3

80 mins
Rooney
made it eight goals in as many league games against us when he swept home a spectacular fourth after former colleague Alan Smith gifted him the ball from a corner.
1-4

90 mins
90(+1)mins Former Magpie Louis Saha finished off the rout when the visitors waltzed through from inside their own half. Rooney evaded several half-hearted challenges before poking the ball to Saha who finished clinically from 12 yards.
1-5
Full time: Newcastle 1 Man U 5
KK said:

"I am here for three-and-a-half years - that is what I signed for and that is what I am here for.
"I have taken a job on. This is a club I love. I have managed here before. I want to take the club back where it belongs.
"My commitment is 100%. You can't give anymore than that. When I took the job, I knew there were 16 games left. I knew the fixtures were tough. I've said all along we need 40 points not to go down. We have 28 and need four wins or three wins and three draws.
"We need to win a football match for the players. They are an honest group, I wouldn't say that if I didn't believe it but just being honest and caring is not enough in the Premier League.
"You need to be streetwise. You need better concentration than we have had.
"It tells us where we are and it's a reality check if we needed one. One side you've got to be at your best against is Manchester United.
"It concerns me. We got beaten 5-1 at home but the crowd stayed with us all the way*. I think they understand there's no quick-fix here. We've got a small squad but I think we've got some genuine players here.
"They just need a lift, there's a lot of work to be done and some soul searching.
"It was poor defence. Once the second and third went in, it knocks the stuffing out of players.
"We made bad mistakes and if you make bad mistakes against anyone you get punished. Make bad mistakes against these and it's another thing - in the end they punished us. Sadly for us it could have been worse."

* a strange comment from KK, given that home fans left in their thousands when the fourth went in.
Fergie said:
"It's difficult to pinpoint who the best player was, it was a good team performance.
"Coming to Newcastle is never easy, the crowd are fantastic and it's a volatile place to come. The first job is to try and quieten them and I think we did that.
"I think they all did really well, with Rooney and Ronaldo scoring two goals they are going to take the headlines.
"The match was decided by the front players. All four of them were absolutely fantastic, it was a really good performance."

James Mossop, Sunday Telegraph:

"Kevin Keegan put the bins out shortly before 5.15pm. They were interestingly striped, randomly numbered and unquestionably full of rubbish."

Goalkeeper Steve Harper completed a century of senior appearances for the club, having made his debut at SJP against Wimbledon in November 1998.

That breaks down as 54 Premiership starts (& 7 subs), 9 in the FA Cup (& 1 sub), 12 in the League Cup and 15 in various European competitions (& 2 subs).

And Harper reached his hundred in the same style as he got off the mark in 1998 - replacing an injured Shay Given at half time.

Defender Abdoulaye Faye netted his first goal for the club - a feat that his Senegalese namesake Amdy was incapable of doing in his time on Tyneside.

For the opposition, former Magpie Louis Saha joined the ranks of players to have scored on this ground in the Premiership for three clubs - Newcastle, Fulham & Man United.

He follows in the footsteps of Les Ferdinand (QPR, Newcastle, Leicester) and Emile Heskey (Leicester, Liverpool, Birmingham) and pedantically, Gary Speed (Everton, Newcastle, Spurs - the latter coming by means of his registering an OG when playing for us against the Cockerels).

Red Devils in Toon - Premiership years:

2007/08 lost 1-5 Faye
2006/07 drew 2-2 Milner, Edgar
2005/06 lost 0-2
2004/05 lost 1-3 Shearer
2003/04 lost 1-2 Shearer
2002/03 lost 2-6 Jenas, Ameobi
2001/02 won 4-3 Robert, Lee, Dabizas, Brown og.
2000/01 drew 1-1 Glass
1999/00 won 3-0 Ferguson, Shearer 2
1998/99 lost 1-2 Solano
1997/98 lost 0-1
1996/97 won 5-0 Peacock, Ginola, Ferdinand, Shearer, Albert
1995/96 lost 0-1
1994/95 drew 1-1 Kitson
1994/95 won 2-0 Albert, Kitson (LC)
1993/94 drew 1-1 Cole

NUFC Premier record at this point:
| | | |
| --- | --- | --- |
| season | after game 27: | at season end: |
| 1993/94: | 45 points, 3rd | 77 points, 3rd |
| 1994/95: | 48 points, 3rd | 72 points, 6th |
| 1995/96: | 61 points, 1st | 78 points, 2nd |
| 1996/97: | 48 points, 4th | 68 points, 2nd |
| 1997/98: | 34 points, 12th | 44 points, 13th |
| 1998/99: | 35 points, 11th | 46 points, 13th |
| 1999/00: | 34 points, 12th | 52 points, 11th |
| 2000/01: | 37 points, 11th | 51 points, 11th |
| 2001/02: | 55 points, 2nd | 71 points, 4th |
| 2002/03: | 52 points, 3rd | 69 points, 3rd |
| 2003/04: | 42 points, 4th | 56 points, 5th |
| 2004/05: | 34 points, 11th | 44 points, 14th |
| 2005/06: | 36 points, 11th | 58 points, 7th |
| 2006/07: | 36 points, 9th | 43 points, 13th |
| 2007/08: | 28 points, 13th | ????????????? |
(93/94 & 94/95 were 42 game seasons)

In the 32 games played in all competitions this season, we've now conceded three or more goals on seven occasions - emulating the total of 1986/87 and being one worse that the half dozen in each of our last two relegation seasons of 1977/78 and 1988/89.

1974/75 saw us repeat the unwanted feat on no less than eight occasions.


Waffle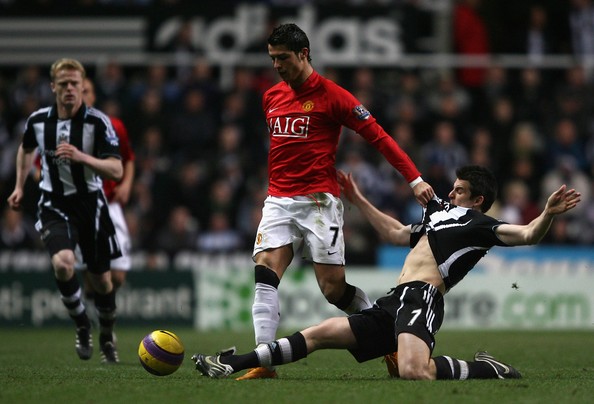 More Magpie misery from the Mancs then in front of a teatime TV audience, as the red half followed City in completing the easiest of doubles over us this season.

And after doing so on home territory just over a month ago, Fergie's side recorded their most emphatic away league victory of the season to date - completing the double by an aggregate of eleven goals to one.

Along with most of Tyneside, we feared this sort of outcome before the start - although such was the blackness of our outlook that Faye's first goal for the club came as an unexpected bonus.

Had this been our infamous 39th game, Newcastle fans could have travelled overseas on one of those CIA rendition flights to a country where torture is tolerated.

However doing a spot of unnecessary travelling doesn't seem to have affected Man U, who went to Saudi Arabia to play a friendly match after thrashing us 6-0. We just went to pot.....

A bright opening culminated in an optimistic 25th minute penalty shout when Ferdinand cleared Owen and the ball facing his own goal on the edge of the six yard box.

However, that was then signal for the visitors to sweep upfield and open the scoring - a feat they should have doubled well before half time.

The fact that they didn't though and that Given had comparatively little to do gave rise to some hope that we could cling on and regroup in the dressing room - with an equaliser never quite looking as if it was coming despite some meaningful possession on the approaches to the box.

However, it was at that point that Barton chose to gift a ball in midfield, which local lad Michael Carrick then efficiently loaded into the deadly weapon that is Ronaldo.

Game over then - and our winless Premier League run was assured of reaching double figures.

Whatever changes that we could have made at the interval would have been no more than cosmetic, with Viduka and Enrique unselected.

An earlier introduction for Carroll might have given the crowd something to cheer, but neither his young legs or the more vintage limbs of Geremi would have done anything to plug the yawning chasm that was our midfield.

If we were once the entertainers with the likes of Gillespie and Ginola weaving occasional magic down the flanks, then Milner and Duff were the most unconvincing of tribute acts - unable to make an impact at the sharp end and in no position to bolster our ailing central midfielders.

Butt attempted to plug a multiplicity of gaps but needed pace he never possessed when playing for the Red Devils, while Barton is as ill-suited to being on a football pitch at present as Paul Gascoigne.

The former Man City man hit a new low today in his Newcastle career - it's a shame that the magistrate who banned him from Merseyside couldn't extend that across the nation.

Having seen him show inspirational qualities and skilful determination on the field in his City days, this is a pale imitation of the same player. Playing football may be a way of avoiding that devil/idle hands scenario for him in some people's eyes, but it's doing us very little good.

Someone else whose appearance over the white line should also be questioned is Given, who yet again pulled the "Lazarus says he's OK" stunt to start the game, only to then succumb to injury onfield for the second successive match.

From his kicking alone it's been obvious he's ailing, but he's been allowed to continue until he's broken down - twice. Hardly a confidence booster for Harper.

With Chris Hughton's arrival at the club bringing one of Given's former international coaches back into contact with him Carr and Duff, it remains to be see what becomes of our Irish trio. Make no mistake though, none of them would be in our side currently on merit.

As at Villa though, Harper's heroics merely prolonged the inevitable loss of his clean sheet.

We did manage to pull back to within two goals, which caused a momentary stirring of optimism in home ranks, only for it to be doused by a ruthless Rooney finish that even had black and whiters clapping.

From then on it was just a question of how many, with Saha popping up in the last minute to make it five but another half dozen haul eluded the visitors. That's not us just being trainspotterish or symbolic though - every goal could yet count in the final reckoning and we're already at minus 22....

The smallest number of Newcastle supporters we can recall in the stadium at the final whistle indulged in some fleeting booing, before Smith and Taylor's miserable meanderings across the Gallowgate End brought some sympathetic applause.

It's a toss-up between which of these gestures was the emptier: Taylor's tiresome "man of the people" act after another rotten display, or Smith's frankly baffling appreciation of a set of fans who have greeted his mundane and mediocre displays with similarly indifferent responses.

Maybe it was actually a lap of honour after forcing the opposition 'keeper into making a save - or perhaps celebrating making it through to the final whistle against his old club this time round.

Smith's trudge though did conjure up memories of the demise of Leeds though in May 2004 - when a side containing Viduka, Smith and Milner were thumped 4-1 at Bolton to virtually condemn them to relegation.

At least then Smith and Viduka were up the road to pastures new literally within seconds of the end of that season - the Australian's contribution having ended early at the Reebok after being sent off in the opening half hour.

If the worst does happen to us, we'd happily wave both these chancers off, along with the perpetually unavailable Turk - none of whom would presumably dream of dirtying their boots for us in the second tier.

As well as trying to convince credible players to sign for us though, our biggest problem is in finding someone equally as daft to foist our crockery on.

The only positives at present come from other places - with Reading similarly on the crest of a slump and next week's fixture card handing the Red Devils the chance to dismantle Fulham by the Thames.

Keane and his boys of course remain below us, although thoughts of relegating the mackems on Tyneside in April become ever more fanciful as our woes continue.

Looking back over the course of the season so far, the damage appears to have done when we went to Derby and took precautions to avoid defeat against a side who went on to record their solitary league win of the season that night.

The negative mind set that Allardyce instilled that night may have subsequently stolen us a win at Fulham, but saw us beaten at Reading and struggle to draws at the mackems, at home to the Rams and at Stoke.

It may be well concealed, but there is some evidence that Keegan is started to turn that around - at least in the case of the players who are listening.

Against that though are a body of players who seem ever more indifferent to our plight and in some cases, are already scrambling for the lifeboats, ringing their agents as they go.

We remain officially worried then, with next week's game being our biggest since the last massive fixture that we faced - and probably failed to win.

Three points against Rovers and a combination of other results would see the dark clouds over Tyneside lift significantly - not least over the manager's office.

Failing to do that ahead of trips to St.Andrews and Anfield though would leave us relying increasingly on the failings of others to preserve top-flight football here.

While that gap between us and the third-bottom side remains at six points then we're still masters of our own destiny. Just.

Biffa